Brandy Cream OC-4 is a color that has quietly but significantly graced interior spaces with its comforting presence. It exudes sophistication and is reminiscent of old-world charm while still retaining a modern edge.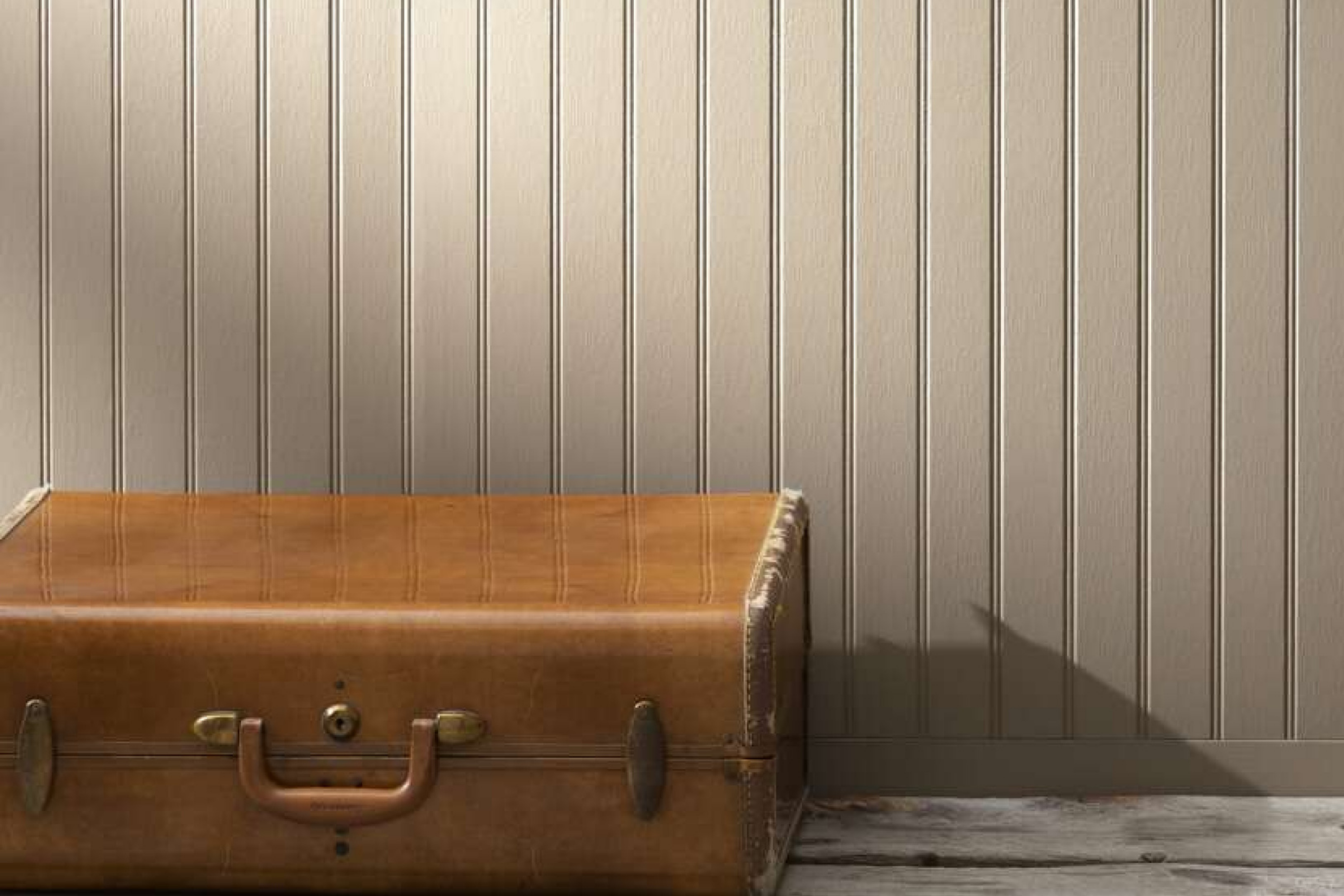 What Color Is Brandy Cream OC-4?
Brandy Cream OC-4 is reminiscent of rich, aged brandy. A creamy, sophisticated hue, it has a beige undertone that encapsulates warmth and coziness. The charm of this color is evident in traditional, rustic, and even contemporary settings, offering versatility in design.
Paired with organic materials like wood and stone or soft textures like linen or wool, its potential comes to life. It has a particular affinity for rustic wood finishes, natural stone countertops, or plush cream textiles.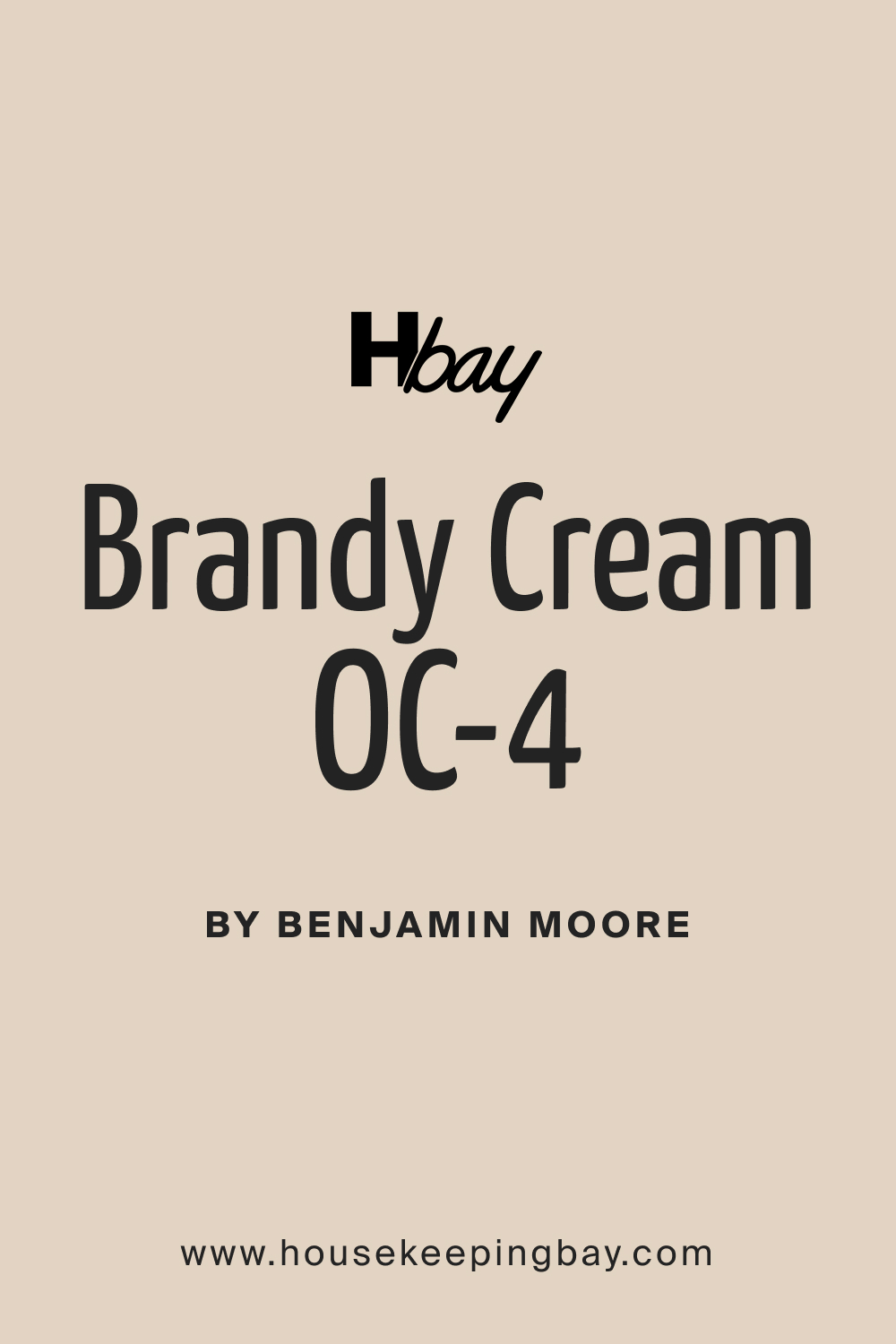 Is It a Warm Or Cool Color?
Brandy Cream OC-4 leans towards the warmer spectrum. This warmth tends to make spaces feel inviting and intimate. In homes, this translates to rooms that feel cozy and welcoming, making it an ideal choice for living rooms, bedrooms, or any space meant for relaxation and connection.
Undertones of Brandy Cream OC-4
Like many nuanced hues, Brandy Cream OC-4 has subtle undertones, primarily of beige and a hint of yellow. Undertones play a pivotal role in how we perceive colors, influencing whether they appear cooler or warmer. In this case, the beige-yellow undertone further underscores its warmth.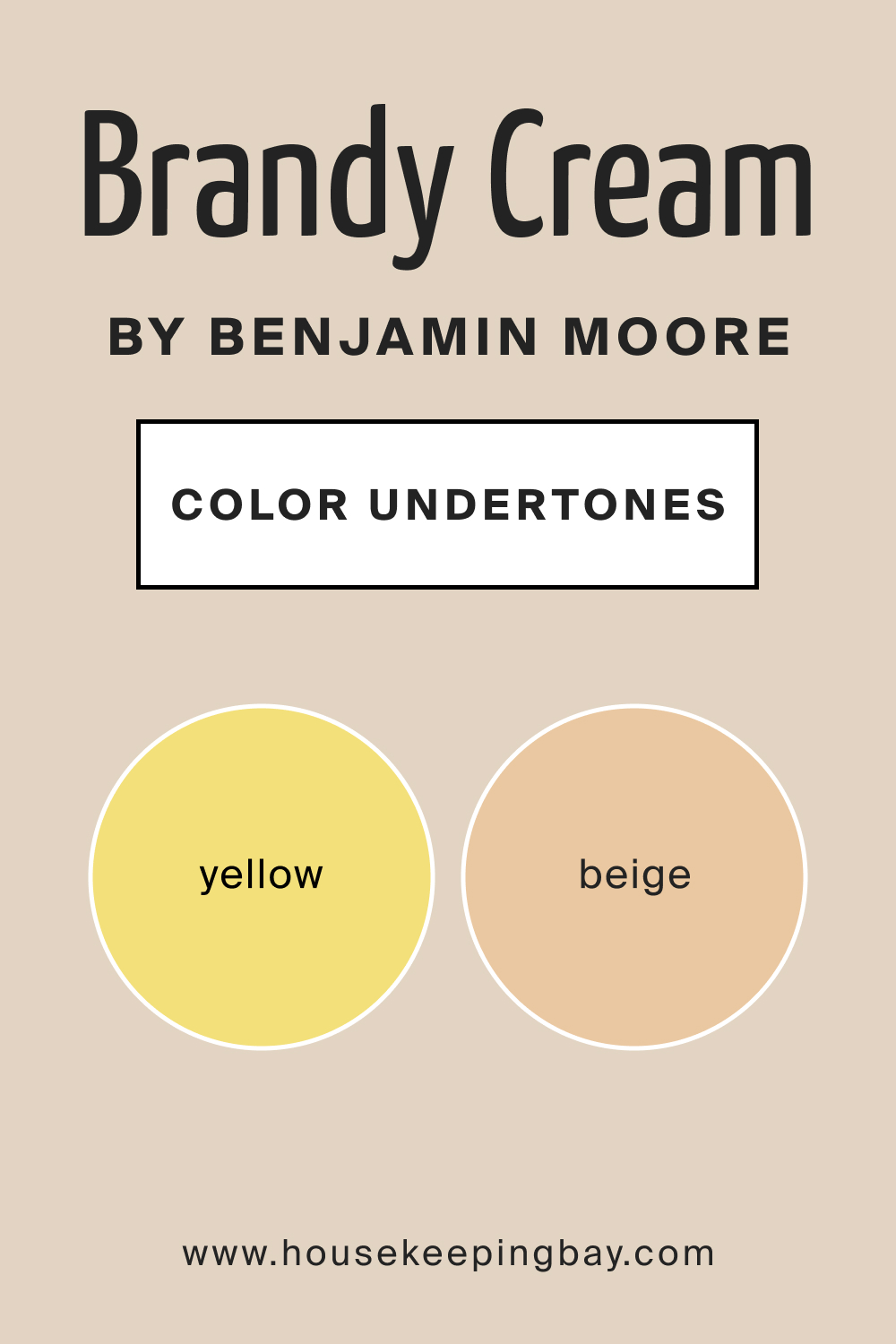 Coordinating Colors of Brandy Cream OC-4
Coordinating colors accentuate and harmonize a primary color, enhancing its beauty and the room's overall aesthetic. For Brandy Cream OC-4, suggested coordinating colors from Benjamin Moore include:
BM French Toast 1113: A deep amber-brown hue reminiscent of morning breakfast.
BM Potters Clay 1221: Earthy and grounding, it's a deep terracotta shade.
BM Bar Harbor Beige 1032: Neutral and versatile, this color complements without overpowering.
Additional coordinating colors include the following hues:
BM Latte Froth 1079: A slightly lighter creamy hue with beige undertones.
BM Nantucket Gray 1245: An earthy green-gray that provides contrast while still staying in the warm spectrum.
BM Warm Springs 682: A muted blue-green that provides a refreshing contrast.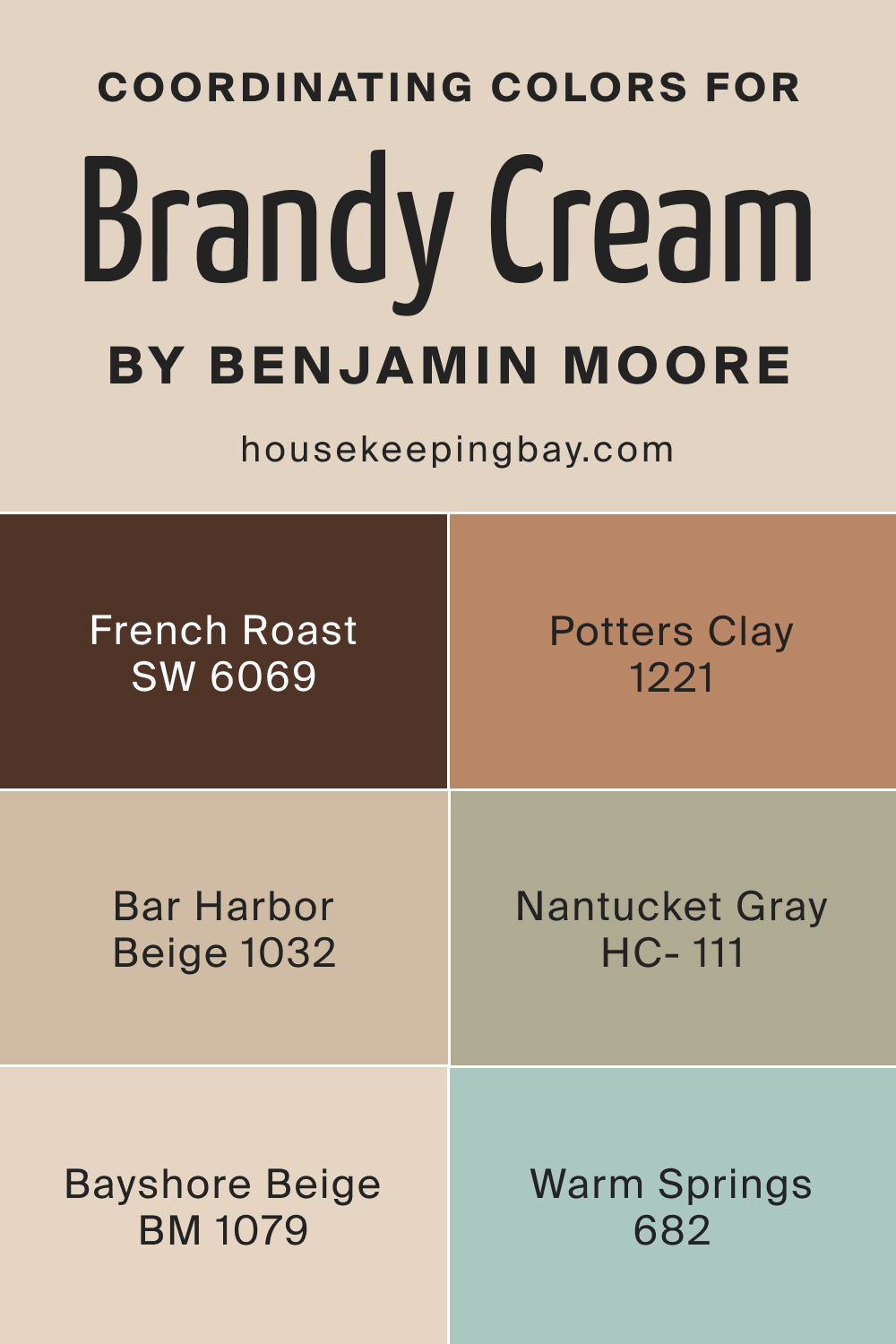 How Does Lighting Affect Brandy Cream OC-4?
Lighting can transform any color. Brandy Cream OC-4 in natural light reveals its full creamy depth and warmth. Artificial light, depending on its temperature, can make it appear more beige or amplify its yellow undertones.
North-facing rooms, which receive cooler light, may make the color appear slightly muted, whereas, in south-faced rooms, the color will exude warmth. In east-facing rooms during morning hours, it will seem radiant, while in west-facing rooms, it will have a mellow glow during sunsets.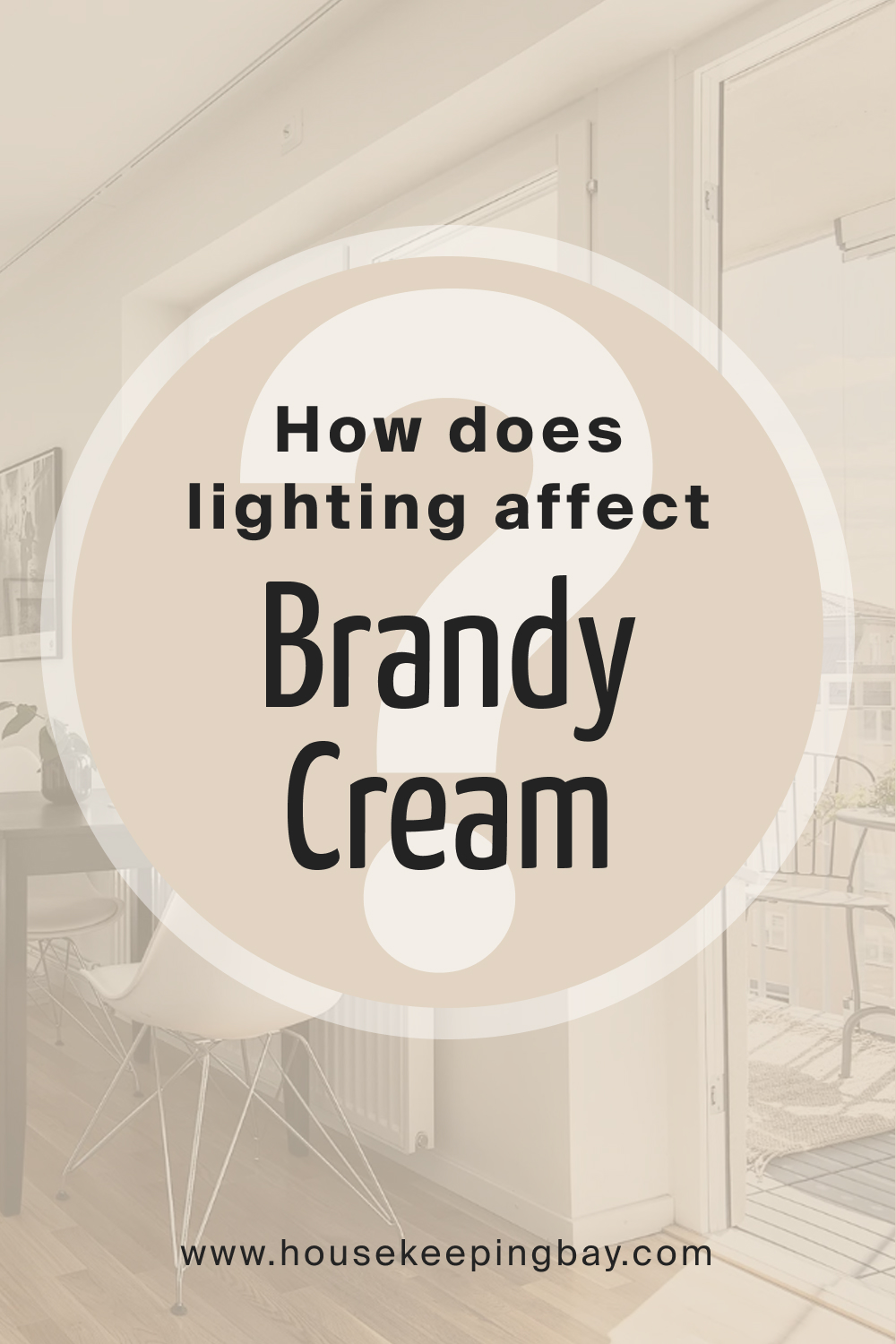 LRV of Brandy Cream OC-4
Light Reflectance Value (LRV) indicates how much light a color reflects. With an LRV of 66, Brandy Cream OC-4 reflects a considerable amount of light, making spaces appear brighter and more open.
This mid-level LRV ensures that it's neither too bright nor too dark, giving it the flexibility to grace any space without making it feel too confined or overwhelmingly light.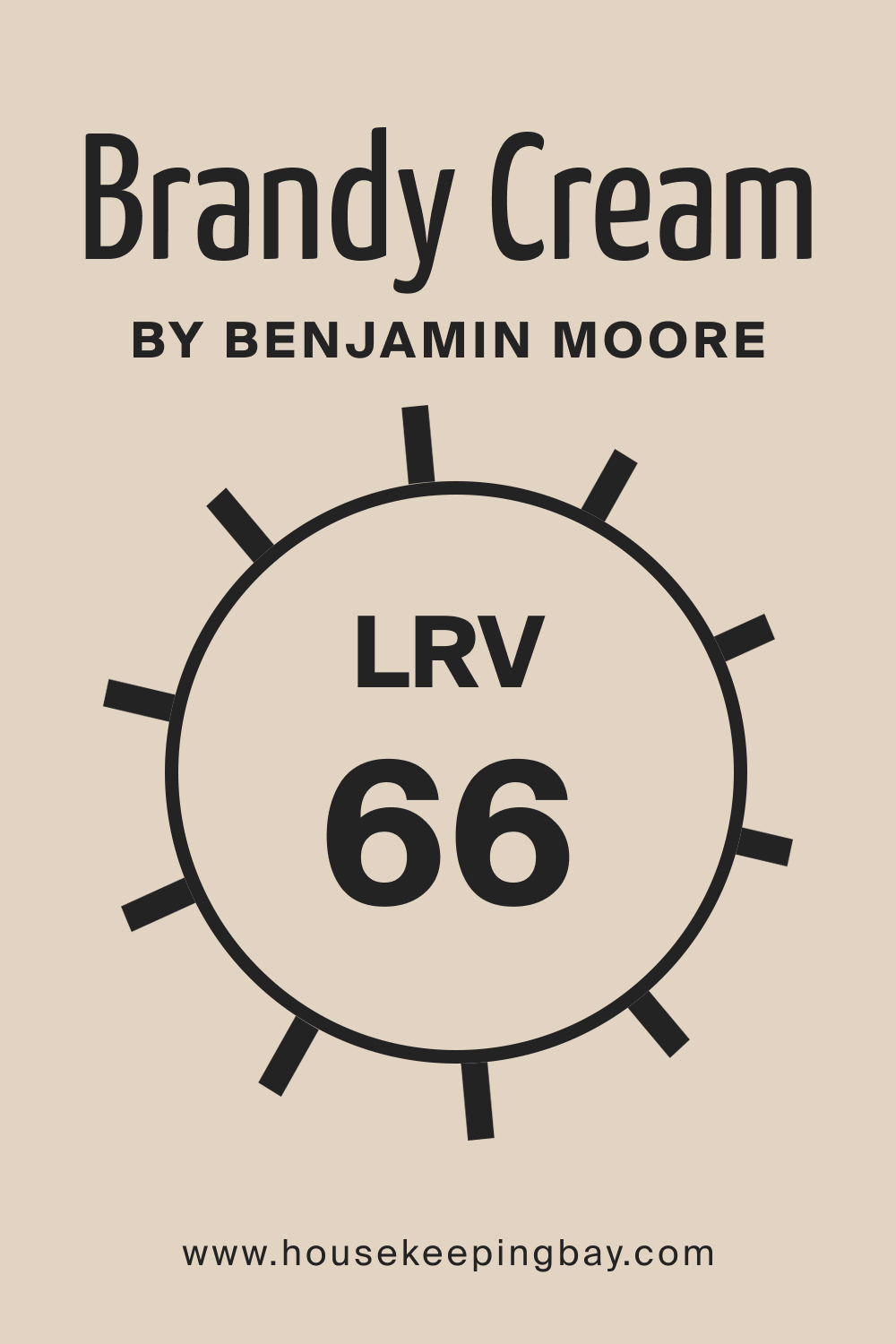 What is LRV? Read It Before You Choose Your Ideal Paint Color
Trim Colors of Brandy Cream OC-4
Trim colors define boundaries and add dimension. Shades of white are often chosen for trims. For Brandy Cream OC-4, recommended Benjamin Moore whites include: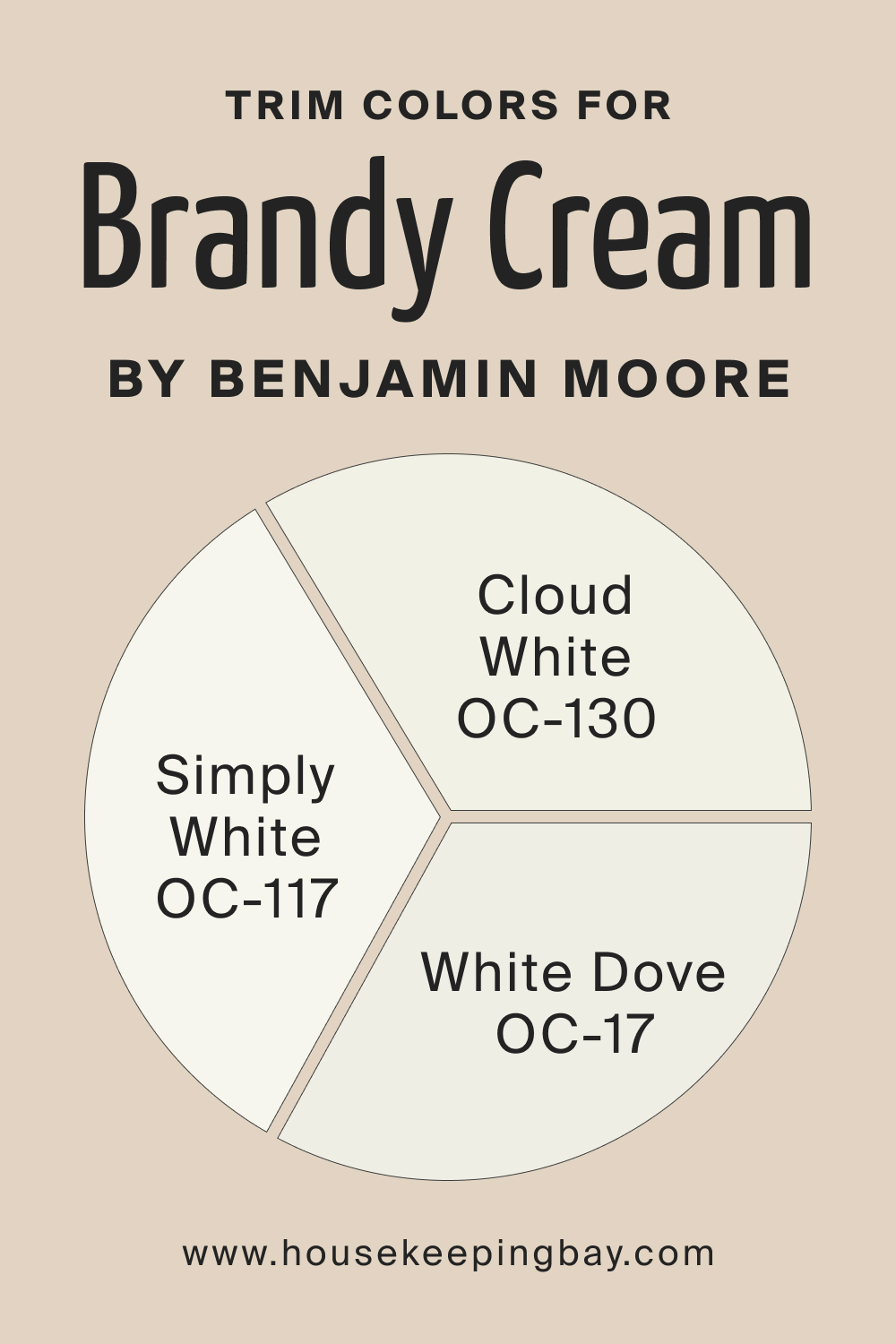 Colors Similar to Brandy Cream OC-4
Knowing similar colors helps in finding alternatives or for color layering. If you need a substitute color to use instead of Brandy Cream OC-4, you may want to opt for one of these:
BM Dusty Road 1017: Slightly grayer but retains the warmth.
BM Bayshore Beige 1079: Neutral with a hint of peach.
SW 7555 Patience: A gentle beige with a serene aura.
However, note that these colors will still vary a bit since each of them has its unique LrV value and undertones!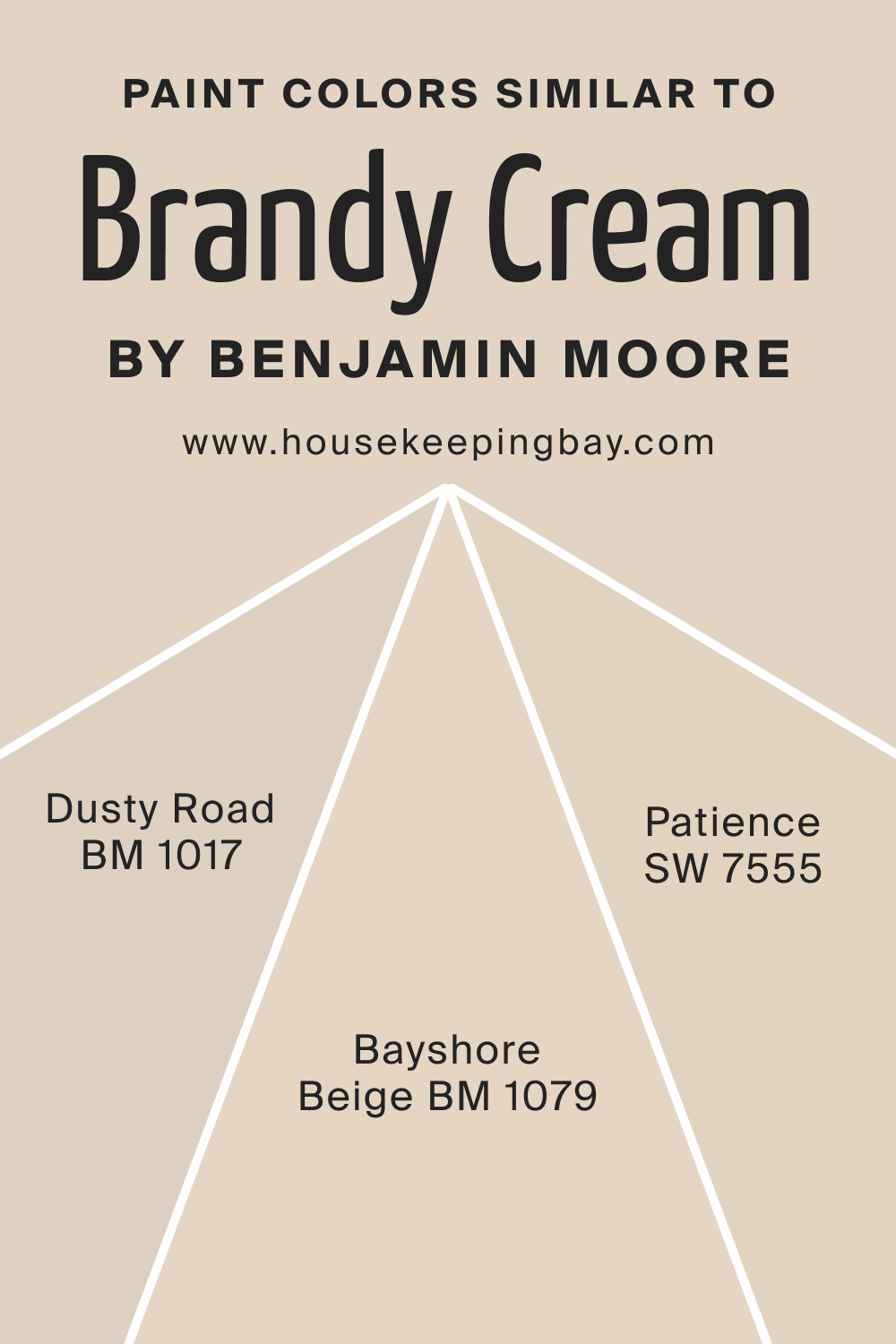 Colors That Go With Brandy Cream OC-4
Well-complementing colors create visual interest. Alongside Brandy Cream OC-4, we have the following hues that can pair well with this color:
HC-144 Palladian Blue: Soft and watery blue, providing a refreshing touch.
BM Rural Earth 1239: Grounded and earthy, it's a strong anchor.
You can also incorporate such shades as:
BM Woodlawn Blue HC-147
BM Ashwood Moss 1484
BM Autumn Purple 2073
Whether it's a calming blue or an earthy green, each complements Brandy Cream OC-4, creating a cohesive, harmonious space.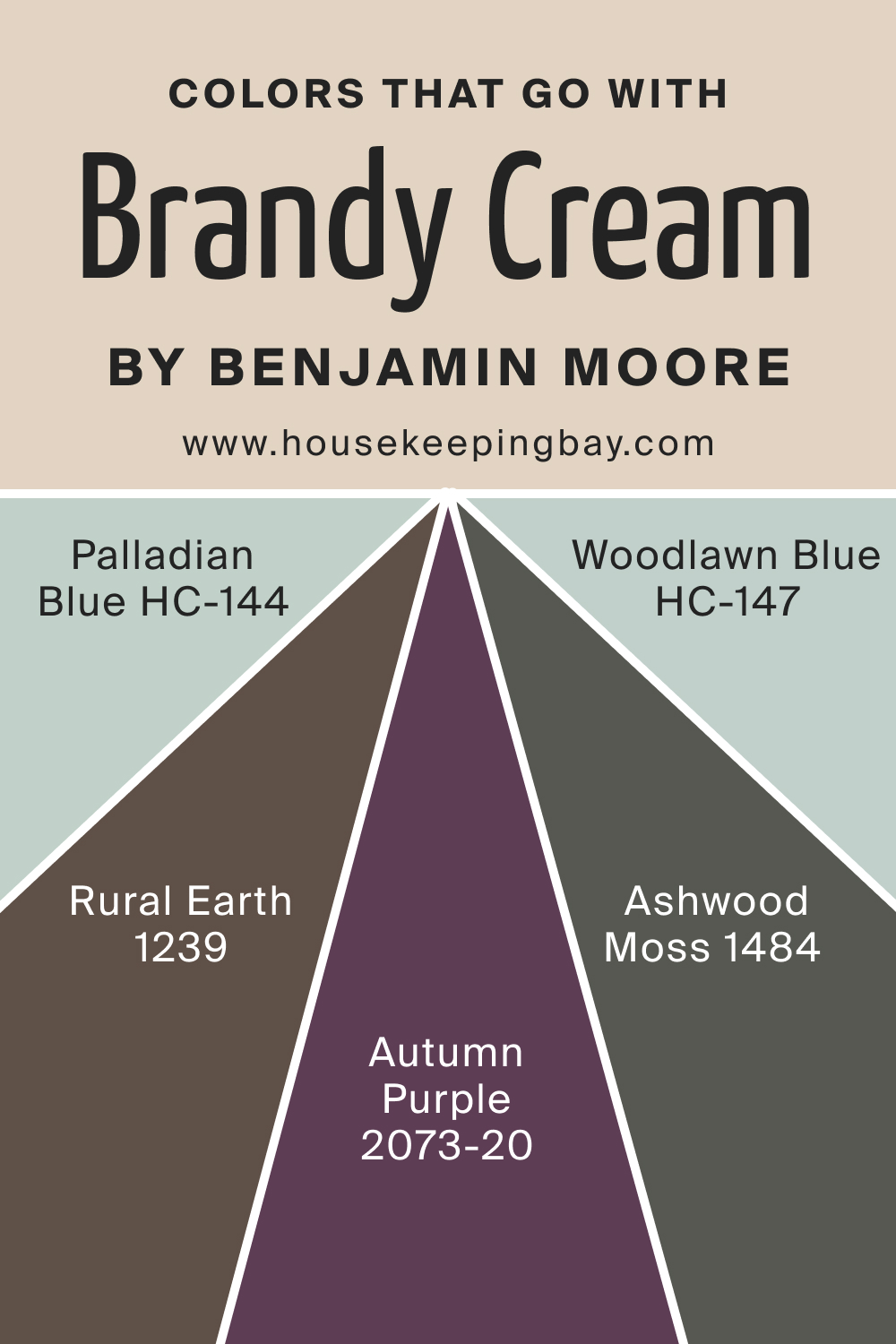 How to Use Brandy Cream OC-4 In Your Home?
Brandy Cream OC-4 is a versatile shade that infuses warmth and sophistication into any space. Ideal for bedrooms, living rooms, and bathrooms, it effortlessly sets a relaxing ambiance. Its elegance suits a variety of interior design styles, from traditional farmhouses, to even contemporary.
The shade seamlessly complements wooden furnishings, rustic decors, and metallic accents. Brandy Cream's subtle undertones also make it a fitting choice for exteriors and kitchen spaces, reflecting a timeless charm.
How to Use Brandy Cream OC-4 in the Bedroom?
For bedrooms seeking a serene retreat, Brandy Cream OC-4 serves as a perfect backdrop. Its warm undertones foster a comforting environment conducive to rest. Pair it with soft linen drapes, wooden furnishings, and ambient lighting to create a space that encourages relaxation and unwinding after long days.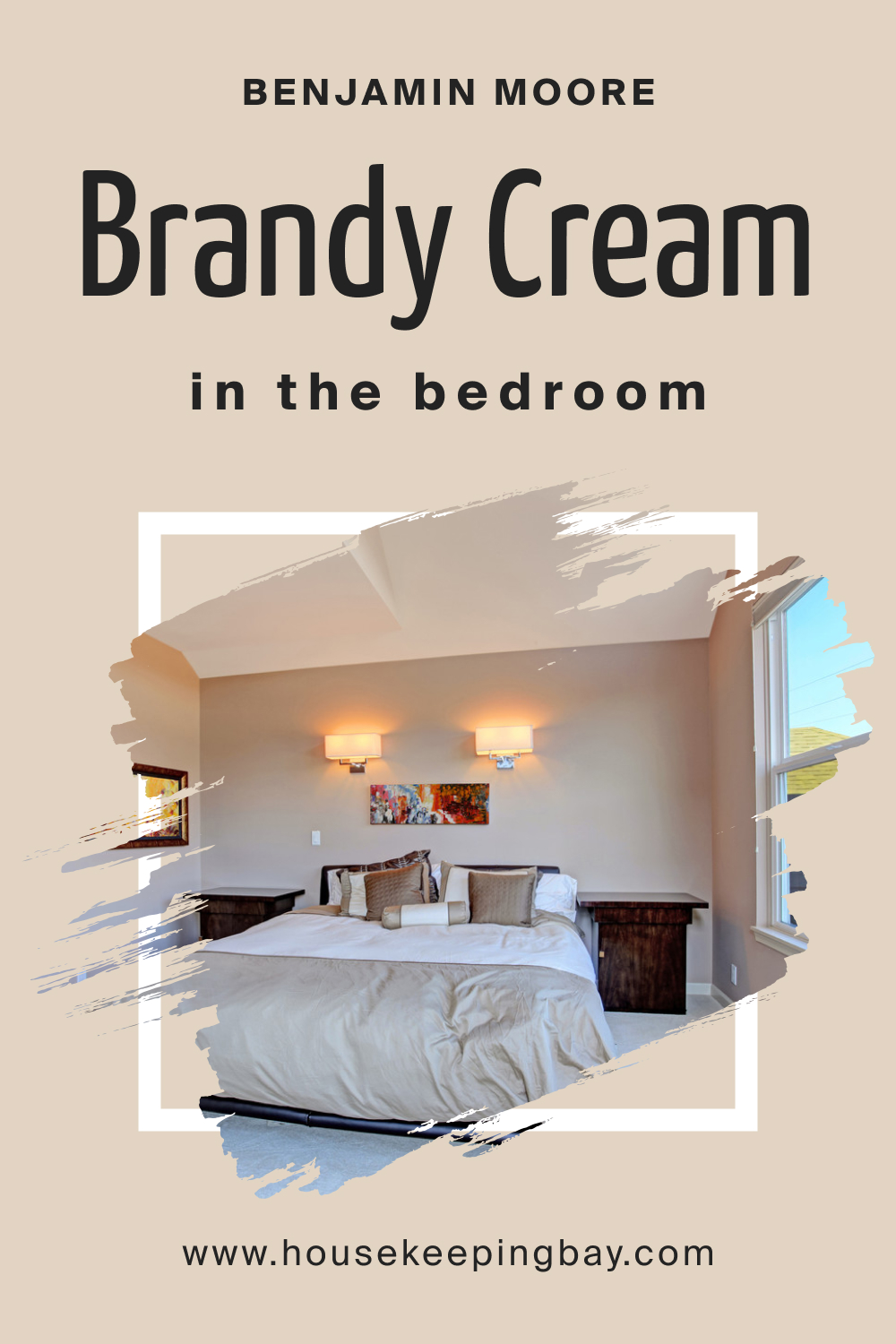 How to Use Brandy Cream OC-4 in the Bathroom?
In bathrooms, Brandy Cream OC-4 imparts a spa-like tranquility. Its creamy richness balances both light and dark bathroom fixtures. Complemented by natural elements like stone or wood, it creates a calming, organic aura. Add plants or candles, and the bathroom becomes a restful sanctuary.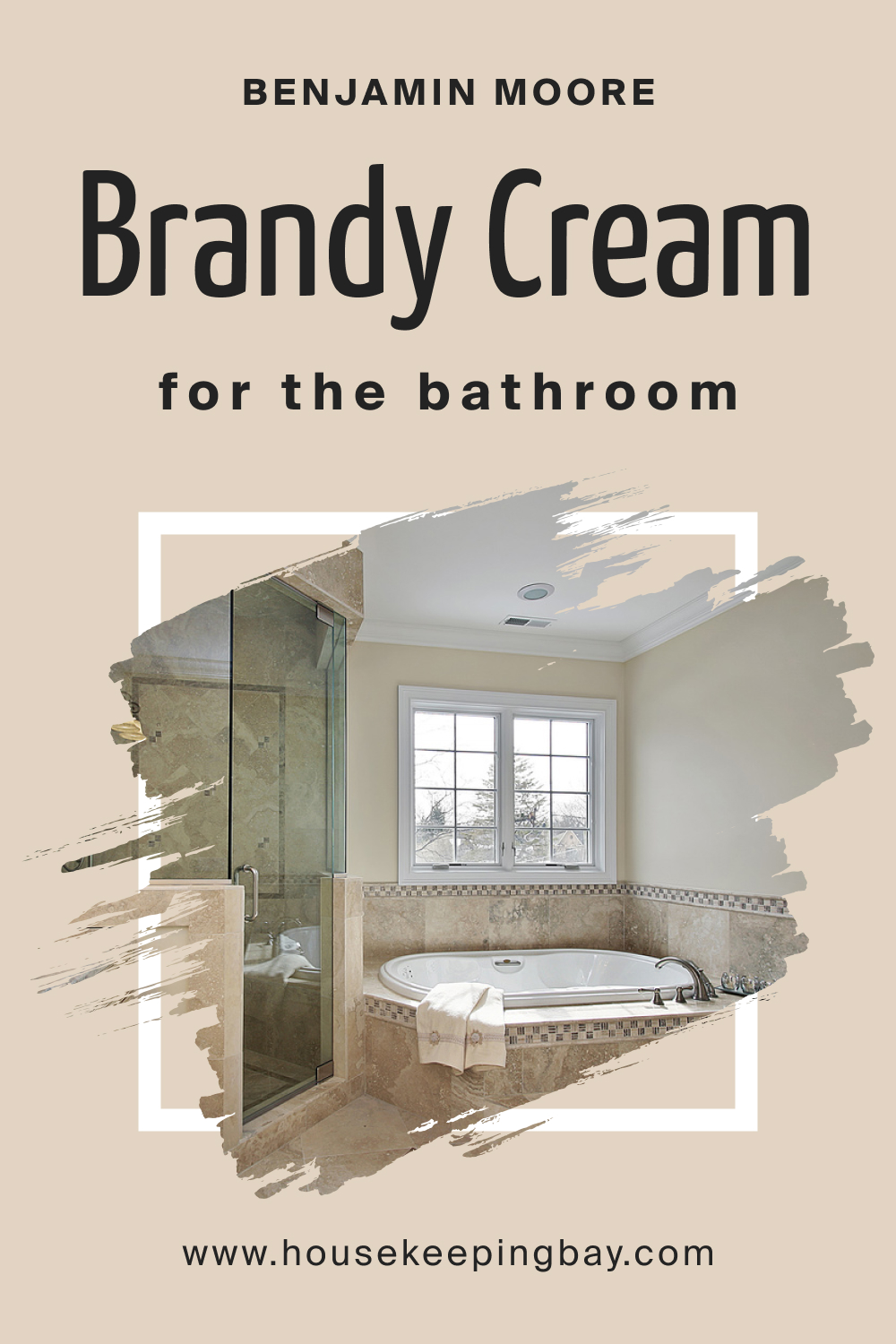 How to Use Brandy Cream OC-4 in the Living Room?
Brandy Cream OC-4 in the living room envelops guests with warmth and hospitality. Its neutral tone allows for diverse decor choices. Whether adorned with vibrant cushions, textured rugs, or minimalist furniture, this shade effortlessly becomes the unifying element, promoting conversations and togetherness.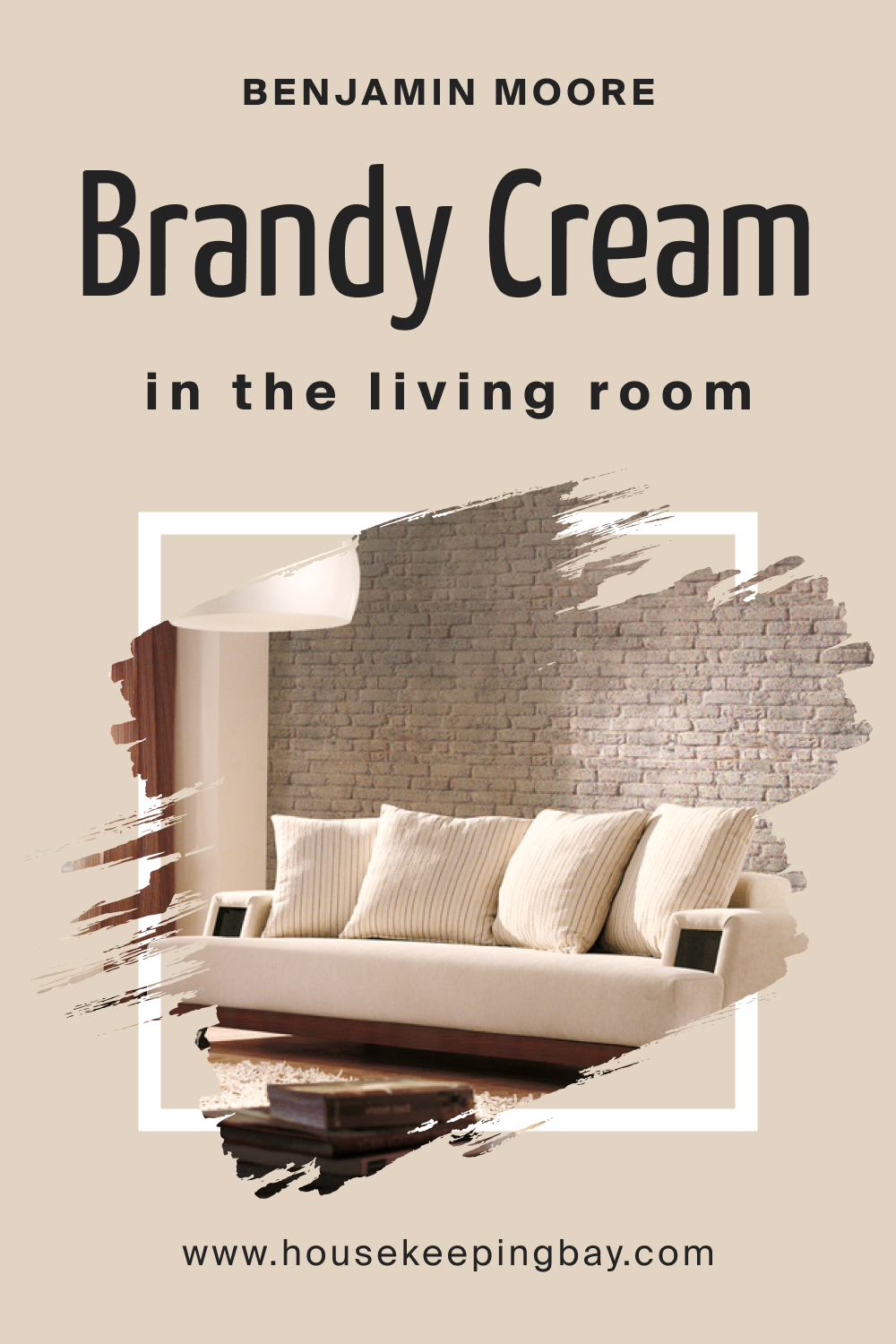 How to Use Brandy Cream OC-4 for an Exterior?
For exteriors, Brandy Cream OC-4 resonates with elegance. It shines in various architectural styles, reflecting sunlight beautifully. Paired with white trims or natural stone pathways, it evokes a timeless, classic appeal. Consider it for main walls or as an accent, harmonizing with the surrounding landscape.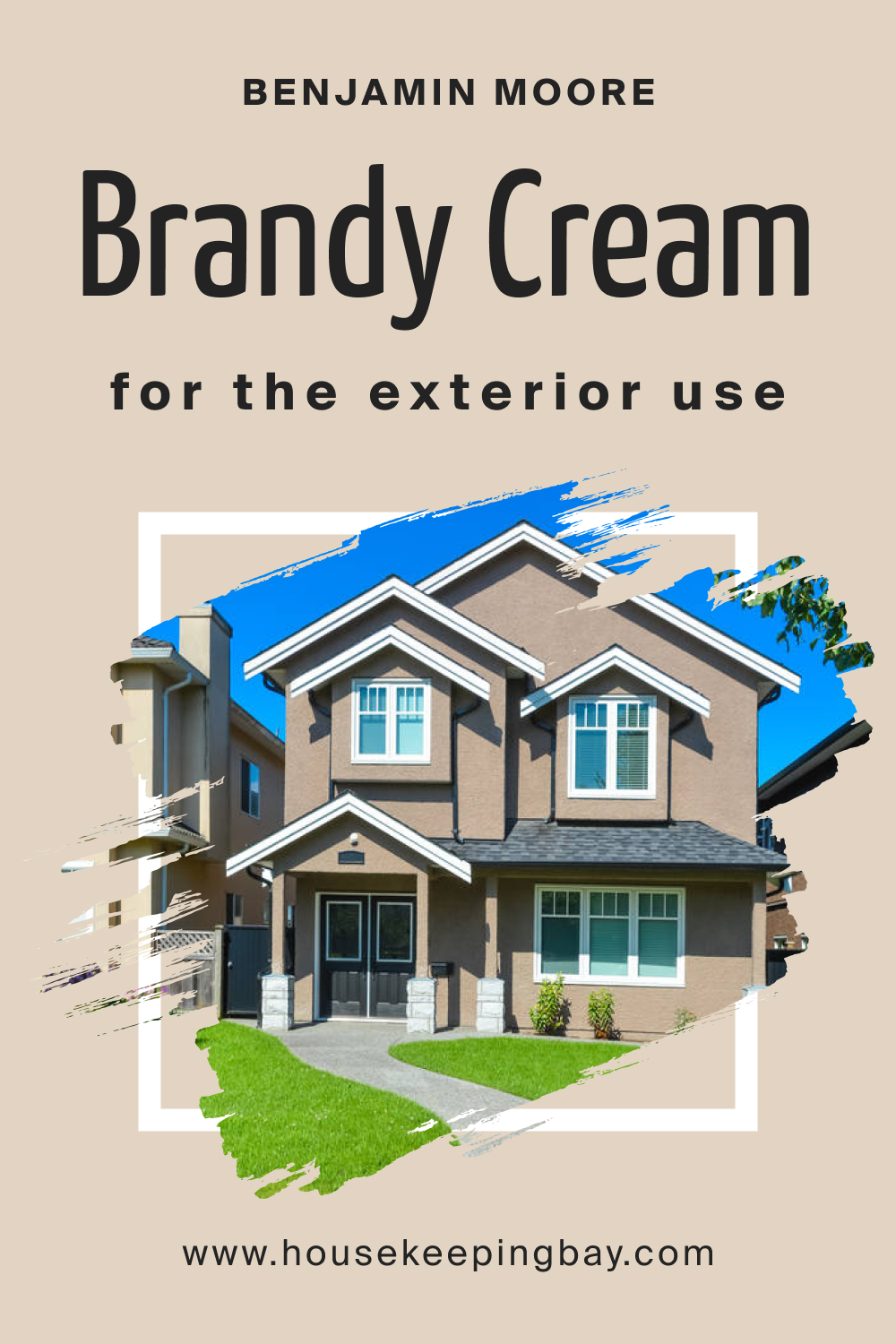 How to Use Brandy Cream OC-4 in the Kitchen?
In kitchens, Brandy Cream OC-4 lays a foundation of warmth and sophistication. Whether it's a space bustling with activity or a quiet breakfast nook, its presence assures comfort. Pairing well with wooden countertops, tiled backsplashes, and stainless steel fixtures, it adds depth while retaining a clean, fresh look.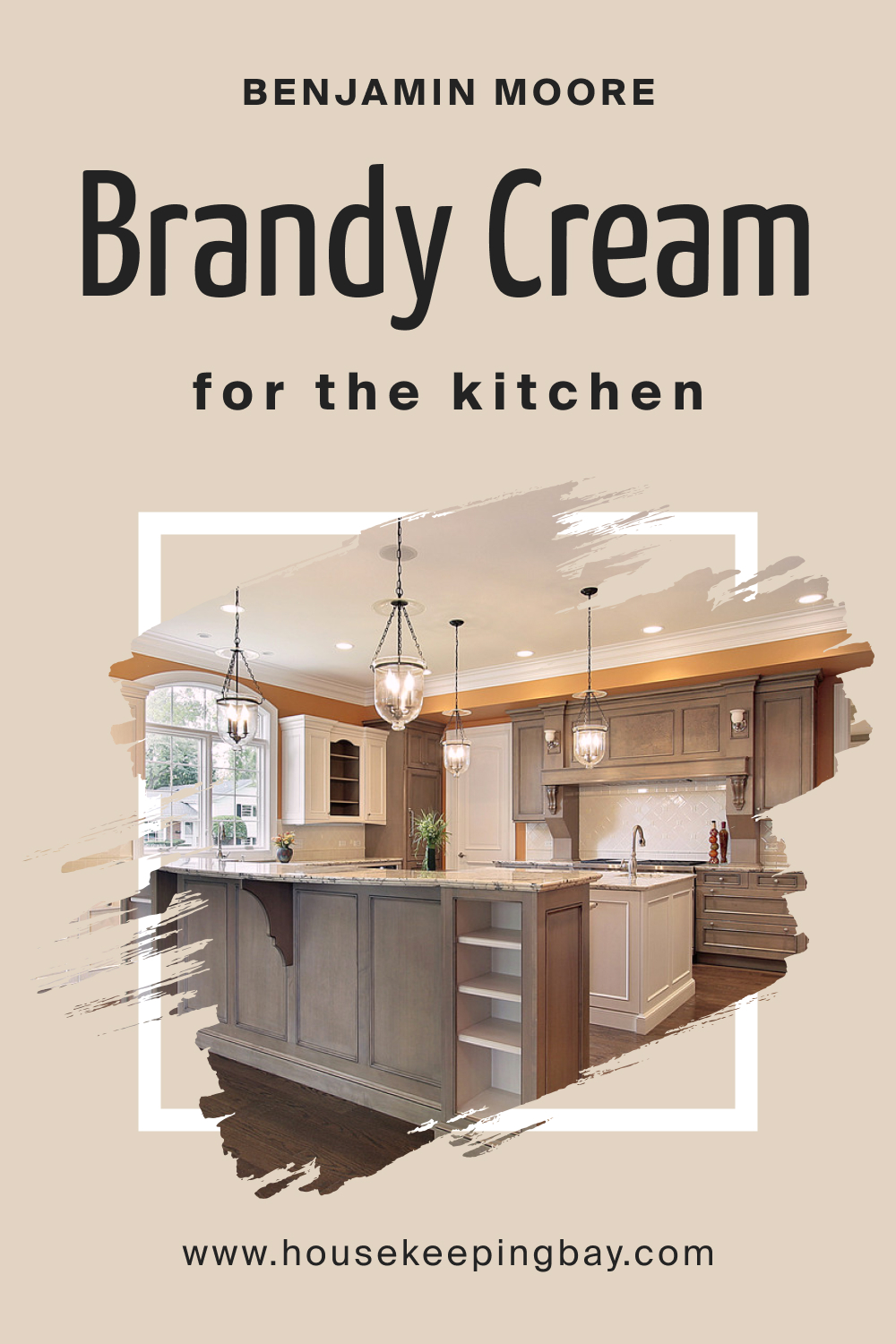 Comparing Brandy Cream OC-4 With Other Colors
Comparing colors is a pivotal step in interior design. It aids in understanding undertones, gauging compatibility with other shades, and envisioning the final look. Each color, despite being in the same spectrum, emanates unique vibes.
By contrasting and comparing, you get a holistic view of each shade's strength and the emotions they can evoke in a space. Let's delve into how Brandy Cream OC-4 stacks against six notable hues.
Brandy Cream OC-4 vs. OC-90 Vanilla Ice Cream
Vanilla Ice Cream, as the name suggests, is a soft, almost ethereal shade. While Brandy Cream is grounded with its warm undertones, Vanilla Ice Cream has a cooler, airier touch, making it feel light and refreshing. Brandy Cream is about depth and richness, while Vanilla Ice Cream brings a pristine brightness to spaces.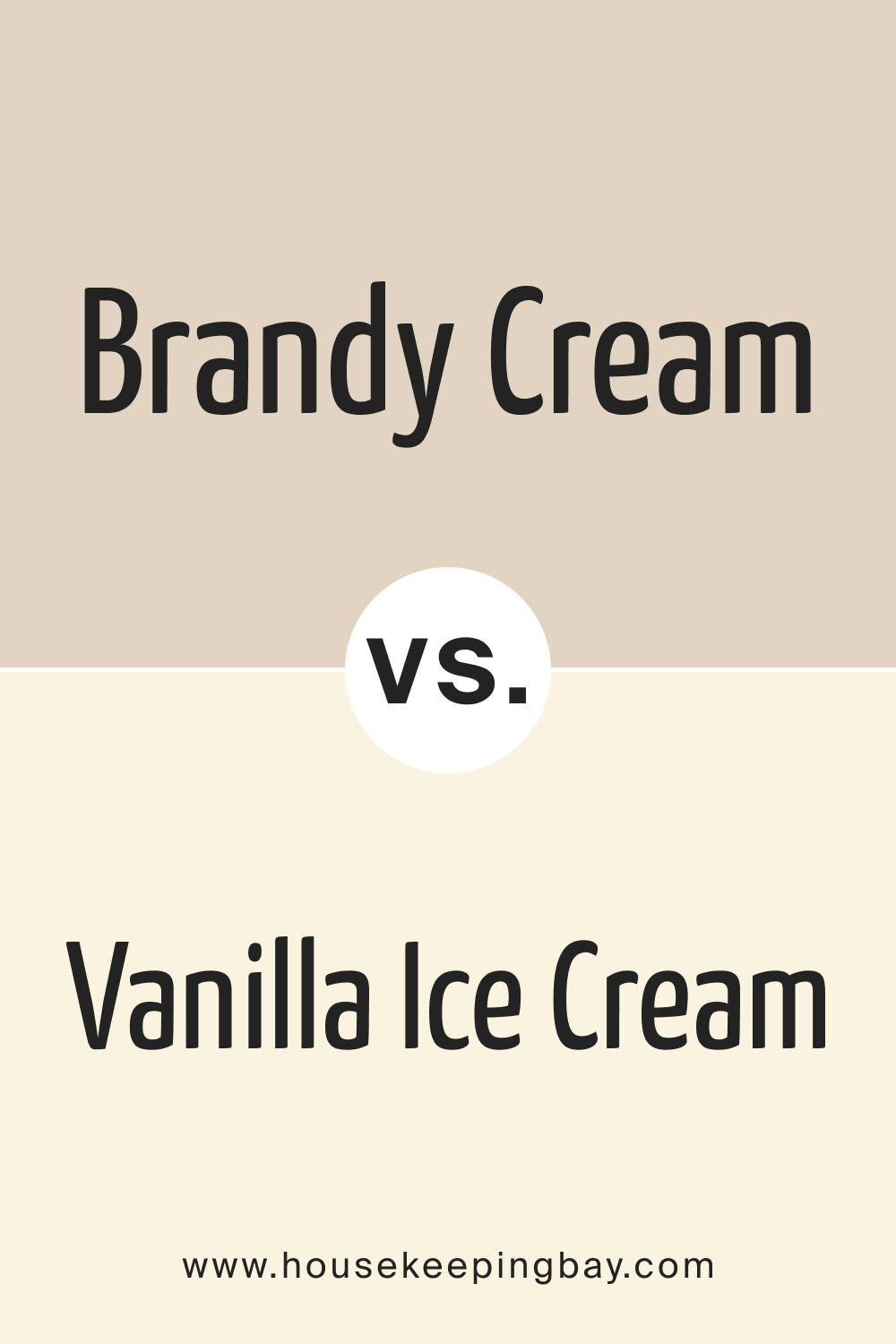 Brandy Cream OC-4 vs. OC-77 Colonial Cream
OC-77 Colonial Cream offers a historical touch with its subtle yellow undertones. It's lighter than Brandy Cream, reminiscent of colonial-era elegance. While Brandy Cream feels more contemporary and versatile, Colonial Cream is steeped in timeless tradition, ideal for homes with an old-world charm.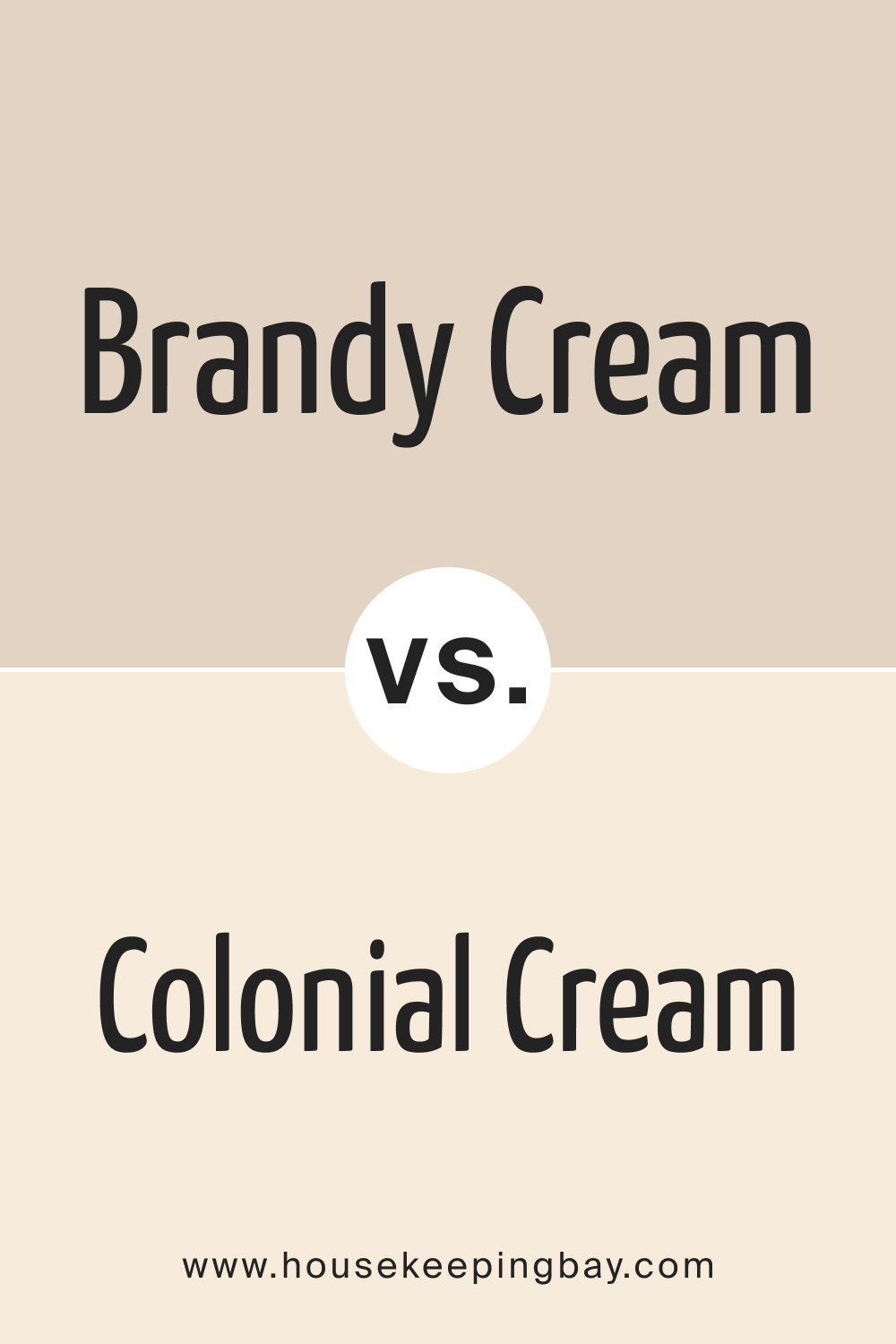 Brandy Cream OC-4 vs. OC-12 Muslin
OC-12 Muslin is more neutral, leaning towards a taupe-beige undertone. It's understated and versatile. Compared to Brandy Cream, Muslin lacks the yellow warmth but offers an earthy grounding instead. While Brandy Cream warms a room, Muslin provides a calming neutrality.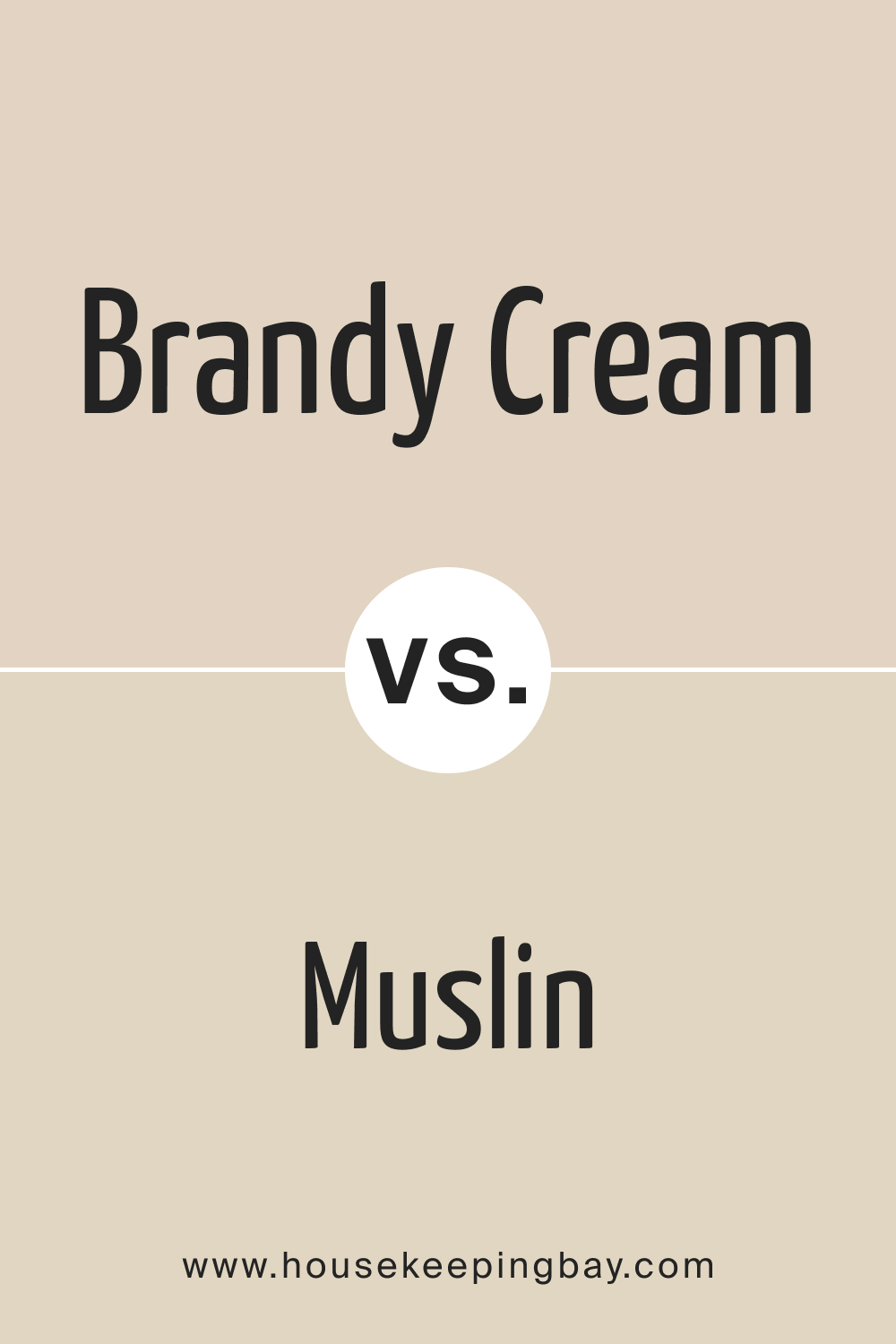 Brandy Cream OC-4 vs. BM Natural Linen 966
BM Natural Linen is another subdued hue but with a touch of grey. It's the intersection of warmth and coolness. Next to Brandy Cream, Natural Linen appears cooler and more muted. Brandy Cream's warmth contrasts well with the relaxed vibe of Natural Linen.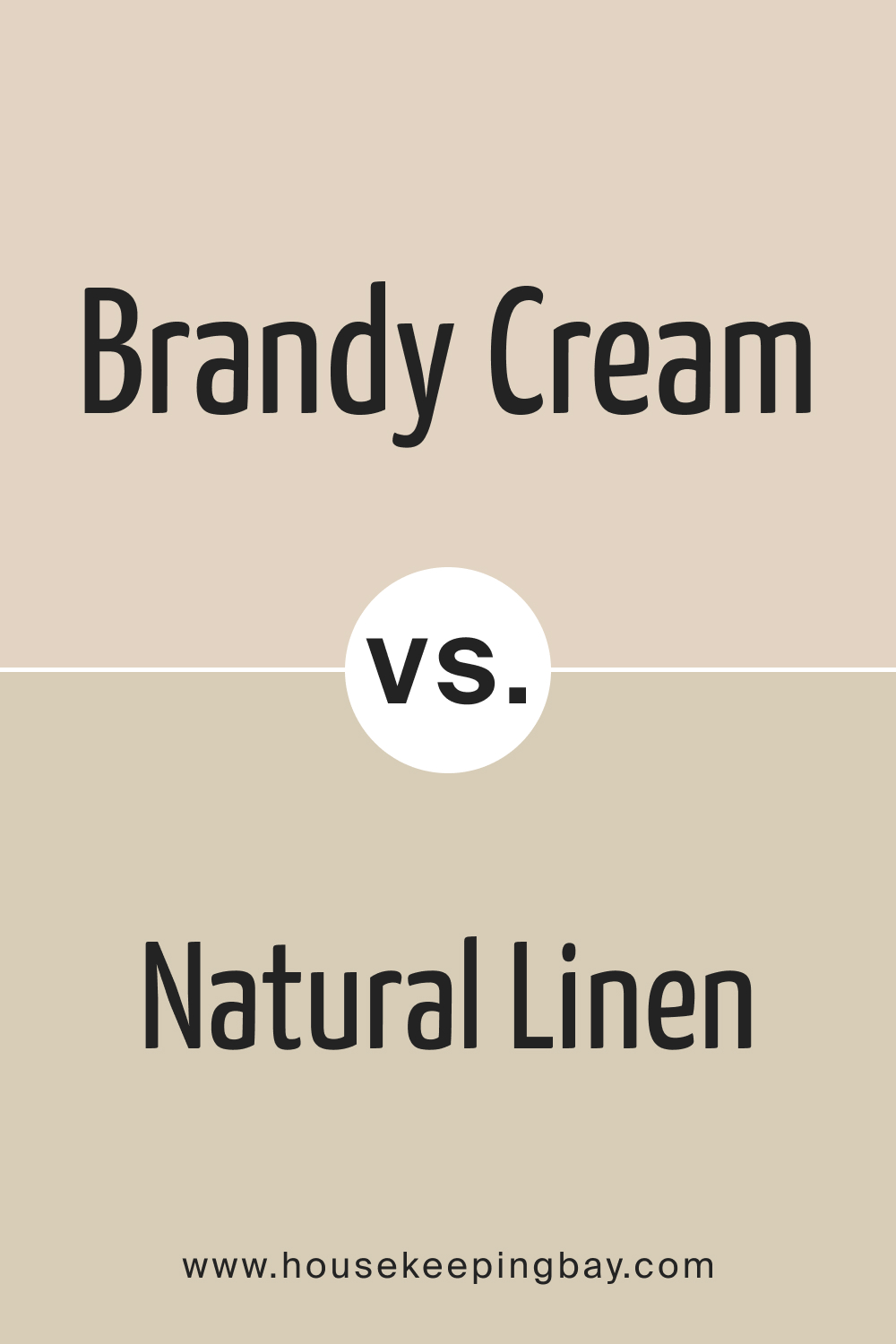 Brandy Cream OC-4 vs. OC-7 Creamy White
OC-7 Creamy White, true to its name, is a warm off-white. It's much lighter than Brandy Cream and offers a canvas-like backdrop. Where Brandy Cream stands out and sets the mood, Creamy White blends, allowing other decor elements to shine.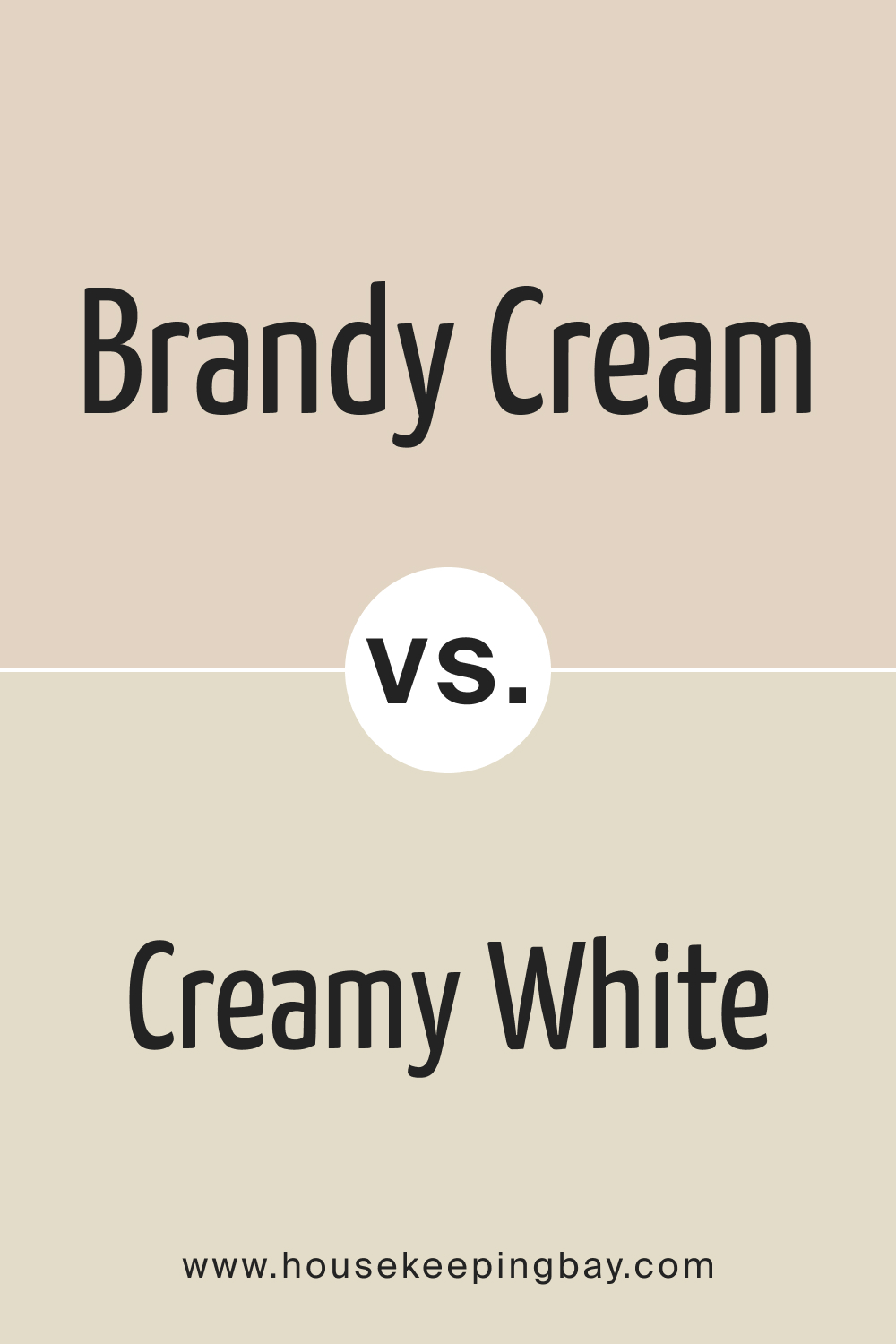 Brandy Cream OC-4 vs. OC-105 Calming Cream
OC-105 Calming Cream, with its serene undertones, feels like a gentle embrace. It's a bit lighter than Brandy Cream but retains some warmth. Both colors have a comforting aura, but Calming Cream feels slightly airy, while Brandy Cream offers depth.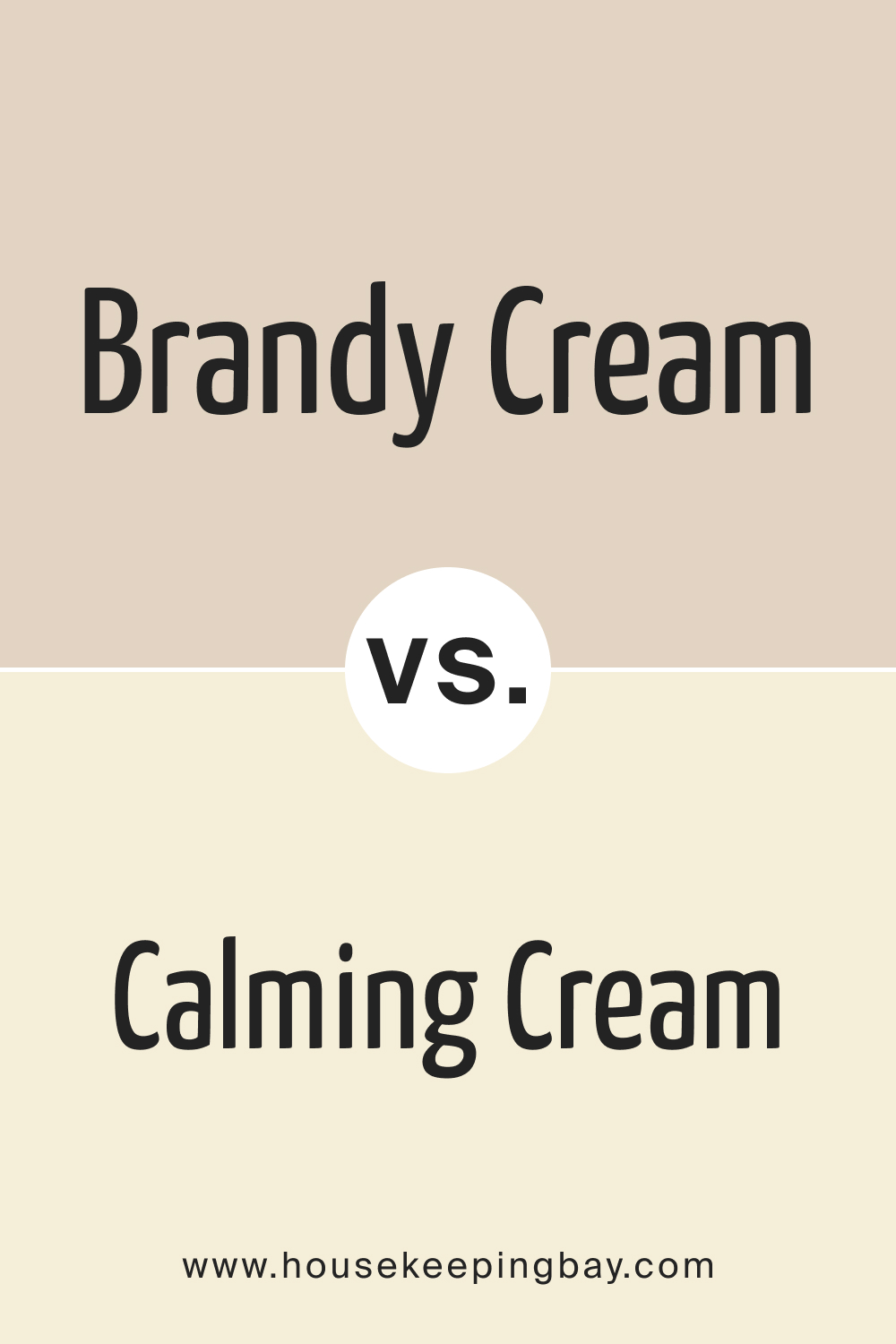 Conclusion
Brandy Cream OC-4, with its unique warmth and versatility, clearly has a distinct place in the color spectrum. When compared with others, its depth, richness, and ability to transform spaces become evident. Every color tells a story, and Brandy Cream's narrative is about warmth, sophistication, and timeless beauty.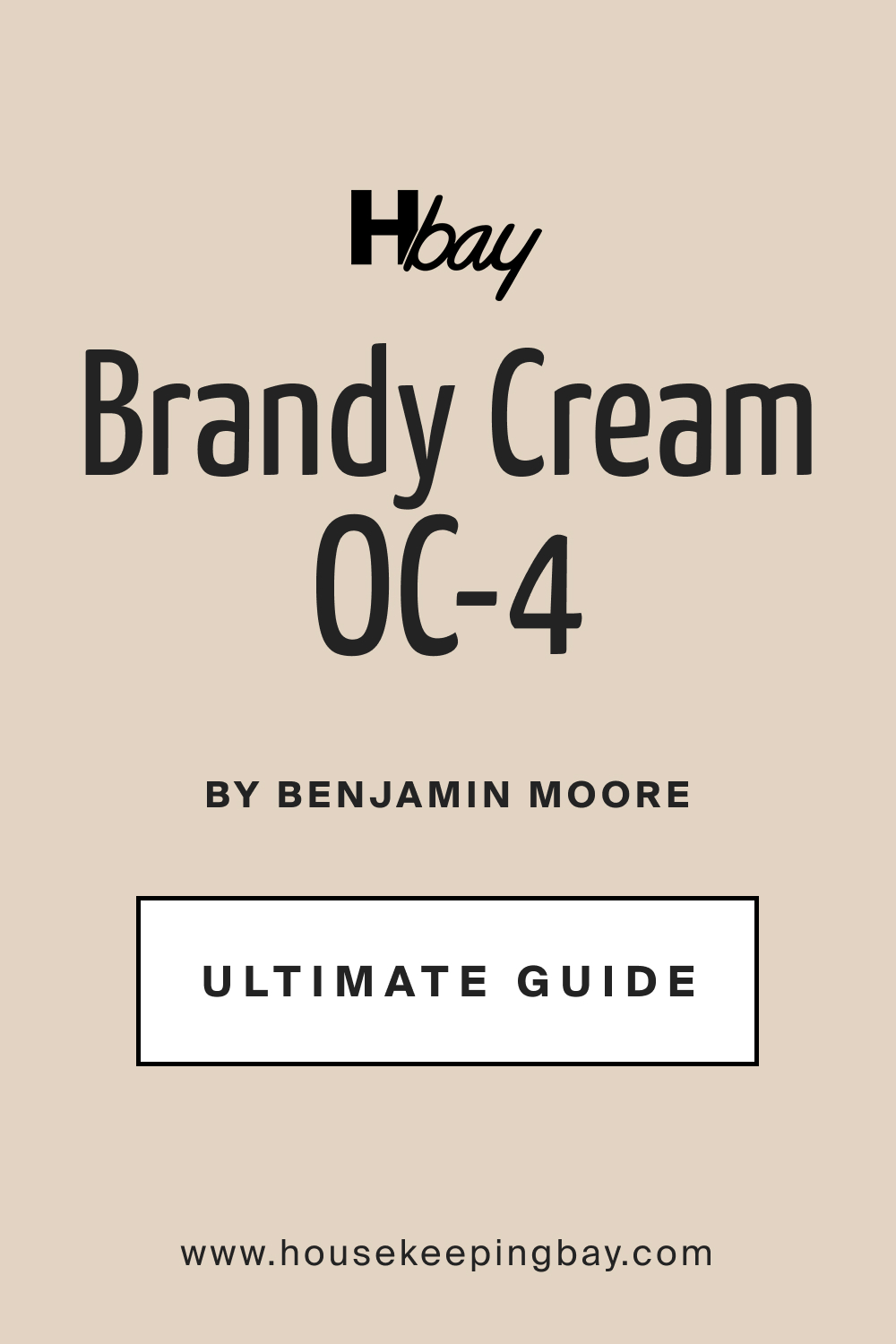 Frequently Asked Questions
⭐What undertones does Brandy Cream OC-4 have?
Brandy Cream OC-4 boasts warm undertones that give it a rich and inviting presence. It has a subtle hint of yellow, which infuses spaces with a comforting warmth.
⭐How does Brandy Cream OC-4 look in different lighting conditions?
Brandy Cream OC-4 subtly changes its appearance based on lighting. In natural sunlight, its warm undertones are highlighted, making it look richer. Under artificial lighting, the color appears slightly deeper and more muted.
⭐What are the best trim colors to pair with Brandy Cream OC-4?
White shades, especially those from the Benjamin Moore collection, complement Brandy Cream OC-4 beautifully. Colors like White Dove OC-17, Chantilly Lace OC-65, and Simply White OC-117 create a crisp contrast against Brandy Cream.
⭐Is Brandy Cream OC-4 suitable for exteriors?
Absolutely! Brandy Cream OC-4 is a timeless shade that looks elegant on exteriors. It reflects sunlight beautifully and pairs well with stone pathways or wooden accents.
⭐How does Brandy Cream OC-4 compare to other similar shades from Benjamin Moore?
While Brandy Cream OC-4 has its unique warmth and depth, other colors may have cooler undertones or a different depth of color. It stands out due to its rich warmth and versatility in different spaces.