When we decide to repaint our home interior walls, it is important to choose the color correctly. Some of you believe that it is enough to just make sure that the color you want will match the rest of the color scheme you have at home.
However, you also need to be aware of certain color nuances in order to pick the right shade and use it properly!
In this article, we will describe and discuss one of the most beautiful green colors of the Benjamin Moore brand that is called Essex Green.
You will find out what kind of color it is, what undertones it has, what its light reflectance value is, and how to use it in different rooms. Also, you are going to find out the way this color reacts to light.
Finally, we will provide you with coordinating colors and trim colors so that you know how to create the most harmonious color palette in your home.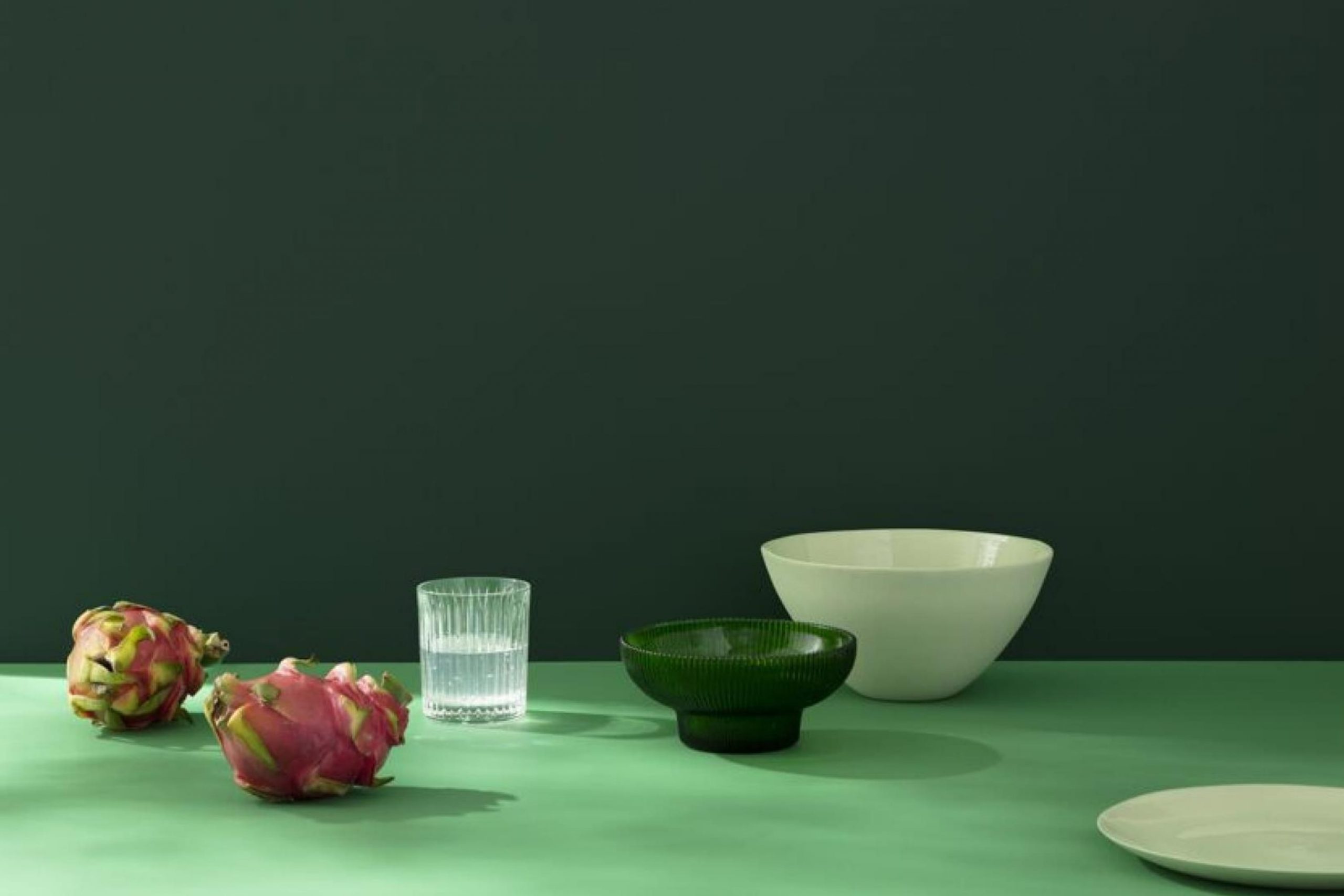 What Kind Of Color Is Essex Green HC-188 by Benjamin Moore?
Essex Green can hardly be called a color that will suit any interior and match everyone's expectations. As Encycolorpedia says, this shade of green is very dark, so dark that it reads nearly black!
So if you want to add a bit of a dramatic vibe to your interior, you should definitely opt for this paint color by the Benjamin Moore brand.
This classic and deep forest shade of green is your choice if you are into traditional, royal-like greens. This color will make a huge impact on your walls, turning a room into a much cozier area. It can also anchor cabinets and bring a new sense of depth to any space.
Of course, not everyone would find this deep green a suitable color selection for their homes, so we suggest you read on to learn more about this timeless color.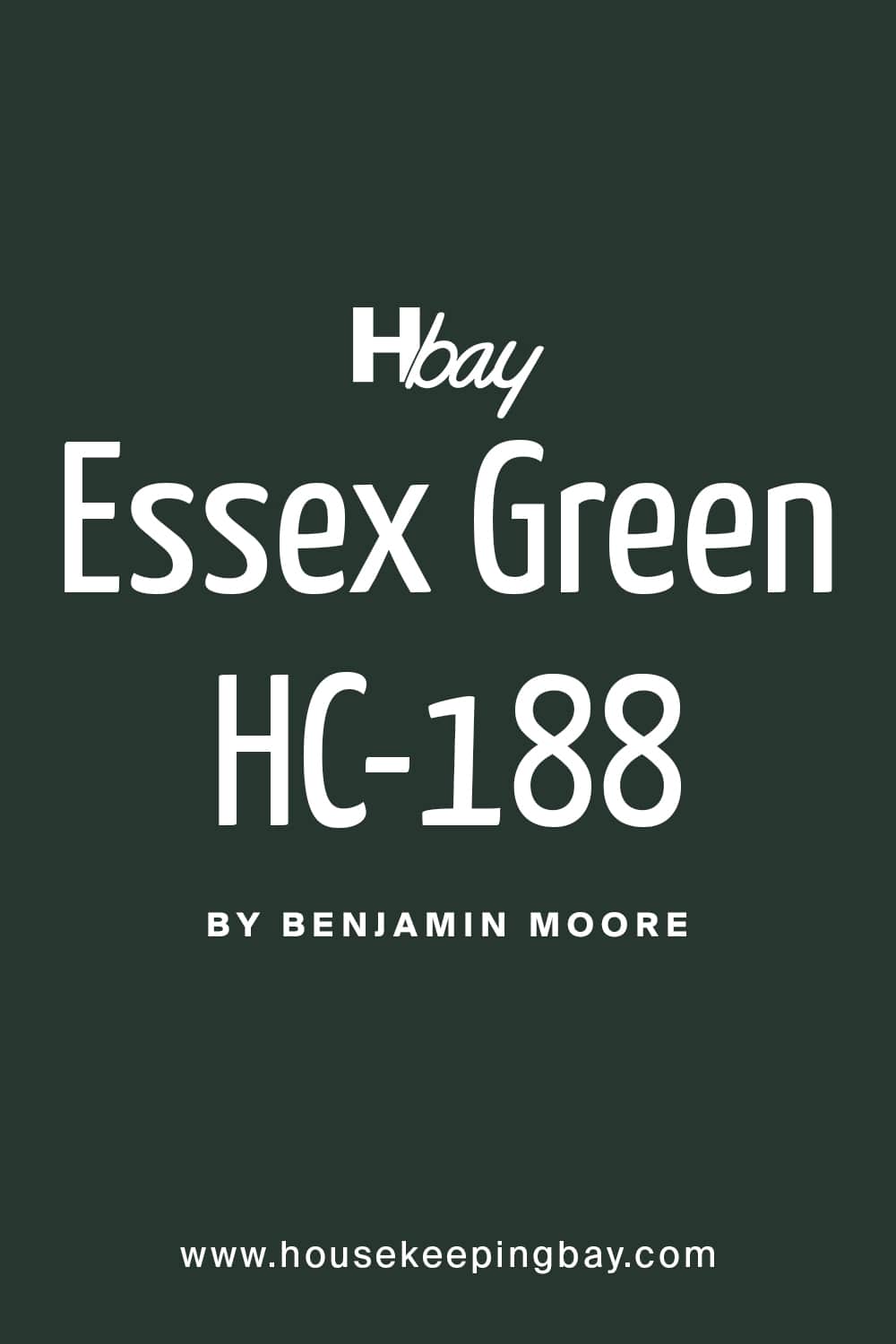 What Undertones Does BM Essex Green Have?
Being aware of what undertones your paint has is a must, otherwise, you may end up with the walls looking completely different from what you expected! This is because undertones often pop out unexpectedly when being specifically lit.
You can find out more accurate characteristics by color according to Encycolorpedia.
As for the BM Essex Green, this dark green has olive green undertones, as well as black undertones. The latter make some designers argue it is so dark that it is almost black.
In real life, this color still reads green, but in certain lighting, it can look very dark indeed.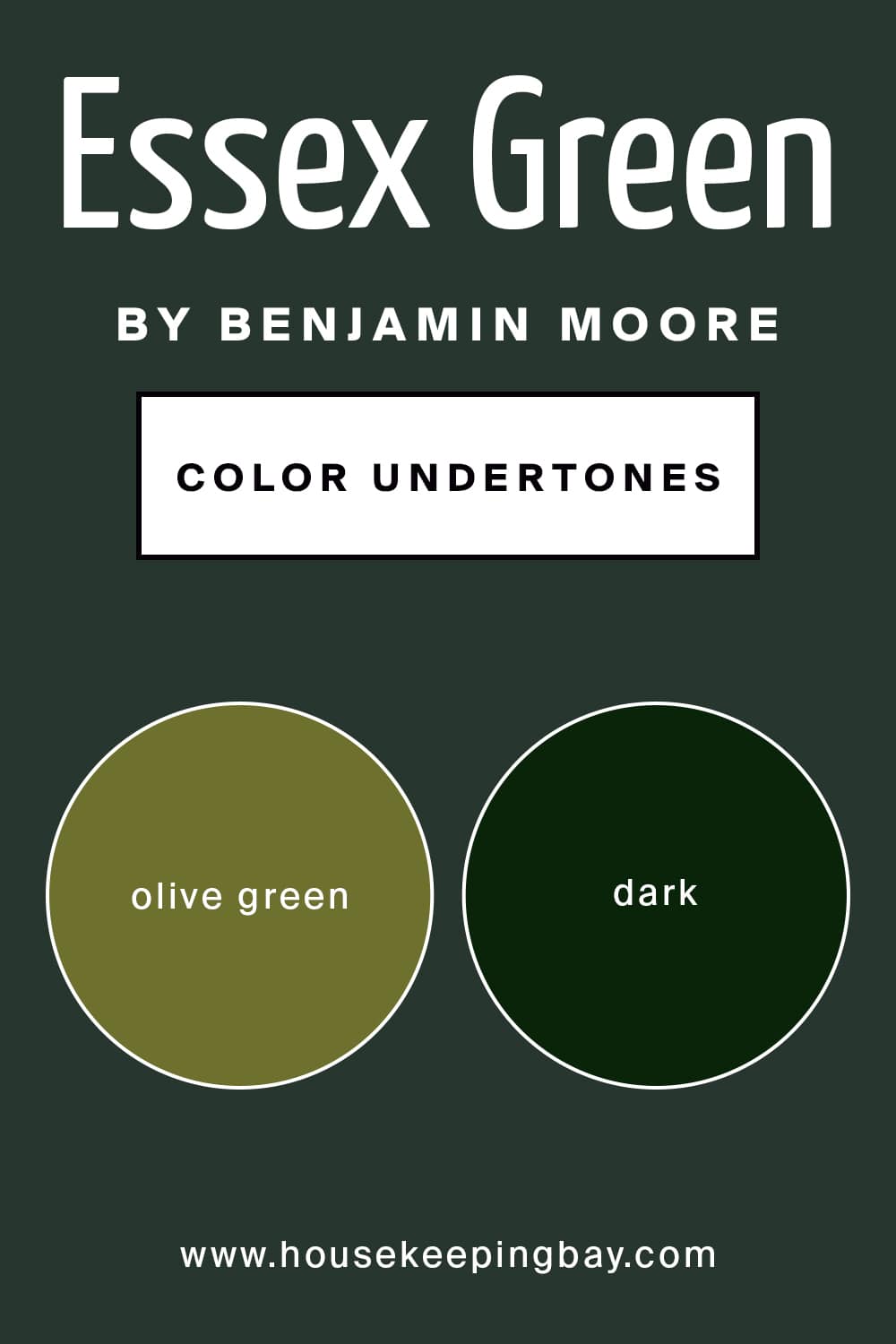 How Essex Green HC-188 by Benjamin Moore Reacts to Light?
The way the paint color reacts to light can help you tell in advance how it will read on your walls. Also, it will allow you to figure out in what rooms it will be best to use it.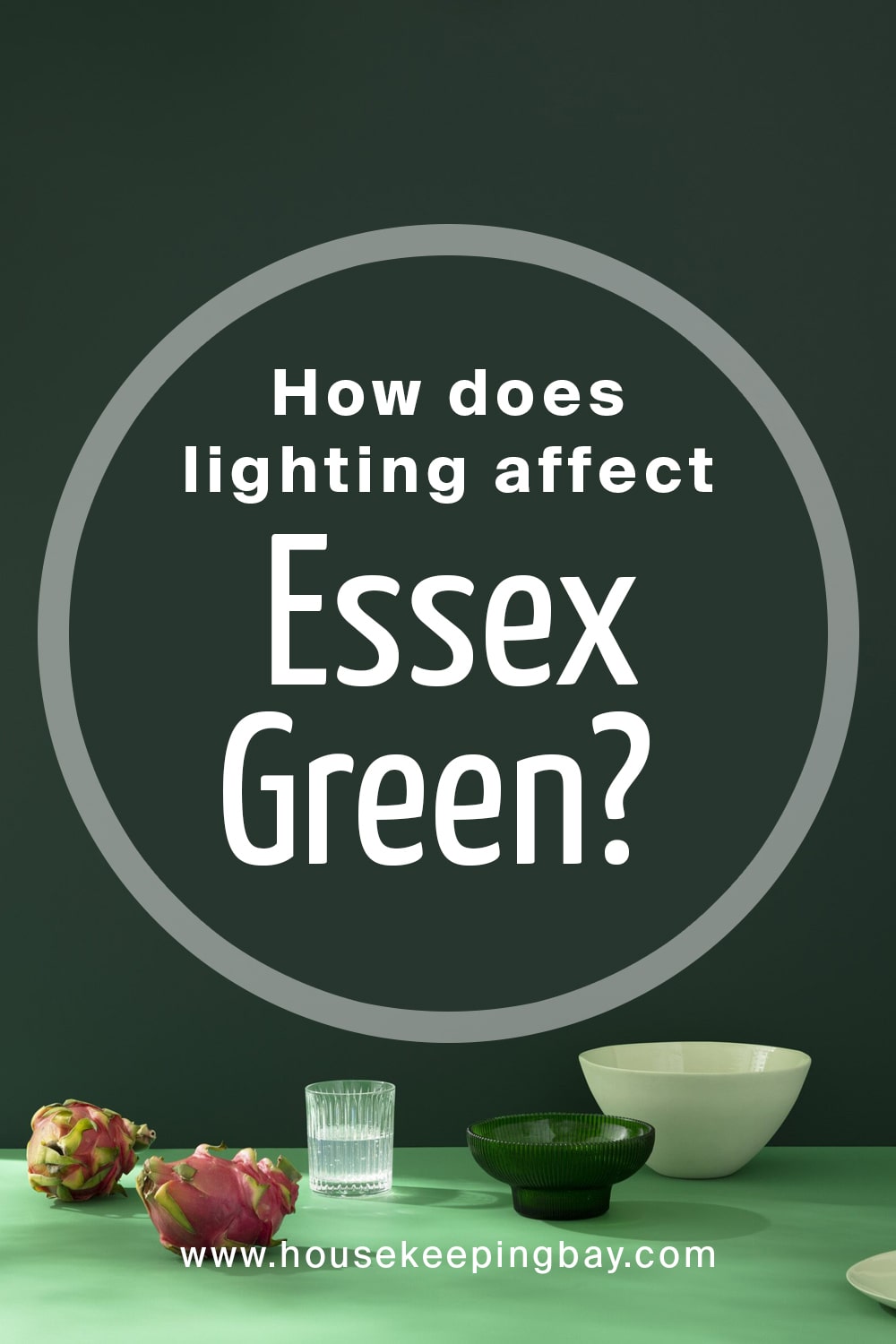 When speaking of the way certain paint colors react to lighting, you need to consider what is called a light reflectance value, or LRV. This is the ability of the color to reflect light which affects the final shade we see on the walls.
The LRV of BM Essex Green is 3.53, which makes it a very deep and dark color. Sometimes, people even think it is black. But of course, if you choose the proper lighting, you will see all the beauty of this classic green shade.
So, this was just a very basic description of the color, but even with this little information, you will be able to better understand what you should expect from this timeless and noble green.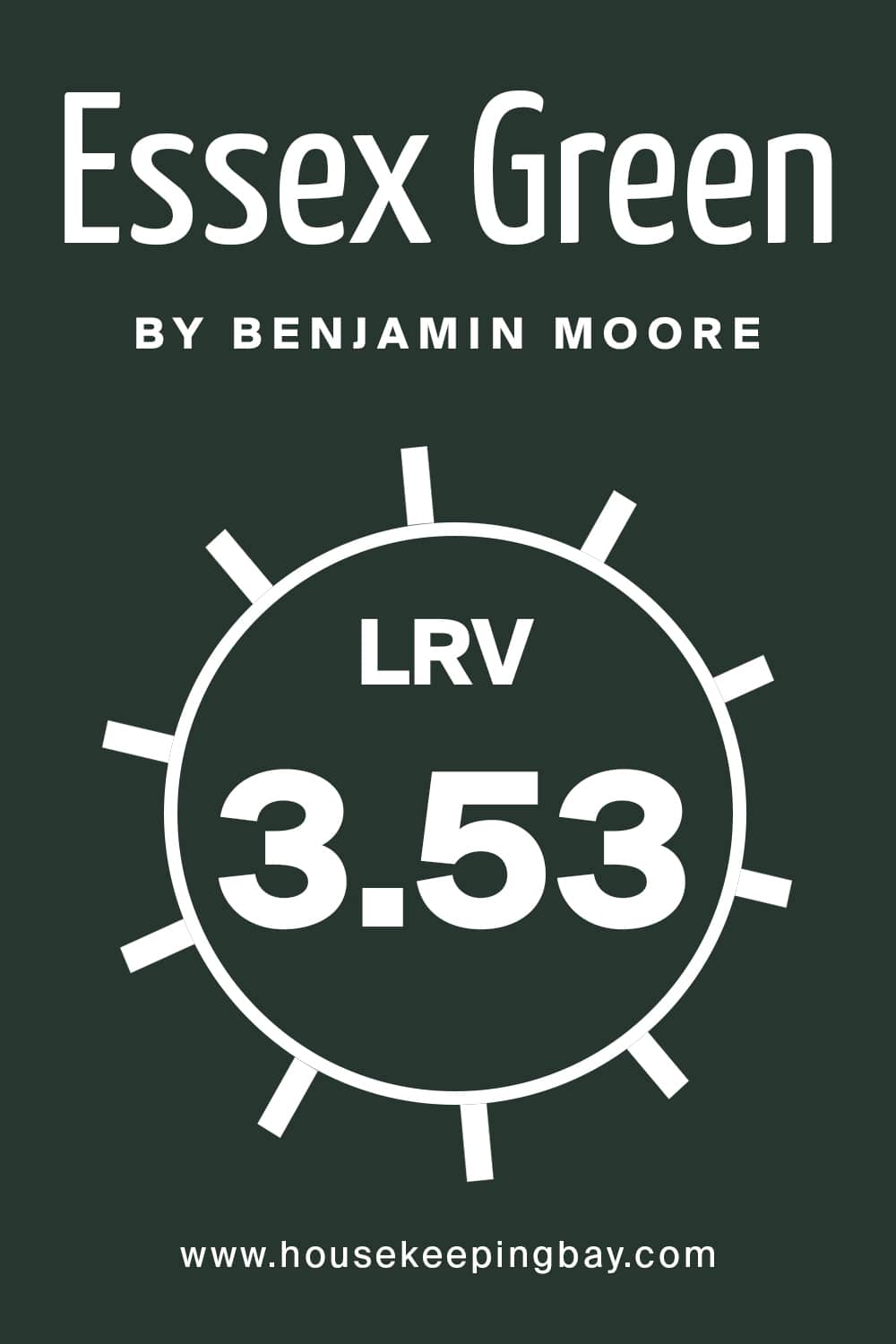 What is LRV? Read It Before You Choose Your Ideal Paint Color
What Is the Best Trim Color For Essex Green HC-188 by Benjamin Moore?
White is typically considered the universal paint color used for the trims in home interior design. Of course, depending on the major color and its undertones, you might want to use either cooler tones of white or stick to the off-whites or warmer whites instead.
With the dark and rich green, such as Benjamin Moore Essex Green HC-188, white is also the optimal trim color that will always do the trick. When paired with whites, this green will give the space a very classic and traditional (we would even say, reserved) look.
For example, you can use Simply White or Dove White colors by Benjamin Moore.
This shade of green goes well with both warm-toned and cool-toned white colors, and even with creamy whites! Depending on the tone of the white paint, Essex Green may read warmer or cooler respectively.
It means you can choose the trim color that will match with the rest of your color palette best of all.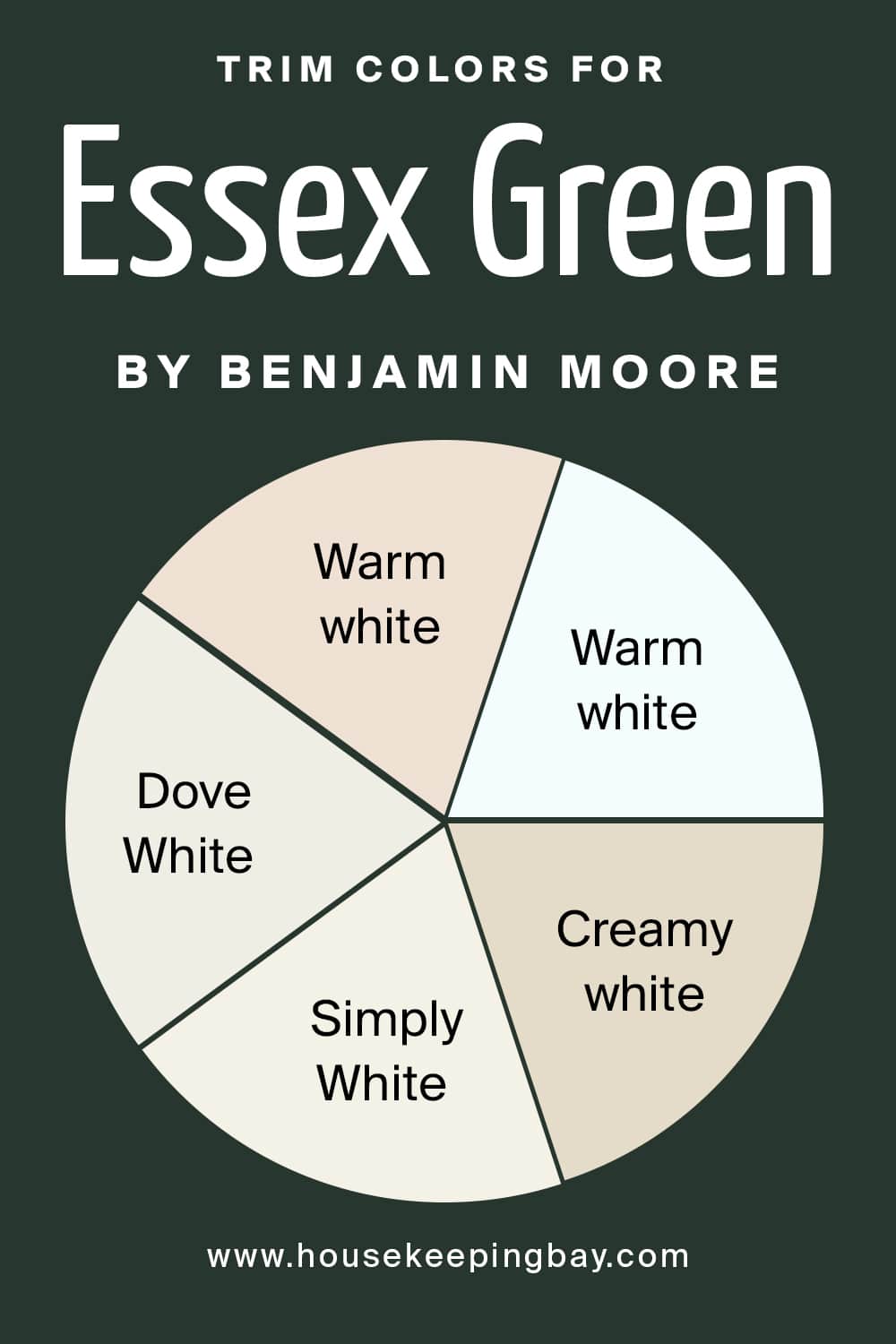 Paint Colors Similar to Essex Green by Benjamin Moore?
Of course, when you choose the paint color to use in your home, you consider using this particular shade. However, should you change your mind and want to use another color, it is good to know what similar colors can be used instead.
If you are looking for the color or colors of interior paint that can be used interchangeably instead of the BM Essex Green, there are a few of them we can suggest to you.
BM Tarrytown Green
BM Miramichi
BM Salamander
Deep Forest Pine by Glidden
Of course, pay attention that these colors slightly vary from each other, which means that you will not get a complete match! However, you will be able to choose the one that fits your interior best of all quite easily.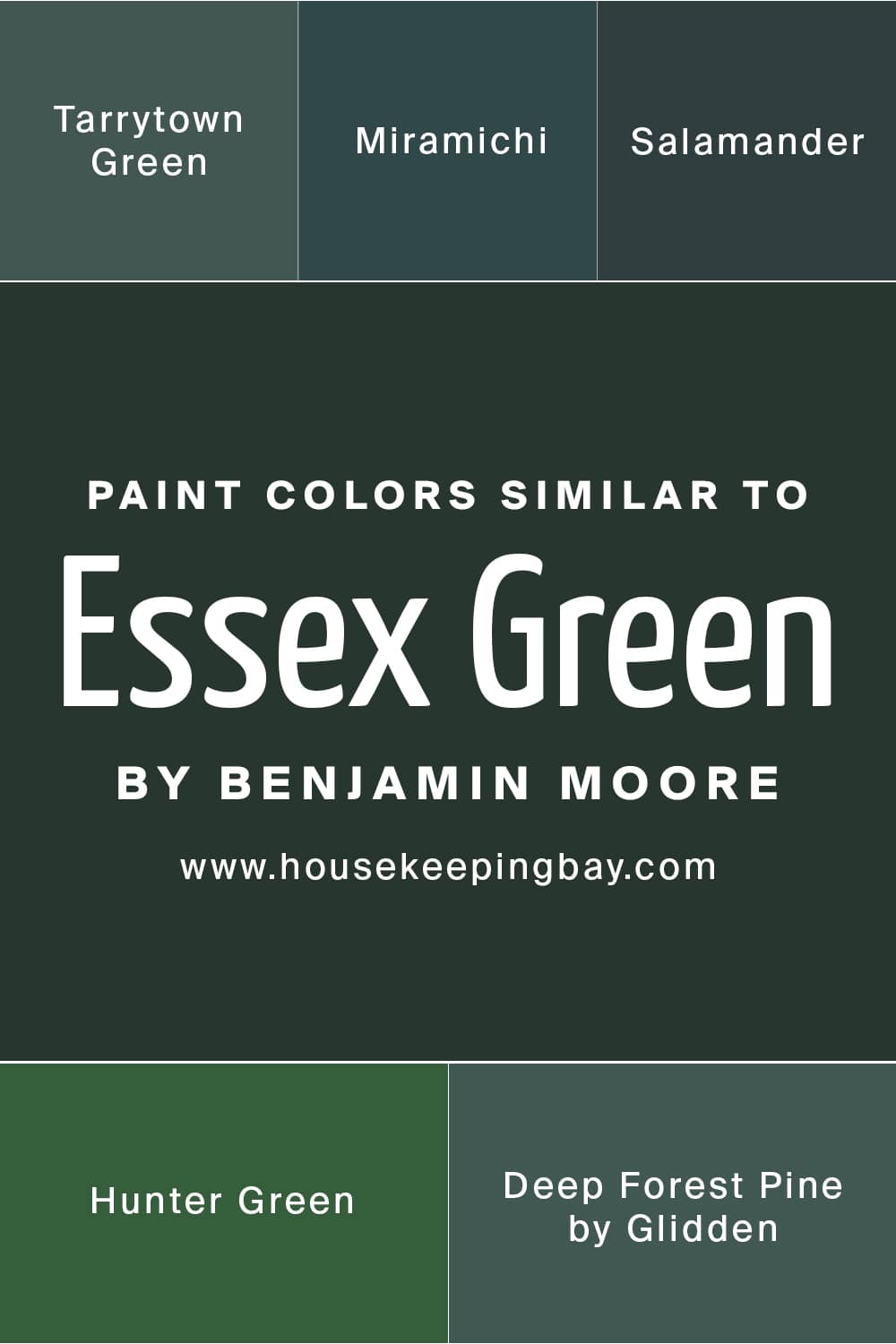 Coordinating Colors For BM Essex Green
Coordinating colors are those that are situated on the opposite sides of a color wheel. So, if you take green, its coordinating color will be red. Depending on how dark the green is, it may coordinate with lighter or darker reds and even certain shades of orange and/or yellow.
If we talk about BM Essex Green in particular, you could consider the following paint colors to coordinate it with:
BM Moroccan Red
BM Autumn Orange
BM Deep Rose
Nevertheless, if you prefer less prominent and bold color combinations, you can also consider using lighter gray shades:
BM Silver Marlin

BM Sea Foam
Colors That Essex Green by Benjamin Moore Goes With
Sometimes you may find it difficult to find the most suitable paint colors to pair them with such a dark color as BM Essex Green. However, there are a few light colors that will create a balanced color palette when combined with this shade of green.
For example, BM Essex Green will work well with white colors (for example, Dove White or Simply White), as well as with lighter shades of gray. The good news is that you can use both warm-toned and cool-toned whites.
Also, Essex Green looks nice and balanced with rich wood tones and creamy whites. If you are not afraid of experiments, you can try out using muted shades of blue, just choose not too light ones.
And we would not recommend you combine this color with black unless you have other, lighter colors or whites around!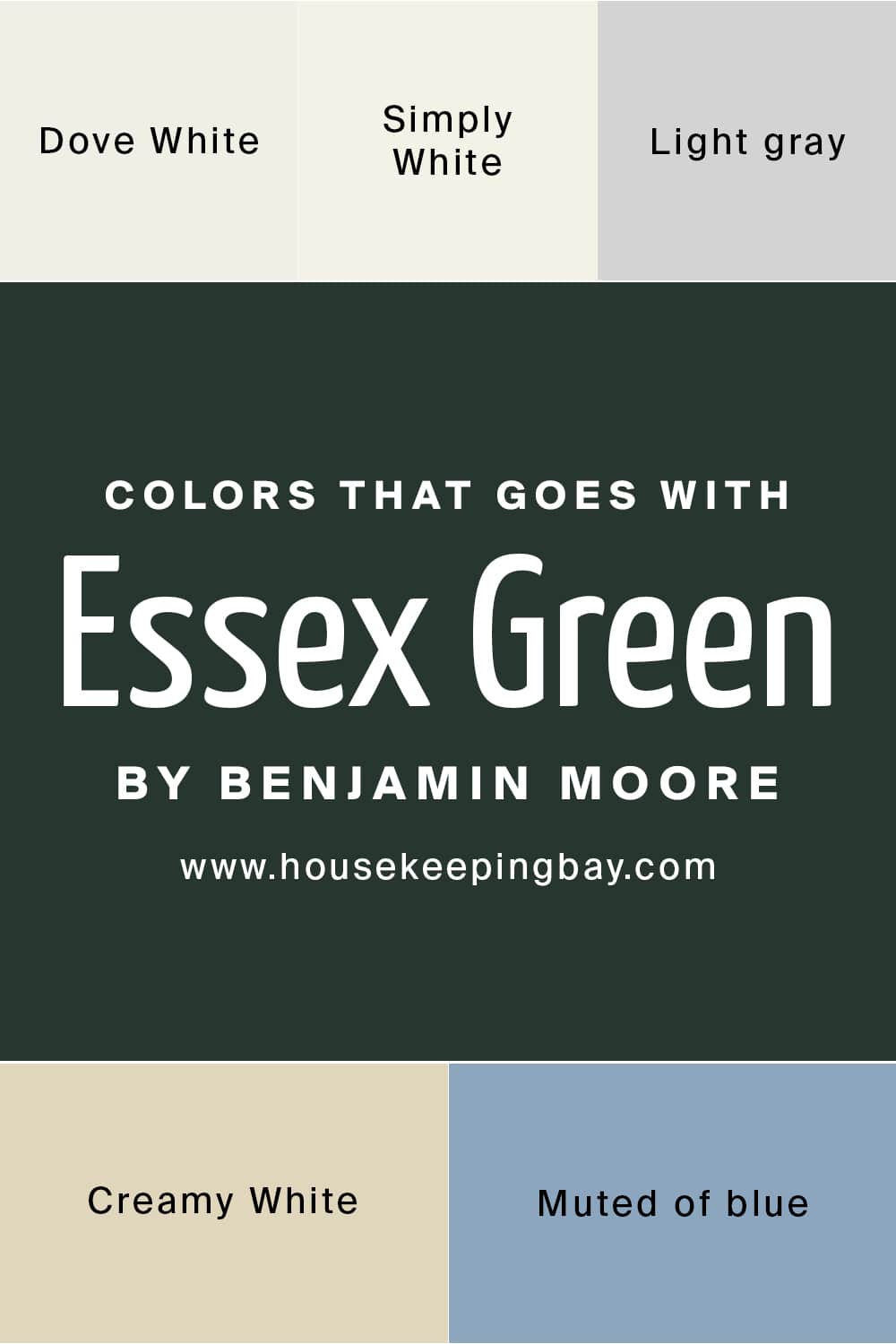 Rooms It Is Best to Use In
You will be surprised to find out that such a dark shade of green is surprisingly versatile when it comes to using it in your home!
You might think that it is hard to find a suitable space in your home to make use of it, but this is not like that.
In fact, Benjamin Moore Essex Green can be successfully used in almost any room. You only need to pay attention to the lighting there in order to tell in advance how this green will show itself on the walls.
And of course, you should take other colors in a room into consideration.
Essex Green by Benjamin Moore in the Living Room
This beautiful dark green color will make your living room look perfectly classy! The dark and rich color will create a reserved and elegant vibe, especially in a classic interior. You can paint all the walls this green, or use it as an accent wall color if you prefer a lighter interior.
Pair it with white trim and doors or cabinets for creating a bold, crisp look.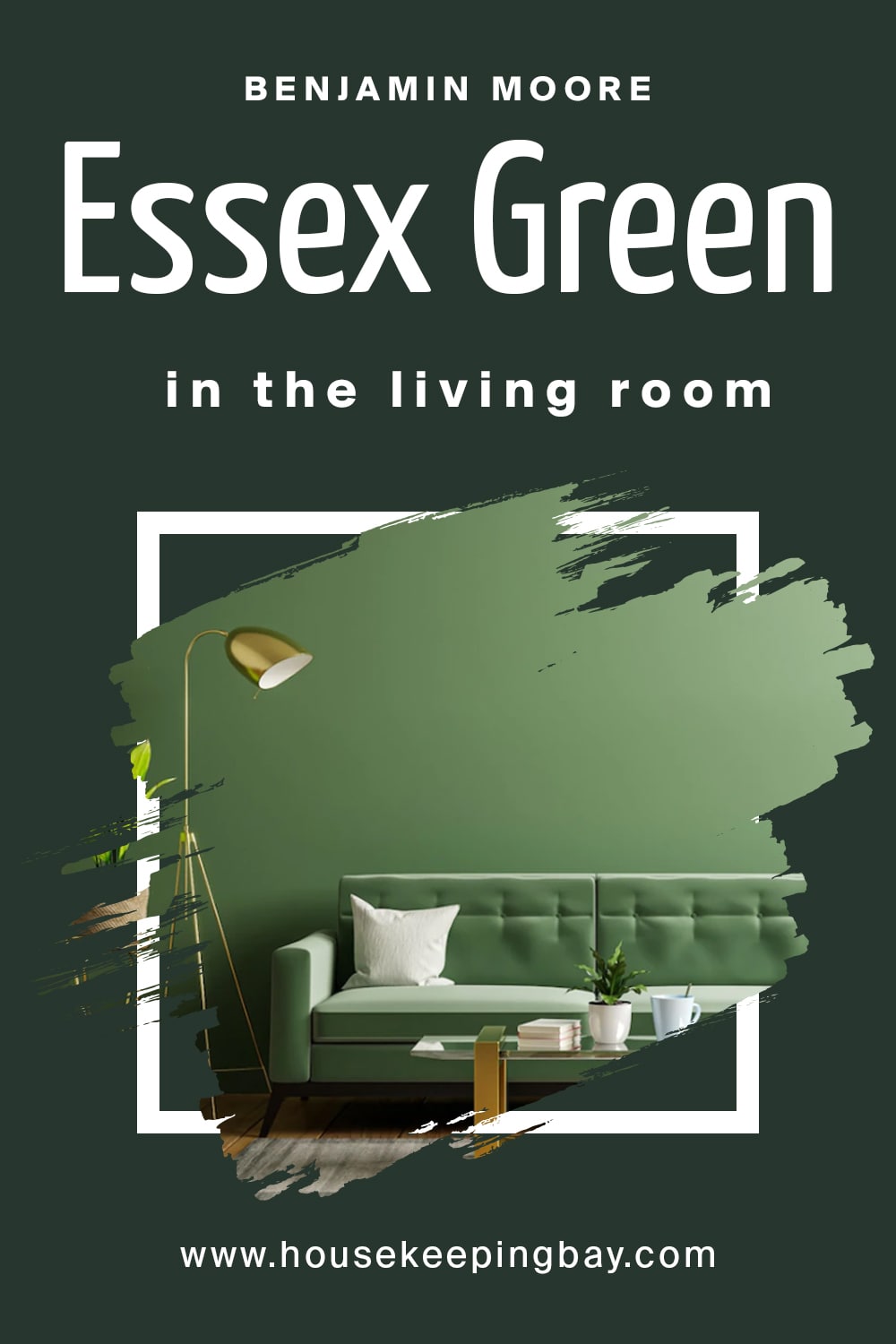 Essex Green by Benjamin Moore in the Bedroom
Painting your bedroom walls green might seem weird, but if you are looking for a way to create a calming and cozy atmosphere there, you should definitely consider using BM Essex Green!
This rich and deep green is well-balanced thanks to its undertones, which saves you from having a too cold or too warm color on the walls.
You just need to make sure you have quite a lot of white there as well (for example, white ceiling or white carpets) in order to prevent the room look too dark and gloomy.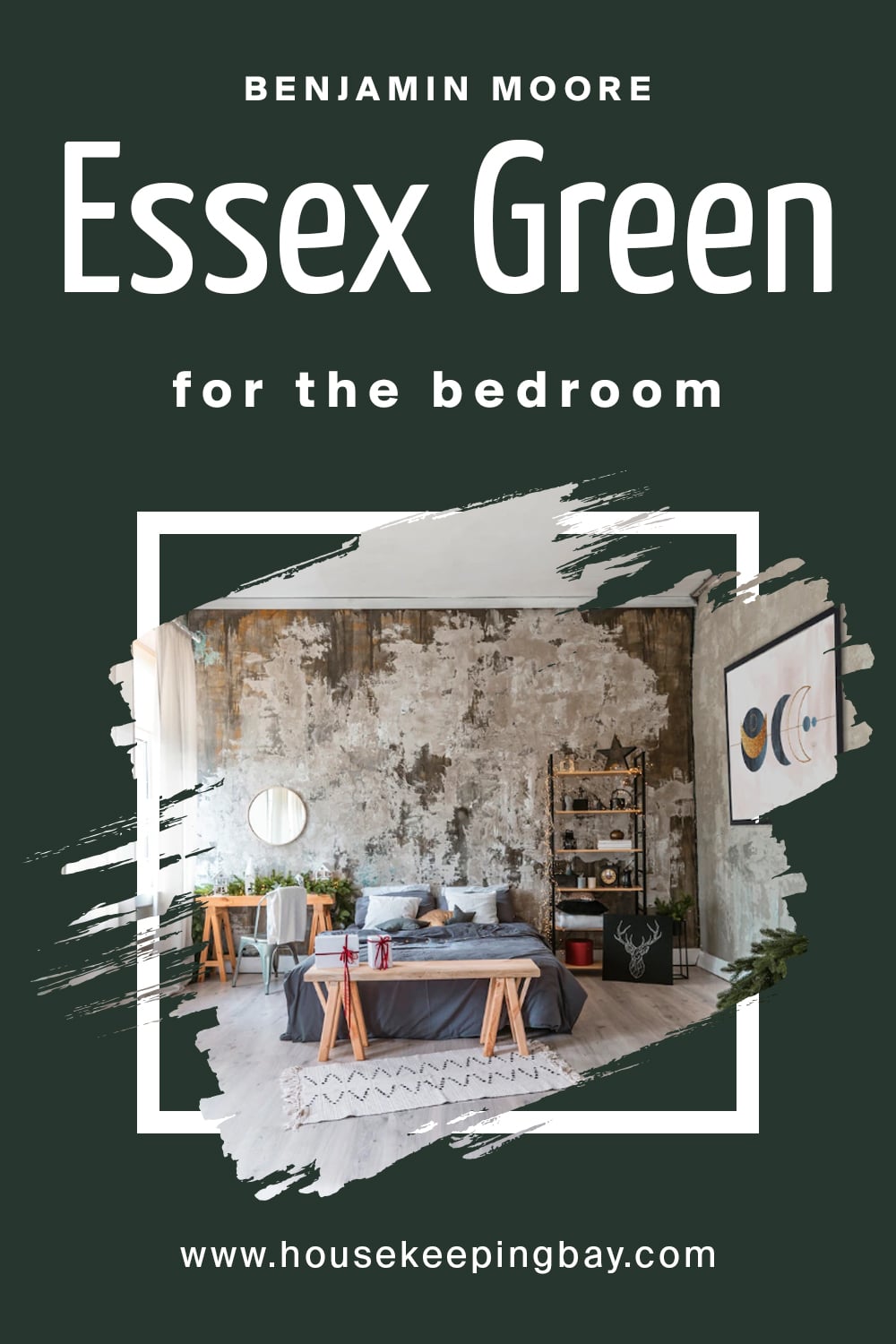 Essex Green by Benjamin Moore in the Kitchen
As a paint color for your kitchen, Benjamin Moore Essex Green might not be suitable as a whole-space wall color. However, if you paint only your cabinets with it, the color will fit right in perfectly.
Moreover, it pairs well with whites and also with brassy and golden decor elements and hardware.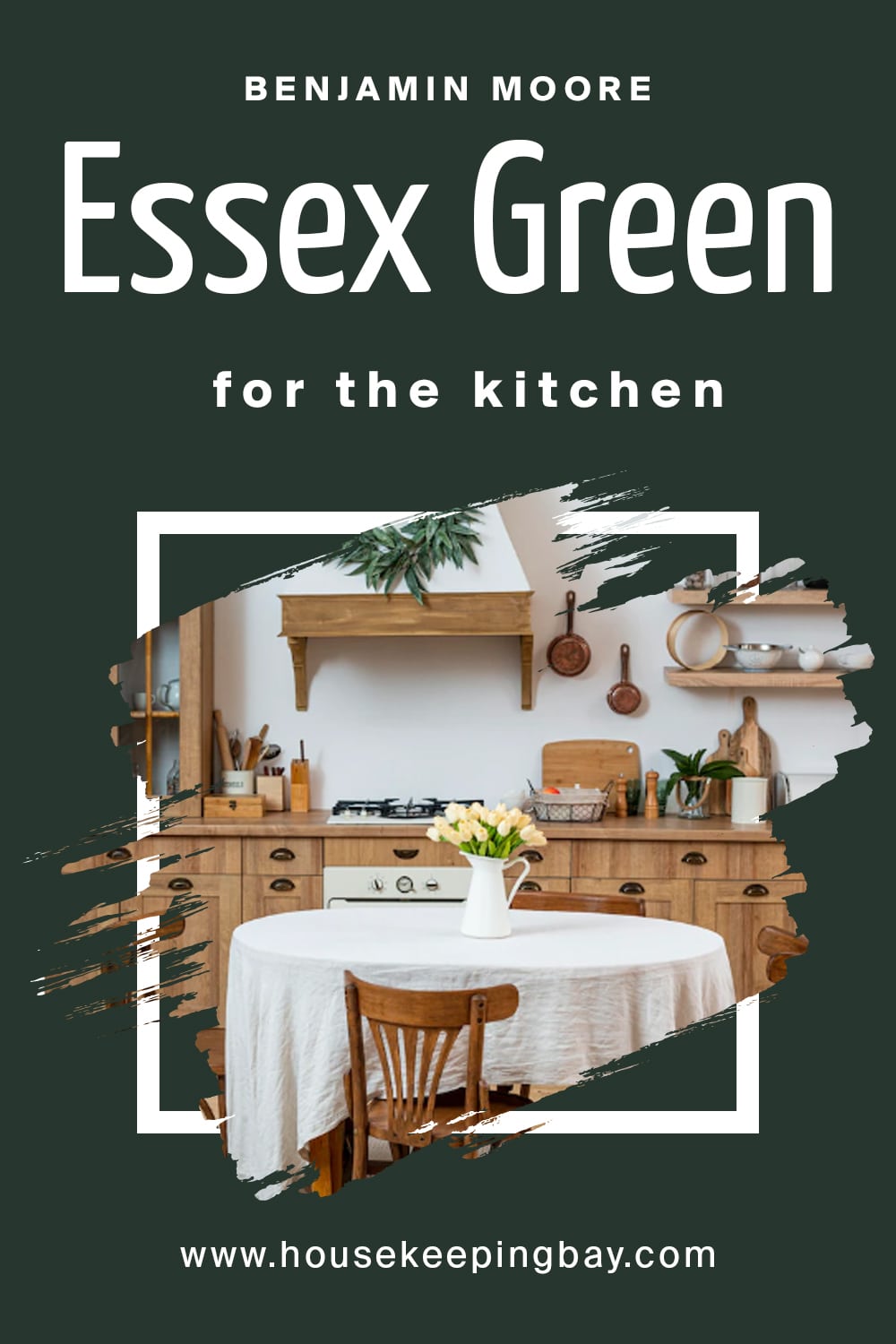 Essex Green by Benjamin Moore in the Bathroom
Green might not always be a good color choice for bathrooms. Especially if it is so dark as BM Essex Green. However, you can still apply it on drawers or cabinets to create brighter color accents.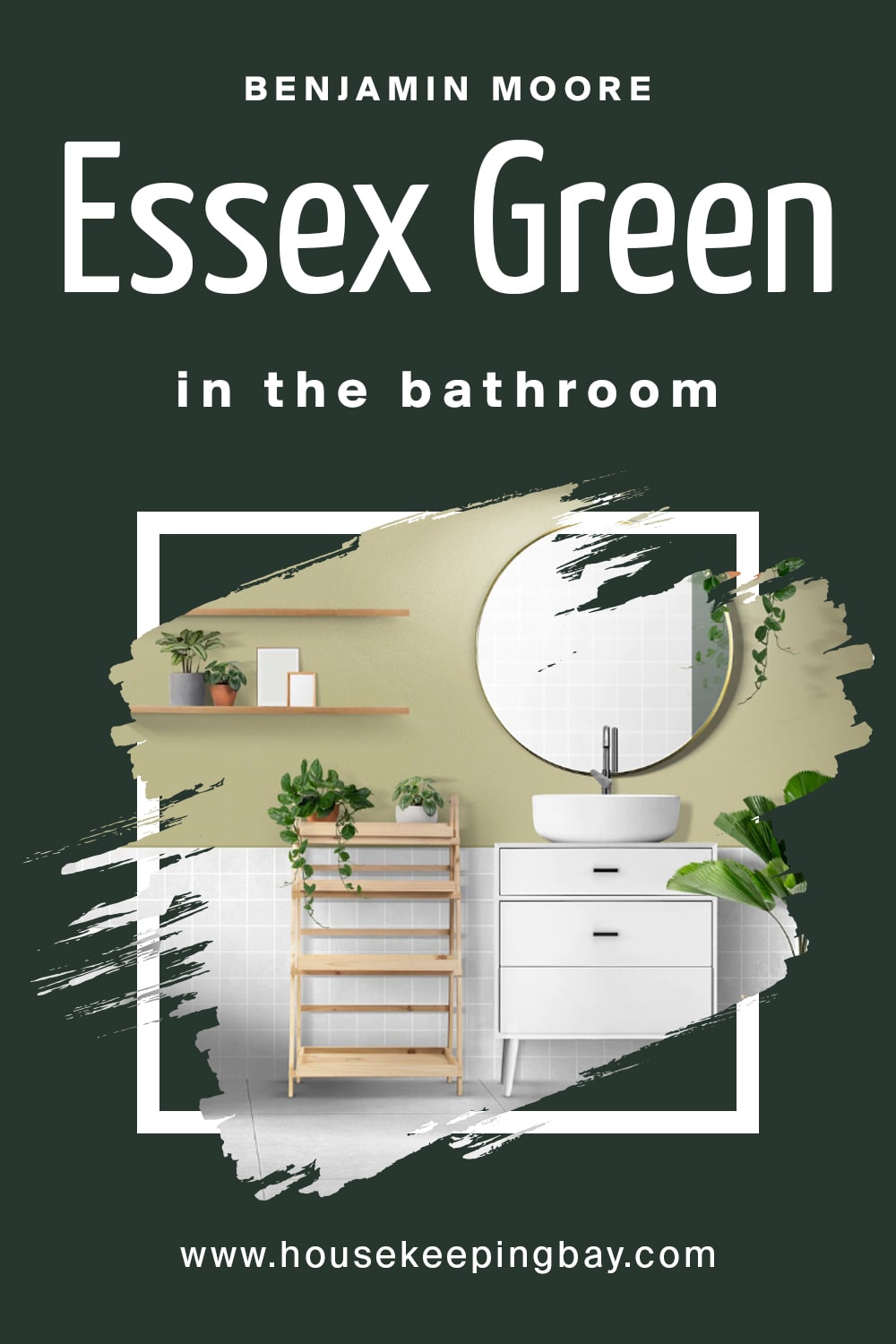 Essex Green by Benjamin Moore in the Exterior
As an exterior paint, BM Essex Green should be used with caution. Since it is very dark, it might not be the best idea to paint the entire house with it! However, if you paint trims and/or your front door with it, it may work quite well, especially on the white or another light-colored facade.
Now you know what rooms this green color will work better in. And since you know where it should better be avoided, it will be easier for you to choose the area of application for this paint color.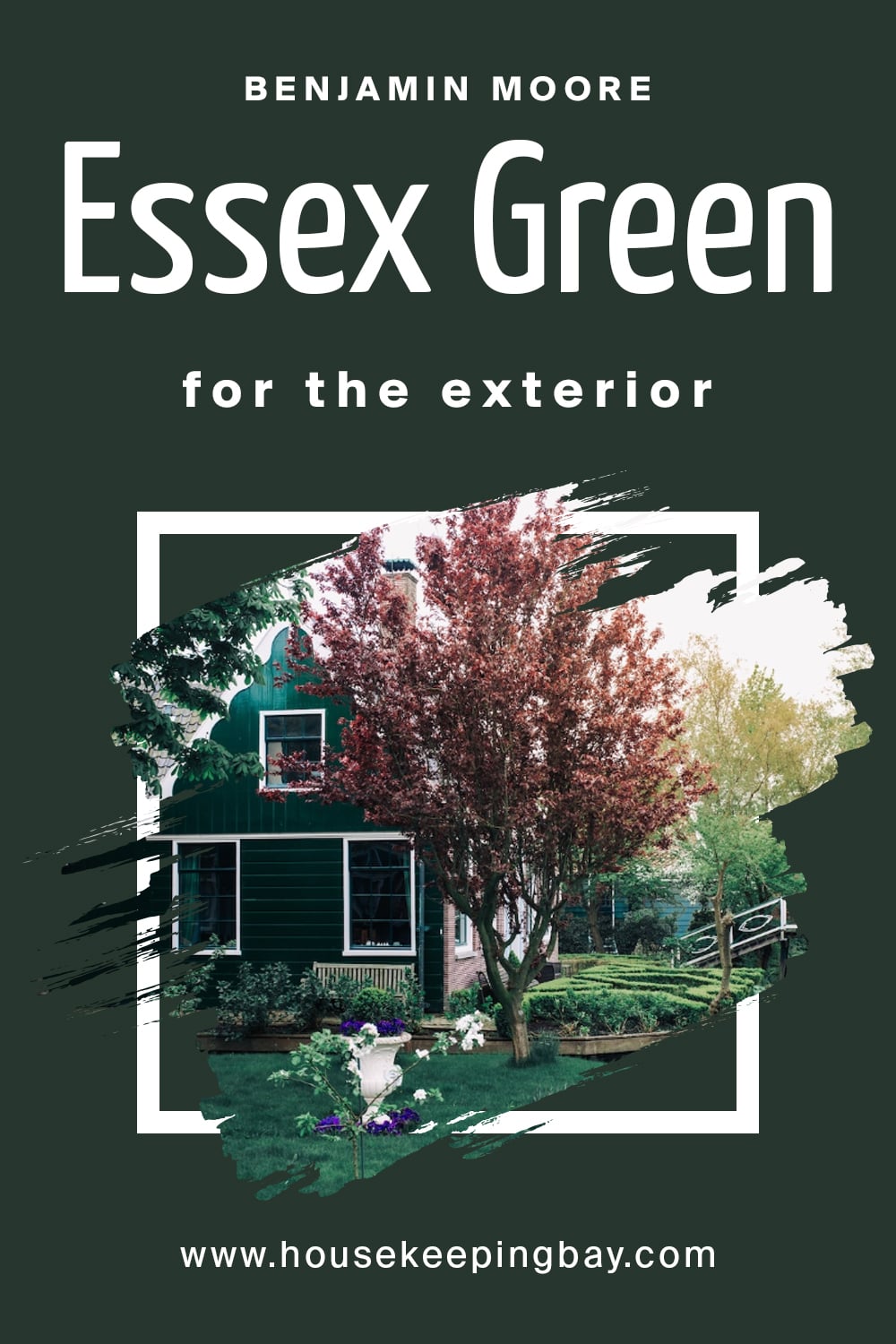 Essex Green by Benjamin Moore Color Comparison
Even within one brand, there are plenty of shades of one color. Of course, such a variety makes it rather difficult to make a choice when you need to pick the right shade of color for your home.
This is why we recommend you check out the description of BM Essex Green in comparison to a few other colors of different brands. Like that, it will be easier for you to make the right choice.
Essex Green vs Salamander
Salamander is another paint color by Benjamin Moore. It has a tinge of dark cyan blue undertones, which makes it read cooler than Essex Green. Essex Green, on the other hand, looks much warmer in comparison with Salamander.
These colors can't be used together in the same space, but you may want to consider using them interchangeably should you need a more cool-toned hue.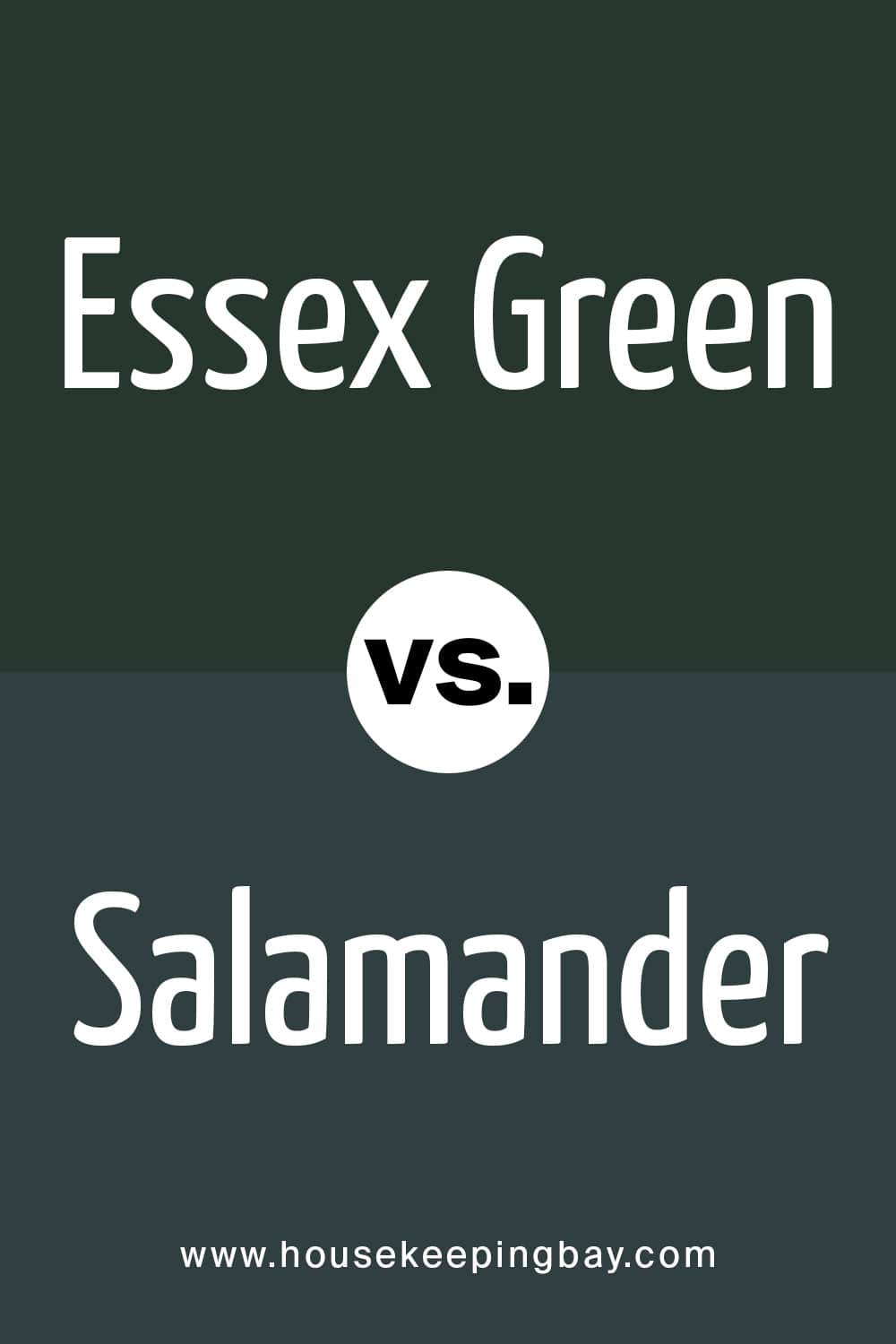 Essex Green vs Hunter Green
Hunter Green is a natural green color that has green undertones, whilst Essex Green with its black and olive undertones is much darker. The black undertones of Essex Green make it read warmer and deeper while Hunter Green reads more cool-toned with more prominent green notes.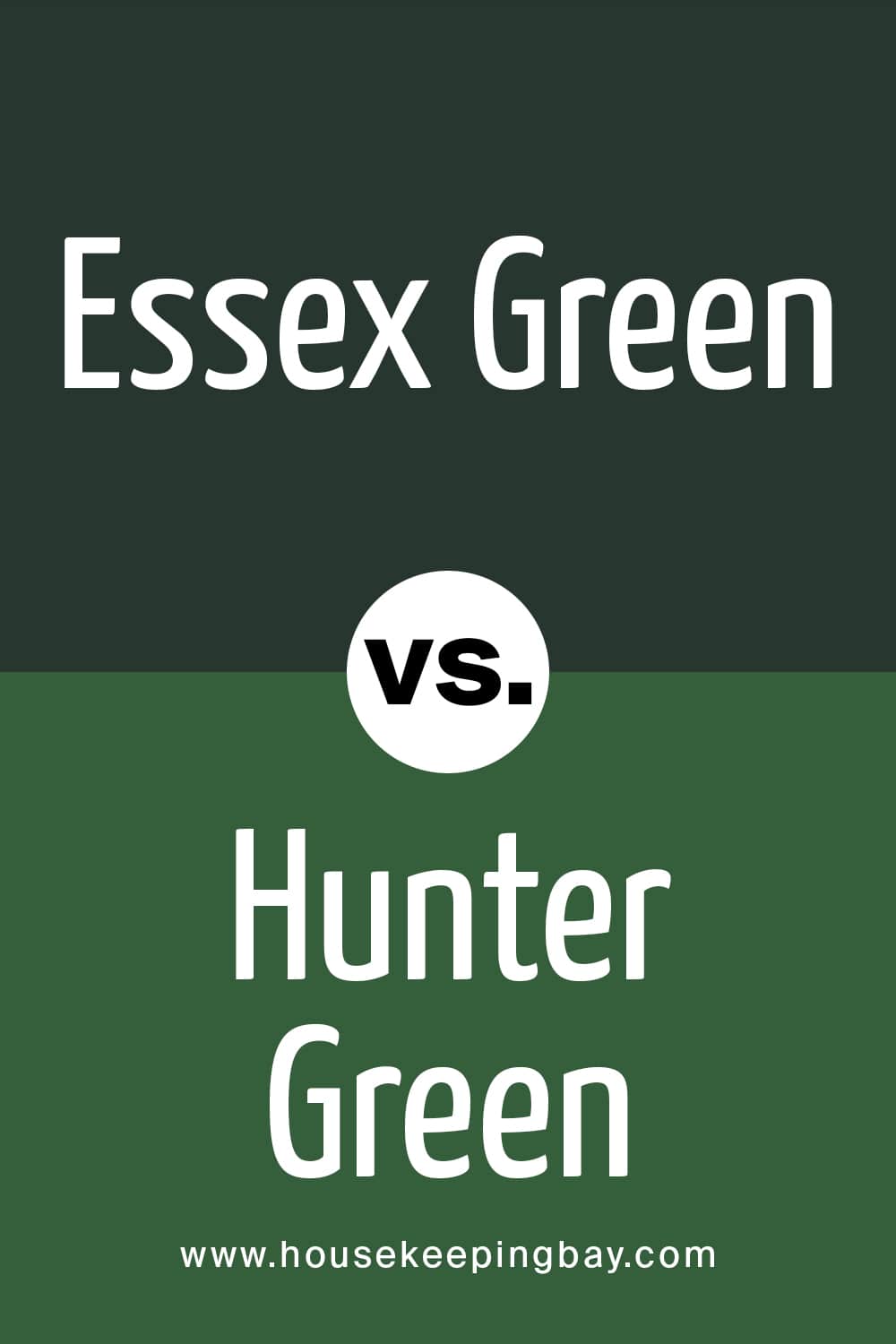 Now you know what color BM Essex Green is and how it can be used in your home. We told you about its major specifics, such as LRV, coordinating colors, undertones, etc.
With that in mind, you will be able to make use of this classic green, turning your home into a cozy and stylish space.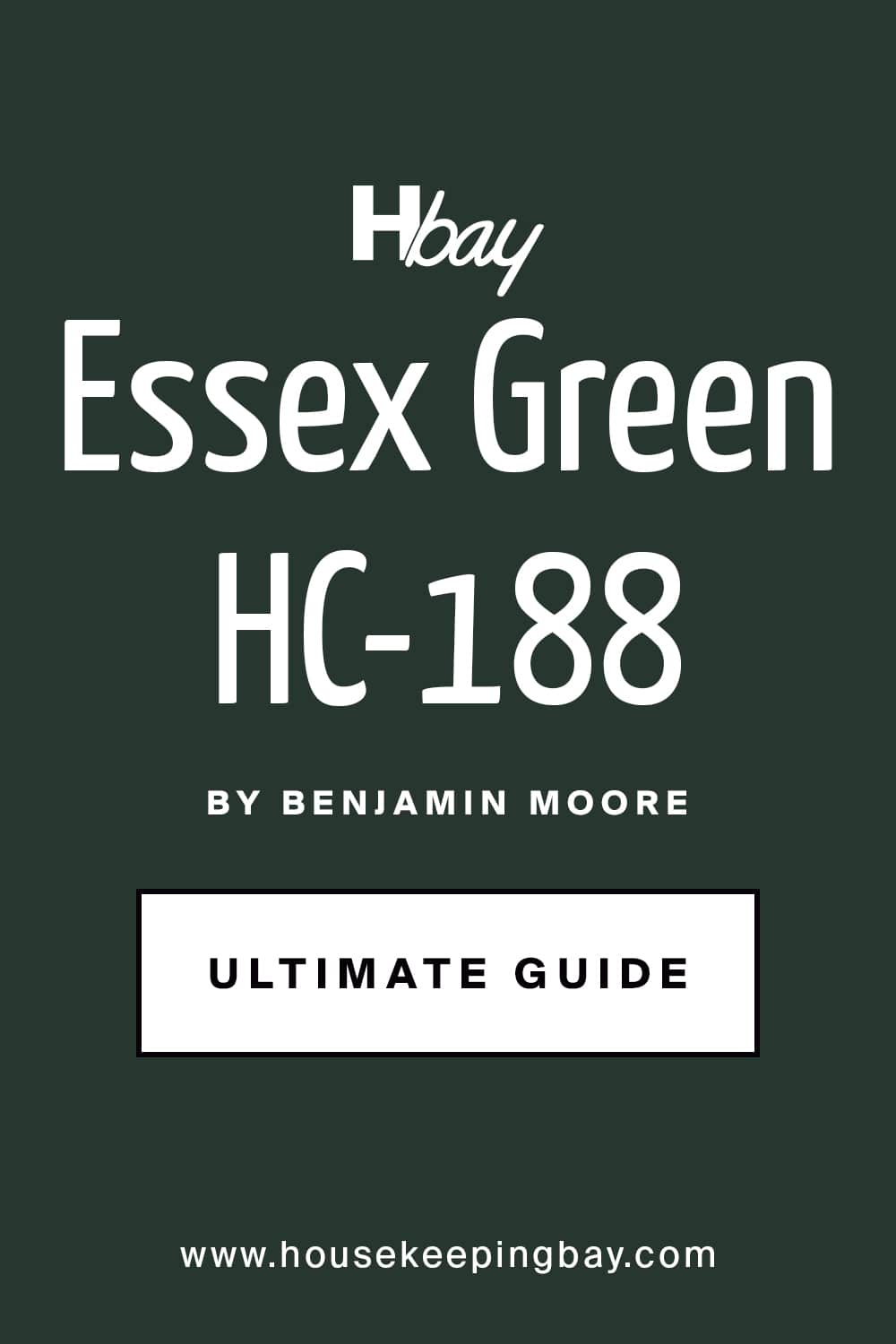 Frequently Asked Questions
⭐Will dark green as Essex Green pair with off-whites?
Yes, this green color combines great with warm and off-whites, especially if they're used as a trim color, for example.
⭐Will Essex Green make a room smaller?
It can do it, of course, especially if the room is initially very small and if it is poorly lit. Consider this before you start painting.
⭐Will Essex Green be a good choice as a paint color for my porch?
Basically yes, but note that the rest of the house should be of a much lighter color (e.g. white, light gray/greige, etc.)!