In the vast universe of colors, there's a hue that has charmed homeowners and interior designers alike – SW 9528 Vintage. This article dives deep into its characteristics, undertones, and how it plays with other shades and lighting. Let's embark on a journey to explore this intriguing color.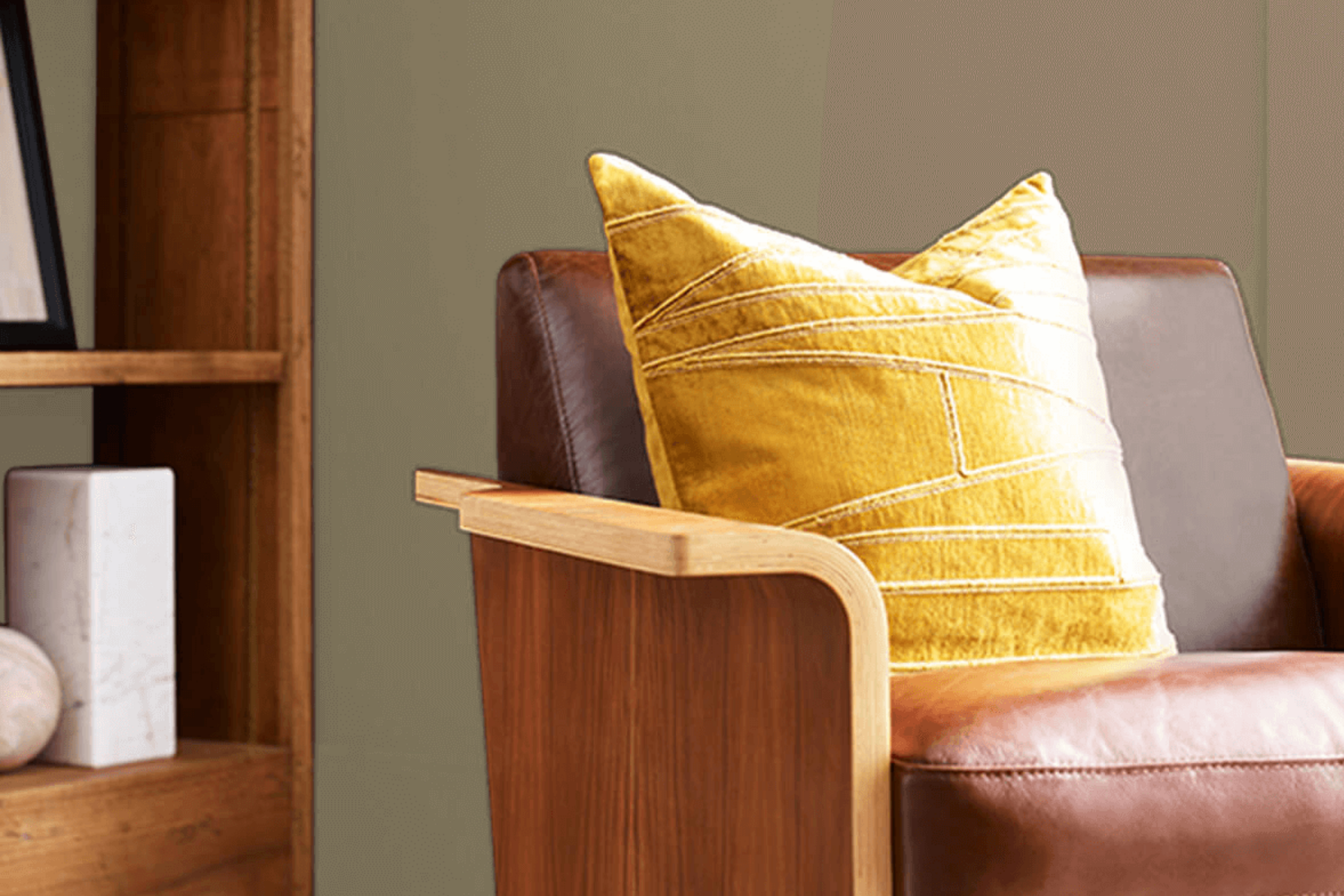 What Color Is SW 9528 Vintage?
SW 9528 Vintage exudes a timeless appeal, drawing its inspiration from the nostalgic past. Its muted richness can be described as a sophisticated blend of olive and sage. Imagine a blend of earthy green with a subdued hint of gray; that's the magic of Vintage.
When envisioning interior styles, it naturally complements rustic, farmhouse, and even modern minimalistic designs. Its versatile nature makes it perfect to pair with raw wooden textures, aged metals, and rich fabrics like linen and velvet.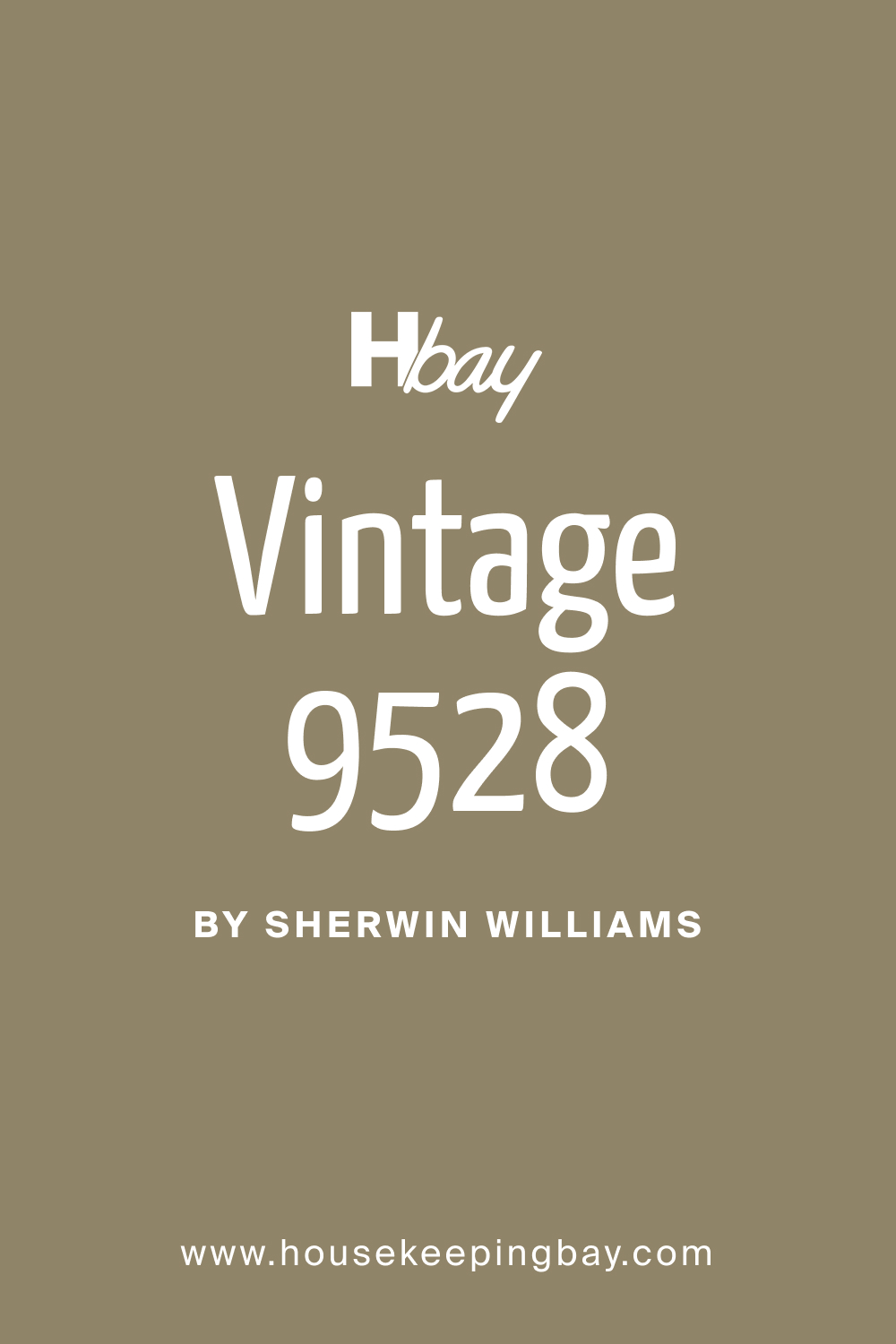 Is It a Warm Or Cool Color?
SW 9528 Vintage, with its greenish-gray tinge, leans towards the cooler spectrum. Cooler colors often provide a calming, serene ambiance, making them ideal for creating relaxing spaces. In homes, SW 9528 Vintage can make rooms feel more spacious and open thanks to its cool undertone.
Undertones of SW 9528 Vintage
Every color has hidden shades that influence its primary hue, known as undertones. For Vintage, there's a subtle undertone of gray, giving it a muted, earthy feel. Undertones dictate how colors react under different lighting and against other shades. The gray undertone in SW 9528 Vintage can sometimes make the paint appear more neutral on walls, especially in dimly lit rooms.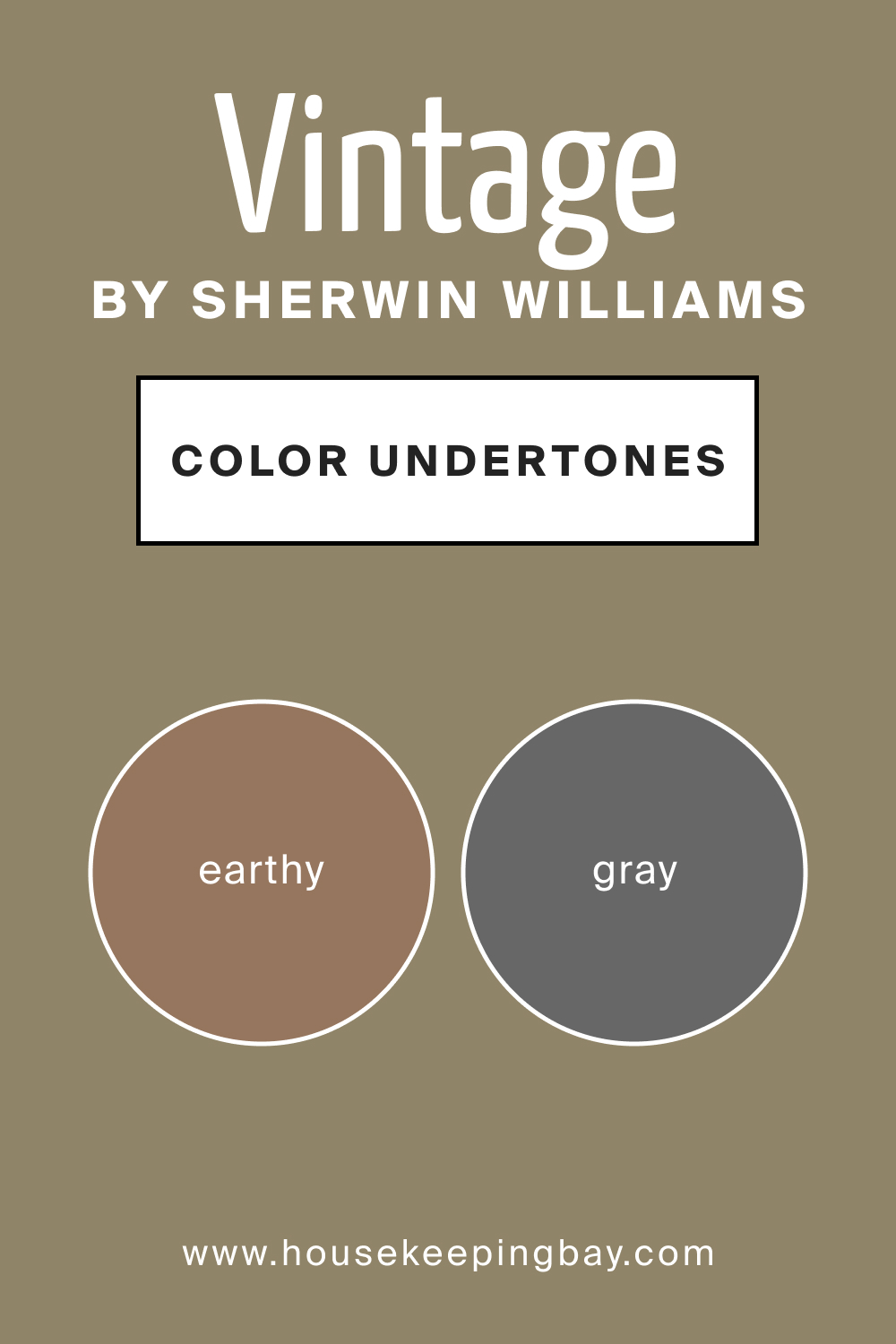 Coordinating Colors of SW 9528 Vintage
Coordinating colors are hues that naturally complement the main shade. For SW 9528 Vintage, think of shades that accentuate its earthy richness. These can include muted golds, deep burgundies, or even soft creams. For instance, try out these ones:
SW 6335 Fired Brick
SW 6369 Tassel
SW 7686 Hinoki
Coordinating colors create visual harmony, enhancing the overall aesthetic.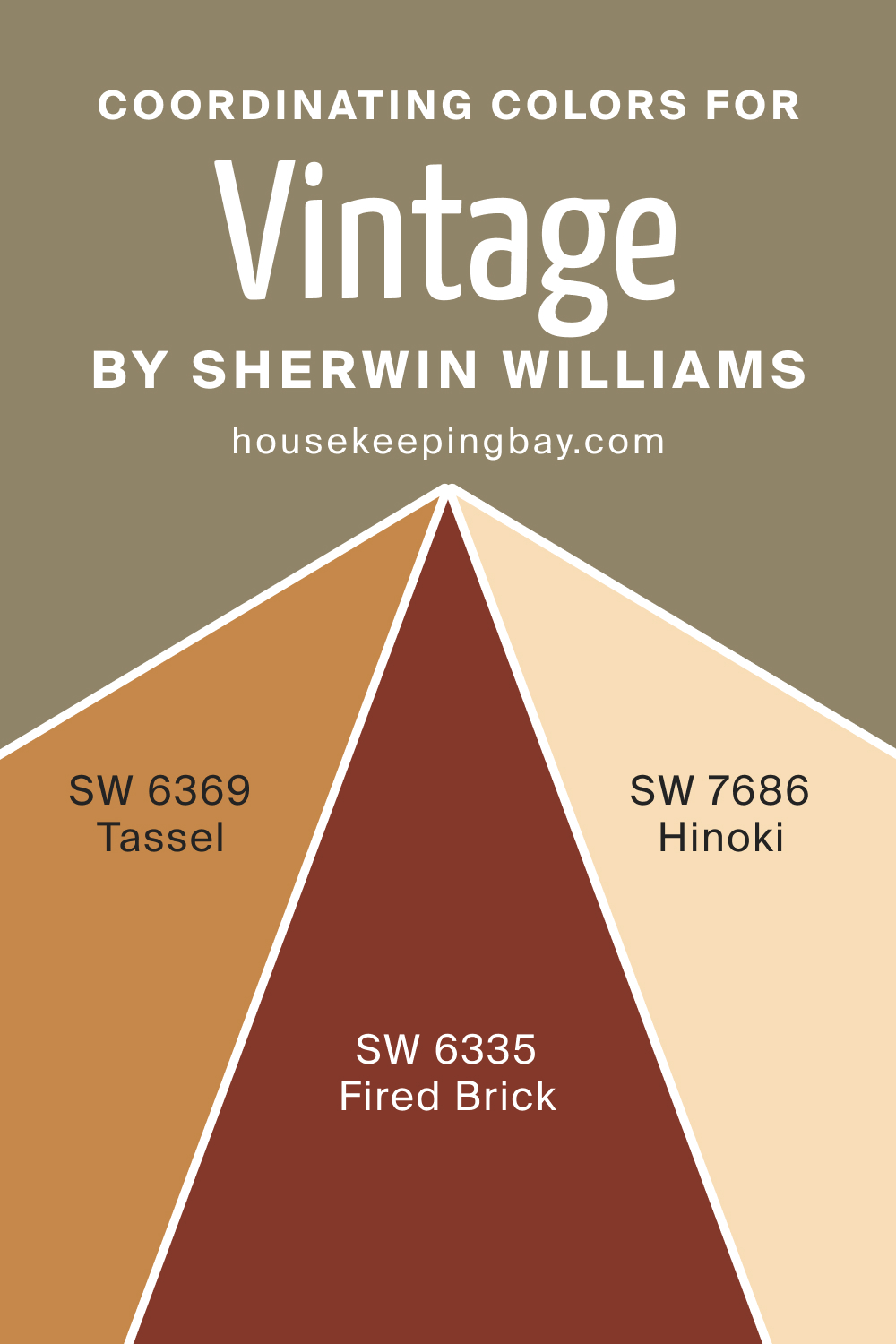 How Does Lighting Affect SW 9528 Vintage?
Lighting is like the magic wand that can make or break a color's appearance. Under artificial light, SW 9528 Vintage may take on a slightly grayer hue, making it more neutral. On the other hand, in abundant natural light, its green essence shines through.
In north-facing rooms, which generally have cooler, muted lighting, the color appears more subdued and might tilt towards its gray undertone.
South-facing rooms, blessed with warm, golden light, would emphasize its green aspect. East-facing rooms in the morning would enhance the cool tones, while west-facing rooms in the evening might lend it a warmer appearance.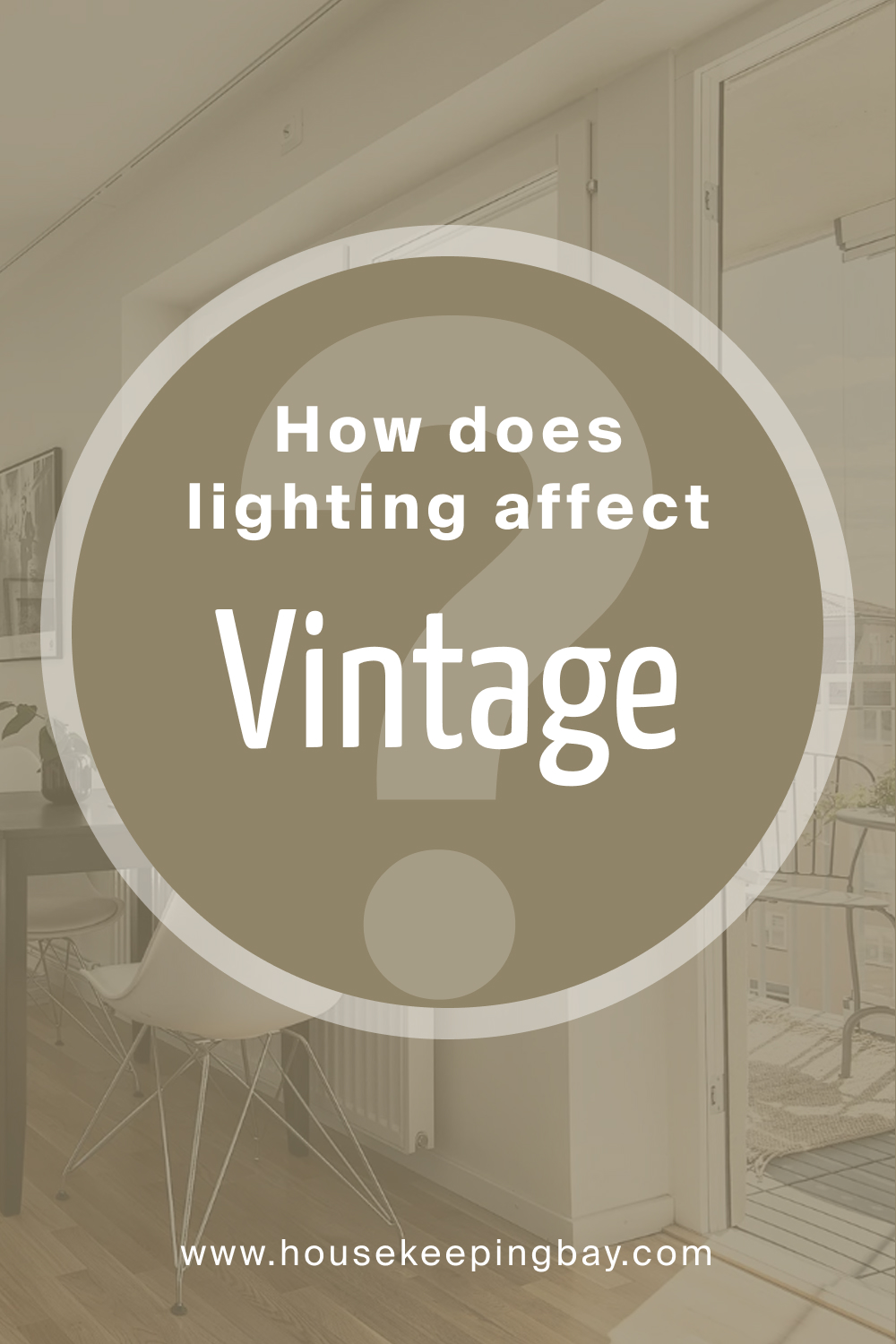 LRV of SW 9528 Vintage
Light Reflectance Value (LRV) refers to the amount of light a color reflects. With an LRV of 23, SW 9528 Vintage is on the darker side. Lower LRVs mean the color can make a space feel smaller or cozier, adding depth and character. For SW 9528 Vintage, this means it can lend an intimate, cozy feeling to spaces.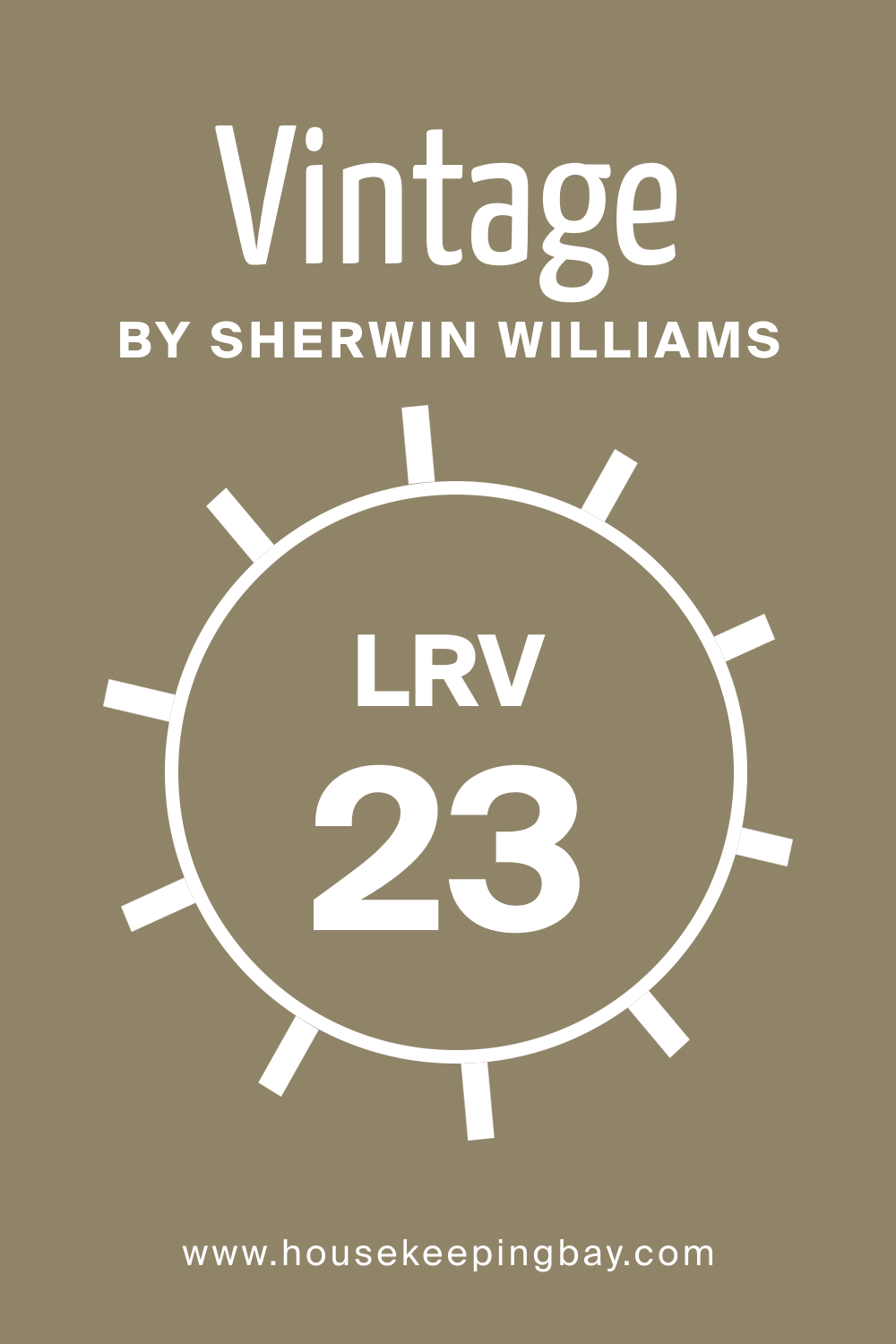 What is LRV? Read it Before You Choose Your Ideal Paint Color
Trim Colors of SW 9528 Vintage
Trim colors serve to accentuate and frame the primary wall color. Opting for SW 9154 White Snow gives a crisp contrast, highlighting Vintage's earthy tone. SW 7014 Eider White offers a softer touch with its subtle gray undertone. To get the best visual appeal, choose shades that respect and enhance the main hue.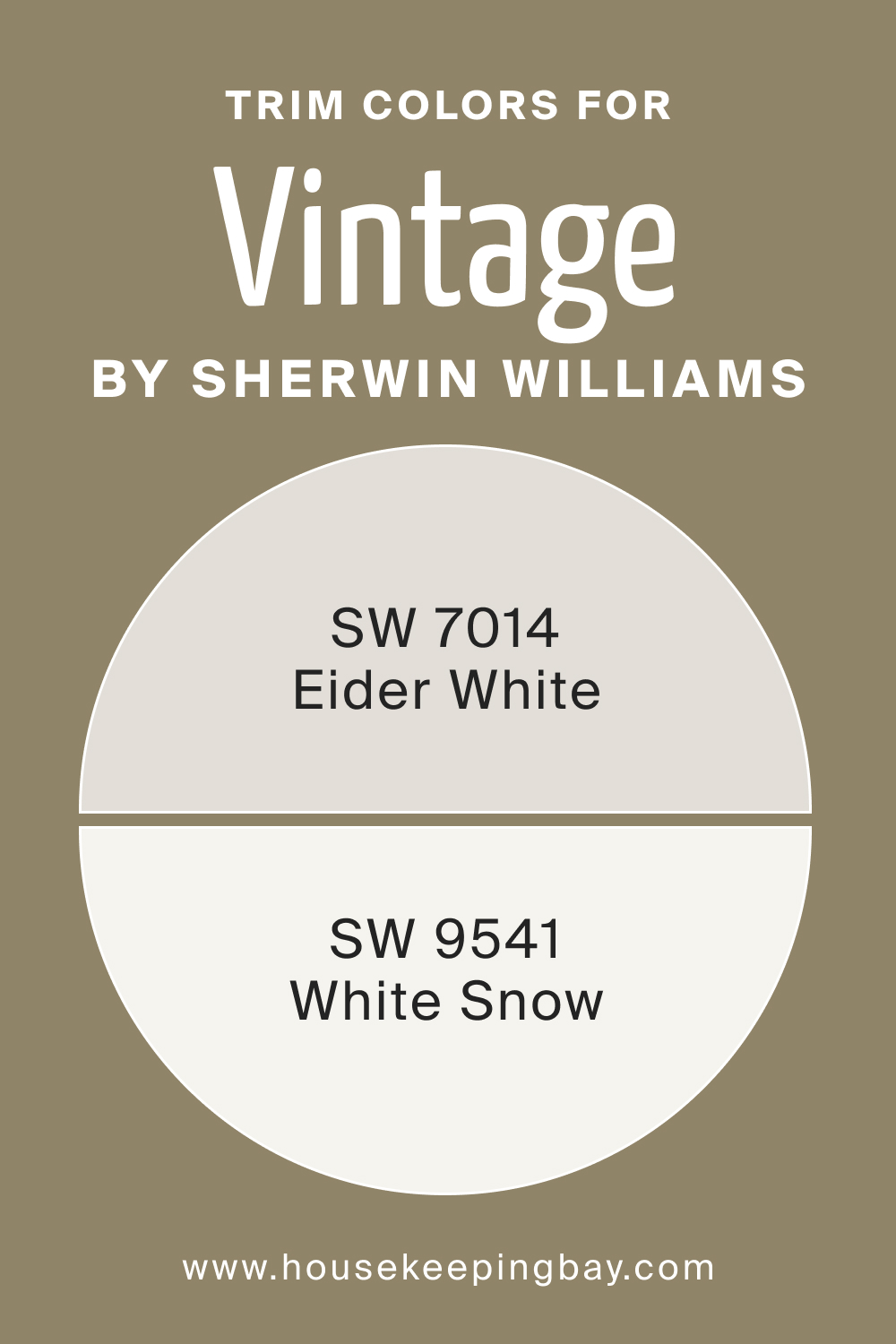 Colors Similar to SW 9528 Vintage
Identifying colors akin to a particular shade helps in understanding its versatility. Instead of SW Vintage, you may want to try the following color options:
SW 2815 Renwick Olive leans more towards green but shares the same earthy feel.
SW 0014 Sheraton Sage has a mellowed green tint reminiscent of old-world charm.
SW 7737 Meadow Trail, on the other hand, feels like a walk in an evergreen forest with its deep green undertones.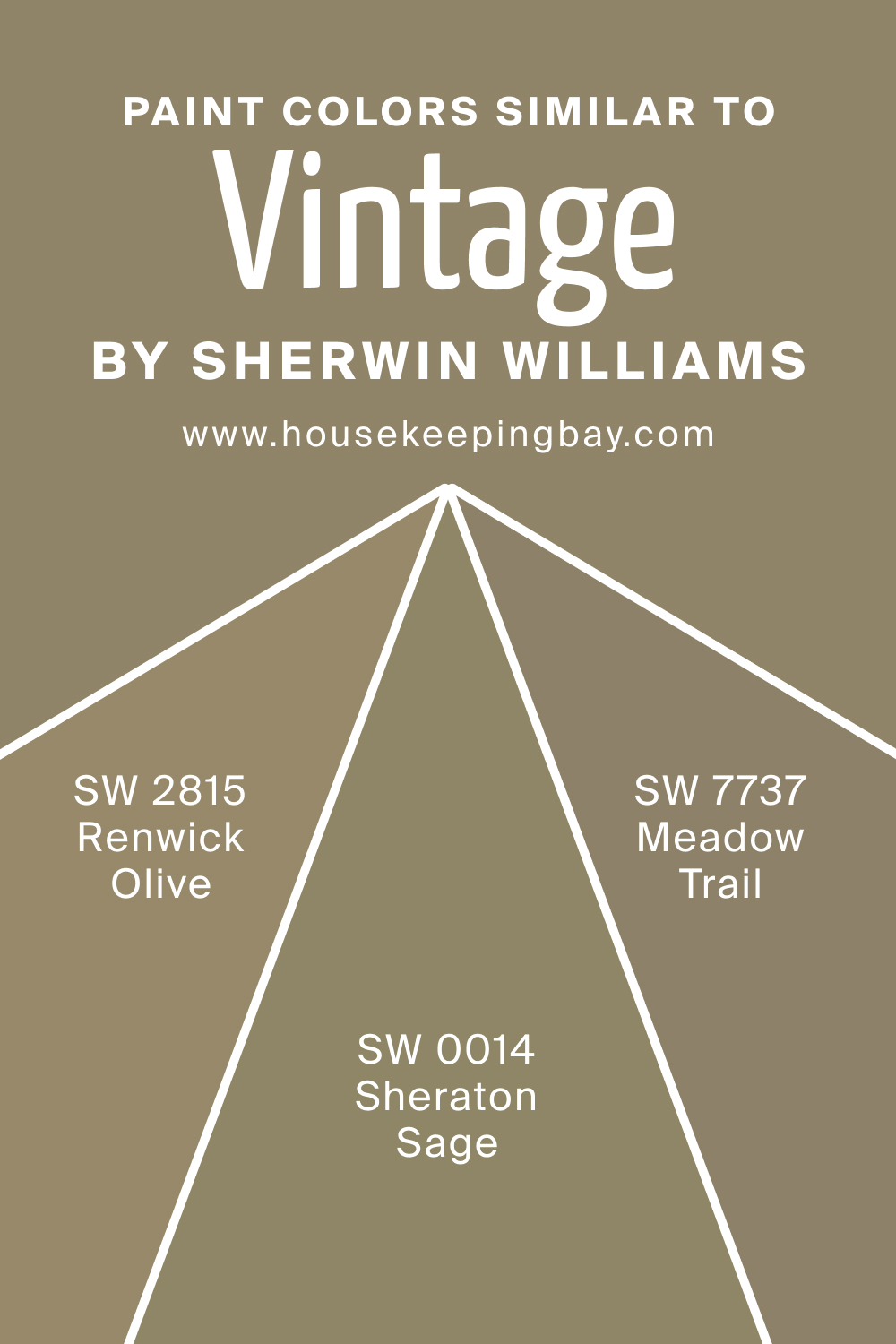 Colors That Go With SW 9528 Vintage
Combining harmonious colors creates a symphonic visual appeal. With SW Vintage, consider using shades like these:
SW 2839 Roycroft Copper Red
SW 6883 Raucous Orange
SW 6354 Armagnac
SW 6889 Stirring Orange
SW 6698 Kingdom Gold
SW 6109 Hopsack
SW 6047 Hot Cocoa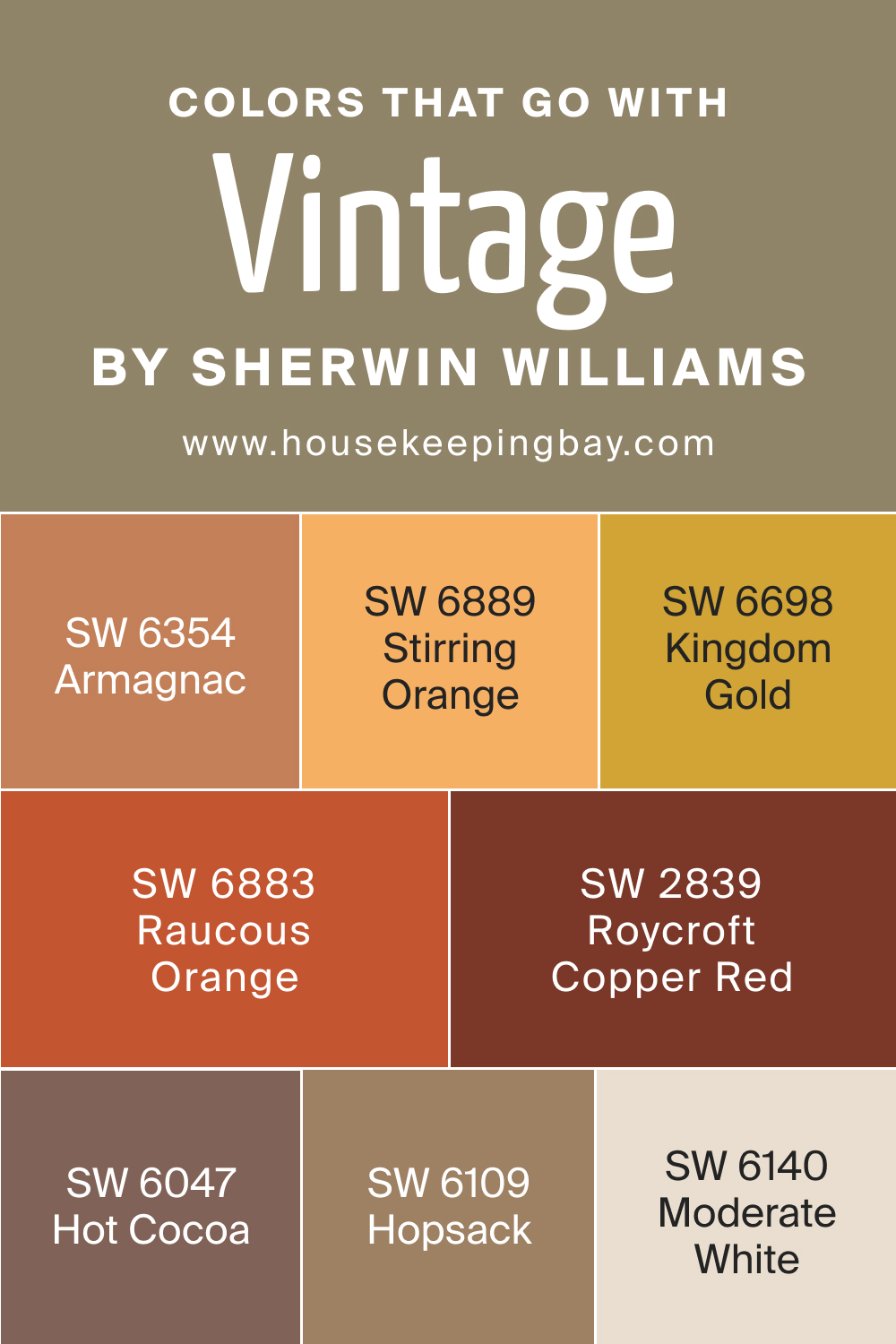 How to Use SW 9528 Vintage In Your Home?
SW 9528 Vintage, with its muted richness, is versatile enough to grace any room in your home. From the intimacy of bedrooms to the welcoming nature of living rooms, its earthy green-gray hue brings both warmth and calm. This color is especially apt for styles like rustic farmhouse, modern minimalism, and even boho-chic. Vintage can enhance spaces with wooden furnishings, textured fabrics, and even metallic accents.
How to Use SW 9528 Vintage in the Bedroom?
A bedroom is a haven of rest, and SW 9528 Vintage lends itself beautifully to creating a serene ambiance. Paired with soft, neutral bed linens and wooden accents, it offers an earthy touch, making the room feel cozy and grounded. Use brass or gold fixtures for a touch of understated luxury against this timeless backdrop.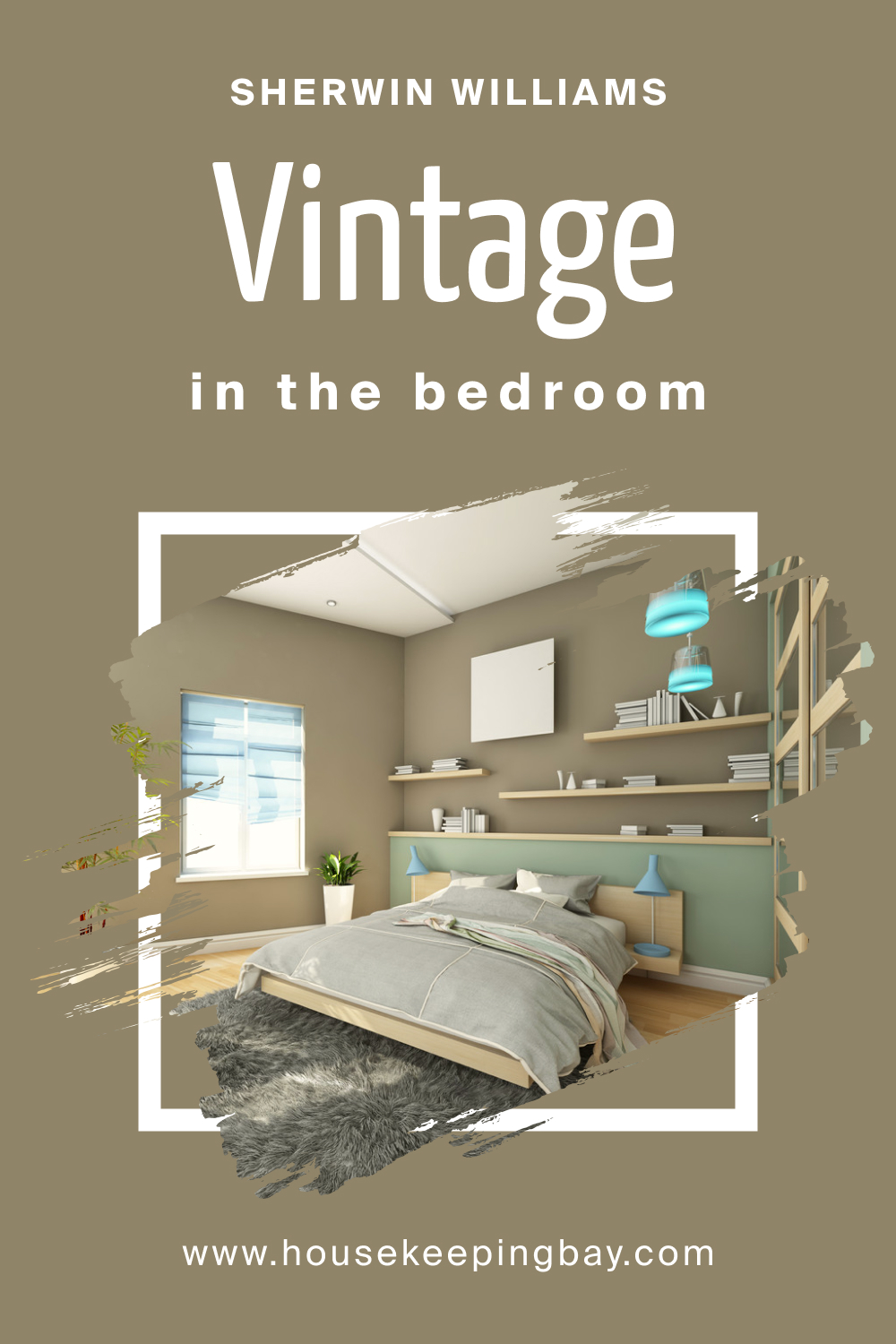 How to Use SW 9528 Vintage in the Bathroom?
For bathrooms, SW 9528 Vintage can evoke a spa-like atmosphere. When combined with white or soft gray tiles, this shade transforms the bathroom into a tranquil oasis. Consider bronze or aged metal fixtures for a vintage feel or sleek chrome finishes for a modern touch.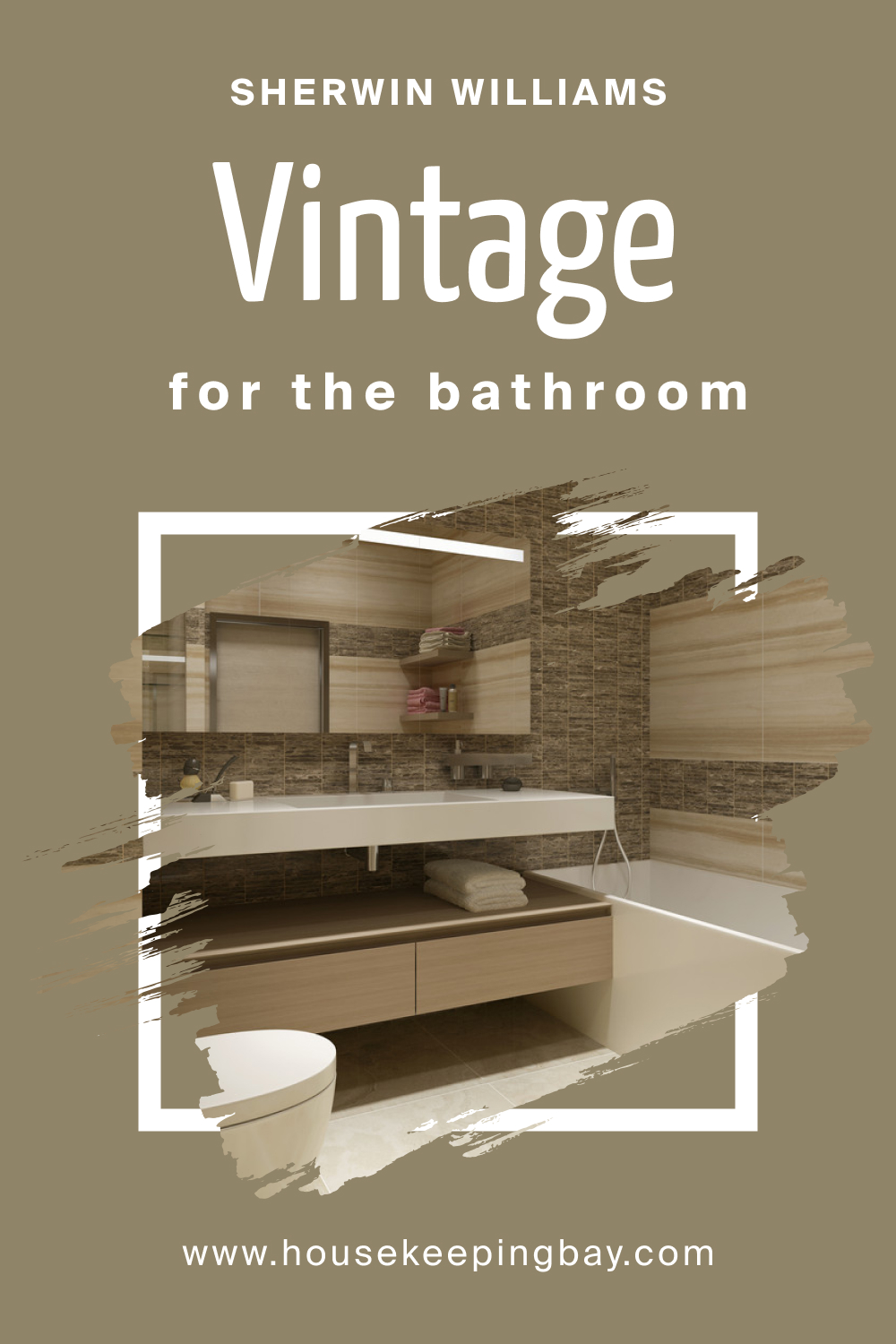 How to Use SW 9528 Vintage in the Living Room?
The living room, often a home's focal point, can bask in the elegance of SW 9528 Vintage. Its muted charm can be accentuated with deep-colored sofas, patterned rugs, and raw wooden elements. Throw in some soft beige or gold-toned cushions and drapes to strike a balance and bring the room alive.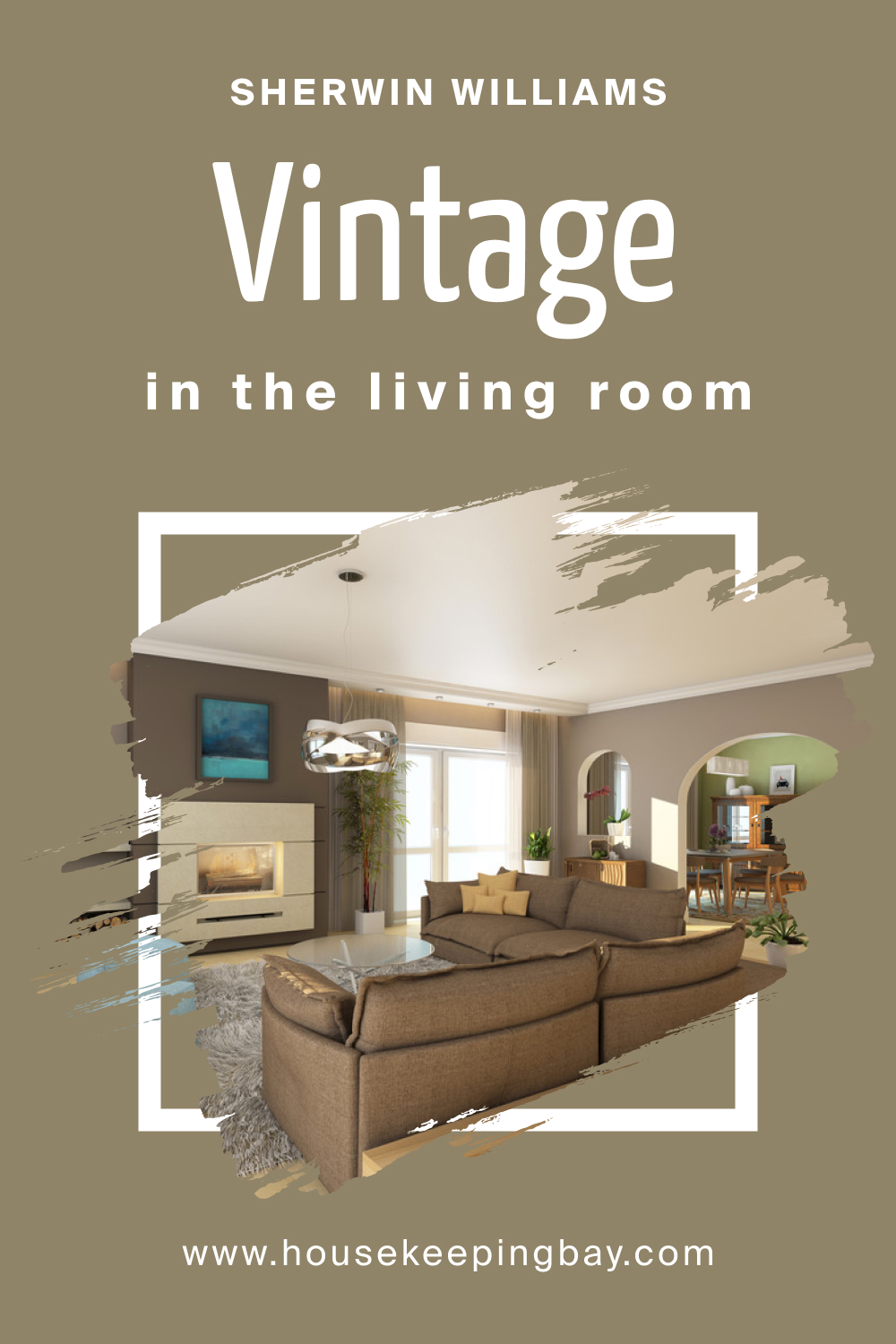 How to Use SW 9528 Vintage for an Exterior?
SW 9528 Vintage on the exterior can give a home a distinguished yet welcoming look. It beautifully complements natural stone, raw wood, and even modern metal elements. Pair it with off-white or muted green trim to make the main color pop and achieve a harmonious facade.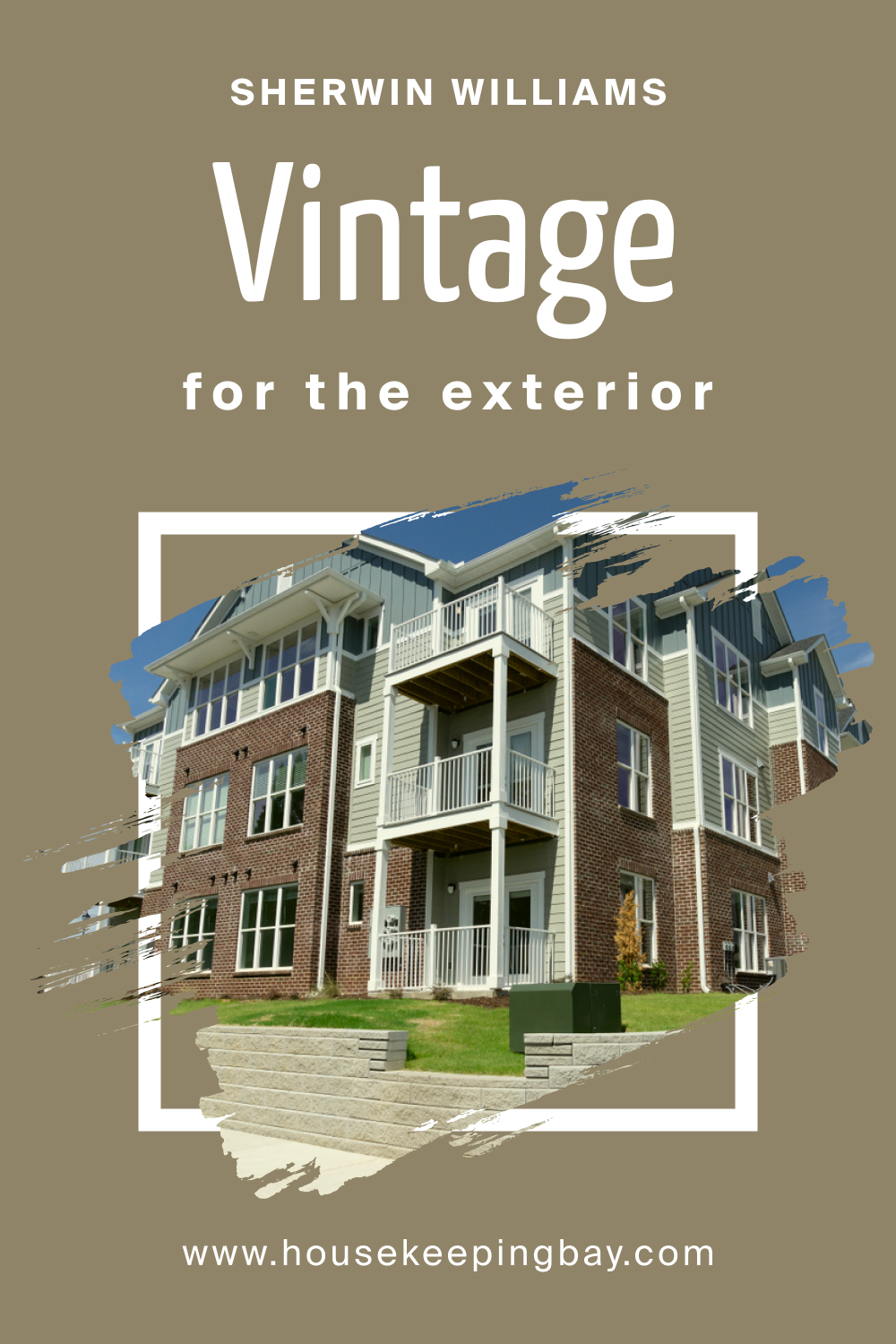 How to Use SW 9528 Vintage in the Kitchen?
Kitchens painted with SW 9528 Vintage exude a rustic charm. It's the perfect backdrop for a space brimming with activity. White or cream countertops, open wooden shelves, and terracotta pots would enhance its appeal. For a touch of modernity, stainless steel appliances could make a striking contrast.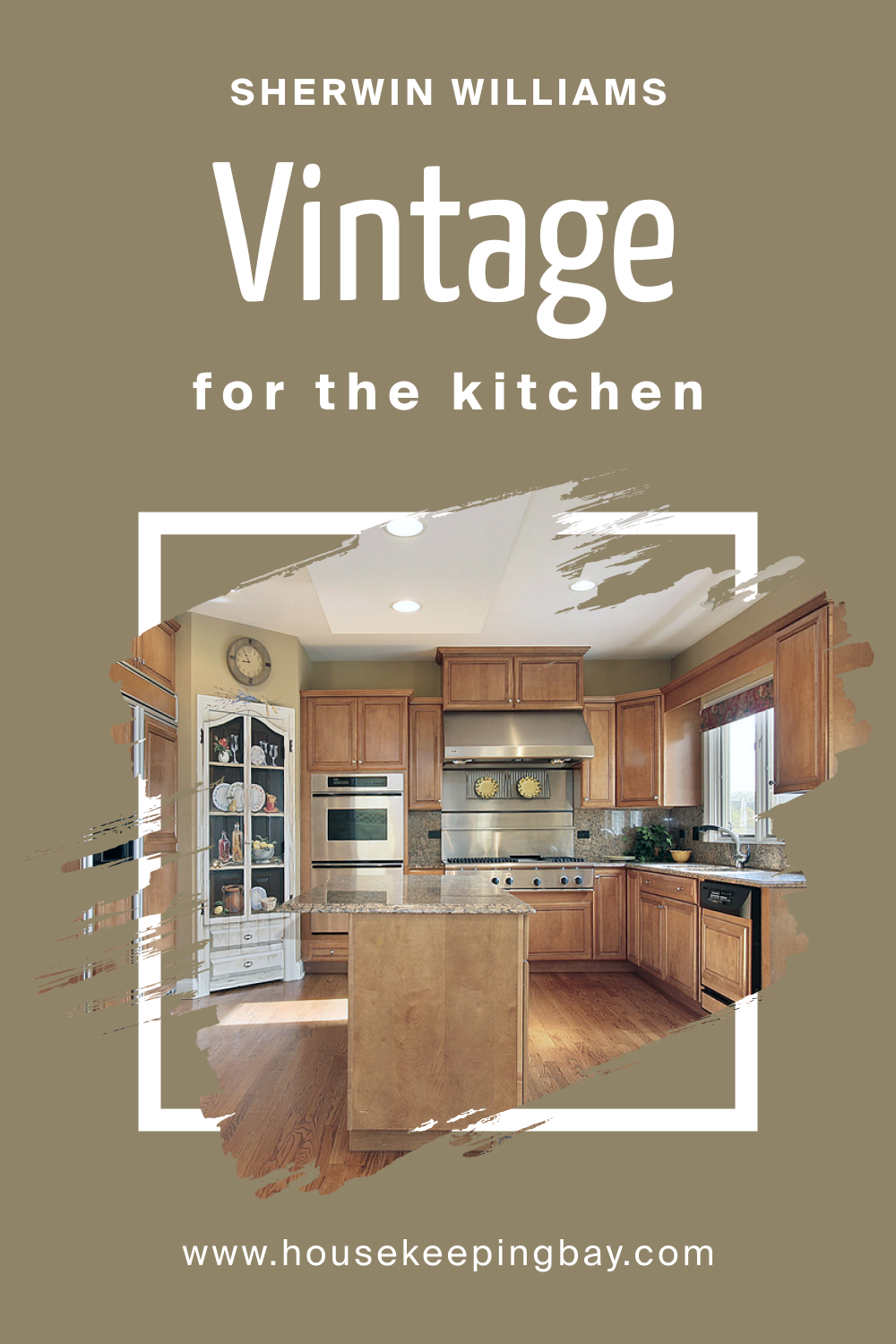 How to Use SW 9528 Vintage for the Kitchen Cabinets?
Cabinets in SW 9528 Vintage can become the kitchen's showstopper. Whether you opt for a full paint or a two-toned approach with another complementing color, it adds depth and character. Pair the cabinets with sleek handles or knobs in brass or matte black for a captivating contrast.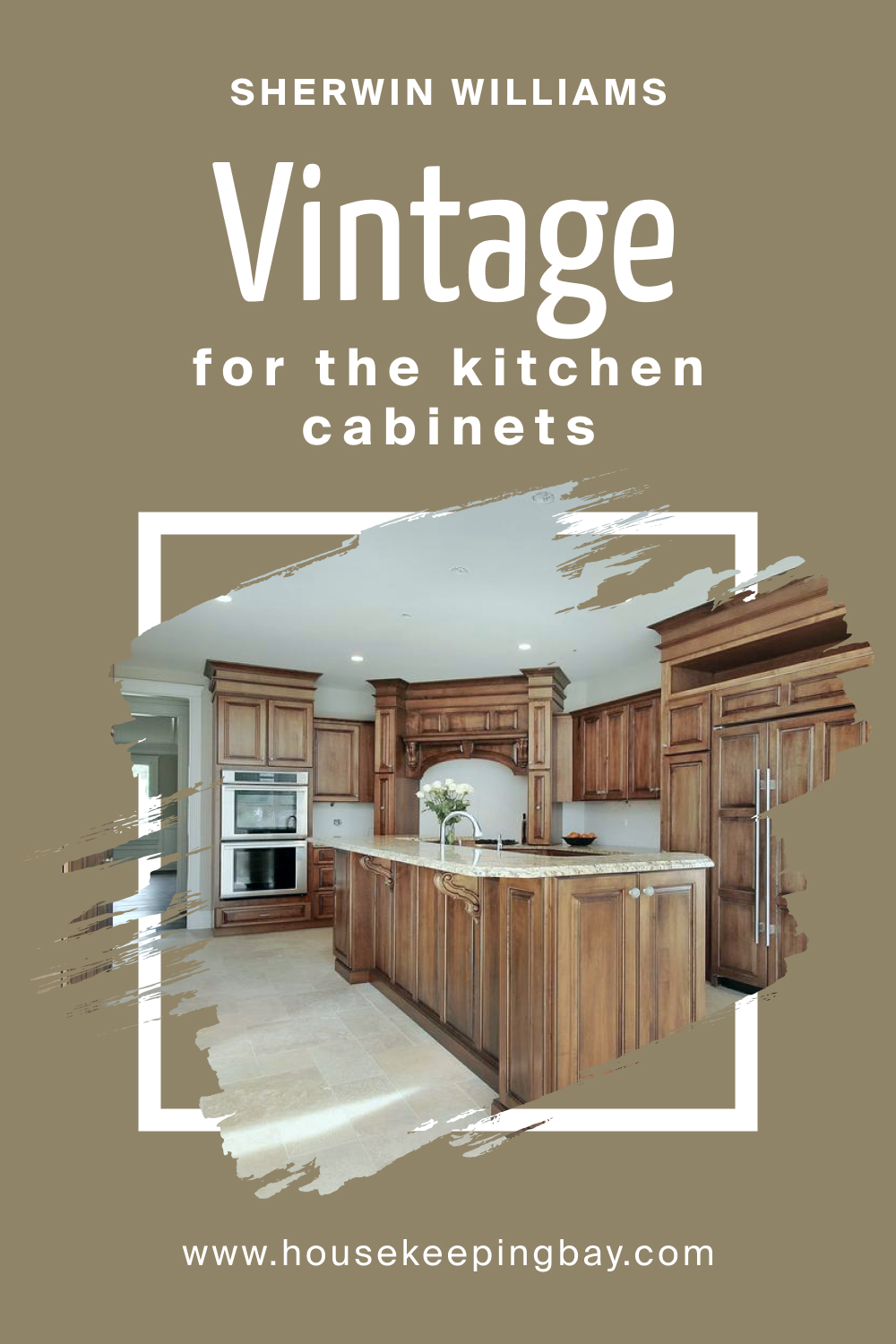 Comparing SW 9528 Vintage With Other Colors
Comparing different colors is crucial for a multitude of reasons. Paint colors, especially from the same family, can look incredibly similar under certain lighting conditions. Yet, they often possess distinct undertones that manifest differently on walls and spaces.
By contrasting colors, we can pinpoint the exact hue that harmonizes best with our desired ambiance, fixtures, and furnishings.
Moreover, subtle differences in paint can drastically affect the perceived size and mood of a space. This comparative analysis provides clarity and helps in making informed choices, ensuring our interiors reflect our envisioned aesthetic.
SW 9528 Vintage vs. SW 6466 Grandview
SW Grandview leans towards a deep aquatic shade, bringing forward a coastal or marine feel. In contrast, SW 9528 Vintage, with its earthy green-gray essence, resonates with a grounded and warm atmosphere. While Vintage feels more rustic and homey, Grandview evokes oceanic expansiveness.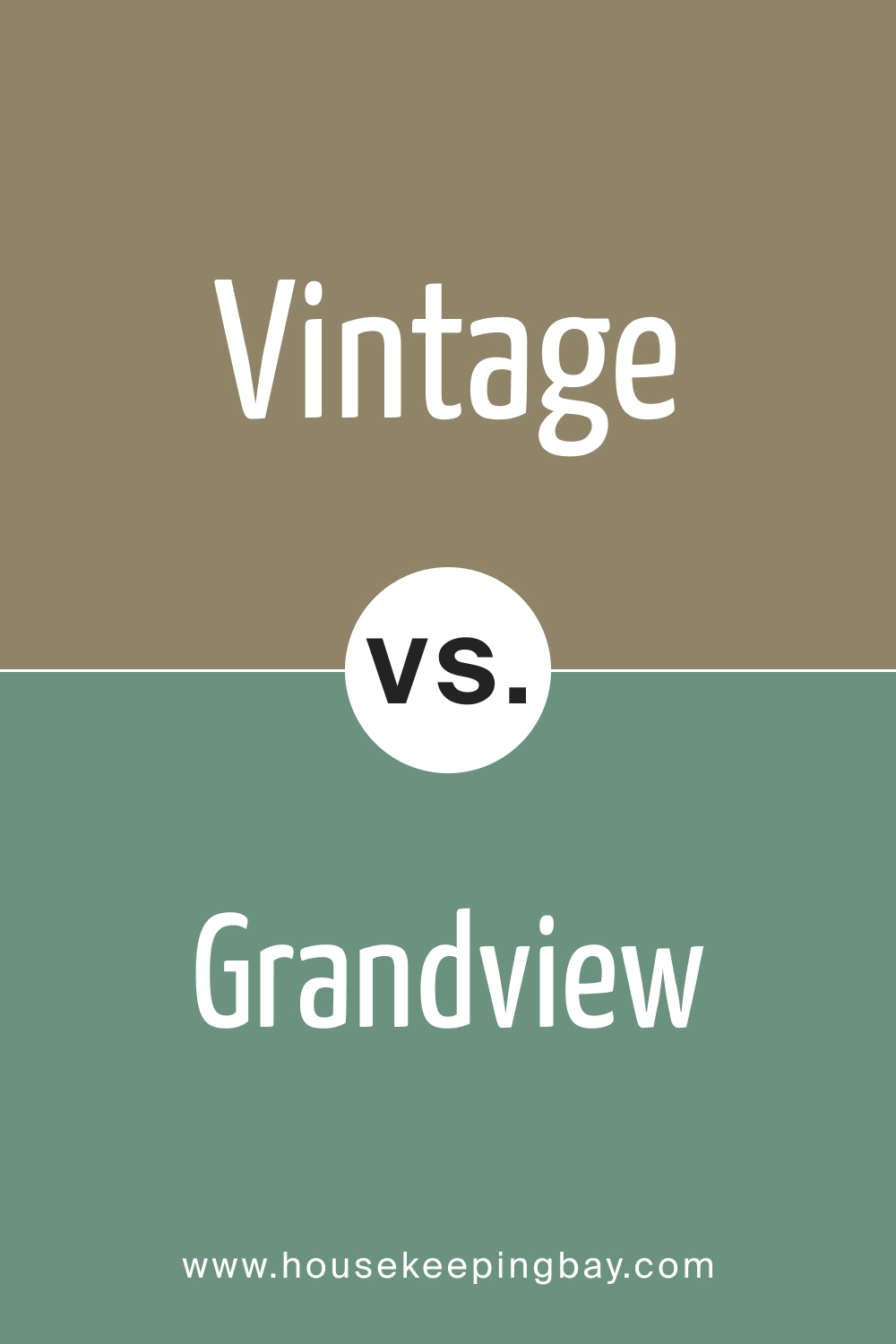 SW 9528 Vintage vs. SW 6430 Great Green
SW Great Green is a vivid and bold hue, embodying the liveliness of nature. On the other hand, SW 9528 Vintage, being more muted, offers a calm, neutral backdrop suitable for a wide range of interiors. Great Green stands out and energizes, whereas Vintage tends to soothe and balance.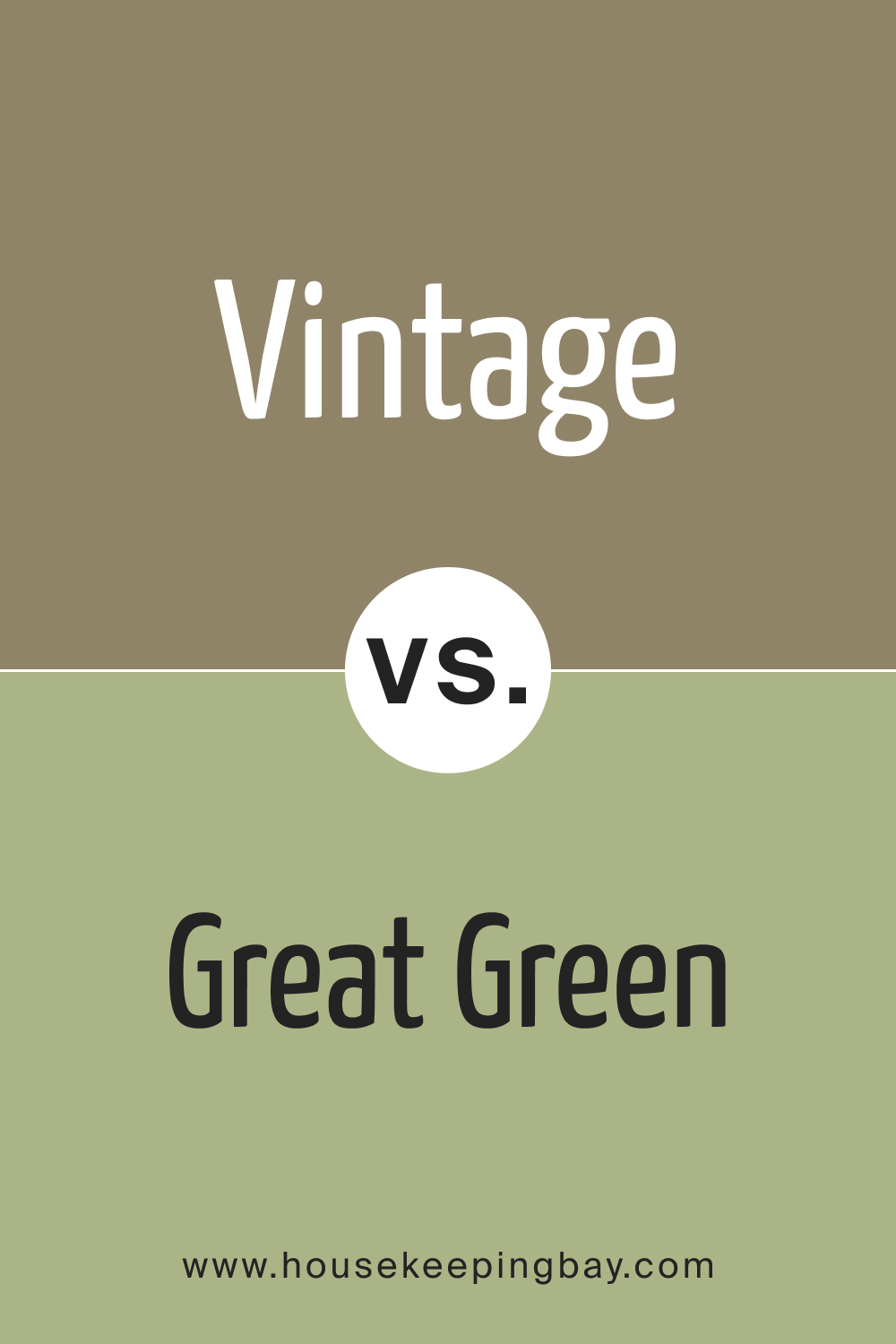 SW 9528 Vintage vs. SW 0015 Gallery Green
SW Gallery Green is a richer, classic green with blue undertones, akin to the shade found in art galleries, providing depth and elegance. In comparison, SW 9528 Vintage has a more subdued and earthy vibe, making it versatile for both contemporary and traditional settings.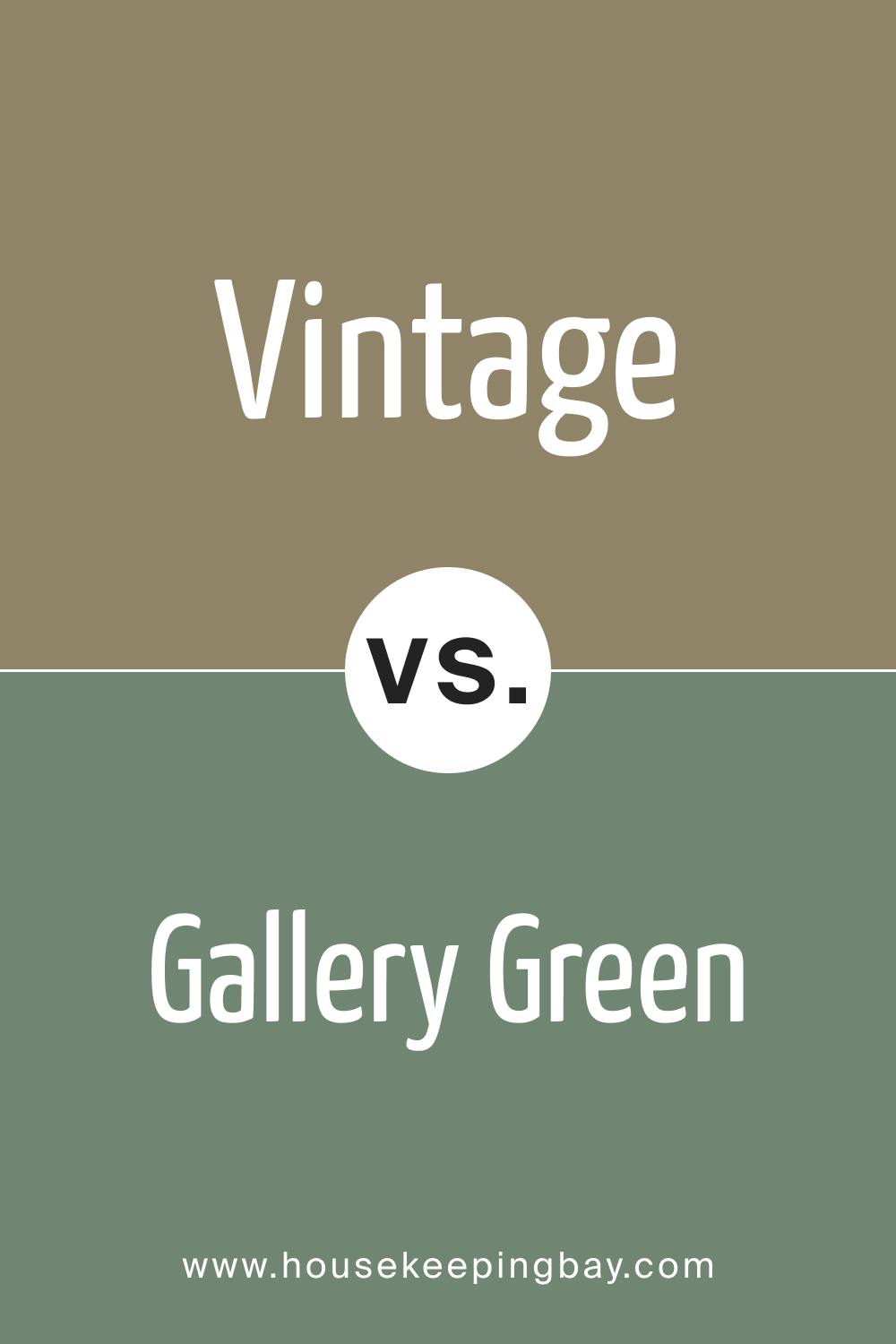 SW 9528 Vintage vs. SW 6146 Umber
SW Umber is a deep, warm brown with earthy undertones. When placed beside SW 9528 Vintage, one can observe how Vintage's green-gray tones contrast with the warmth of Umber. While both colors evoke a sense of coziness, Umber's warmth is pronounced, and Vintage's calm is evident.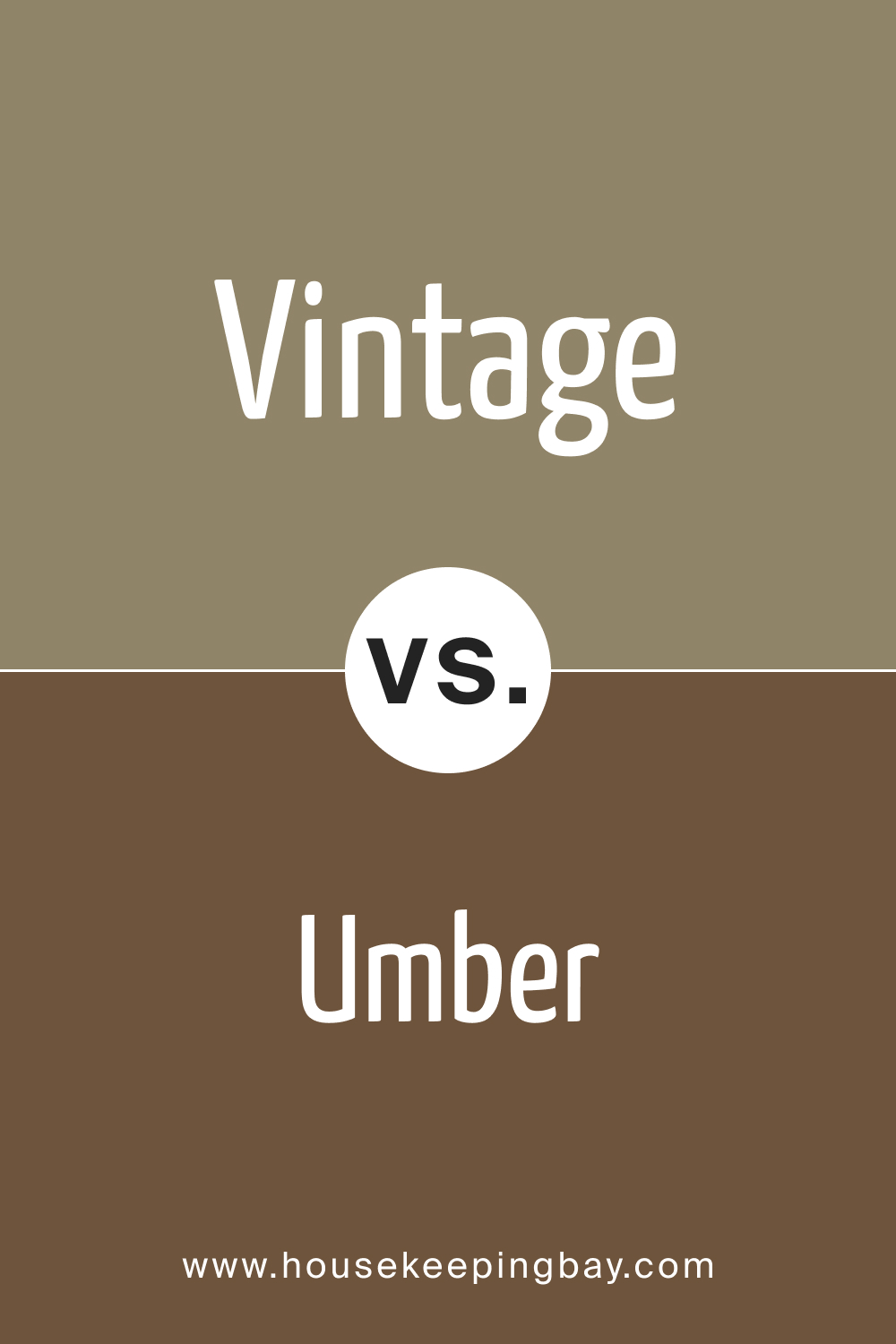 SW 9528 Vintage vs. SW 6425 Relentless Olive
SW Relentless Olive is a daring olive shade with a striking presence. Compared to SW 9528 Vintage, it's bolder and more assertive. Vintage, with its muted sophistication, serves as a versatile background, while Relentless Olive tends to command attention.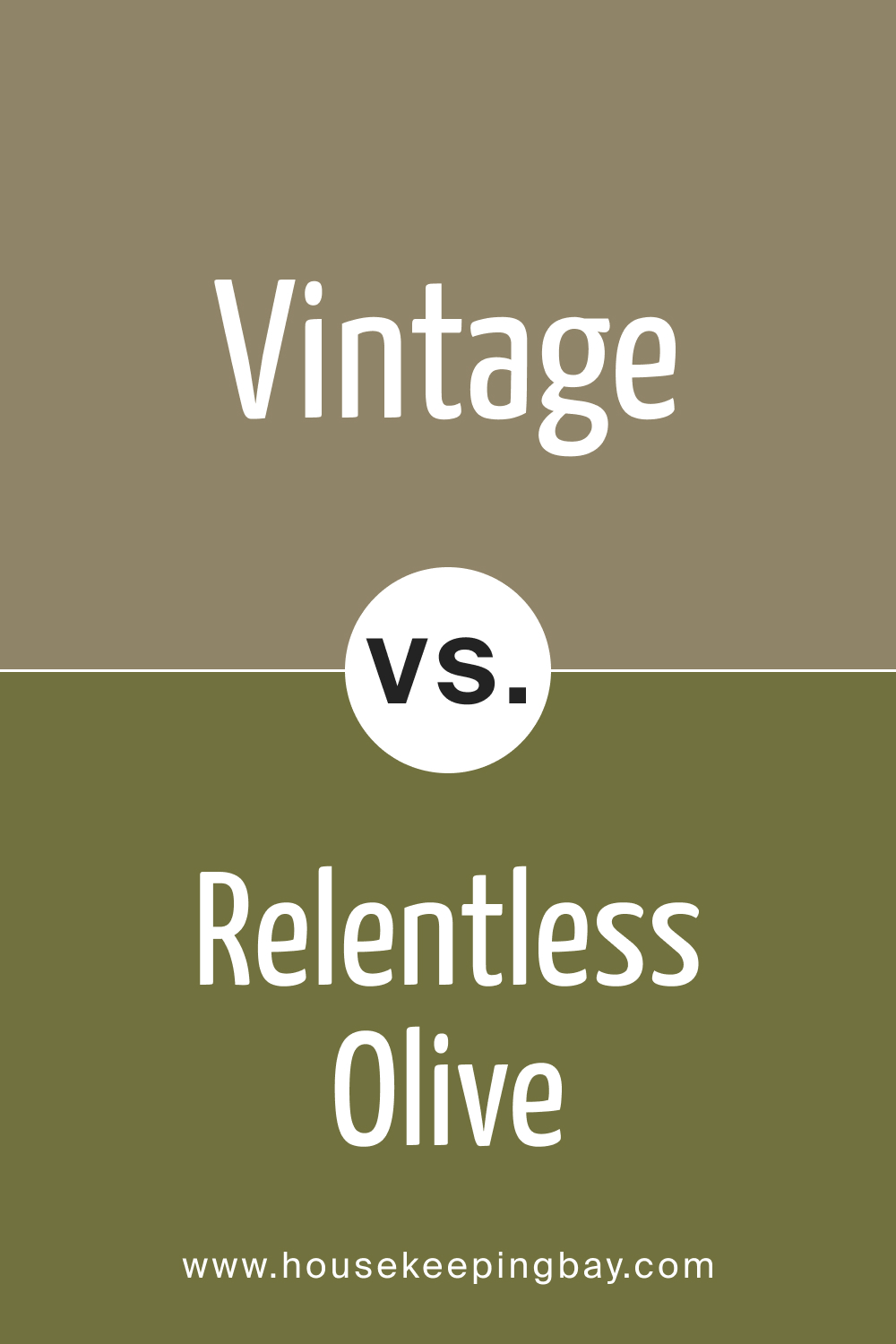 SW 9528 Vintage vs. SW 6408 Wheat Grass
SW Wheat Grass is a bright, fresh shade reminiscent of spring meadows. When contrasted with SW 9528 Vintage, the latter's subdued nature becomes apparent. While Wheat Grass invigorates and brightens, Vintage offers tranquility and warmth.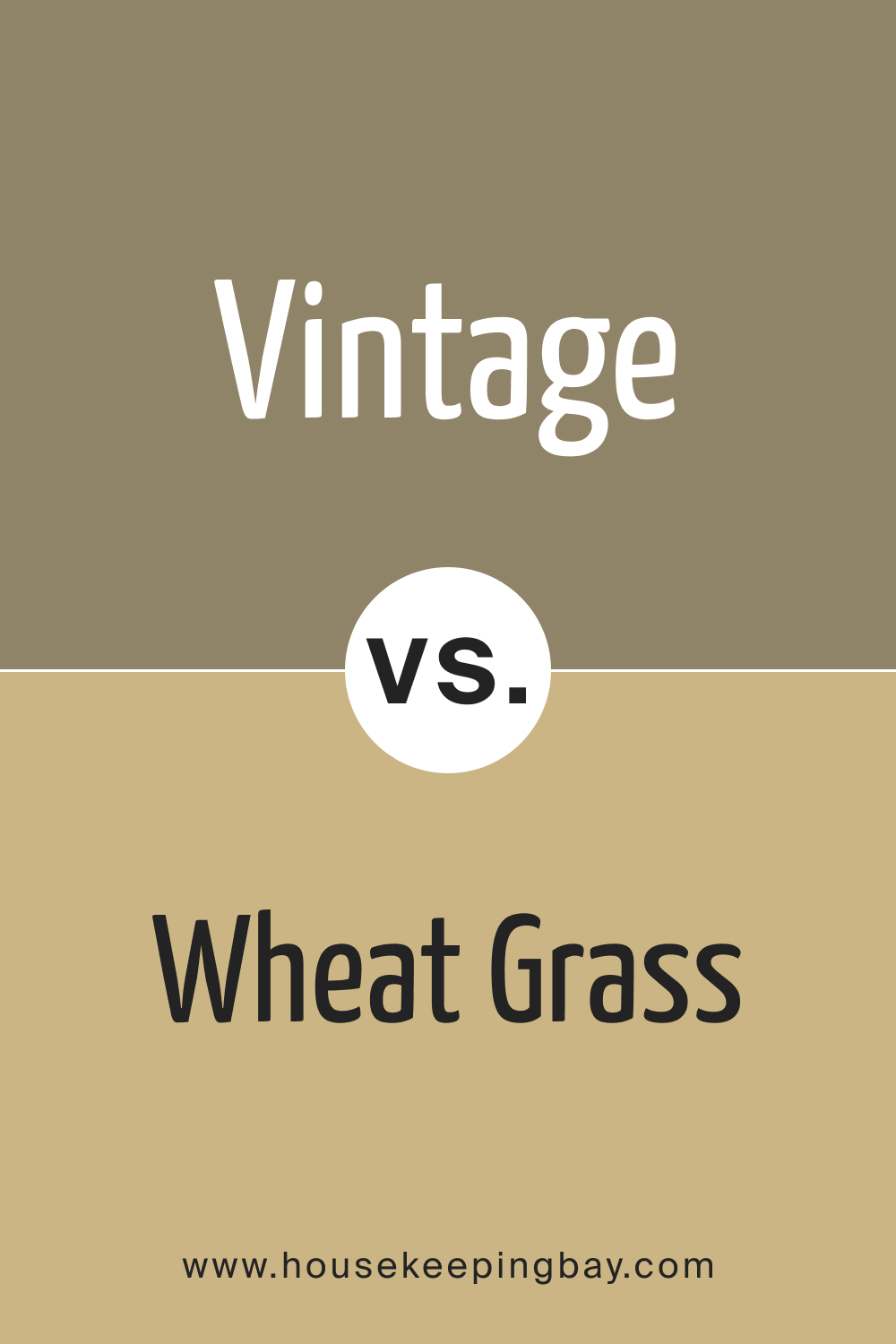 Conclusion
While each Sherwin-Williams color carries its own charm and personality, understanding their nuances and how they differ from each other is paramount in achieving the desired ambiance.
Whether one seeks vibrancy or serenity, comparing shades like SW 9528 Vintage with others ensures a space that aligns with one's vision and aesthetic preferences.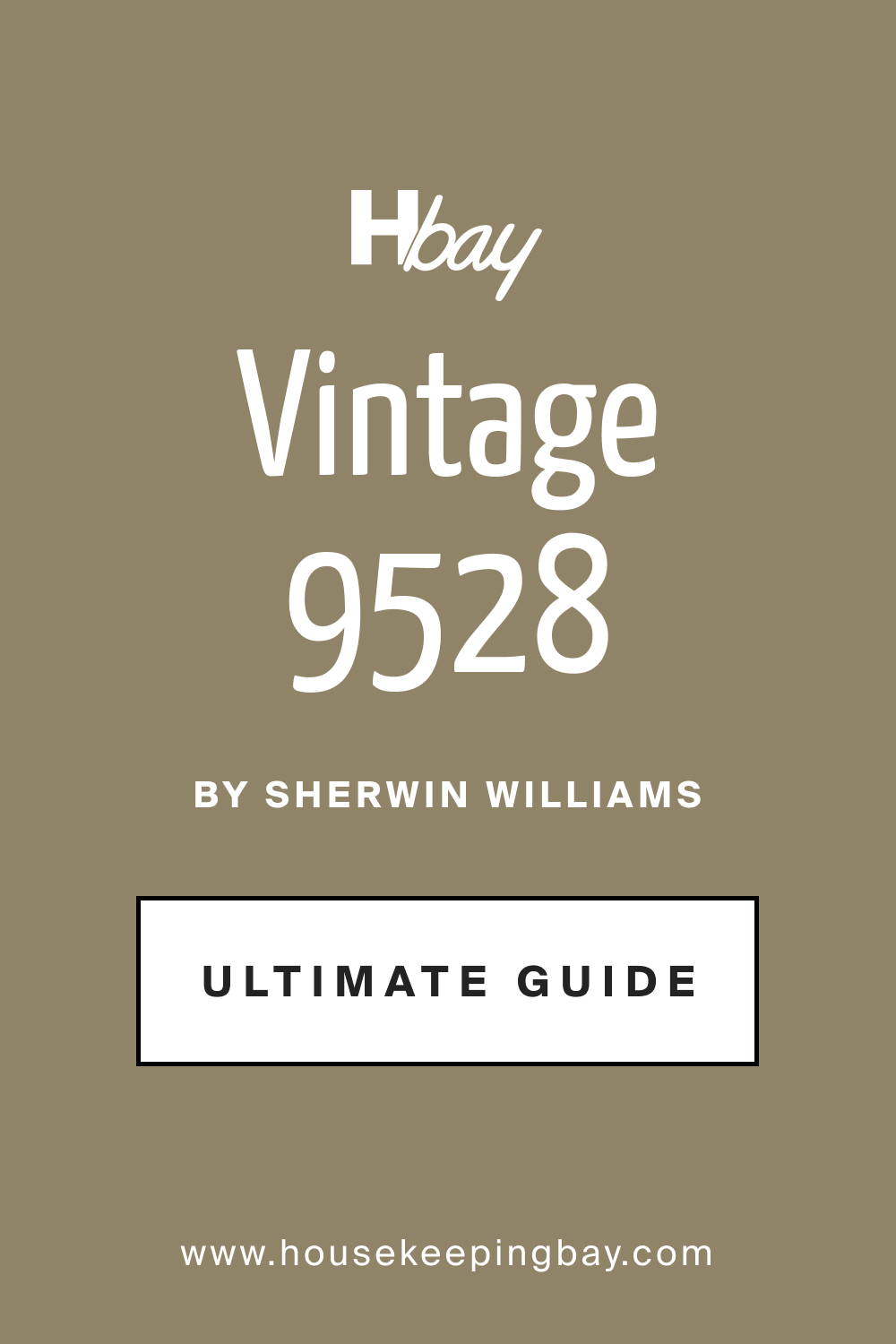 Frequently Asked Questions
⭐What design styles best complement SW 9528 Vintage?
SW 9528 Vintage is versatile and fits seamlessly into various design styles, including rustic farmhouse, modern minimalism, boho-chic, and traditional.
⭐Can SW 9528 Vintage be used in both large and small rooms?
Absolutely! In larger rooms, it adds depth and character, while in smaller spaces, its cool undertones can create an illusion of spaciousness.
⭐What are the undertones of SW 9528 Vintage?
SW 9528 Vintage possesses subtle gray undertones, lending it an earthy, muted feel.
⭐Does SW 9528 Vintage pair well with metallic accents?
Yes, SW 9528 Vintage pairs beautifully with a range of metals, from aged bronze to bright gold, enhancing its sophisticated appeal.
⭐Is SW 9528 Vintage suitable for exteriors?
Definitely! Its timeless hue provides a distinguished and welcoming touch to home exteriors, especially when complemented with the right trims.