Colors play a pivotal role in shaping our perception of a space. One color can create a sense of warmth and coziness, while another can make the same room feel cold and impersonal. A unique shade capturing the imagination of designers and homeowners alike is SW 9634 Morning at Sea by Sherwin-Williams.
Let's delve deep into the nuances of this color and how it can transform living spaces.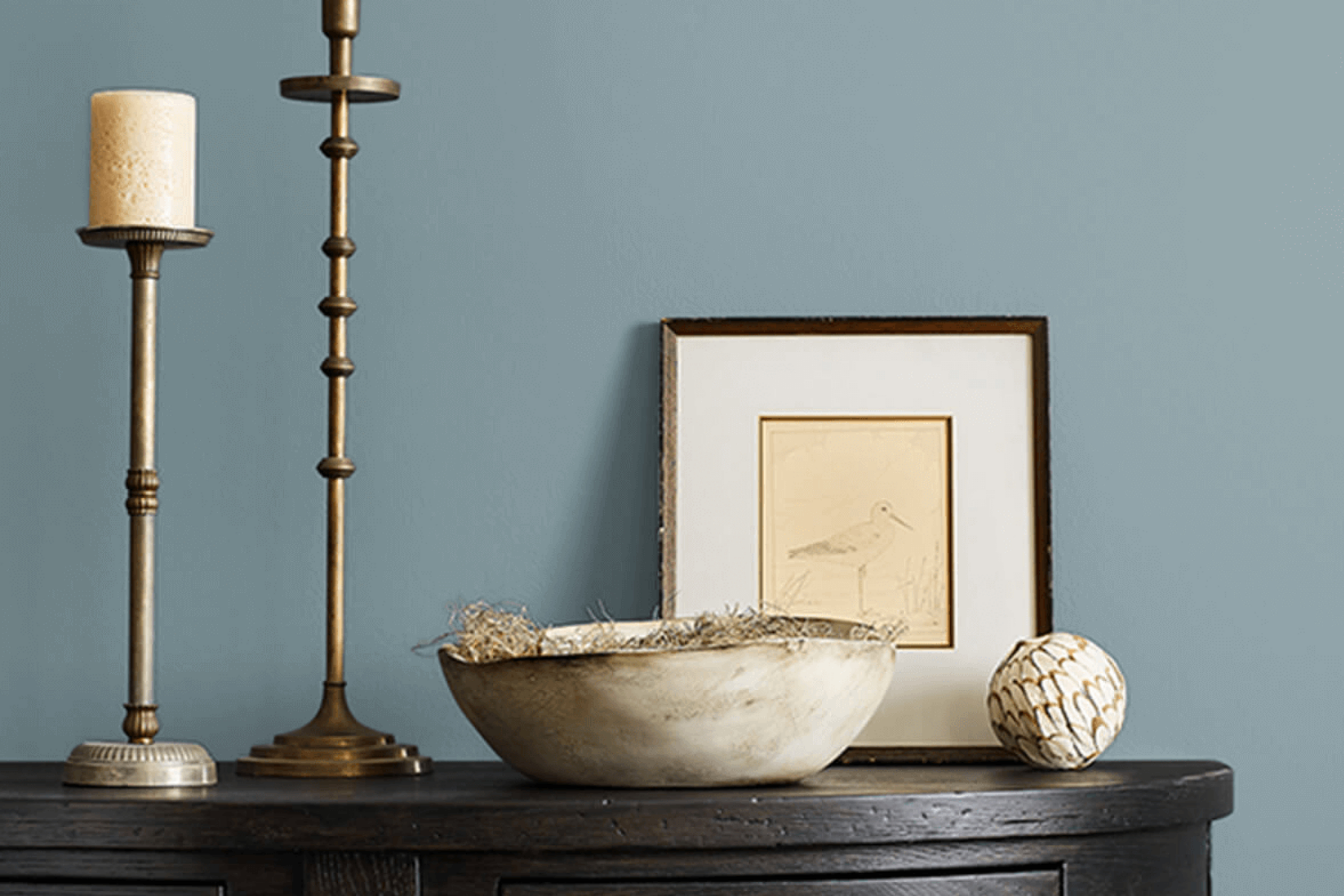 What Color Is SW 9634 Morning at Sea?
SW 9634 Morning at Sea is a sublime and tranquil hue reminiscent of the serene moments at dawn when the world is still, and the sea just begins to catch the first light. It evokes feelings of calm, reflection, and peace. This color is versatile and fits beautifully with contemporary, coastal, and even Scandinavian interiors. It pairs exceptionally well with natural wood textures, light linens, and stone finishes.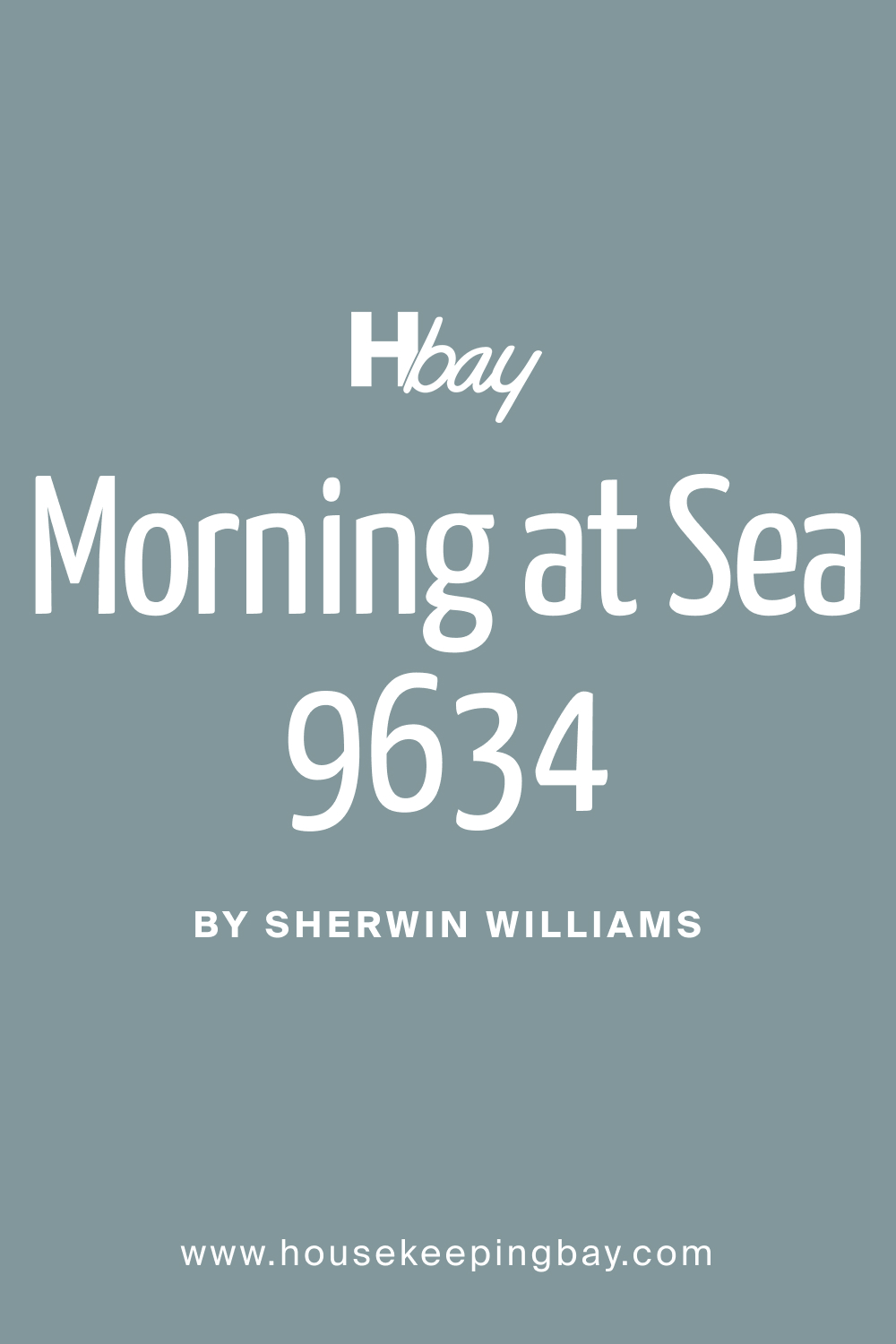 Is It a Warm Or Cool Color?
SW 9634 Morning at Sea leans towards the cooler spectrum. Cool colors are often associated with the sea, sky, and greenery. In homes, such shades evoke feelings of calm and relaxation. The cool undertones of this color make it perfect for creating a soothing retreat from the hustle and bustle of everyday life.
Undertones of SW 9634 Morning at Sea
Every color has underlying tones, which can surface depending on the lighting and surroundings. SW 9634 Morning at Sea has subtle undertones of soft blue and gray. Undertones play a crucial role in how we perceive color. In this case, the understated blue evokes feelings of tranquility, while the gray adds a modern touch.
On interior walls, these undertones ensure that the color remains balanced, neither too vibrant nor too muted.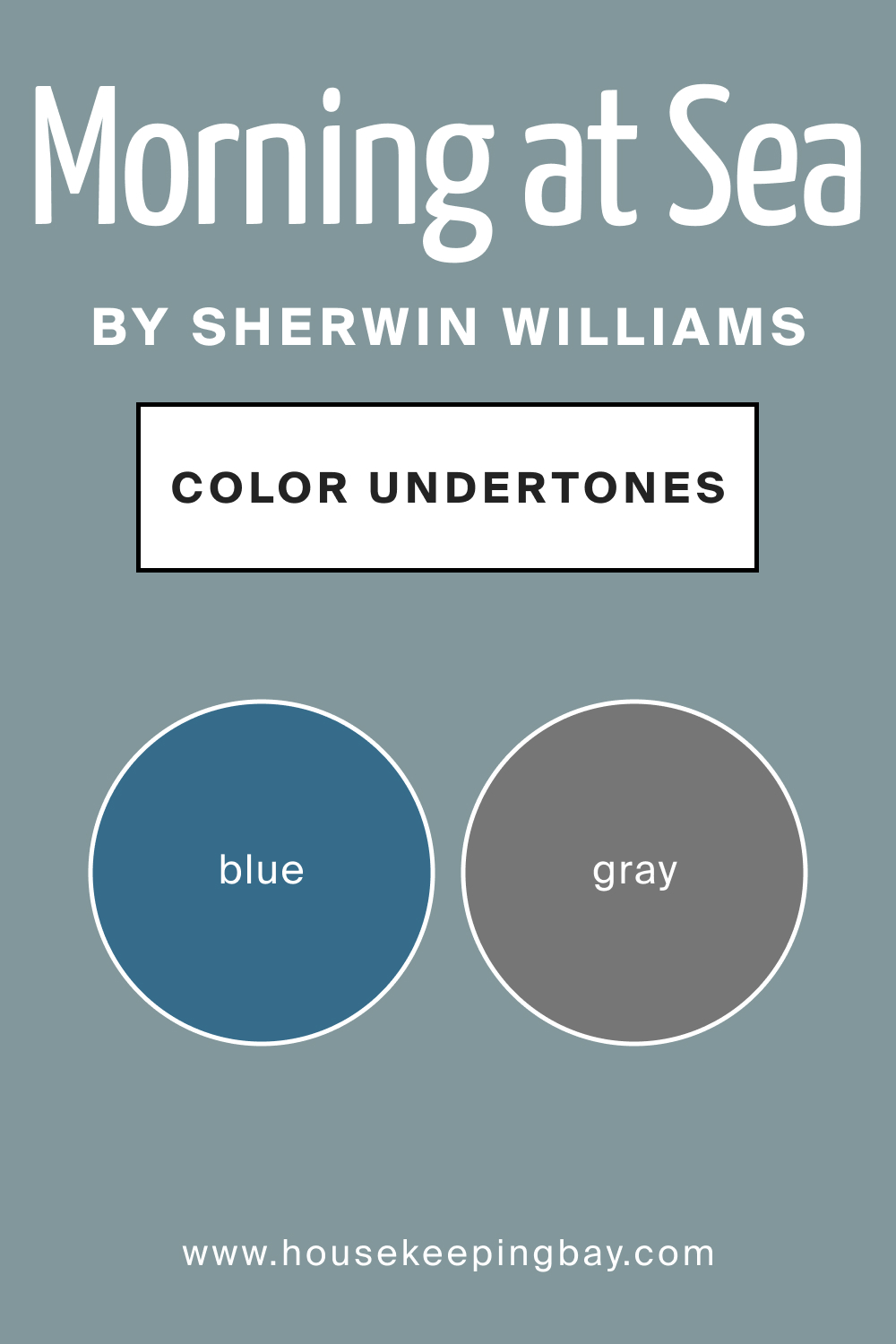 Coordinating Colors of SW 9634 Morning at Sea
Coordinating colors complement and enhance the primary color's charm. For SW 9634 Morning at Sea, think of soft neutrals and muted blues. Examples include:
SW 6120 Believable Buff: A light, muted beige reminiscent of the first light.
SW 9681 Rainsong: A gentle blue that mimics the calmness of the sea.
SW 9651 Sea Spray: A gray that grounds the overall palette.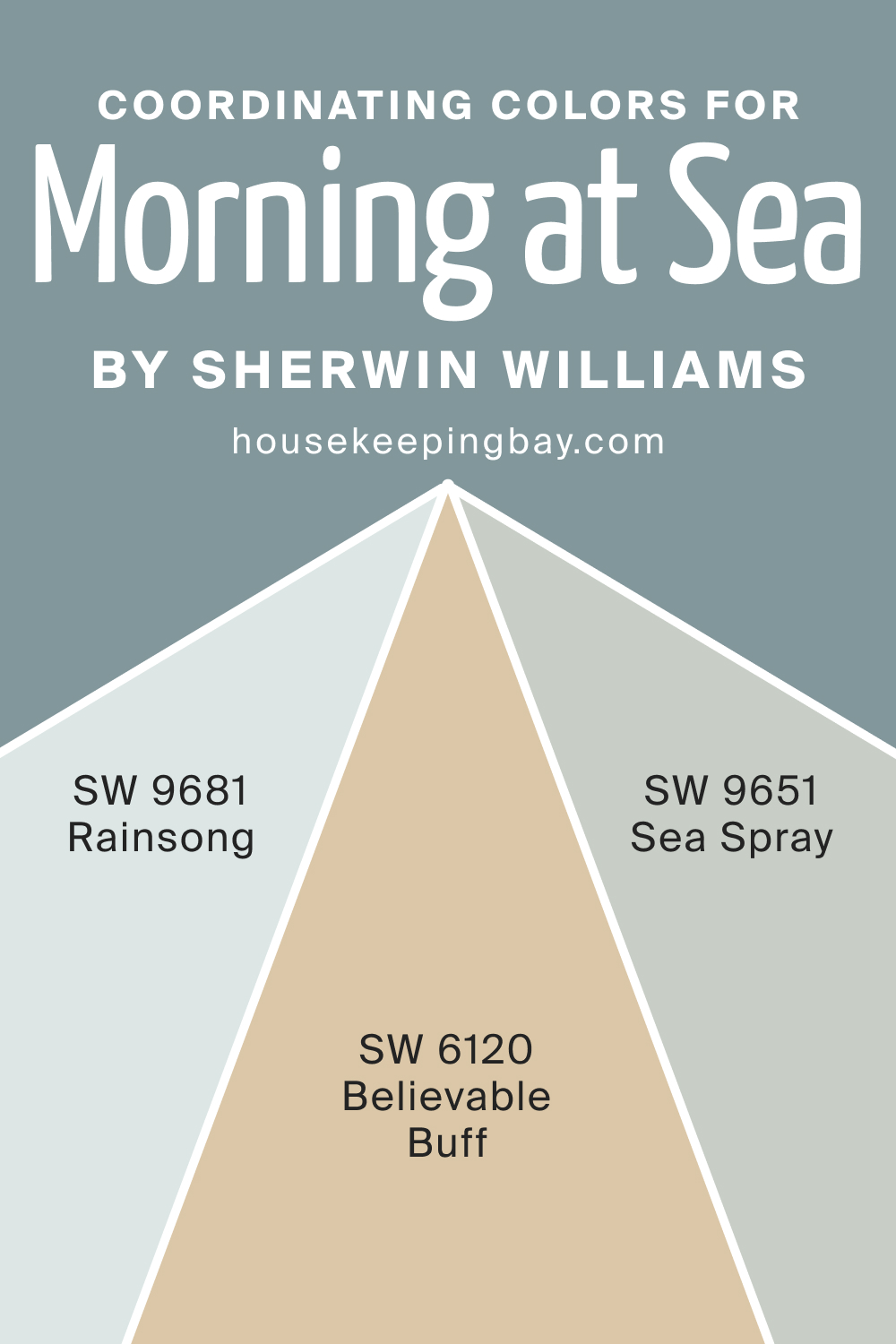 How Does Lighting Affect SW 9634 Morning at Sea?
Lighting dramatically influences how we see color. In artificial light, SW 9634 Morning at Sea may appear slightly warmer, taking on a more muted tone. Natural light, particularly the golden hour, can highlight its blue undertones. In north-facing rooms, it appears crisp and cool, making spaces feel expansive
. South-facing rooms bring out its warmer gray notes. East-facing rooms in the morning light make it feel serene, while west-facing rooms at sunset give it a muted, calming aura.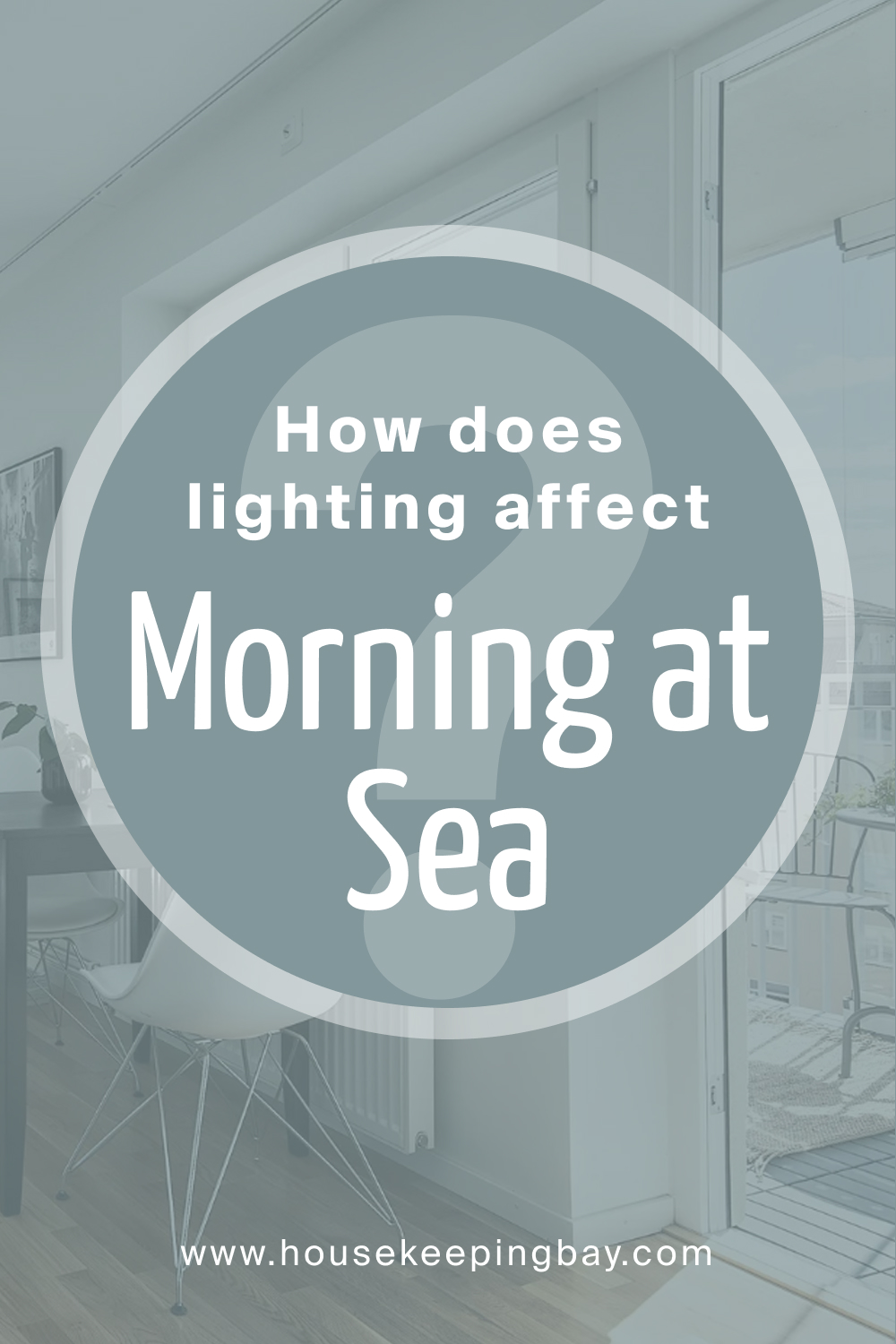 LRV of SW 9634 Morning at Sea
Light Reflectance Value (LRV) measures the percentage of light a paint color reflects. At an LRV of 29, SW 9634 Morning at Sea is on the darker side of the mid-tone range. It means the color can absorb more light, making spaces feel cozier. The LRV ensures that while the color is muted, it remains lively and doesn't drown out a room.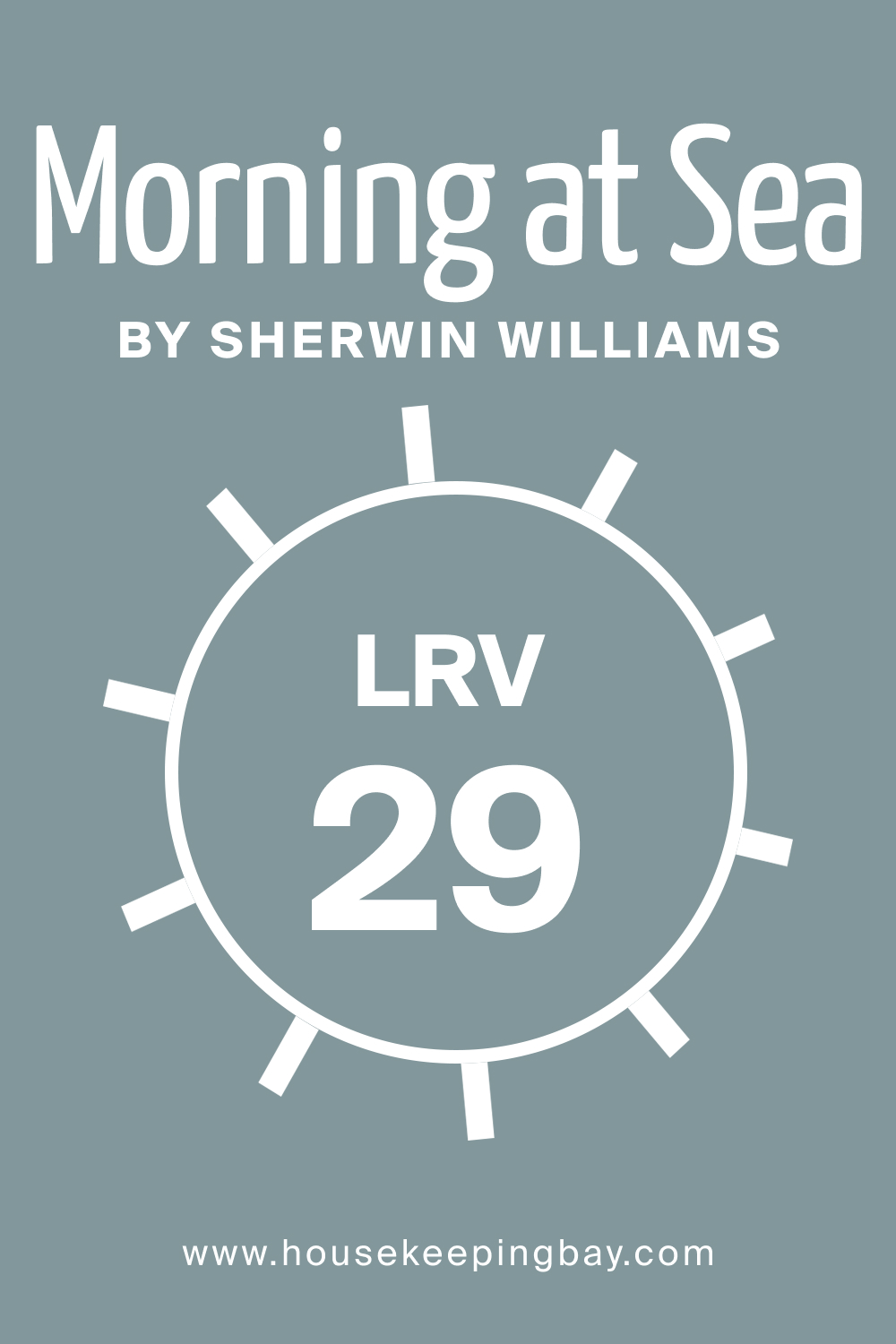 What is LRV? Read It Before You Choose Your Ideal Paint Color
Trim Colors of SW 9634 Morning at Sea
Trim colors define and accentuate. With SW 9634 Morning at Sea, go for whites like:
SW 7005 Pure White: A stark contrast that's clean and modern.
SW 7008 Alabaster: A warm white that brings coziness.
SW 9154 White Snow
They will help you enhance and highlight the natural beauty of the Morning at Sea color.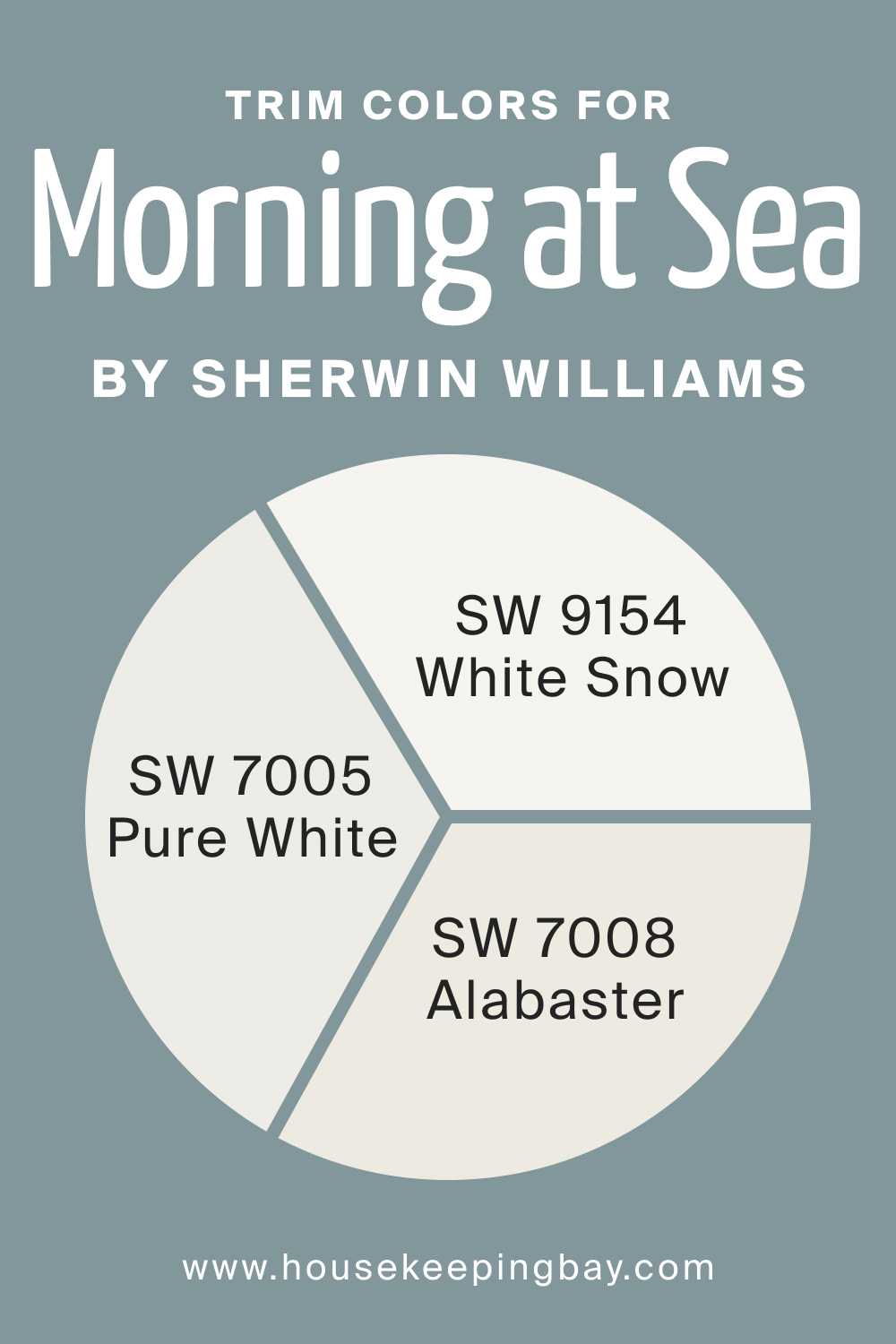 Colors Similar to SW 9634 Morning at Sea
Knowing similar colors can help in decision-making. SW 9634 Morning at Sea is reminiscent of:
SW 9134 Delft: A deeper, more saturated blue.
SW 9135 Whirlpool: More muted with a hint of green.
SW 7611 Tranquil Aqua: A playful and light shade.
SW 6221 Moody Blue: Richer and more profound.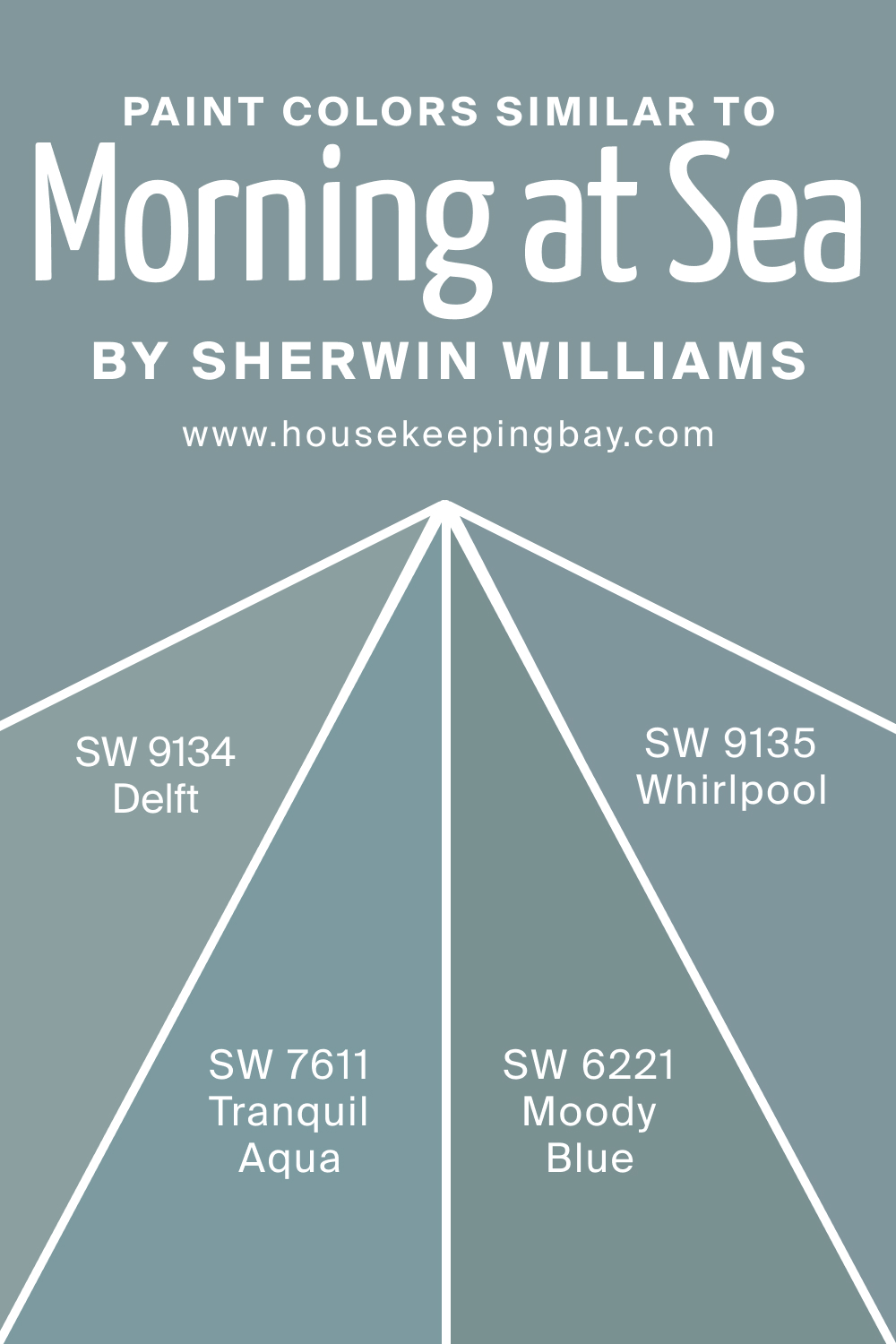 Colors That Go With SW 9634 Morning at Sea
A harmonious palette creates a cohesive look. Along with SW 9664 Sun Salutation and SW 9685 After the Storm, consider the following:
SW 9691 Crystalline: A light minty green.
SW 9694 Wild Poppy: A muted coral for contrast.
SW 9665 Sunny Side Up: Bright and cheerful yellow.
SW 9679 Juniper: A rich forest green.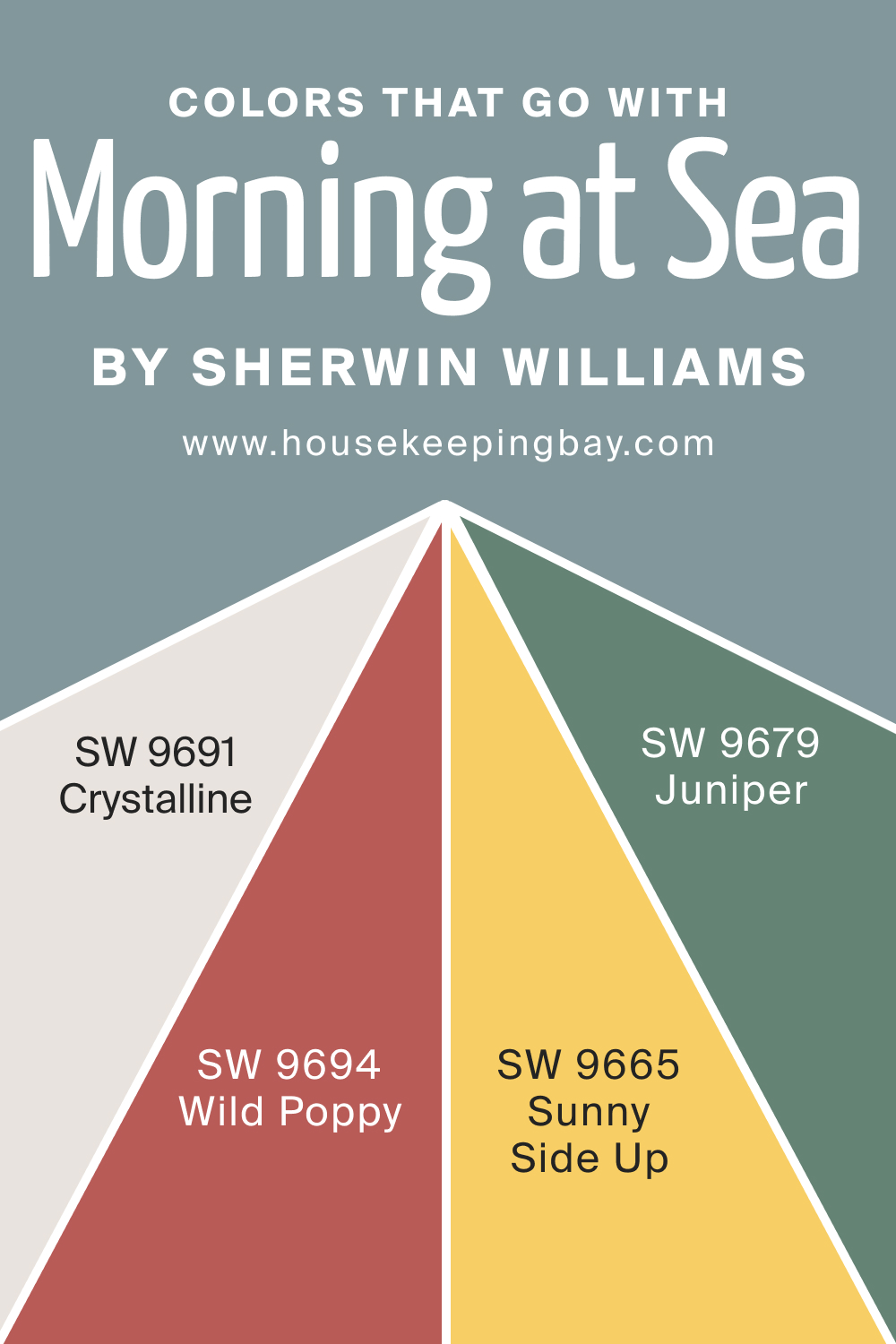 How to Use SW 9634 Morning at Sea In Your Home?
SW 9634 Morning at Sea by Sherwin-Williams is a versatile hue with the ability to breathe life into various spaces. Its serene undertones make it perfect for bedrooms, living rooms, and bathrooms, offering an oasis of calm. The color's sophistication allows it to transition beautifully into more formal areas like dining rooms or home offices.
Its compatibility with various design styles — from contemporary minimalism to beach-inspired interiors — makes it a valuable addition. Whether you're leaning towards a modern aesthetic or a coastal vibe, Morning at Sea can seamlessly integrate.
How to Use SW 9634 Morning at Sea in the Bedroom?
The bedroom is a haven, a place for relaxation and rest. SW 9634 Morning at Sea introduces a tranquil ambiance that's conducive to unwinding. The gentle undertones of this color promote serenity and calmness. Pair it with soft neutrals and natural textures like linen drapes or a jute rug, and watch your bedroom transform into a peaceful retreat reminiscent of a morning at a coastal hideaway.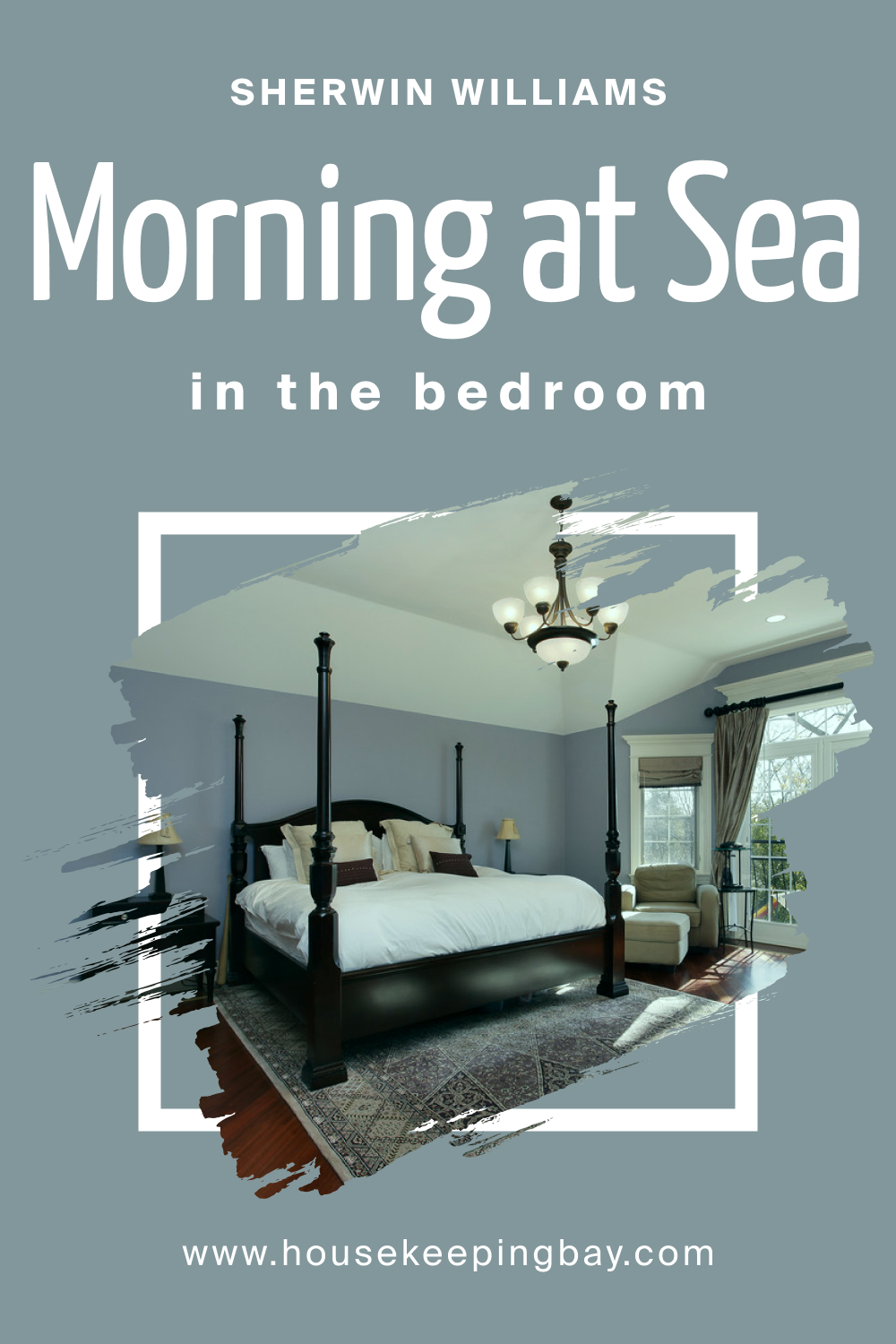 How to Use SW 9634 Morning at Sea in the Bathroom?
The bathroom, often seen as a personal sanctuary, deserves a hue that enhances its spa-like qualities. Morning at Sea does precisely that. Its soft blue-gray undertones evoke feelings of freshness and cleanliness. Paired with marble countertops, white tiles, or even wooden accents, this color can elevate a simple bathroom into a luxurious space where one can refresh and rejuvenate.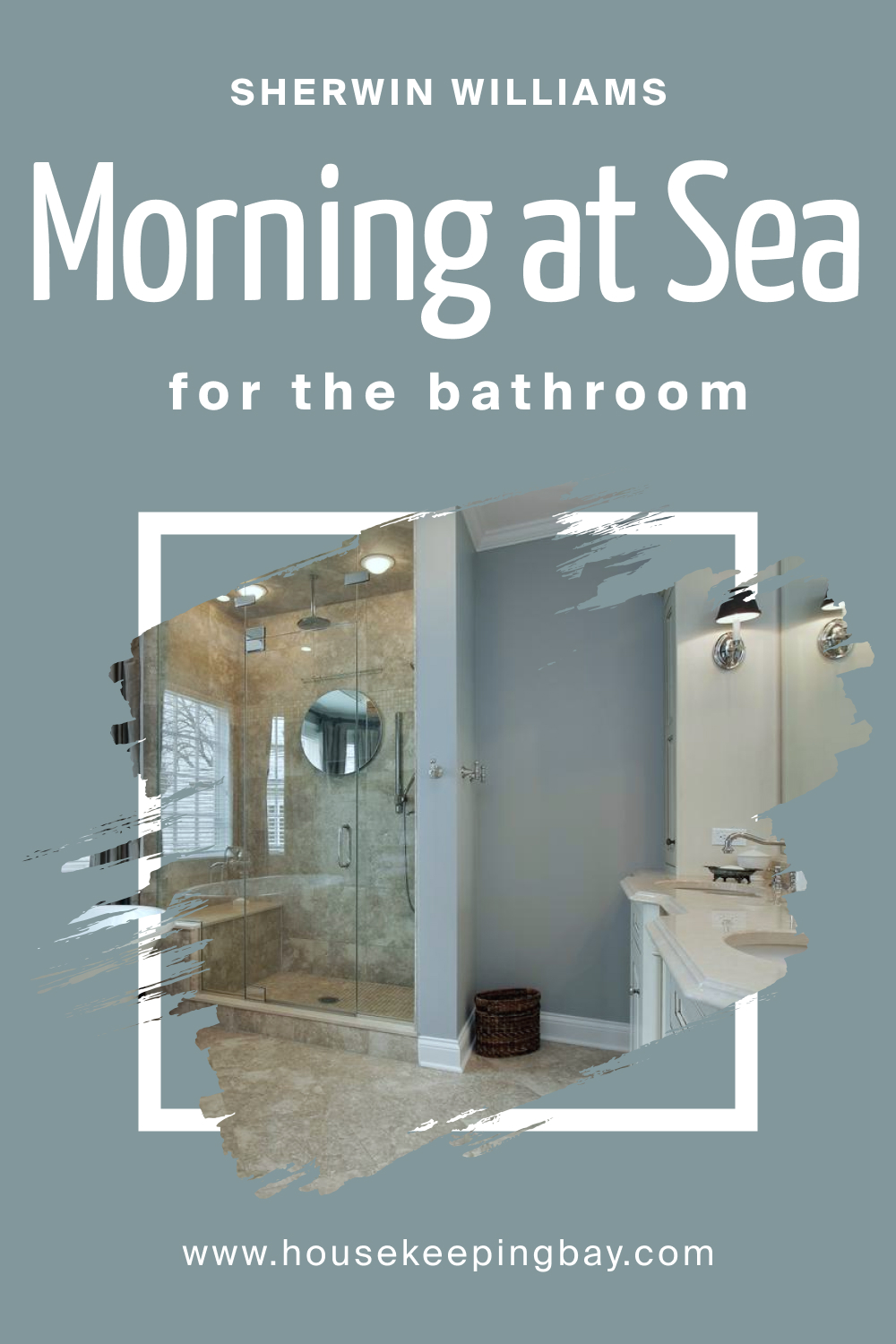 How to Use SW 9634 Morning at Sea in the Living Room?
Living rooms, the heart of any home, should evoke comfort and warmth. Using SW 9634 Morning at Sea, one can create a tranquil setting ideal for entertaining or quiet reflection. Its versatile nature pairs well with muted blues, soft grays, and even pops of colors like coral or yellow. Combine it with plush furnishings, and the living space becomes an inviting oasis for family and friends.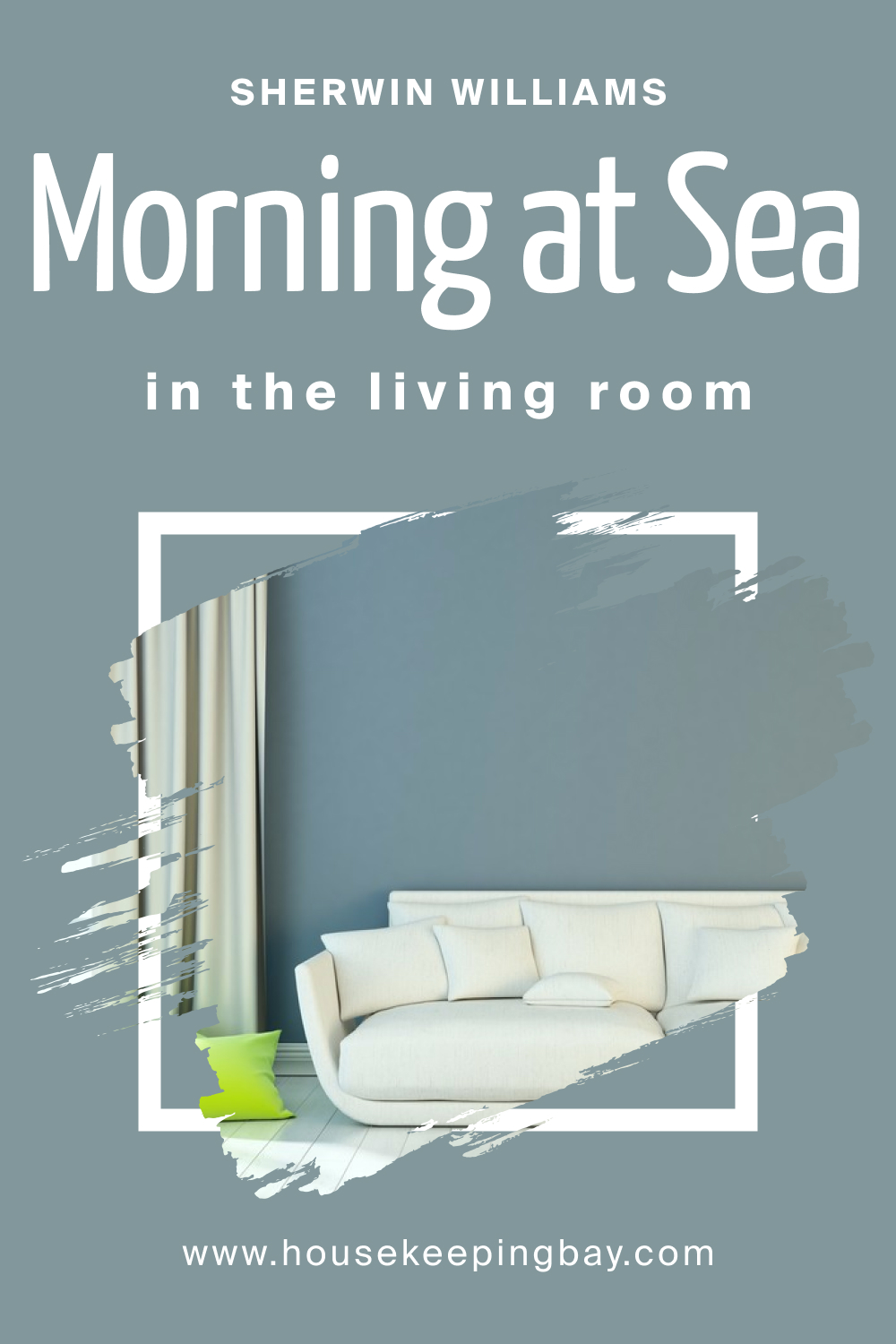 How to Use SW 9634 Morning at Sea for an Exterior?
The exterior of a home gives the first impression. With Morning at Sea, one can craft a modern, inviting facade. This shade, reminiscent of coastal dawns, is perfect for contemporary homes, especially when complemented with stone or wood finishes. Whether you're by the beach or in a city, this hue captures the essence of serenity and modernity.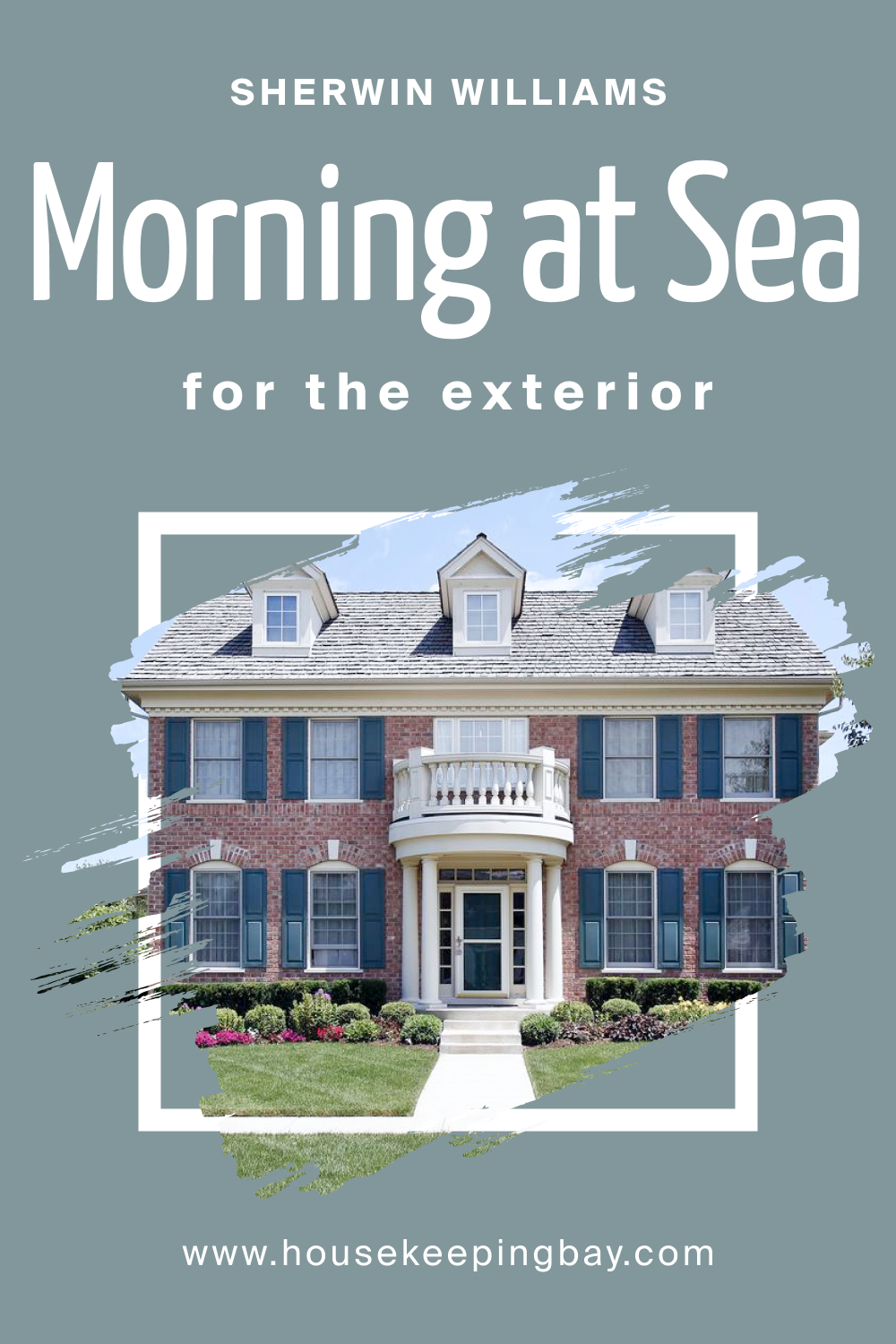 How to Use SW 9634 Morning at Sea in the Kitchen?
Kitchens are bustling hubs of activity. SW 9634 Morning at Sea, with its cool undertones, introduces a sense of calm to this energetic space. Its neutral shade allows it to complement stainless steel appliances, marble countertops, and white cabinetry, creating a clean and airy kitchen ambiance.
Whether it's a morning coffee or a dinner party, this backdrop ensures the kitchen feels welcoming.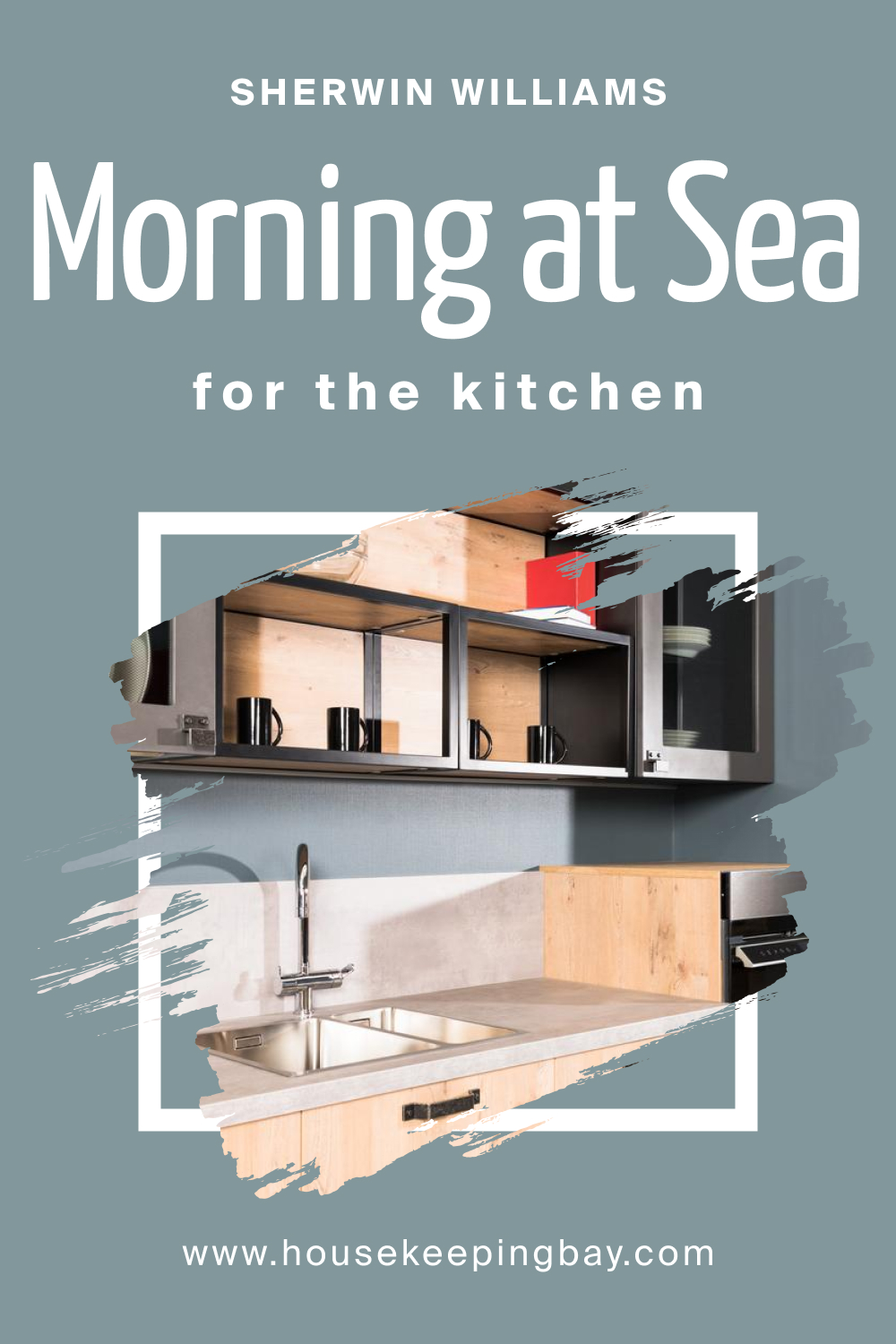 How to Use SW 9634 Morning at Sea for the Kitchen Cabinets?
Cabinetry can make or break a kitchen's aesthetic. Painting cabinets with Morning at Sea introduces elegance and sophistication. This muted shade, paired with gold or brass hardware, creates a contrast that's both modern and timeless. The cabinets become not just storage but a design statement, ensuring the kitchen remains the heart of the home.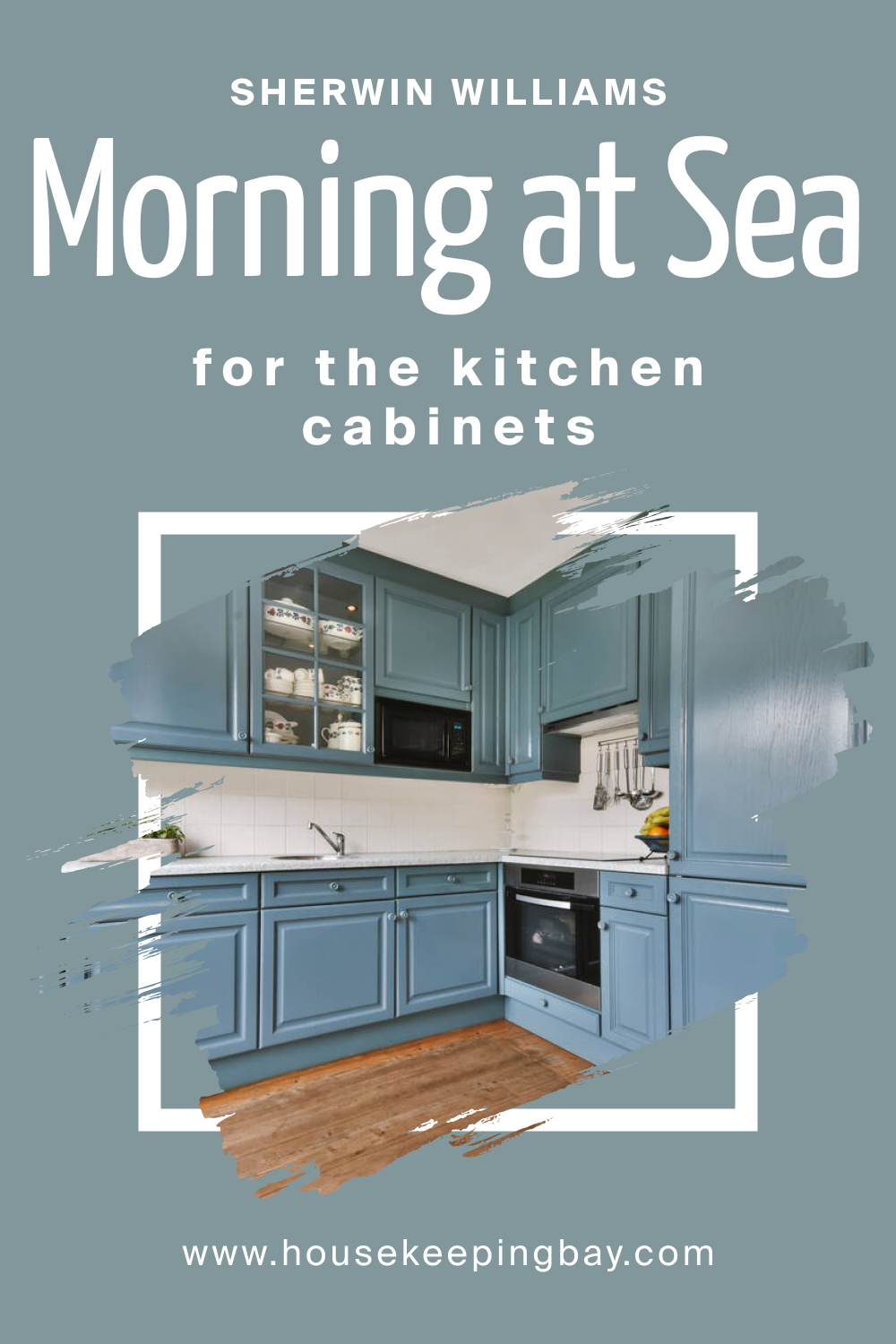 Comparing SW 9634 Morning at Sea With Other Colors
In interior design, comparing different shades is paramount for discerning subtle nuances and selecting the perfect hue for a particular space. Color can dramatically alter the ambiance, mood, and perception of size in a room. Comparing colors helps to understand how they interact, their undertones, and the emotional responses they invoke.
Particularly when shades seem similar, understanding their differences can guide design decisions, ensuring that the final look aligns with the desired vision. Let's delve into how SW 9634 Morning at Sea compares with other popular Sherwin-Williams colors.
SW 9634 Morning at Sea vs. SW 6252 Ice Cube
While both hues lean into the cooler spectrum, Ice Cube presents as a lighter, almost ethereal blue-gray, evoking icy landscapes. In contrast, Morning at Sea has deeper coastal vibes reminiscent of deeper ocean waters.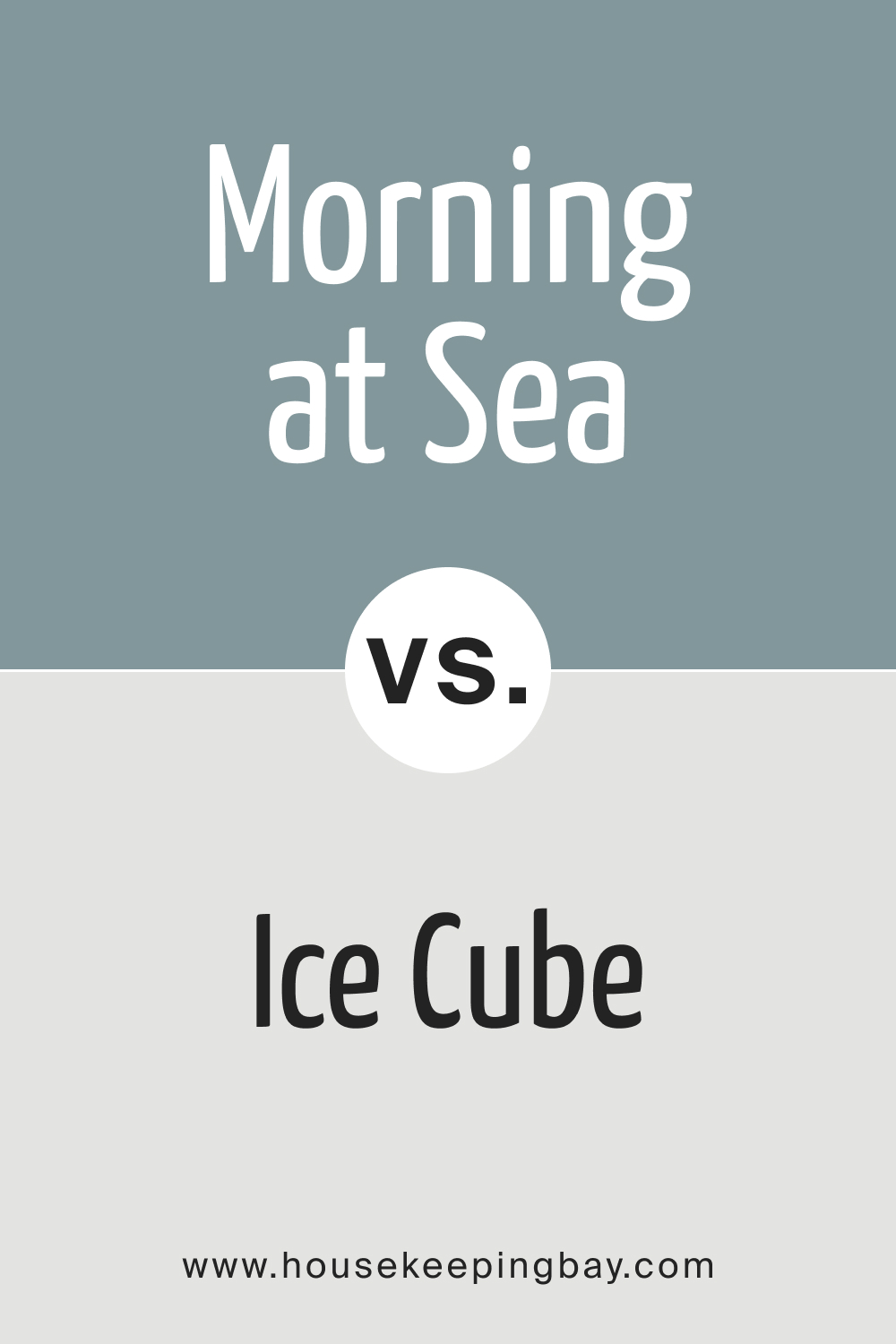 SW 9634 Morning at Sea vs. SW 7673 Pewter Cast
SW Pewter Cast ventures into the realm of gray with a metallic undertone, resembling polished metal. Morning at Sea retains a more distinctly blue undertone, providing a more natural and soothing ambiance.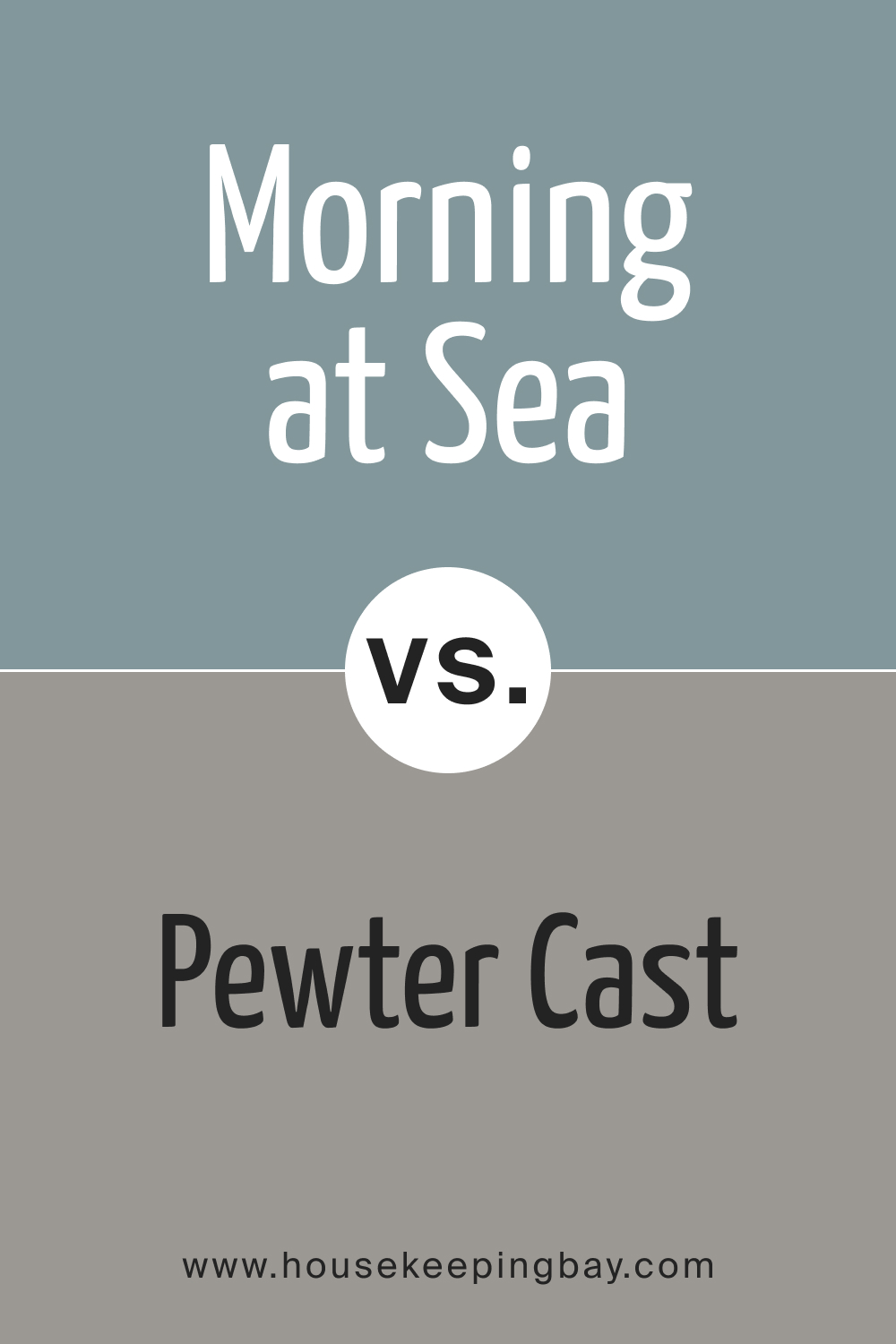 SW 9634 Morning at Sea vs. SW 2819 Downing Slate
SW Downing Slate leans more heavily into the gray family, evoking stony paths and overcast skies. Next to Morning at Sea, the latter offers a softer, more serene atmosphere with its blue undertones.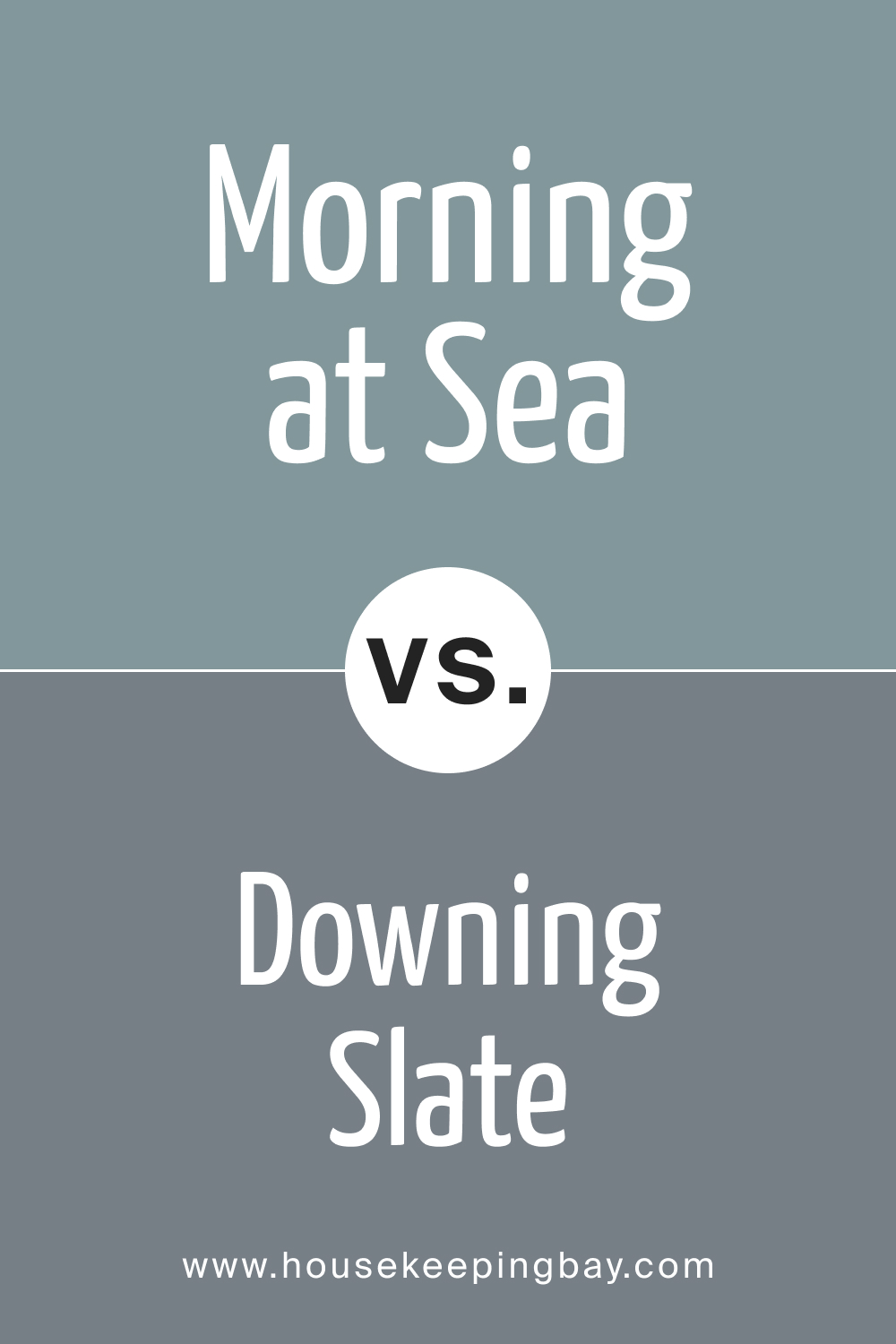 SW 9634 Morning at Sea vs. SW 9633 Silver Lake
SW Silver Lake and Morning at Sea are closer in comparison. However, Silver Lake has a crisper blue tone, almost like a clear sky day, while Morning at Sea carries the tranquility of an early ocean dawn.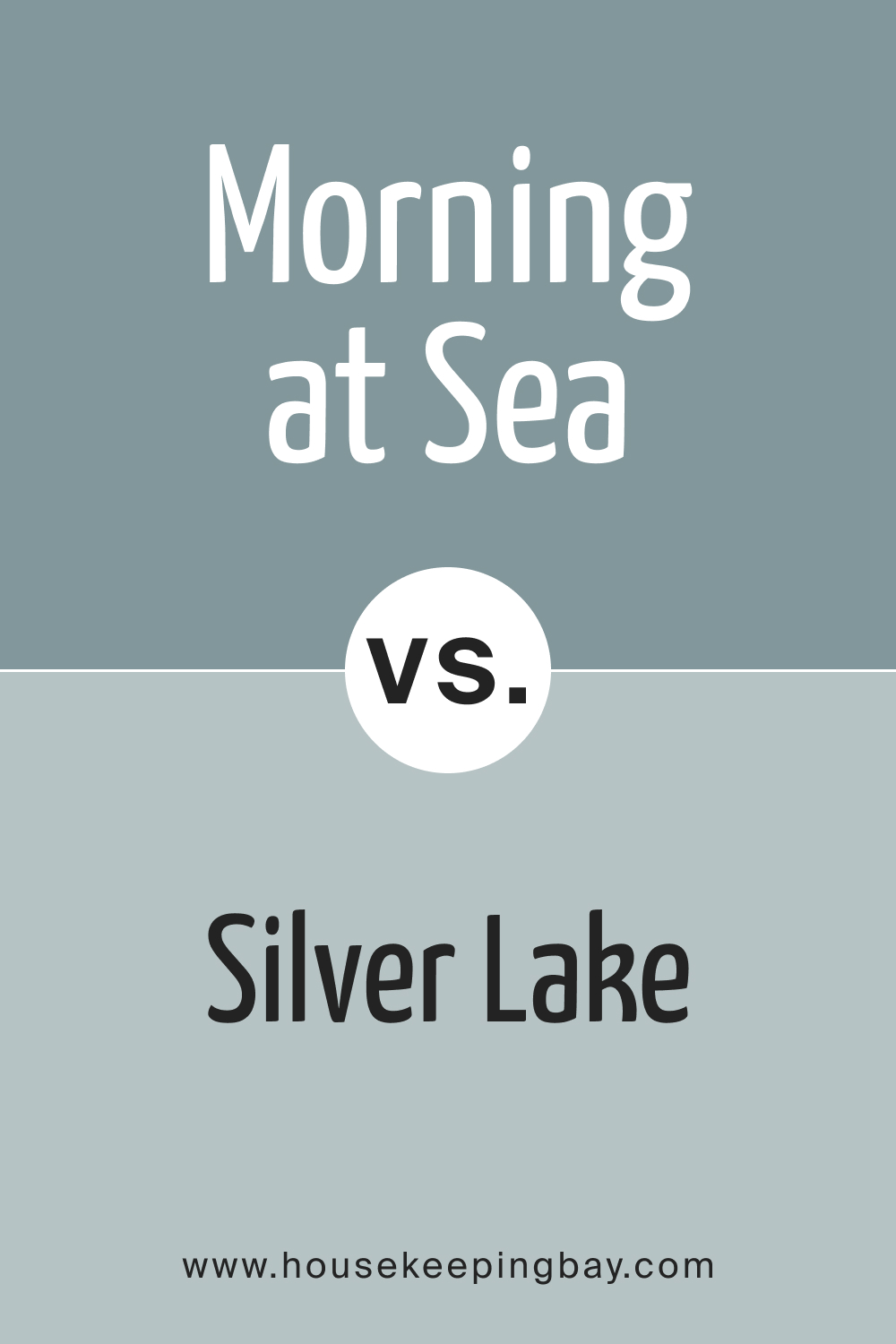 SW 9634 Morning at Sea vs. SW 9658 Fresh Eucalyptus
SW Fresh Eucalyptus introduces a hint of green, akin to the shade of eucalyptus leaves in the sunlight. Morning at Sea, on the other hand, is deeply rooted in the blue family, capturing the essence of calm waters.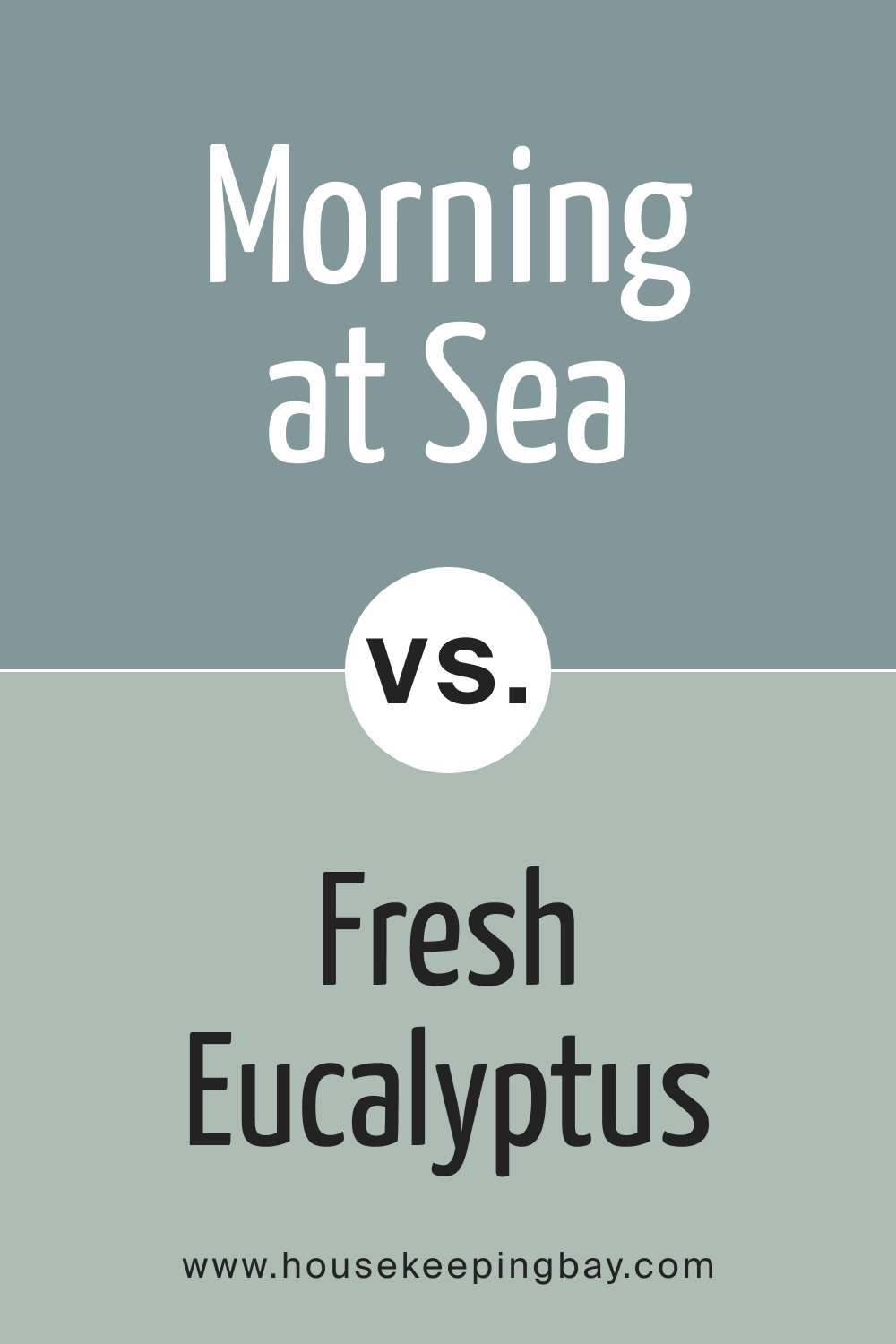 SW 9634 Morning at Sea vs. SW 9684 Azure Tide
SW Azure Tide is a more vibrant blue, reminiscent of tropical ocean scenes on a sunny day. Morning at Sea is subtler, invoking images of calm morning seascapes under soft lighting.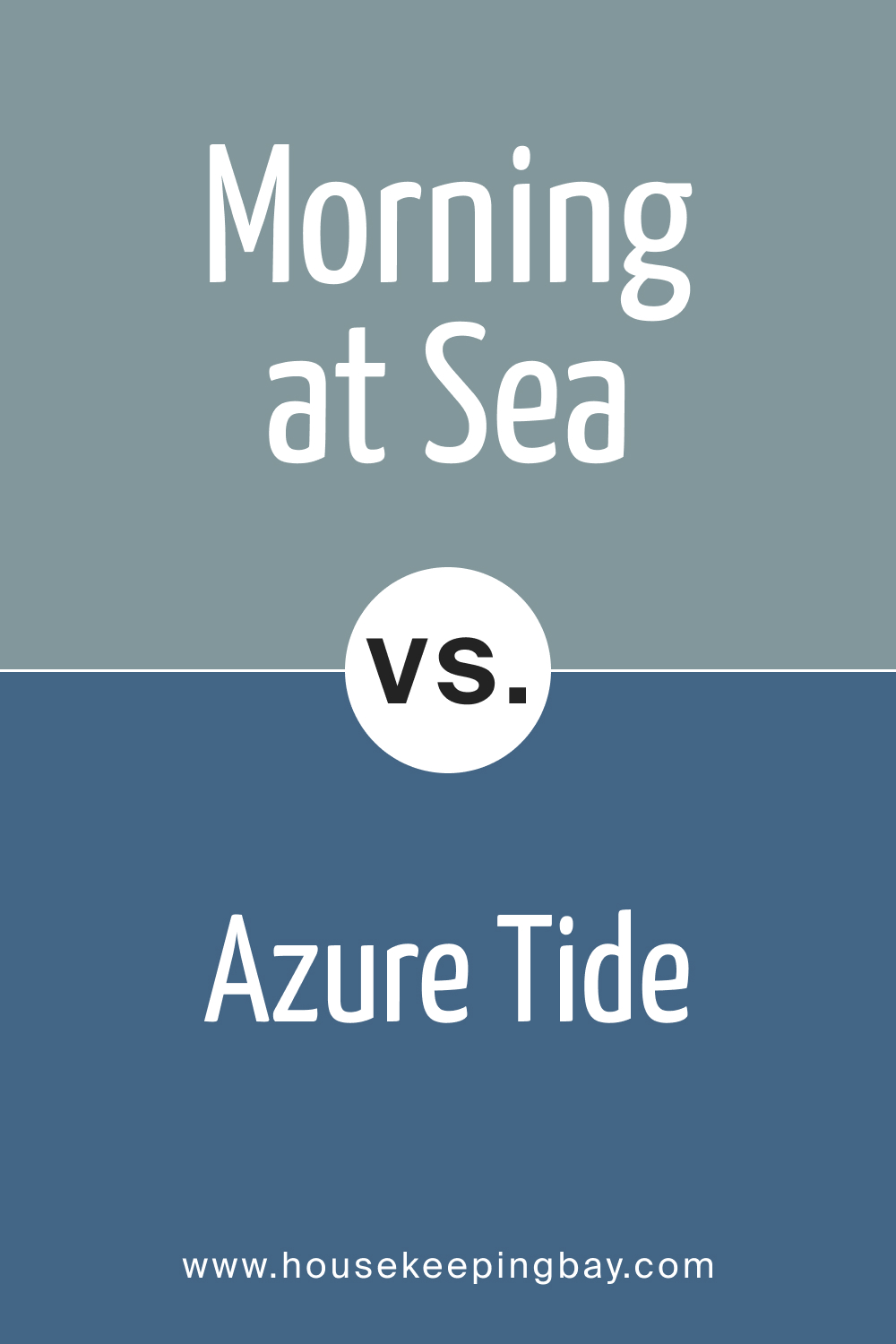 Conclusion
Colors are more than just visual elements; they are experiences, memories, and emotions captured on walls. SW 9634 Morning at Sea's versatility and calm demeanor make it an exquisite choice for various spaces. When compared to other shades, its unique undertones and the ambiance it cultivates come to the forefront.
Selecting the right color is an art, and by comparing and contrasting, we ensure our spaces reflect our personal tastes and desired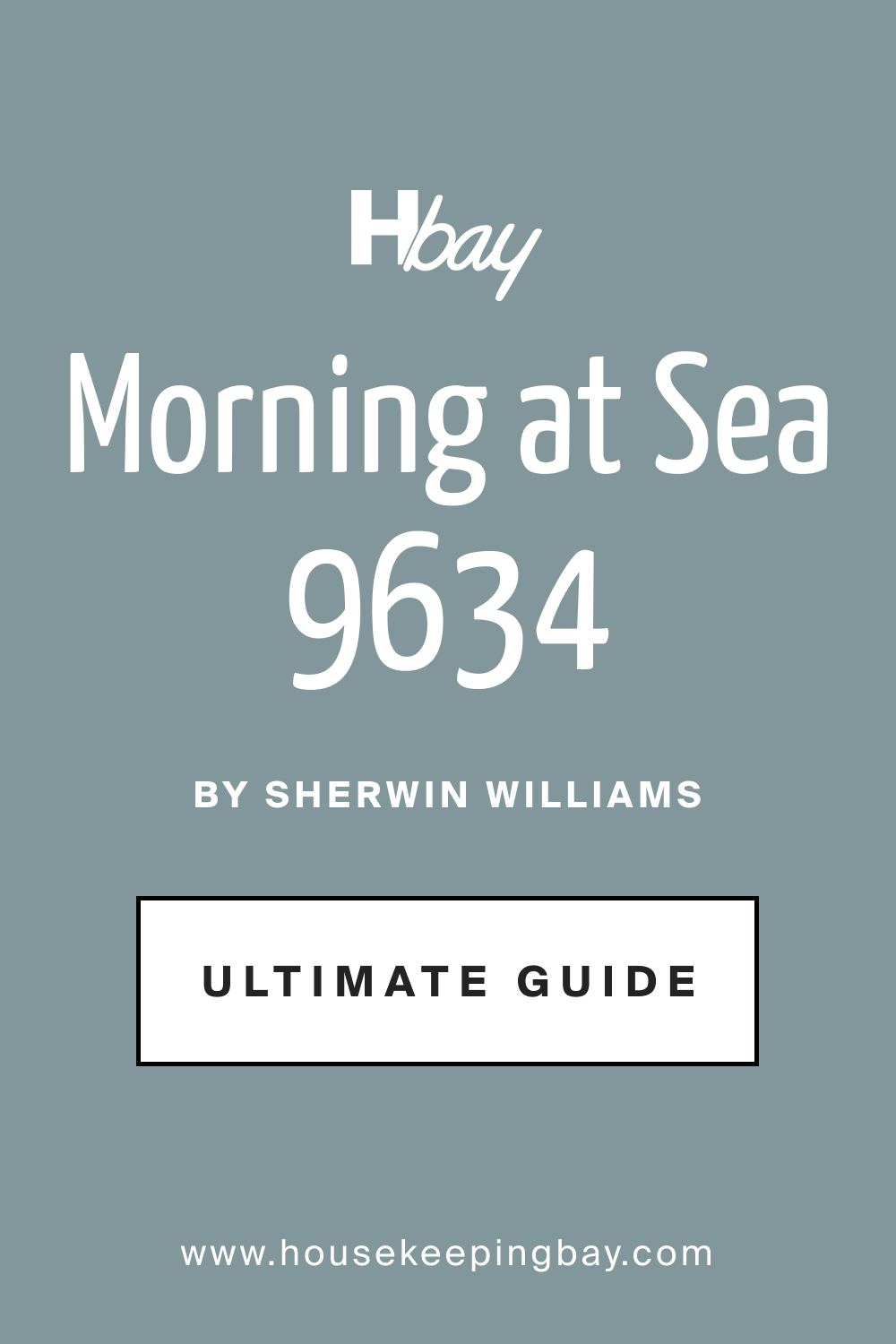 Frequently Asked Questions
⭐What type of rooms is SW 9634 Morning at Sea best suited for?
Morning at Sea is a versatile hue ideal for bedrooms, living rooms, and bathrooms due to its serene undertones. It's also beautiful in dining areas, home offices, and even exteriors, offering a coastal and calm vibe.
⭐Is SW 9634 Morning at Sea a warm or cool color?
SW 9634 Morning at Sea is considered a cool color. Its blue undertones evoke the tranquility of coastal mornings, giving spaces a calming and refreshing ambiance.
⭐Which coordinating colors pair well with Morning at Sea?
Morning at Sea coordinates beautifully with muted blues, soft grays, and neutrals. Some colors that pair well include SW 9664 Sun Salutation, SW 9691 Crystalline, and SW 9679 Juniper, among others.
⭐How does the lighting affect the appearance of SW 9634 Morning at Sea?
Like most colors, Morning at Sea can appear different under various lighting conditions. Natural light will enhance its blue undertones, while artificial light may highlight its gray aspects. The color can also vary based on the direction a room faces.
⭐What is the LRV of SW 9634 Morning at Sea?
The Light Reflectance Value (LRV) of Morning at Sea is 29. This means it reflects a moderate amount of light, making it neither too dark nor too bright. It can add depth to spacious rooms and coziness to smaller spaces.