Everyone wants their home to be cozy and look unique and stand out among the homes of the neighbors for sure! And to achieve this, people usually search for different ways of customizing their interiors. And one of the most popular ways to do it is to paint your glass windows!
This method is cheap and thus affordable, plus, it makes your windows look like real stained glass! And since unique stained glass is very expensive, getting such faux "stained glass" windows is a great way to make your home interior brighter.
However, at this point, some of you may start wondering how to paint pictures on glass windows. If you have never done this before, you might really feel uncertain and even a bit frustrated about it! But no worries, we are here to help you out!
In this article, we will tell you how to decorate and paint glass windows by yourself. You will learn what tools you will need for that, as well as what types of paint can be used for creating glass window decorations. In addition, we will provide you with step-by-step instructions on how to create a glass window painting by yourself from scratch.
You will learn how to use glass paint on windows correctly and how to take care of painted window glass so that the painting remains untouched and undamaged longer.
How to Paint On Glass Windows?
If you have ever thought of getting stained-glass windows, you might be a bit surprised (if not say shocked) with their prices! This is why many homeowners opt for a way cheaper alternative: painted glass windows. And if you wonder how to paint windows to make them look like stained glass, we are happy to tell you that it is pretty simple to do! You just need to follow a few easy tips and recommendations.
Once you've decided how you're going to paint your windows, and you purchased proper paint and brushes, here are what steps should be taken next.
What Glass Paint to Use When Painting on Glass
Clean And Prepare the Glass
Before you start applying paint to the window, you need to prepare the surface first. Otherwise, if the glass is dirty, dusty, or greased, the paint won't adhere properly.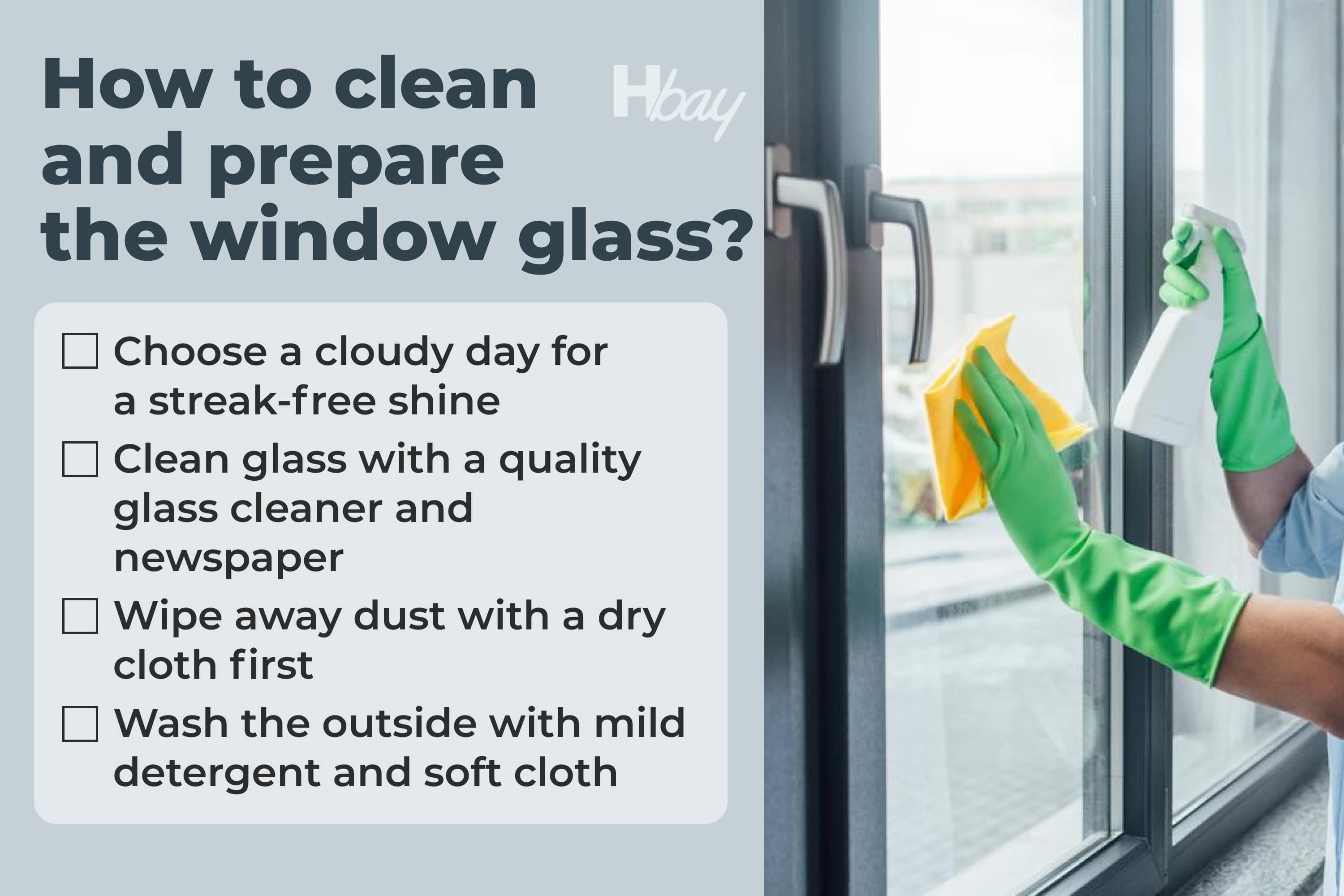 So first of all, do the following: thoroughly clean the window with warm water and soap. Just take a clean cloth, soak it with soapy water, squeeze the excess water out, and wipe the glass.
This step will help you to remove all of the dirt and oils that might be on the glass surface and might prevent paint from properly adhering. To make sure that the surface is thoroughly cleaned, we suggest you wipe the glass down with rubbing alcohol afterward.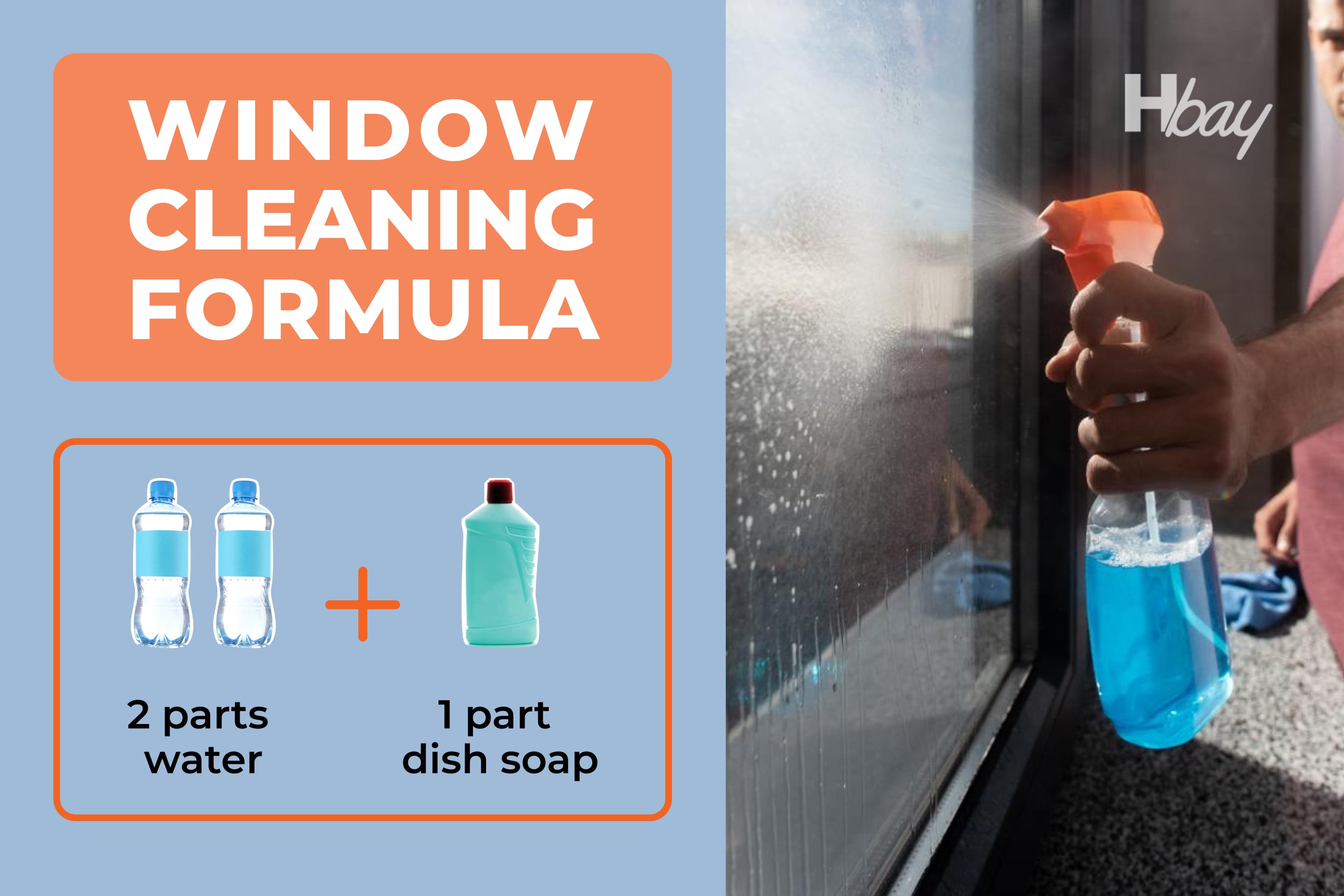 Prepare the Surface
After you wiped the glass, proceed with using painter's tape to cover the areas that you don't want to be painted. This typically includes the window frame and any parts of the glass that need to remain unpainted.
If you want to create a design on your window, it might be reasonable to apply a base coat before you start using paint. The base coat will serve as a background for your design.
If you're planning on making the glass opaque, you can apply a layer or two of gesso before you start adding your base coat. Thanks to its matte texture, gesso creates an excellent surface on which you can paint later.
When applying gesso, do it with an even coat using a natural brush. Make sure you give the base coat enough time to dry. It should be at least an hour! It will prevent the paint from bleeding. Also, consider that drying times often vary, so make sure you double-check the directions on the paint can before you start using it.
As for the drying time, we want to remind you that some enamel paints will need a curing time of 5-7 days! However, if you need to add additional layers of paint, it's not necessary to wait this long, of course. You only need the surface of the paint to be dry.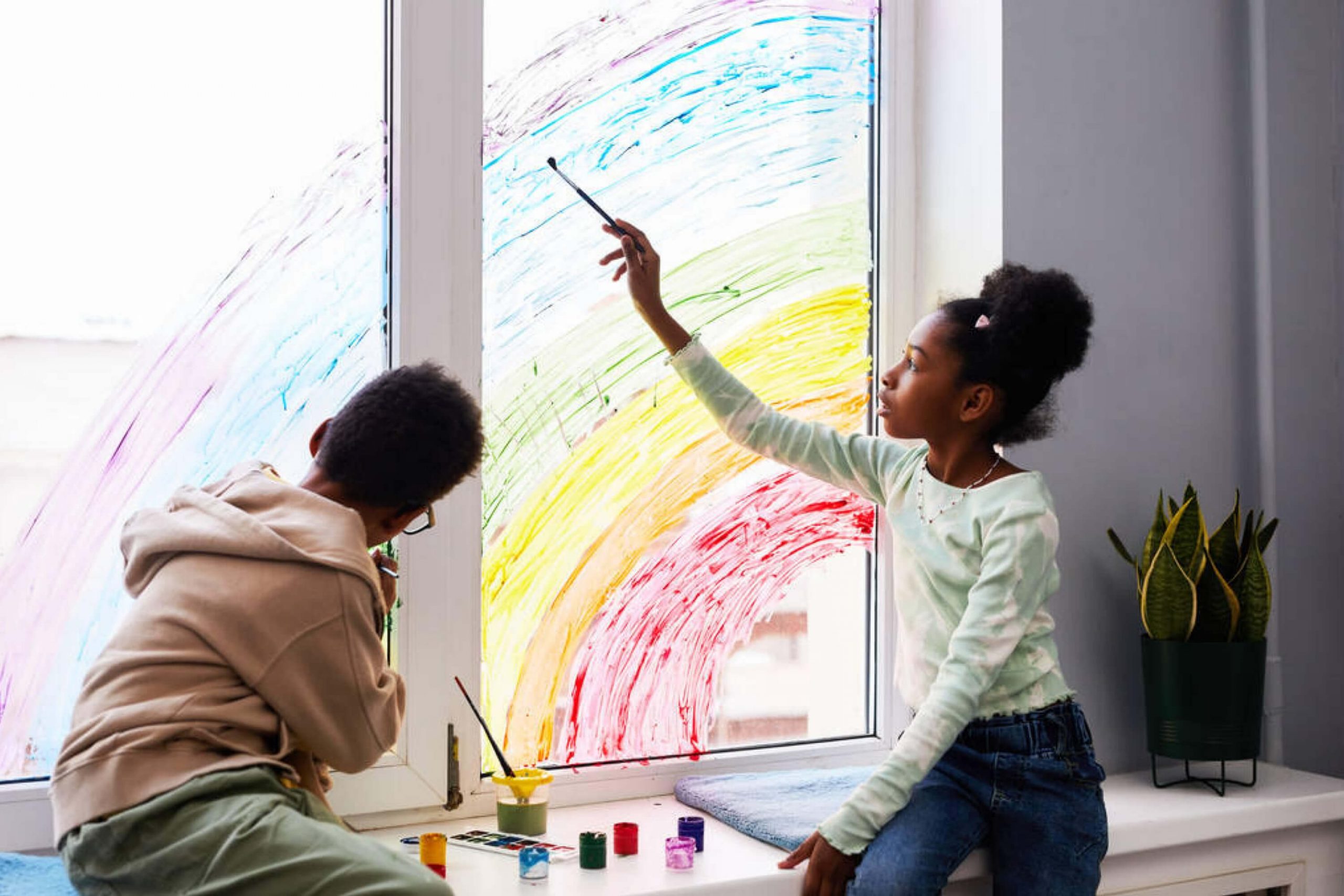 Outline the Design
If you're going to have a design on your window, now is the time to outline it onto the base coat or the glass. For that purpose, you can use a common marker or a paint liner.
Once the base coat is dry, draw the outline for your design carefully onto the base coat. Make sure you are wearing rubber gloves while doing this since any oils from your hands that may end up on the glass or base coat will resist the paint potentially!
If you're using paint liner, squeeze it onto the base coast in order to create your design. And remember to wait until the paint liner is completely dry before moving to the next step.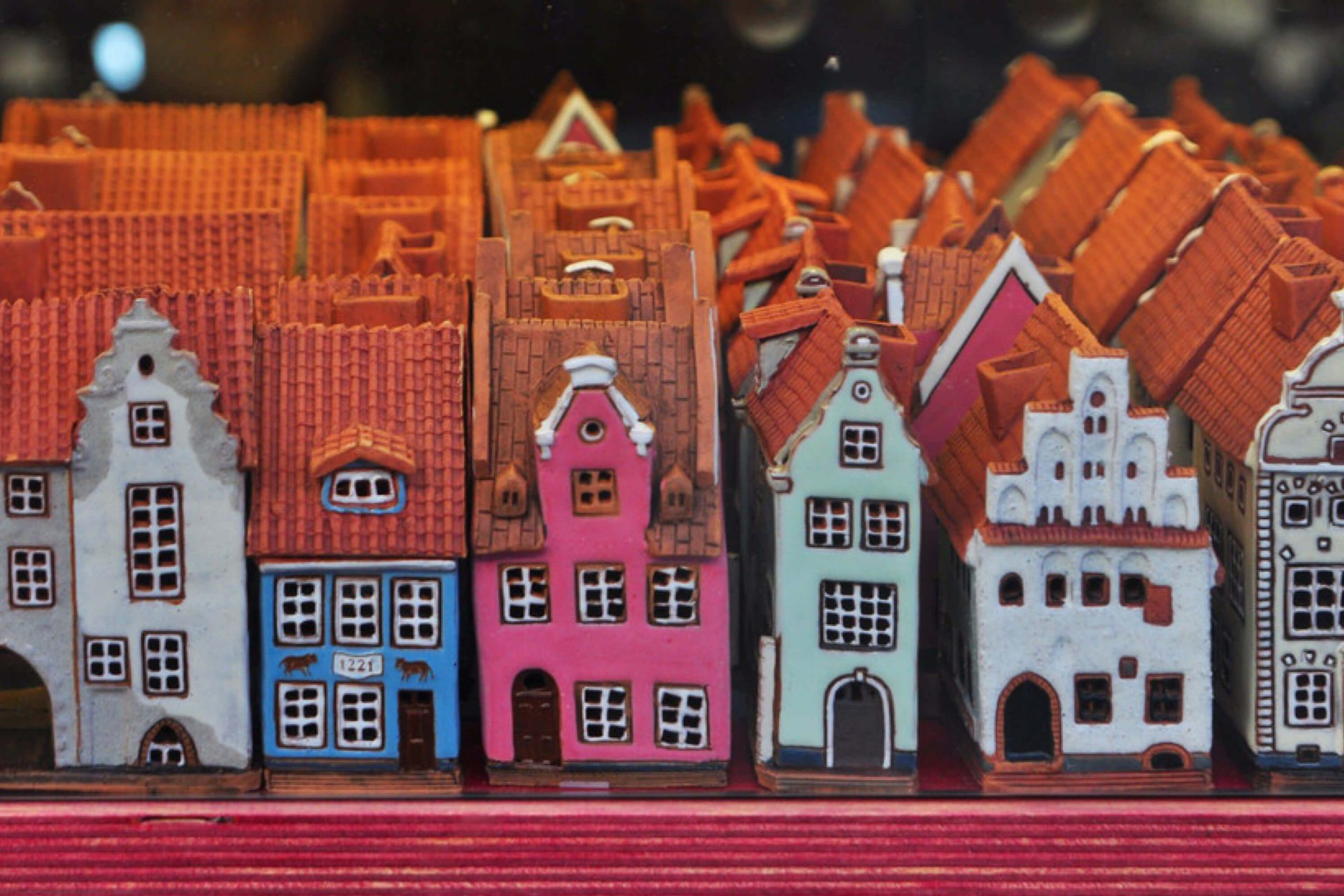 Apply the Paint
If you're using a single coat of paint to cover the glass in one color completely, then the process is pretty easy. Using your brush, coat the glass evenly. But depending on how opaque you want the window to be, you may need to apply several coats.
In case you are creating any artistic designs, opt for the brush that will allow you to paint as detailed as your design requires. Also also, begin with the upper part and paint while moving down. This allows you to protect that painting from being damaged by your hand that might be placed over the areas you have already painted.
In addition, we suggest you have a paper towel on hand while painting. You might need it to dab away any mistakes or dripping paint. Make sure that you fix the mistakes immediately before they dry and become permanent!
Finally, here is a rule of thumb for you: work with one color at a time. Start painting all the parts of the design that use the same color before you move on to the next color.
Let the Design Dry
If time allows, it's best to wait for the paint to dry between colors. It will help you to prevent accidentally mixing colors and creating a mess on your window's glass.
Drying times may vary. For example, tempera paint dries in minutes, while water-based paints usually take about an hour. Enamel may require 8-24 hours to dry, depending on how thick the coat is.
You also need to keep in mind that waiting for each layer of paint to dry is a must if colors overlap. Like this, you will prevent them from bleeding into each other.
This process should be continued until you have the design completed. If there are any areas that need to be brightened, feel free to add a second coat of paint once the first coat has dried.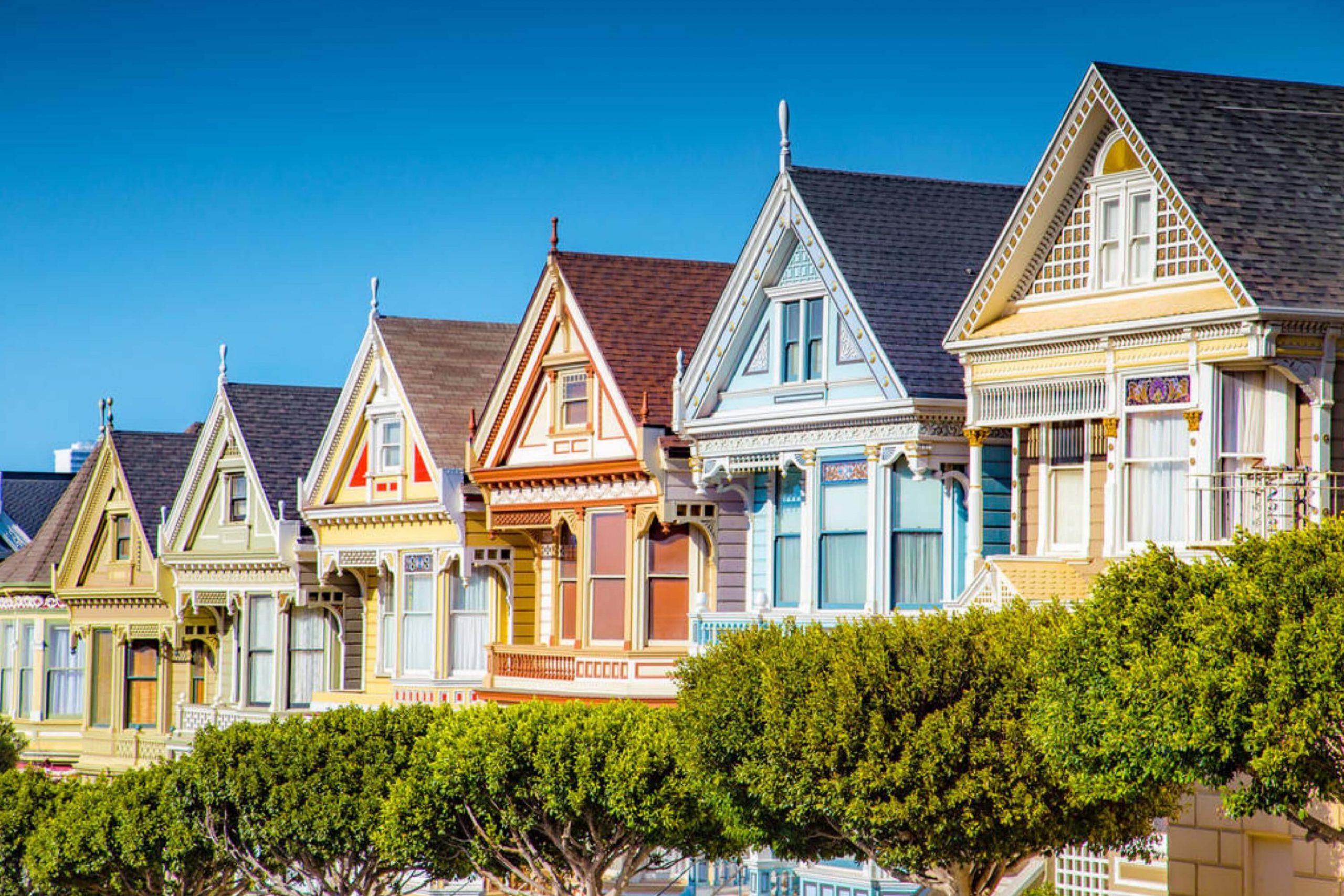 Having the glass cured is an important stage of the design application process. It is needed because the majority of paints take up to a week or even more to fully dry and harden on the surface of the glass.
Baking glass painted with paint in an oven is the ideal method for curing and one commonly used for arts and crafts glass-painting projects.
Obviously, that isn't possible when painting windows. While some suggest using a hairdryer to accomplish the same task, a hairdryer doesn't create enough heat to make this a viable option. You simply need to wait. This is going to be the best solution.
Like this, you are now aware of how to paint on windows glass paint exactly. With this detailed guide, you will be able to decorate your glass windows with any paint that is suitable for this kind of creative project since you know all the tricks and life hacks that can help you create a beautiful painting!
Why Paint Glass Windows?
Why would you want to paint on your glass windows at all? That's a good question! Well, there are several reasons that include both decorative and functional purposes.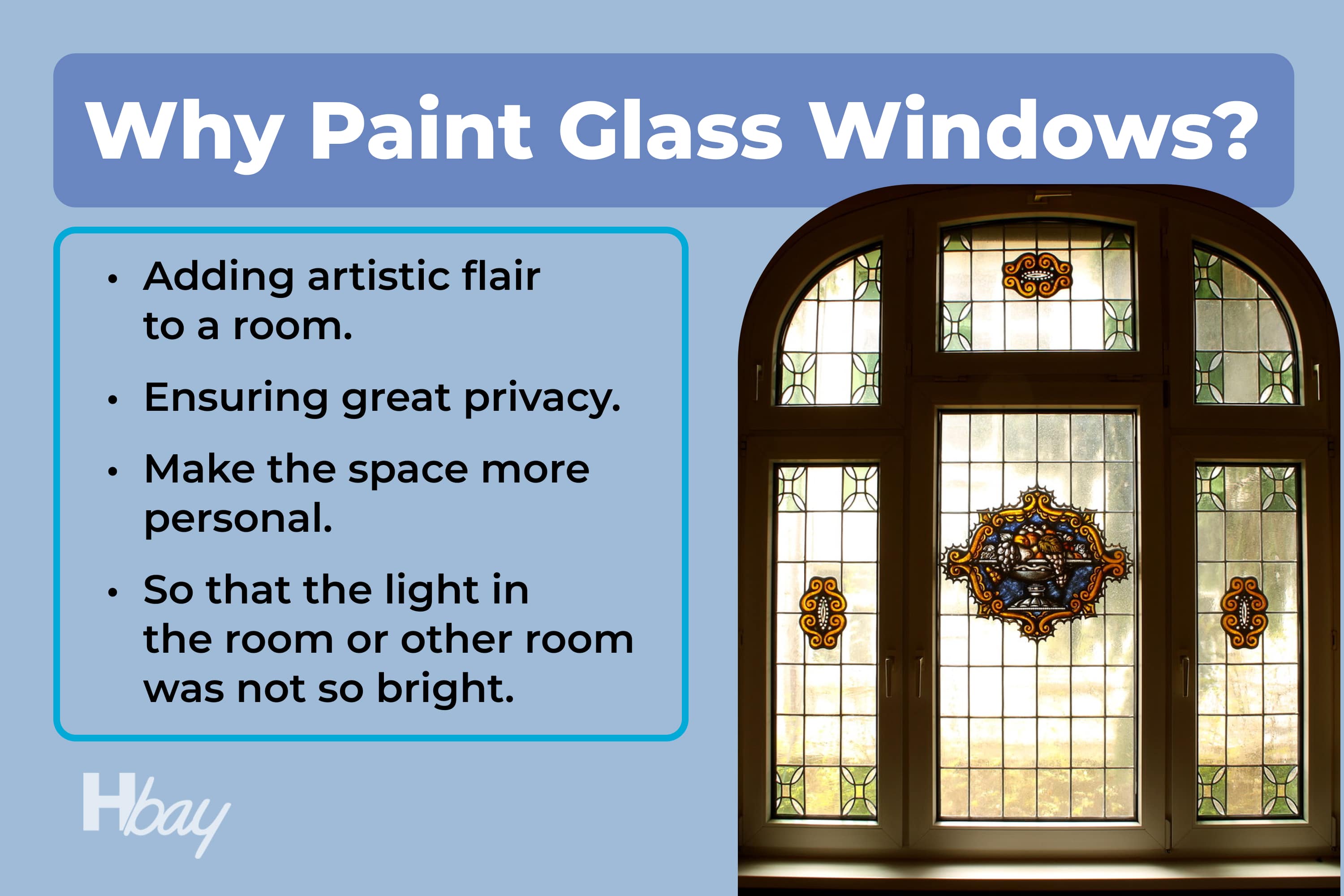 To add an extra artistic flair to a room.
To provide more privacy since frosted glass painting can easily do this for you.
To make the space more customized.
To make the light in the room or other space not so bright.
No matter what your particular purpose is, painting window glass is anyway cheaper and simpler than getting a real stained glass. In addition, unlike stained glass, paint can easily be removed from your window surface if you decide to change the design one day!
How to Frost Glass | Frosted Glass Spray Paint | GardenFork
What Types Of Paint Are Best to Be Used?
If you decide to get your windows pained, you will definitely start wondering what paint would be the best for this purpose. For example, you might want your window glass to still allow the light to shine through, which means the paints should be transparent.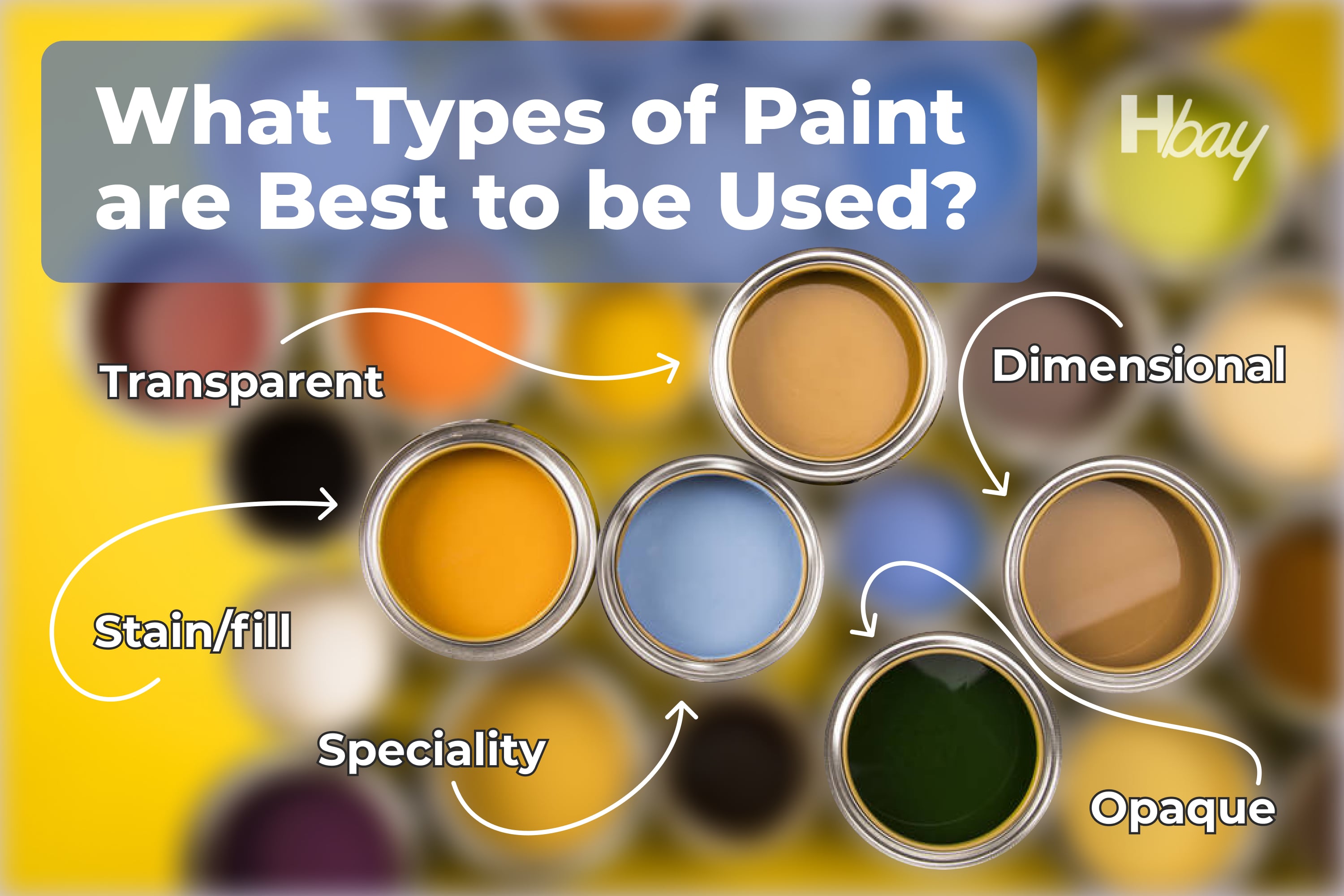 Or you might want it to be opaque. Depending on that, the types of paint you choose will vary.
Acrylic Enamel Paints
Acrylic enamel paints can be transparent or opaque. Also, they offer glossy and frosted window glass colors. This type of acrylic is also more durable and permanent, in addition, it is best suited for smooth surfaces like glass.
In the majority of cases, this type of paint must be cured in the oven after it dries. However, in certain brands this is optional, and the paint can simply be air-dried.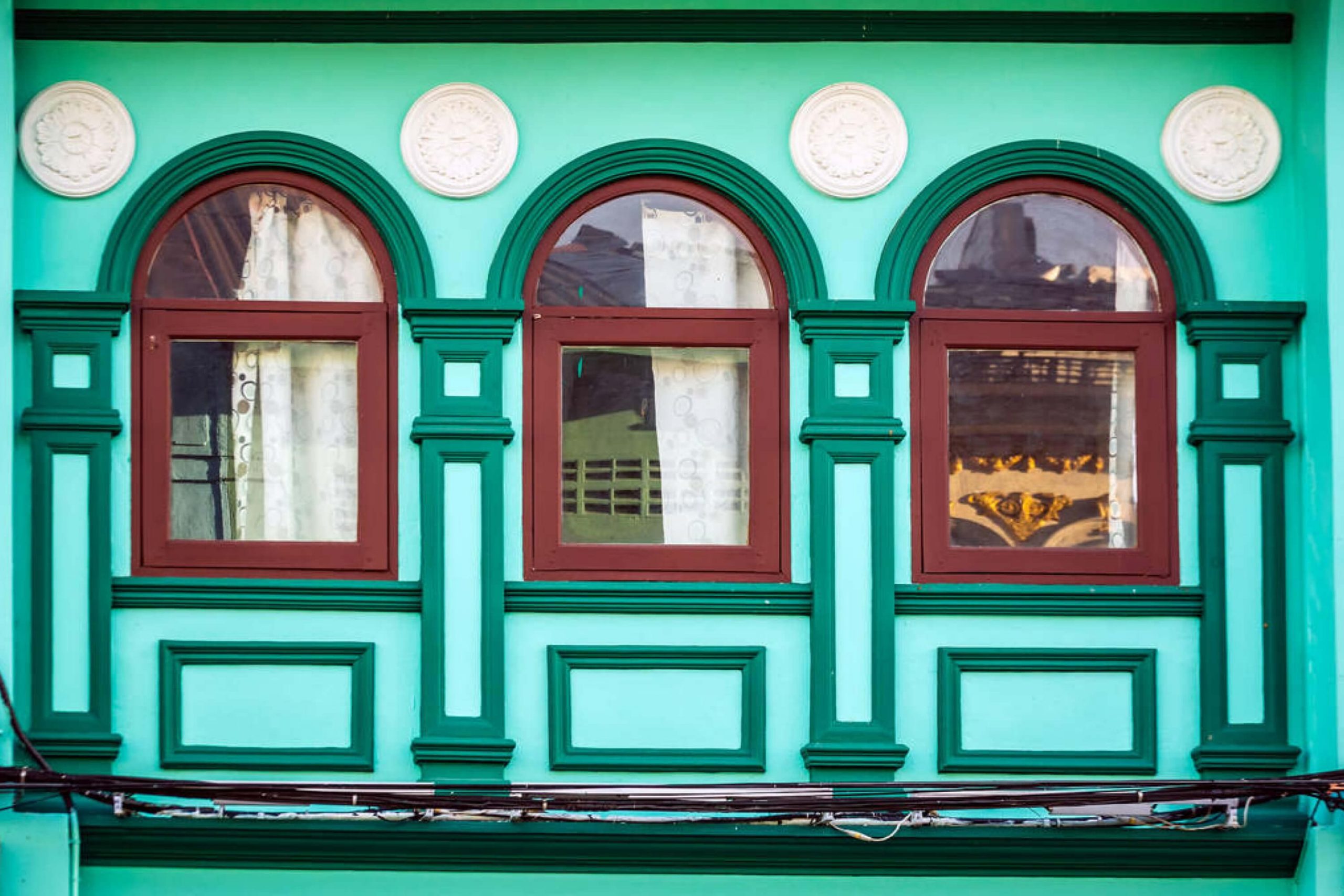 Acrylic Paints For Glass
Water-based acrylics are more opaque, but it is also possible to get more transparent options. These types of paints are specially made for glass painting, this is why, unlike regular acrylics, they are made to adhere to glass.
The acrylic glass paints can either air dry or can be heat-dried. This is why you should always read the label to see if the paint can be used on the surface you are painting.
There is also an alternative to acrylic glass paints which is tempera paint since it is also water-soluble. However, tempera paints are thinner and dry to a more superior opaque, matte finish, unlike acrylics. These paints are also not permanent and are considered washable window paint, so they are perfect for the Christmas or Halloween window art ideas.
Solvent-Based Paints
Except for water-based paints for glass, there are solvent or oil-based paints. These are used by professionals as they tend to be more expensive and are more toxic than acrylic paints.
Solvent-based paint is permanent and can create a beautiful stained-glass effect that can be applied in many different ways including brushing, spraying, or application with a dropper.
This paint also allows you to mix colors and should be able to attain a rich glossy finish. But unlike water-based glass paints, this one should be removed with solvents instead of soap and water. This is why we would not recommend it when working in an enclosed space or with kids.
Like this, you are now aware of what types of paints are best to be used on your glass windows if you want to create a faux stained glass effect on them.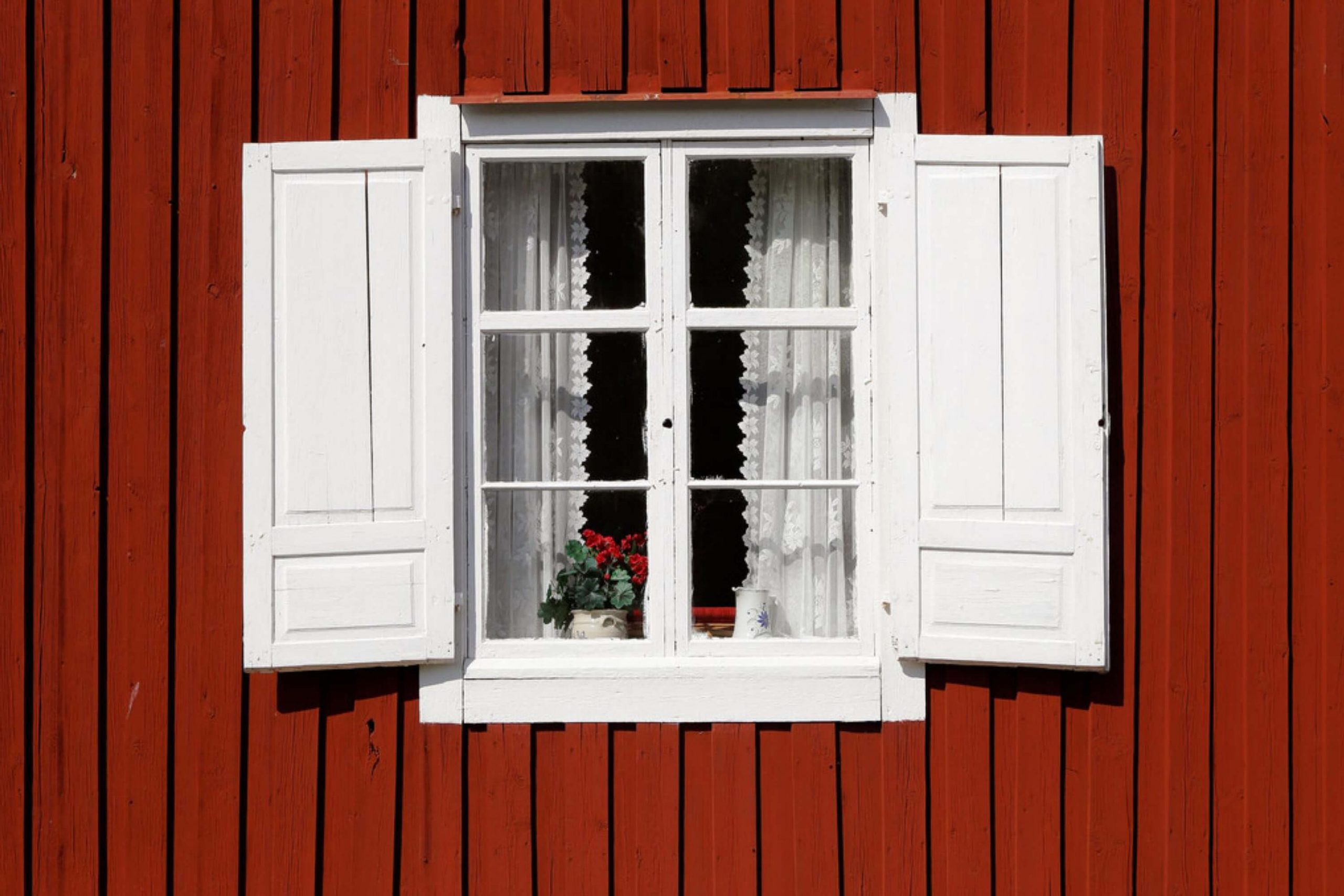 The Best Brushes For Decorating Glass Windows
It is not only the types of paint that matter when you are going to create a design on your window glass. The type of brush or paint applicator will influence the effect or finish you want to achieve.
So if your goal is to achieve a brushed-on look, a synthetic brush is the best do the job. In case you are striving to get a smoother finish, you should opt for a soft and natural-bristle brush. Foam brushes will become handy for applying paint when stencils are being used. Finally, to add more texture to your paint finish, try applying glass paint with sponges.
But whatever brush you choose, make sure it is of good quality! Like this, you will ensure that you will not have to pick out fallen bristles from the paint.
Well, now you folks know quite a lot about applying paint on glass! We told you how to do it exactly, what pains are best to be used, and what brushes should be picked if you want to get the best results. With all that, you can now create beautiful effects and designs on your windows since it's pretty easy. You don't even need to be an artist!
Frequently Asked Questions
⭐Can I paint with watercolor on windows?
You can try, but this paint is way too liquid and flowing. You'll not be able to get an even and accurate design.
⭐How to wash a faux stained glass?
It depends on the type of paint you used. But usually wiping it with a wet cloth is enough. No detergents are needed.
⭐How long does a design on a glass last?
It depends on how it's being treated and cared for. But you can expect it to last at least for a couple of years easily.