The red roof is an iconic image that is associated with a cozy home. However, when it comes to choosing the paint for exterior walls, people often don't know what color would be the best! Of course, everyone knows that, for example, white and black both pair with red nicely. But are they the only options available? Fortunately, they are not!
Today we are going to tell you more about the red roof house exterior paint colors. In particular, you will learn what exterior paint colors you should take into consideration if you need to find a good color match for your home's red roof.
In addition, we will share a list of paint colors by different brands! Like that, you will know exactly what paints you might want to try on your exterior walls. With all the information from today's article, you will be able to pick the house color to match your red roof ideally!
What Exterior Paint Colors Go With Red Roof?
You might want to search for an exterior paint color to match it with the red roof for different reasons. Maybe you just want to repaint the existing house because you don't like how the current wall color looks with the red roof. Or, perhaps, you are building your new home right now and you need to choose an ideal red roof house paint color to use on exterior walls.
BEST EXTERIOR PAINT COLORS to Help Boost Curb Appeal! | Julie Khuu
At this point, you might think that black and white are the best color options for your exterior walls, but in fact, there are more of them. Below, you can find a list of exterior paint colors for houses with red roofs:
White
Black
Green
Gray
Yellow
Beige
Brown
Orange
Red
Now let's take a closer look at each color and the way it works with the red roof.
Yellow House With Red Roof
Yellow is a good option to pair with red since these colors work remarkably well together! A warm-toned red roof will look welcoming and cozy with the same warm-toned yellow walls. However, note that you should opt for muted shades of yellow, otherwise, the contrast between these two colors will be way too striking! Also, red and yellow both work well with white, so don't hesitate to use white trim or paint your front door white!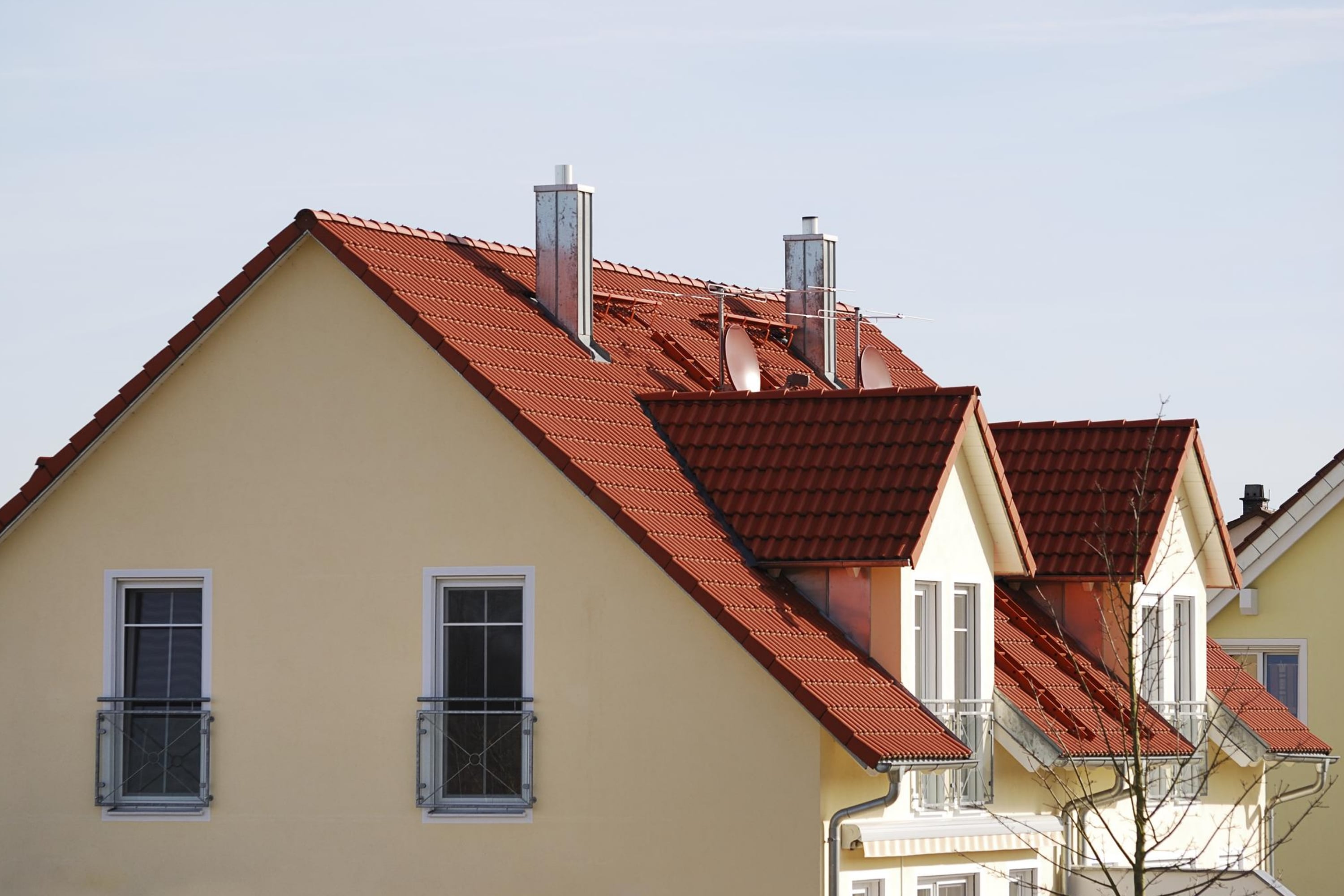 Grey House With Red Roof
If you are more into calm and balanced color palettes, you should consider painting your exterior walls gray if you have a red roof. Just make sure both the roof and the walls have warm-toned colors, otherwise, they will read imbalanced.
In general, gray is a good option if you want to add a huge value and neatness to your house with a red roof. Gray is a neutral color, which means that it can truly enhance the overall appearance of a red-roof house!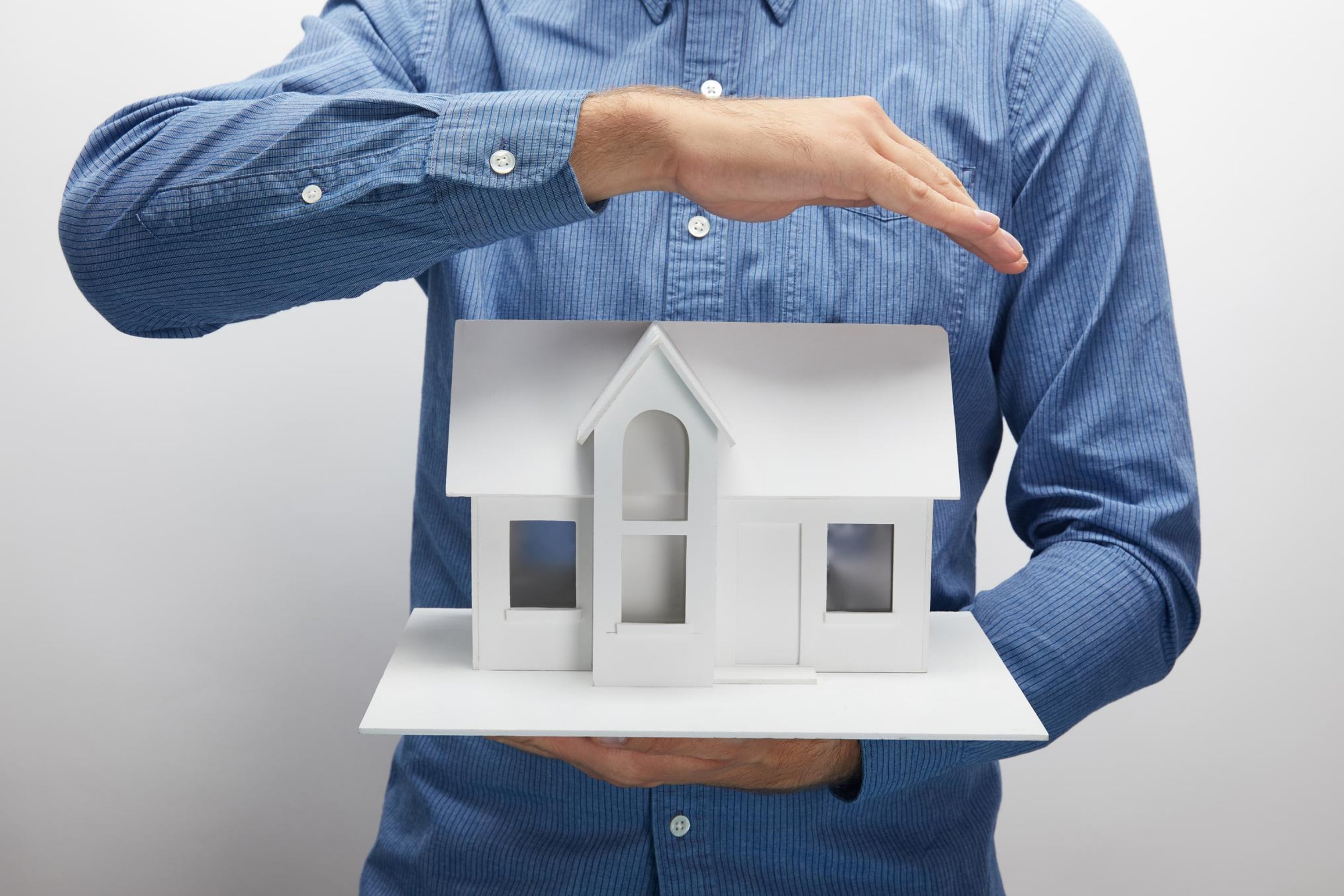 Brown House Color
Will your red roof match the brown house walls? Definitely, it will! Red is a warm-toned color, which is why it matches well with earth colors, and brown is one of them. This is why brown will definitely complement any house with a red roof, especially if it is surrounded by plants and trees.
Moreover, brown walls will make the house with a red roof look more comfortable. A red roof paired with a brown exterior gives a refreshing and earthy effect that is very pleasing to the eye.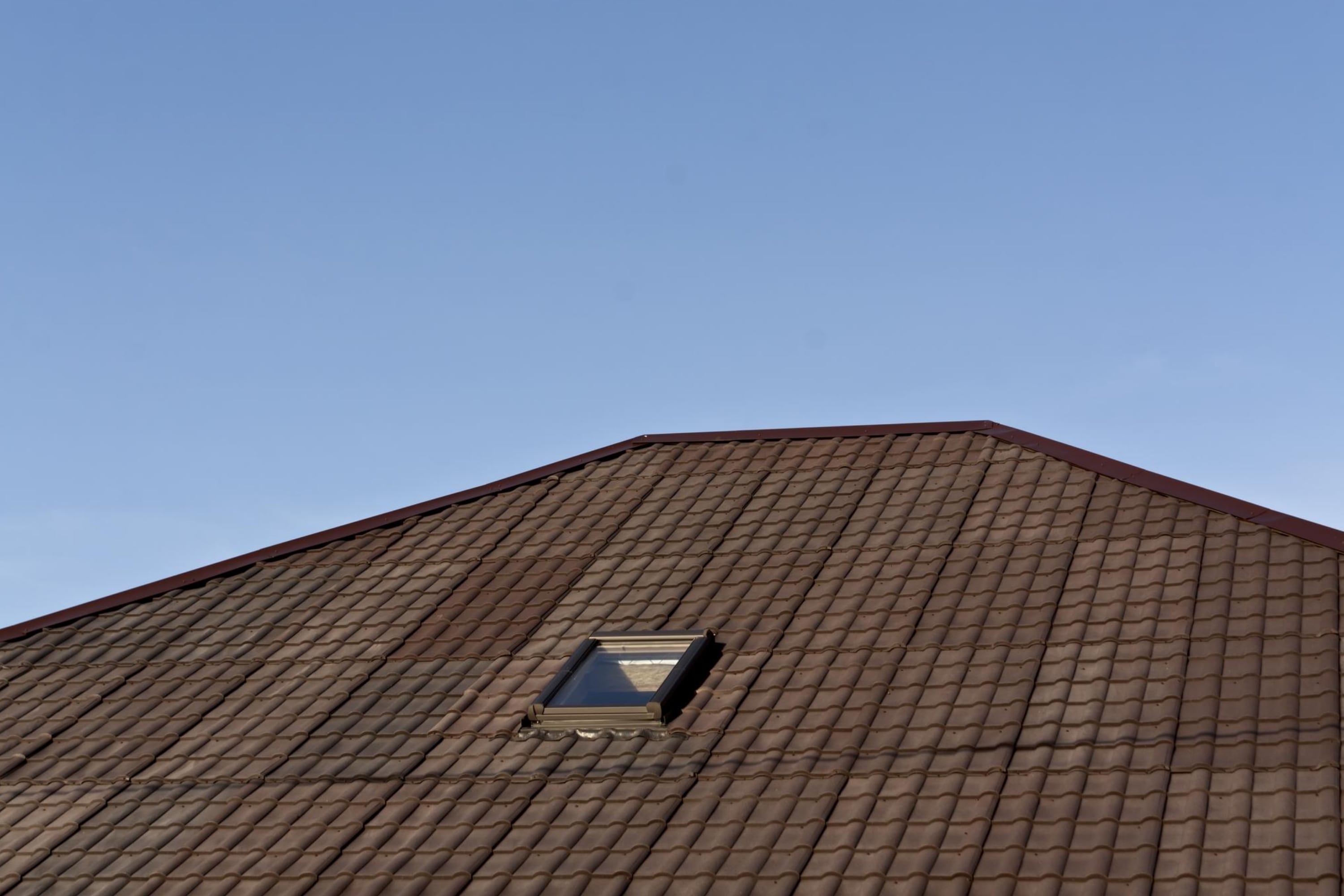 White House And Red Roof
A red roof over a white house is a classical combination. So if you don't know what color is best to use to paint your exterior walls, choose white and you won't be wrong! The red and white color combination look charming and fascinating, besides, it gives a striking yet neat effect.
Black House With Red Roof
Do you want to add a note of drama to your home's exterior? Then opt for black paint color to use on your home's walls! Black and red will create a dramatic and noticeable combination that catches an eye!
And if you are afraid that your home might look way too gloomy, add white trim and/or paint your front door white. If you have a porch, you may also want to paint its railings white. White will make the whole exterior look less dark.
Beige Walls With Red Roof
Beige might be a good color option for the exterior walls of a house for those who want something calm and subtle. Beige is one of the best neutral colors that go very well with your red roof.
Besides, the effect that the beige color can give to your house with a red roof can be very interesting and eye-pleasing. It also creates a very neat and refreshing appearance.
Green And Red
Green is another color that works with red perfectly well. Moreover, should you choose green, you can use different shades of it, from deep green (e.g. pine green, moss green, or basil green) to brighter options like pickle green or olive green. Just try to avoid combining a dark-red roof with dark-green walls since in this case, your home might look way too dramatic.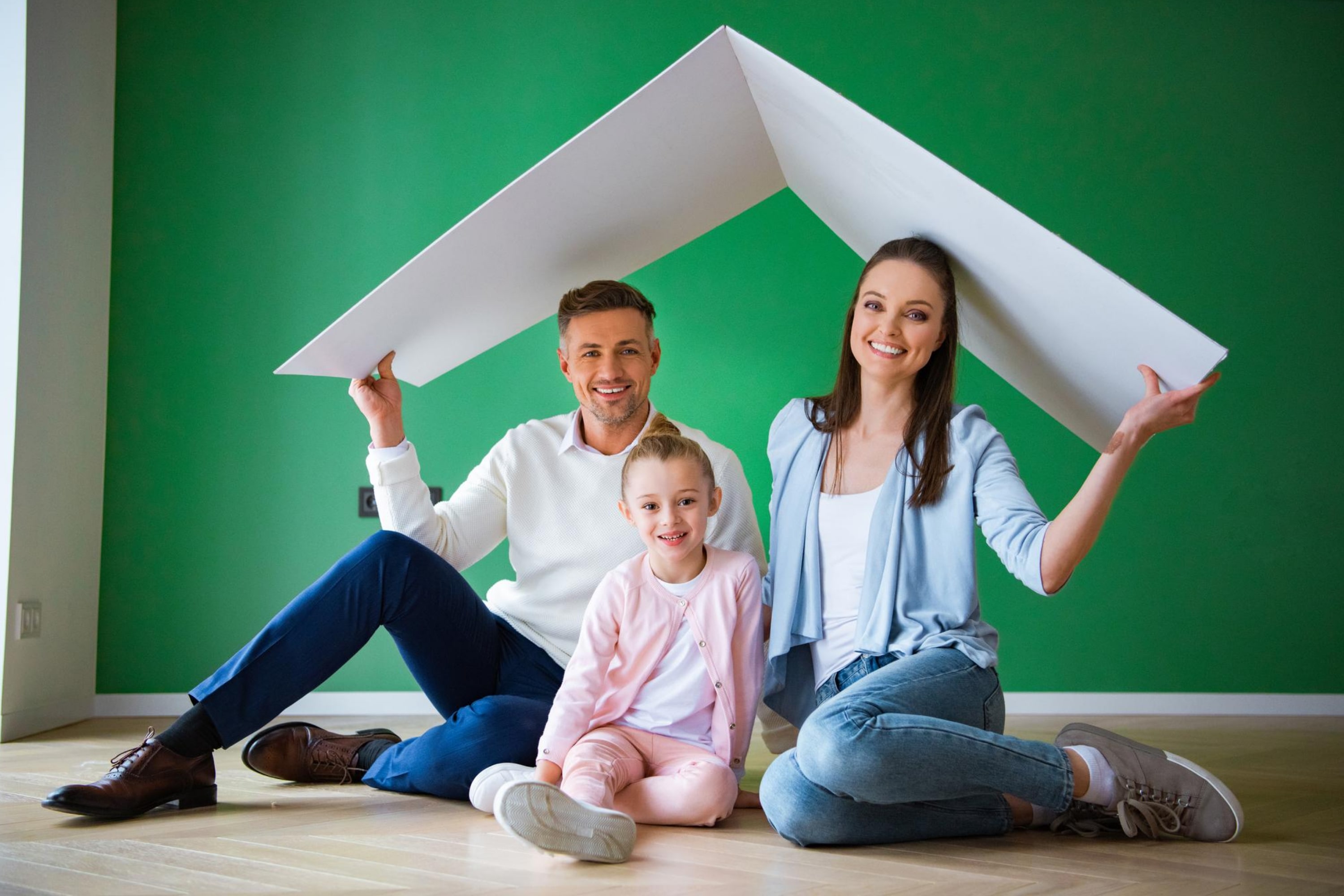 Red
What?! Red walls with a red roof? Yes, you got it right. In fact, the red roof can look pretty nice with the red exterior walls, for example, brick walls.
The trick is to use a roof color that is darker than the color of your walls, ideally a tone or two darker. Like that, you will achieve the necessary contrast. As an option, you might want to paint your walls a darker shade of red if your roof is petty light-toned.
These were the most suitable exterior house colors for a red roof. And now let's see what paints exactly you might want to use on your exterior walls to pair with the red roof best of all.
Paint Colors For Houses With Red Roofs
Since there are plenty of paint color options available on the market, no wonder it's so easy to get lost among all the brands and names! So we have prepared a short guide for you that will allow everyone to figure out what paint colors exactly they might want to consider for their exterior walls and a red roof.
TOP 10 RED HOUSE DESIGN #SIMPLE HOUSE #HOUSE
Benjamin Moore White Diamond (OC-61)
This white paint color is highly elegant and versatile. It can beautifully enhance the accents of a house, especially those houses that use a red roof. Besides, since it is white, it will always be a win-win option to use no matter the shade of red your roof has!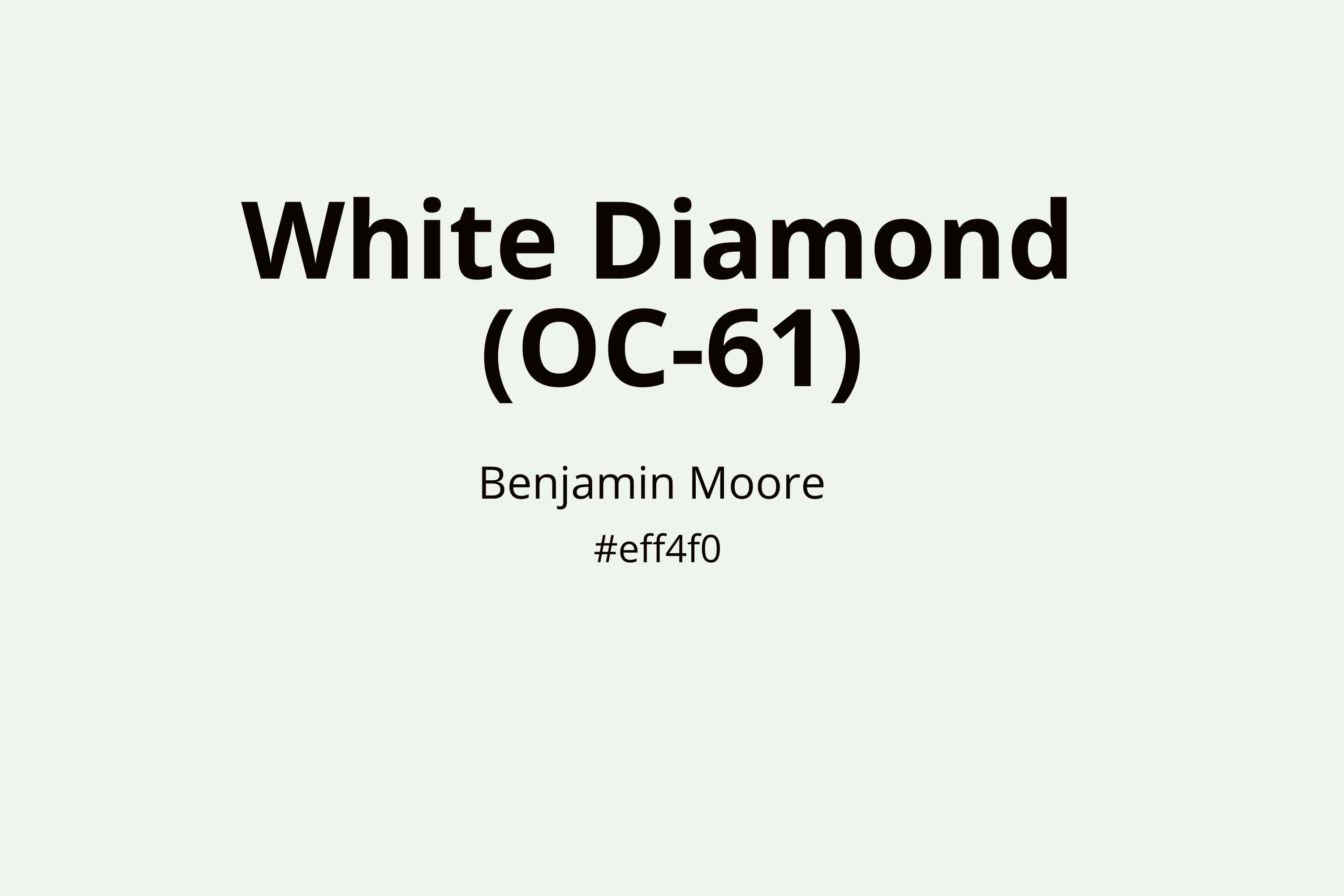 Sherwin-Williams Evening Shadow (SW-7662)
This gray paint is a sophisticated option to match your house with a red roof. It might appear a bit dull on its own, but don't worry: when it is paired with a warm tone such as red, the effect would look very eye-pleasing and interesting!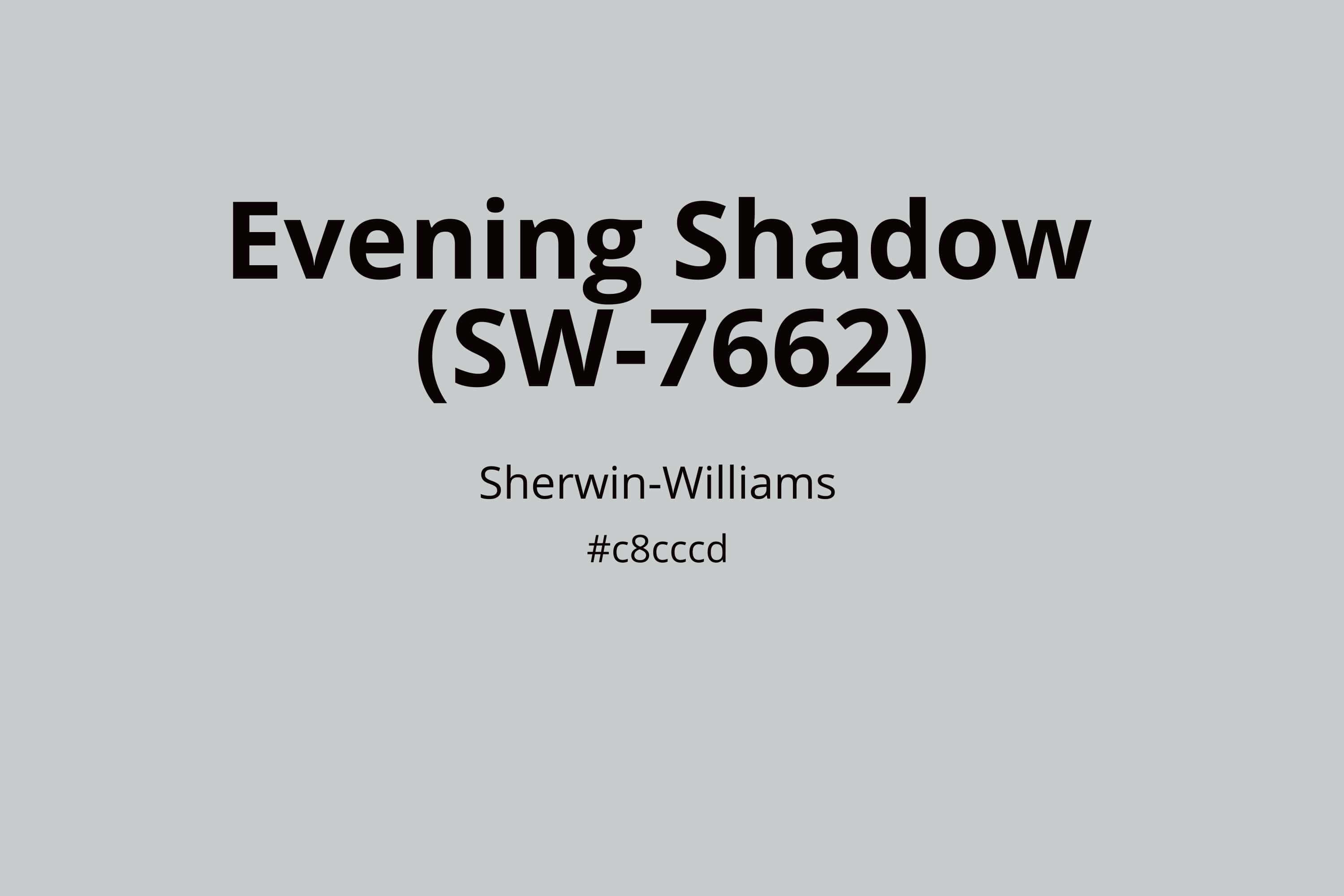 Benjamin Moore Hawthorne Yellow (HC-4)
This muted yellow paint color is one of the best shades of yellow that can be used with your red-roof house. It does not contain that much brightness and saturation but it makes your house look more sophisticated. As a result, the effect this yellow creates when it is used with your red roof can be very inviting and vivid.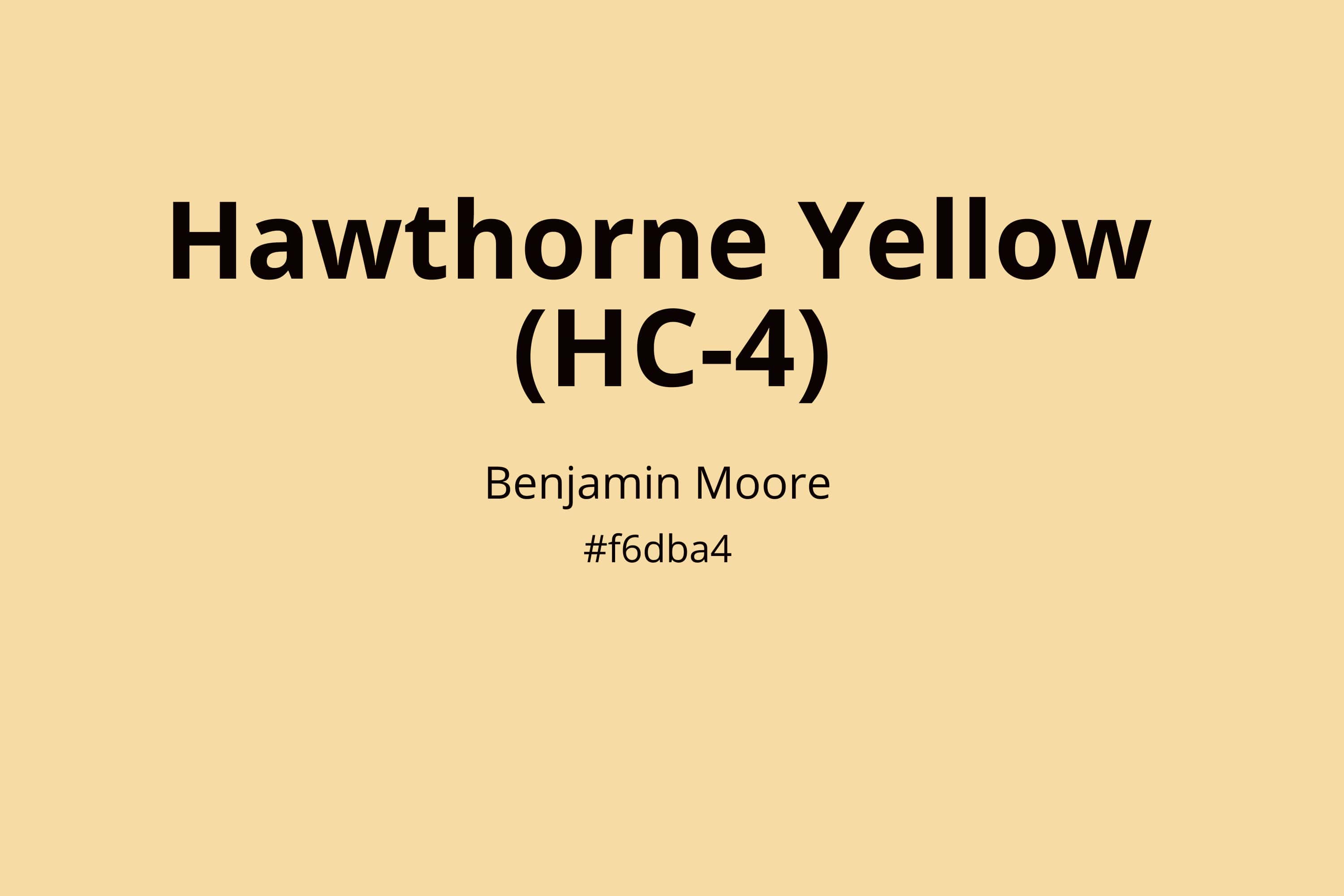 Sherwin-Williams Balanced Beige (SW-7037)
If you are looking for a calm paint color to use on exterior walls, consider this neutral by the Sherwin-Williams brand. It will coordinate well with your red roof really well, and besides, when combined with red, the effect this color has will be well-balanced and subtle.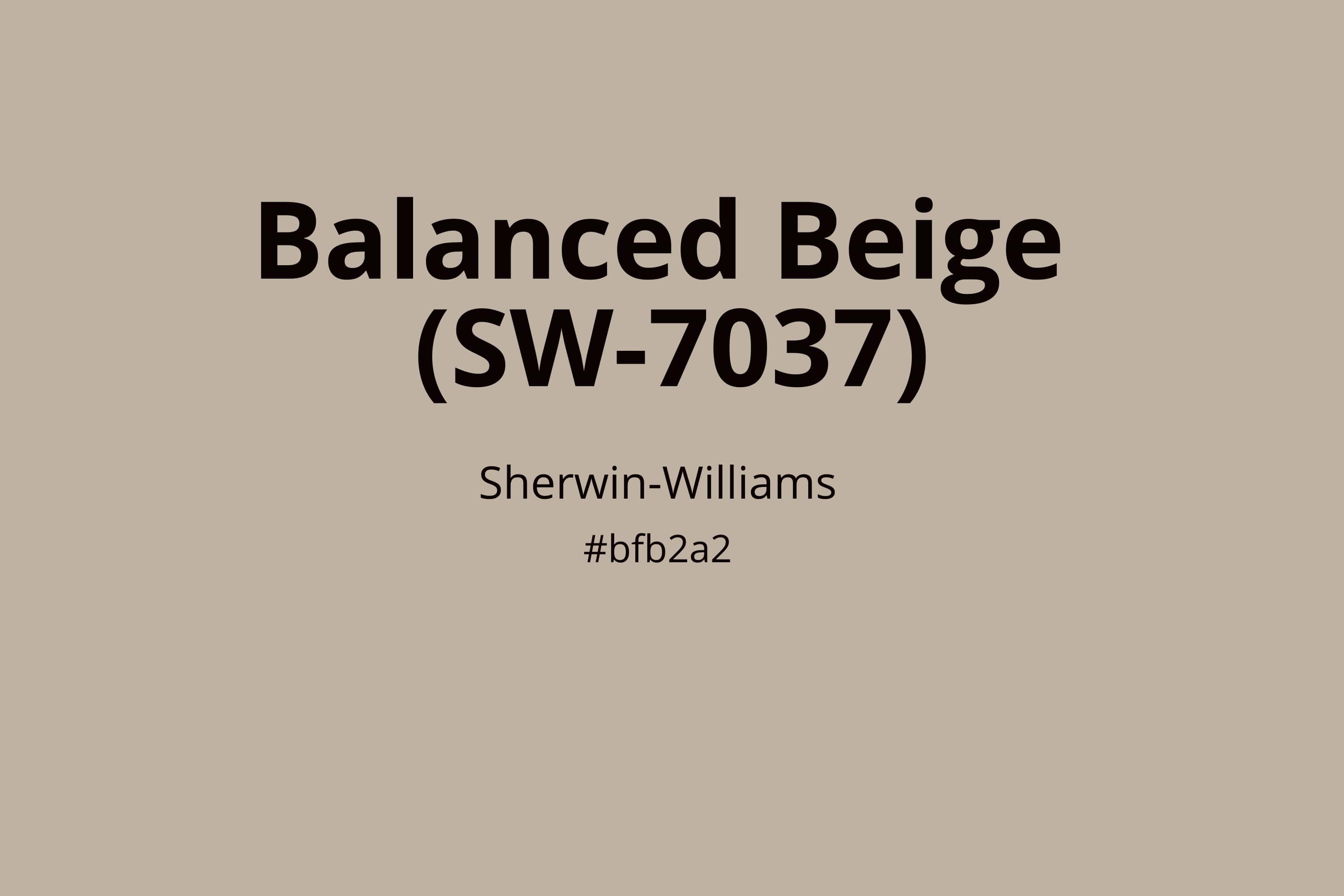 Sherwin-Williams Houseplant (SW-6727) and Sherwin-Williams Garden Spot (SW-6432)
Garden Spot is a nice olive green color that is warm enough but has no prominent yellow tones that might suddenly pop up and ruin your home's exterior! A Houseplant paint color is a darker shade of green but still rather warm-toned. Both will read nicely with a red roof, creating a charming atmosphere with a slight note of drama.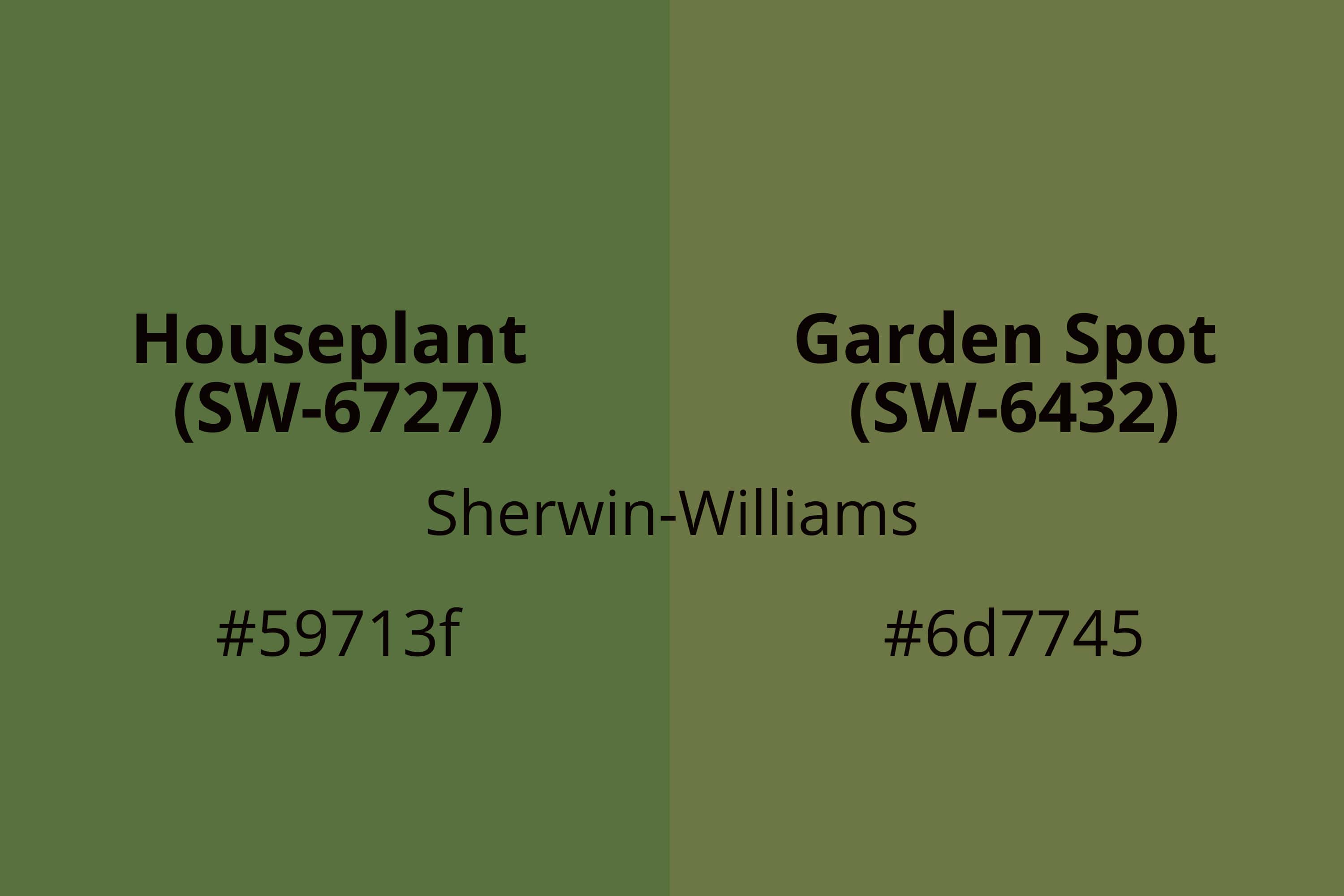 SW Black Magic, SW Tricorn Black, And SW Caviar
These black colors are all perfect to use with a red roof. They are rather warm-toned and deep so they will create a good contrast with the bright red. You might also try black paint colors by Benjamin Moore, for example, Black or Onyx (if you want a slightly cooler color) or Black Beauty if you'd like a warm-toned black.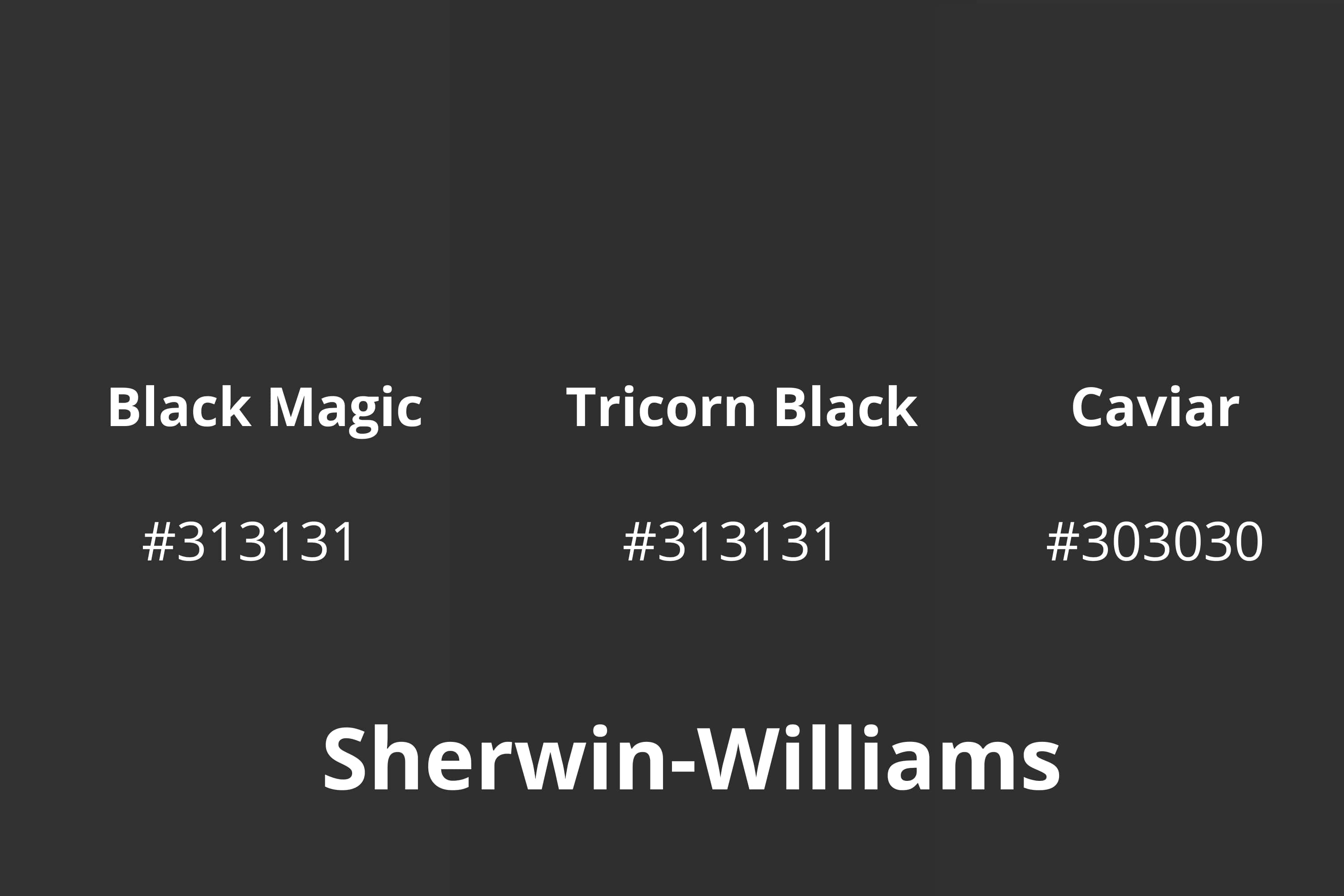 Fruity Cocktail and Calypso Orange By Benjamin Moore
If you are into unusual and eye-catching color combinations, you might want to consider these bright orange shades to use along with your red roof! Both are warm-toned and very vividly bright! So your house will definitely catch an eye!
But if you'd like something muted and calmer, try out SW Outgoing Orange or SW Sunset orange colors instead. Both are perfect "dusty" shades of orange that read soft and calm despite still being warm and sunny.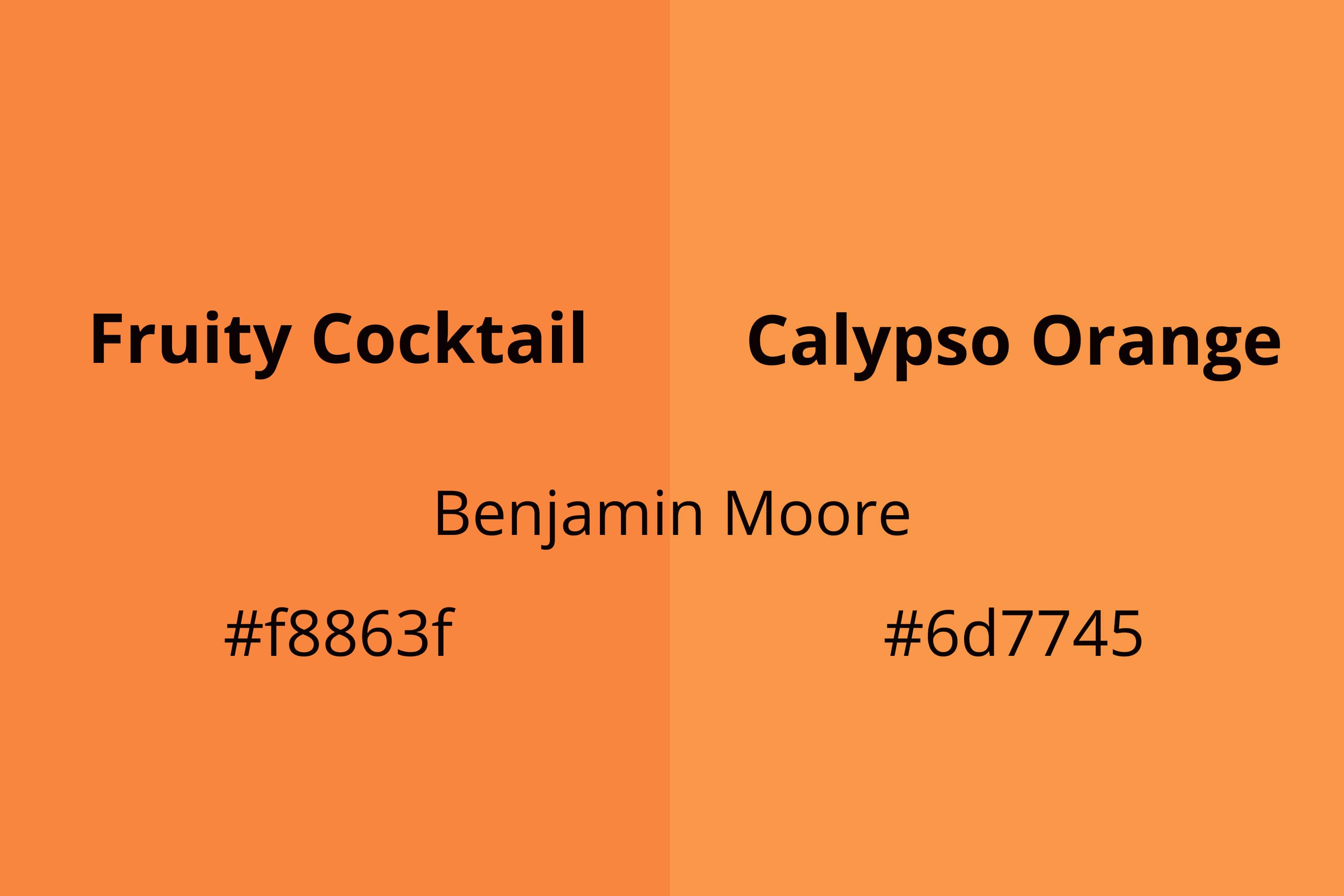 Well, now you know what exterior paint colors can be used on your home's walls to pair them nicely with your red roof. And as you can see now, there are way more options to choose from than just white and black!
So when you decide to repaint your exterior walls to make them look better with the red roof, you will be able to choose from quite a wide color palette.
Frequently Asked Questions
⭐What blue color will work with a red roof?
Behr Jay Bird (S490-5) is a good option. This blue paint color will contrast your red roof very well, making your house's exterior quite visually interesting.
⭐Will lime green work well with a red roof?
Lime green might be way too bright to use it with red. You'd better try a more muted shade of green instead.
⭐What color doesn't pair with red?
Red doesn't work with the purple color.