Choosing the correct finish is mandatory whenever you are up to any home painting projects. Should you need to touch up your walls or refresh your furniture pieces, deciding on what type of paint to use on them will play a crucial role!
However, the most common stumbling stone that homeowners come across is which paint to use, satin vs flat paint. And in the majority of cases, all the difficulties come from a lack of understanding of these paints' distinctions.
So today we are going to tell you more about the major difference between satin and flat paint. You will find out what features make these paints distinct, as well as learn about their major pros and cons.
Also, we will tell you in what rooms and on what surfaces each of these paints will work the best. And of course, you will get a bunch of handy tips regarding the application and use of these finishes.
Differences Between Flat And Satin Paints
To some of you, it may seem that choosing the correct paint color is much more essential than bothering about whether it is satin or flat. However, the type of finish also matters since it influences the way the color reads on the surface.
What does flat paint look like and what makes it different from satin paint? We decided to make it easier for you and share all the information in a form of a chart. Like that, you will clearly see all the nuances and distinctions and will be able to compare them.
Matt, Satin & Gloss Paints – How Are They Different?
| | Satin Paint | Flat Paint |
| --- | --- | --- |
| Appearance | Strong color with a slight sheen | Strong color without sheen |
| Finish | soft luster | matte |
| Durability | Flexible and tough, standing up well to wear, even in high-traffic areas | Less flexible and lower toughness, making it more susceptible to wear issues |
| Coverage | Good | excellent |
| Maintenance | Stands up well to wear and tear and easy to clean | Scuffs and scratches are more common, and scrubbing can remove paint |
| Cost | moderate | low |
| Ease Of Use | Harder to apply, and touchups often show | Easy to apply and touchups blend |
But since this is just a piece of general information, we suggest you read on to find out more detail about each of these paints.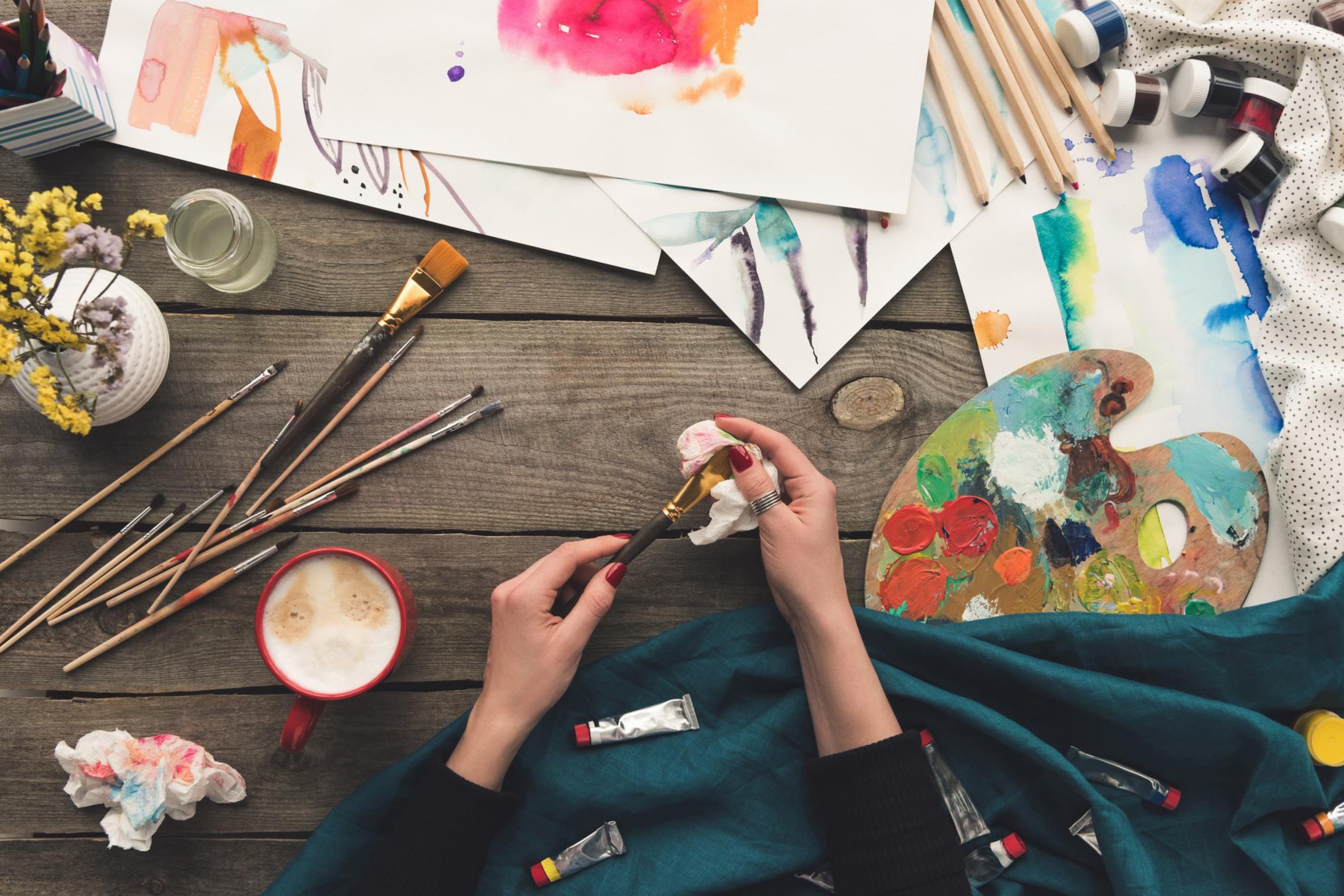 What Is Satin Paint/Finish?
Satin paint is a type of paint that has a soft luster. Some people compare the look of this paint to velvet because it is not reflecting too much light, only enough to give it a slight sheen. And since this paint contains higher amounts of binder, it's also moisture-resistant.
In addition, satin paints have noticeable flexibility and durability. They are easier to clean than some other paints and they are also better suited to high-traffic areas like hallways, kitchens, etc.
However, due to the light-reflecting qualities of this paint, it will make all the imperfections on surfaces are more noticeable. Moreover, people often report it to be harder to apply. Due to the sheen, crossing wet paint over a dry edge can create a line. Without the proper care, the final look may be uneven.
The same problem occurs with touch-ups because they are more likely to stand out. If you touch up to cover a scuff or other flaw/imperfection, the overall sheen may look uneven, making the touched-up spot noticeable. In the section below, you can see what major pros and cons this type of paint comes with.
Satin Paint Pros and Cons
Speaking of pros of this kind of paint, they are quite important:
It's easy to clean
It is moisture-resistant
It's highly durable
It provides reasonable coverage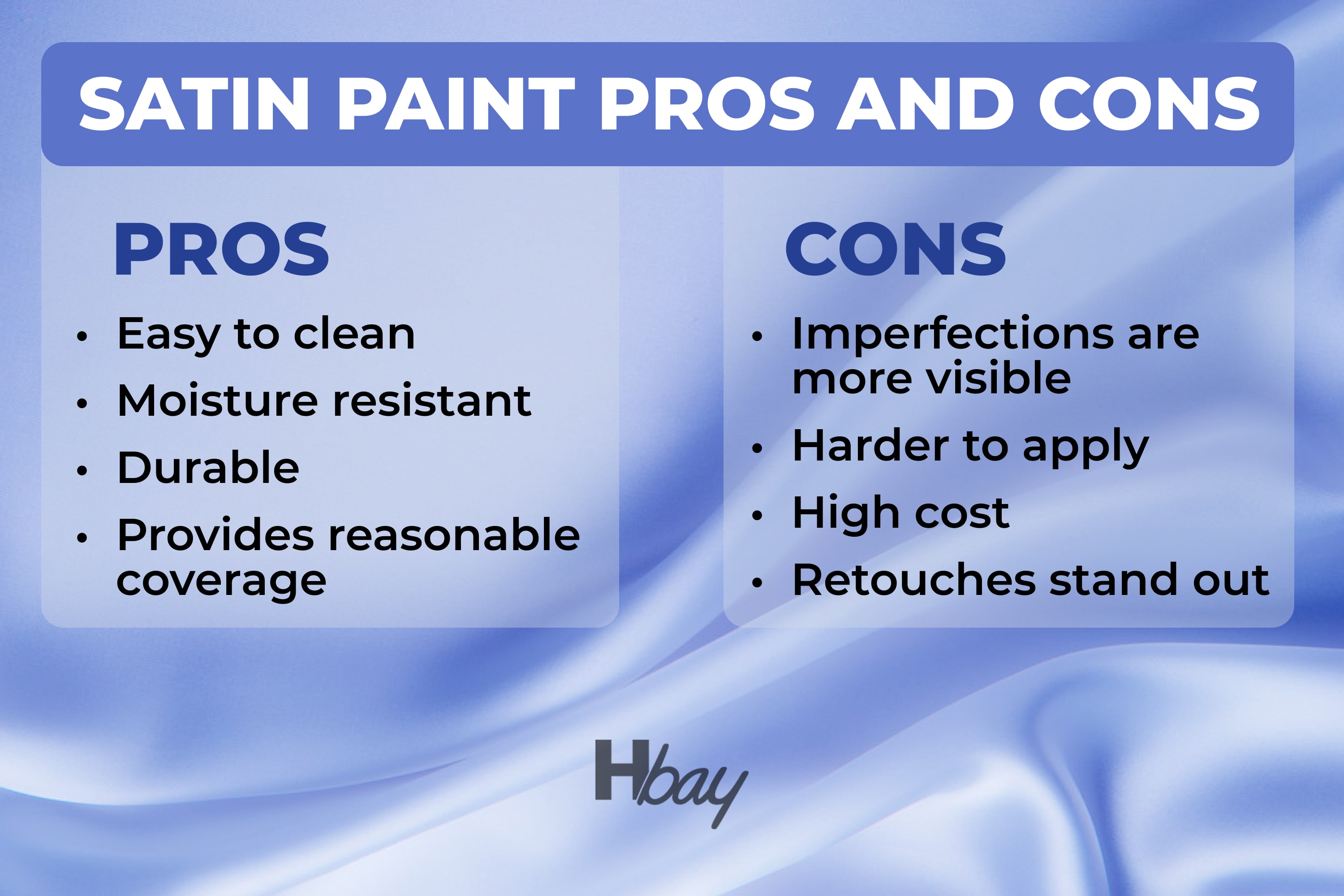 However, the cons are also rather noticeable and should be considered:
Imperfections are more noticeable
The paint is harder to apply
It costs more in comparison to other paints
Touchups stand out
Now, let's see what we can say about its counterpart which is flat paint.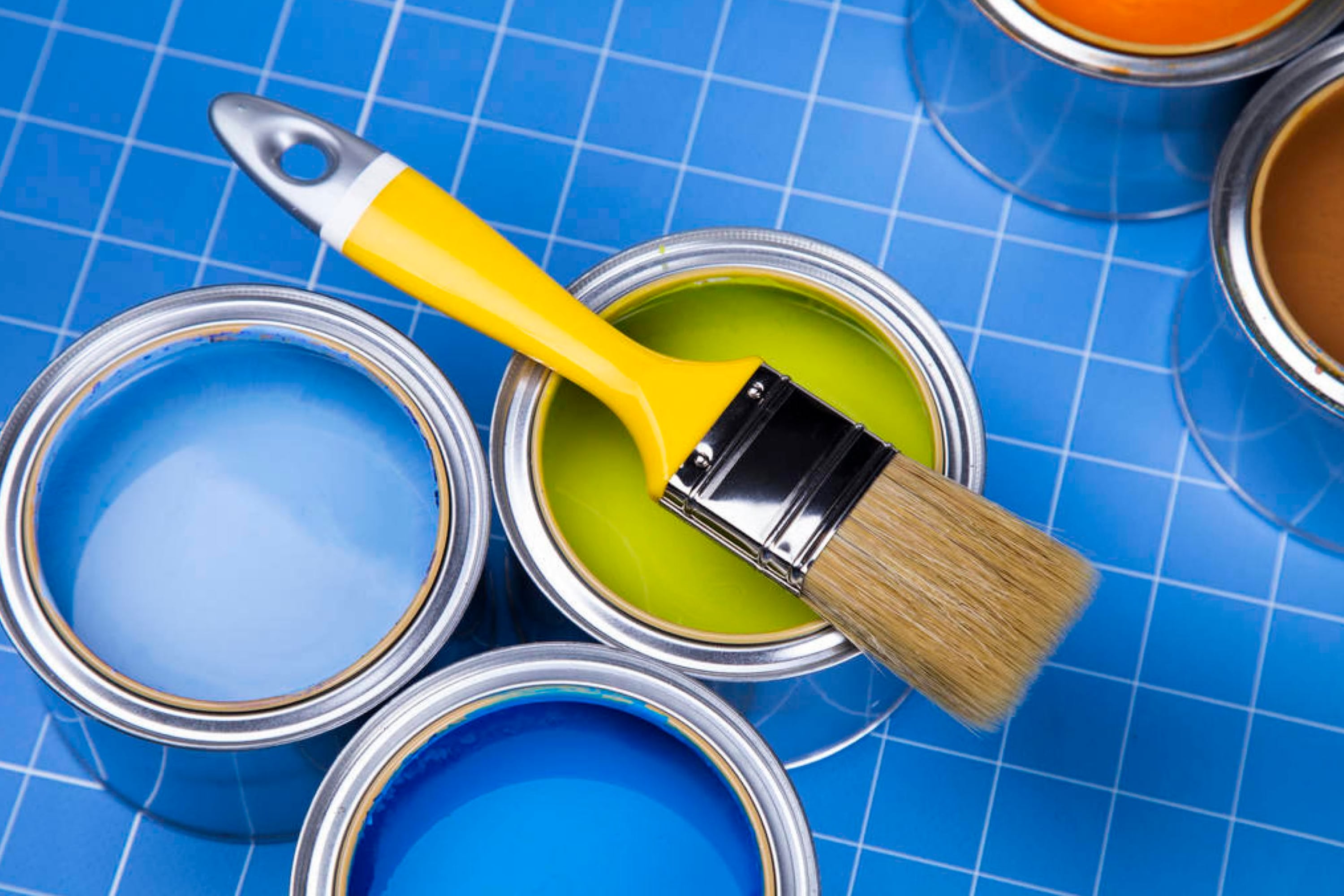 Flat Paint. What Is It?
Unlike its counterpart, flat paint has a matte finish, which is why it is reflecting as little light as possible. But thanks to the lack of sheen, this paint makes the overall look highly uniform when applied to a surface.
Paint Crew Reveals Tips. Flat or Satin Paint?
One of the biggest and the most attractive features of this paint is that flat paint offers exceptional coverage. However, that comes at the cost of lower flexibility and reduced durability, so you should consider these nuances when choosing this paint for your home.
Also, you should note that flat paint quite often is the hardest to clean. Let's say, if you need to clean a dirty area of a wall with a flat finish on, scrubbing can cause paint to come off along with the dirt. Of course, if a significant part of the paint is removed, the underlying color may come out, creating noticeable unevenness.
There is one more drawback that this paint has. Flat paint shows wear and tear faster. Scuffs and scratches are noticeable on the surface easier, making touchups necessary more often.
However, there is a piece of good news too! Flat paint is easier to apply! The color remains consistent even if you apply wet paint to dry edges. As a result, touchups don't stand out as much.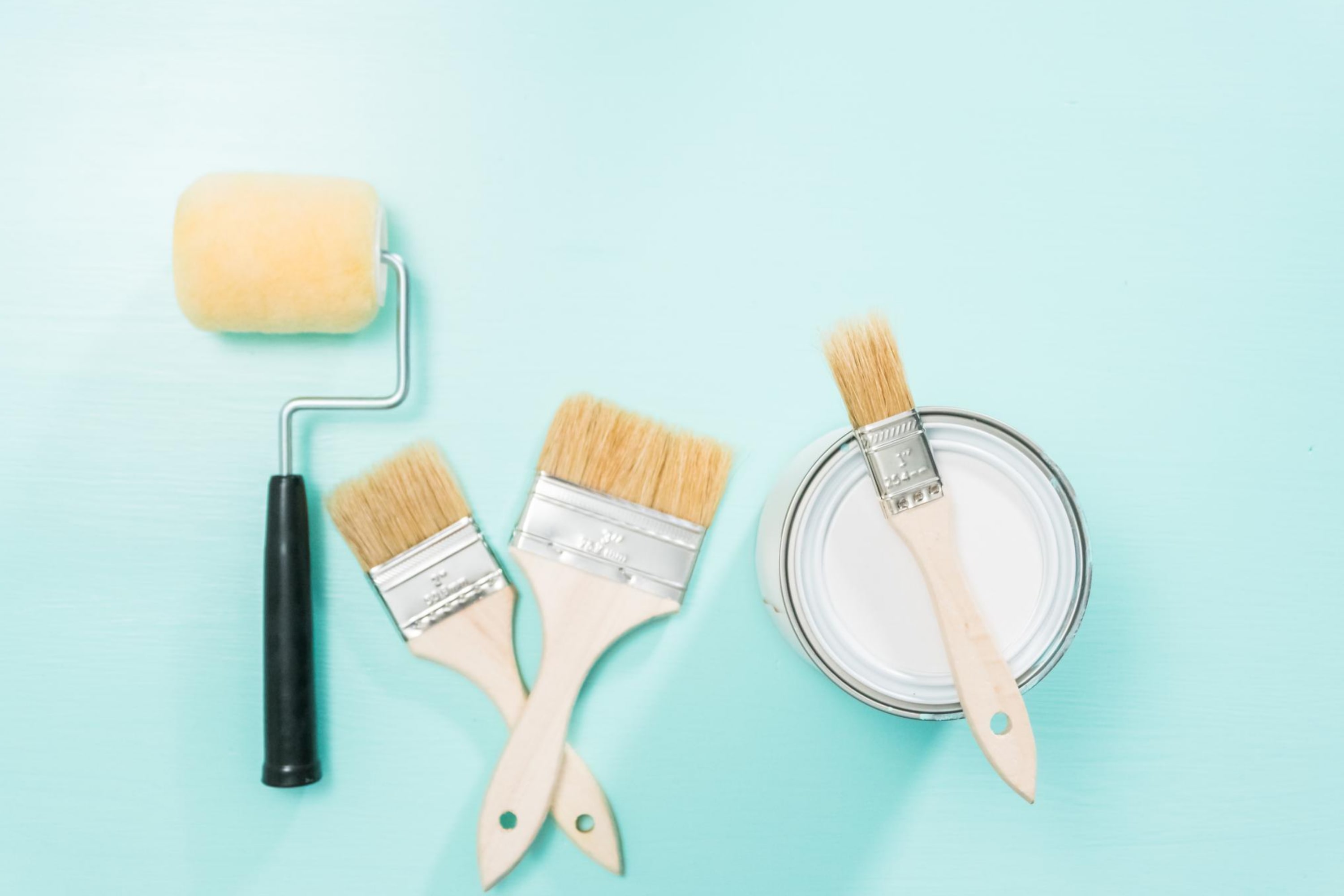 Flat Paint Pros and Cons
If we take a look at the pros this paint has, we will see why it's quite popular among the users:
Best at hiding imperfections
Lower cost
Easy to apply
Excellent coverage
Touchups blend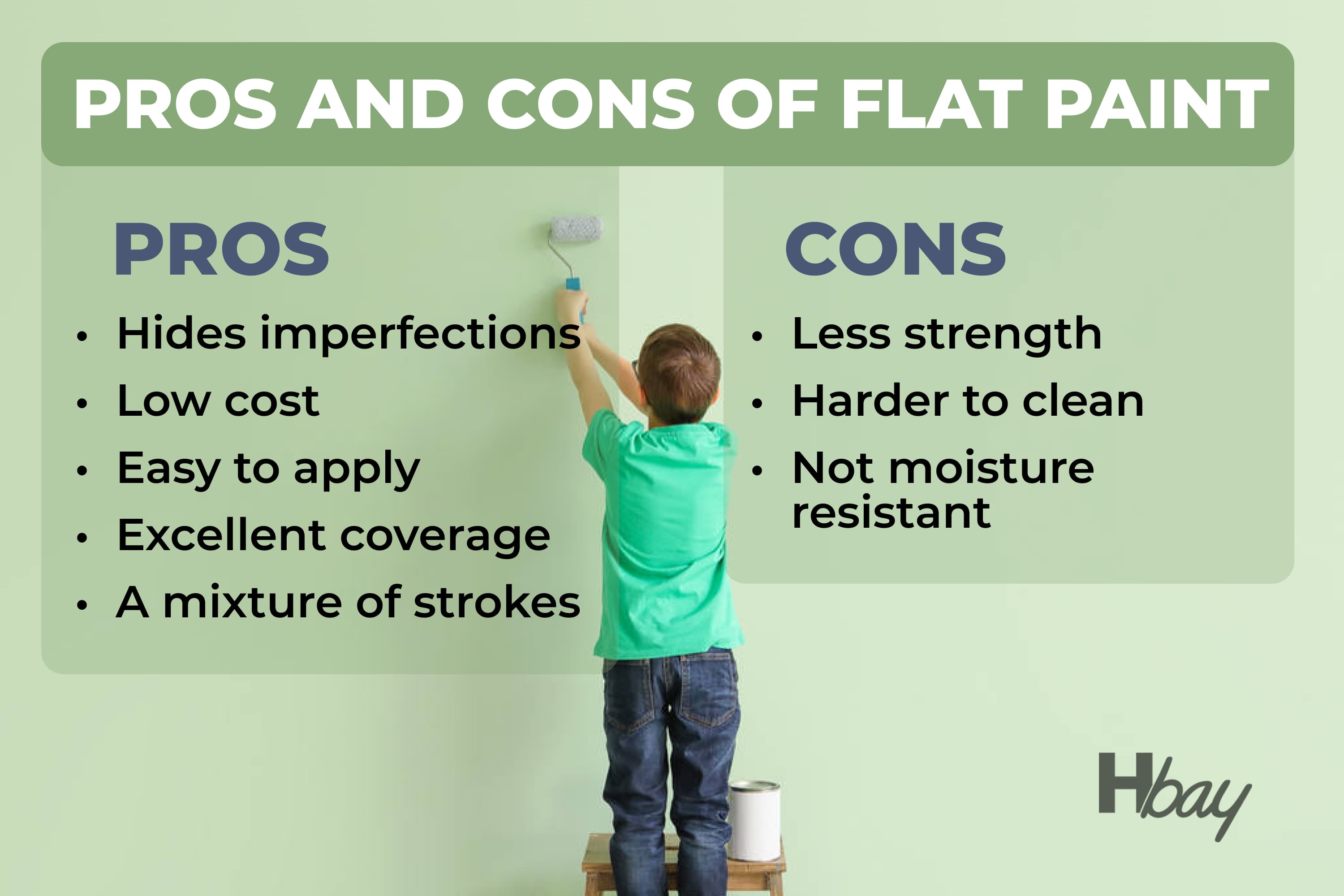 However, cons should also be taken into consideration:
Lower durability
Harder to clean
Not moisture-resistant
Now that you know more about each of these paints, let's dig deeper and see what particular features of these finishes make them distinct from each other.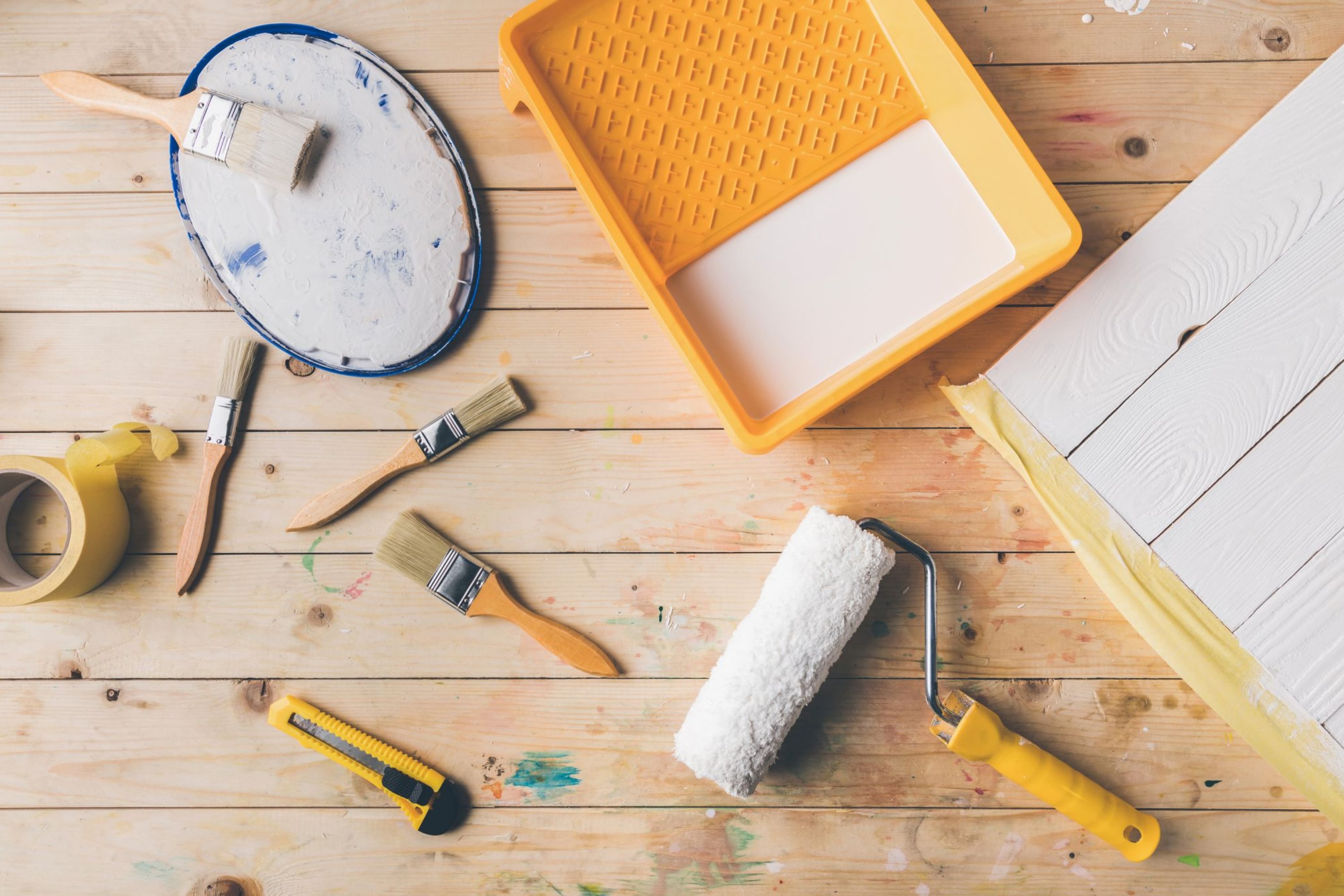 How These Paints Look On Surfaces?
As you already know, the main difference between satin and flat paint in terms of appearance is the amount of sheen. While satin paint has a soft luster, flat paint has a matte finish, reflecting very little light. Since the light-reflecting qualities are different, the look of the paints on surfaces can also differ. This will remain the same even if the paints are the same color.
With satin paint, if the light is hitting the surface directly, the color may seem lighter. Light-reflecting off of an object may alter the hue, depending on the color of the object.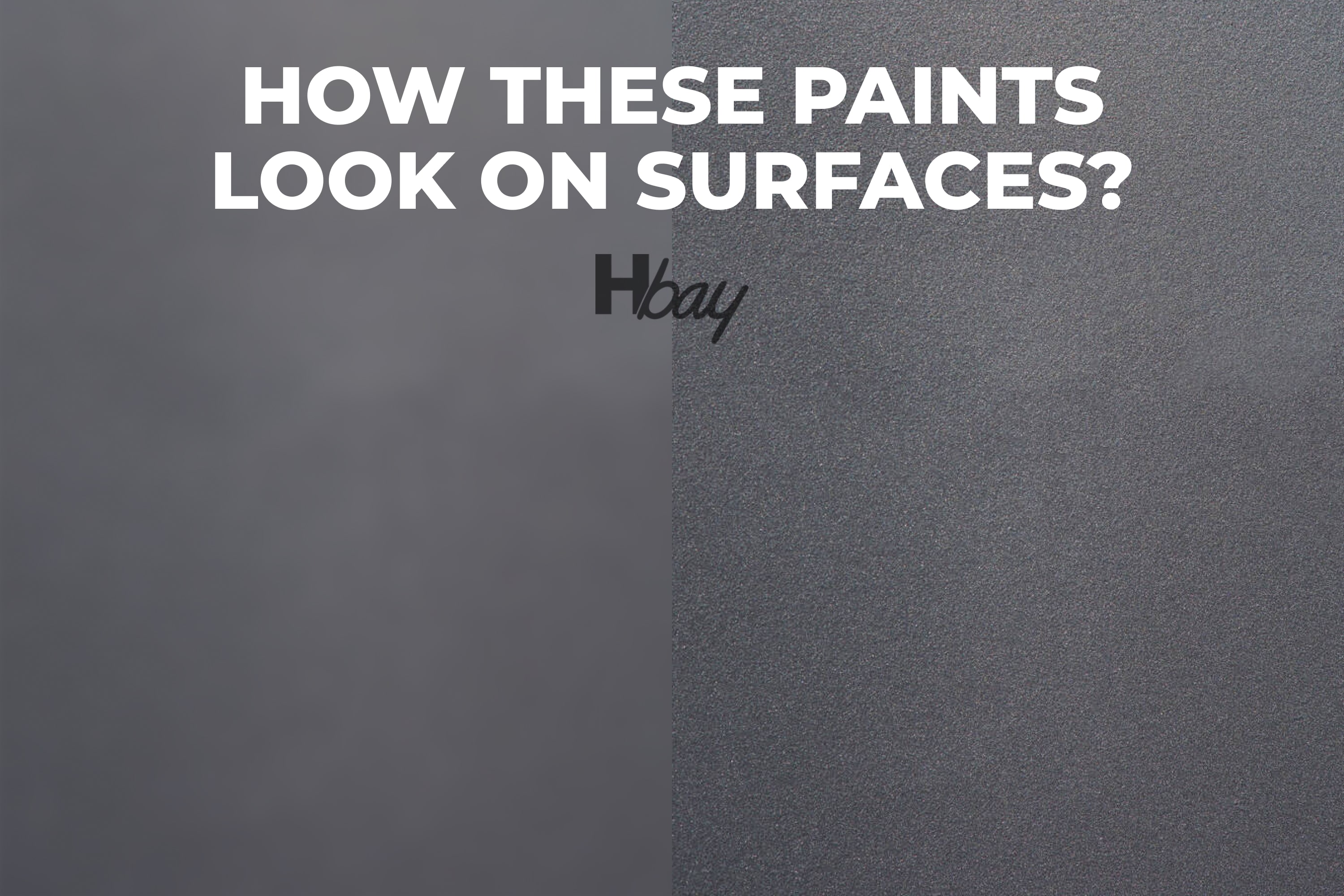 With flat paint, the color is more consistent. Light doesn't reflect off of the surface to the same degree, reducing any color-altering effects.
This is why, due to its light-reflecting specifics, satin paint can give spaces more visual depth. Moreover, it is good for making smaller areas like hallways, bathrooms, or children's bedrooms seem bigger. Flat paint doesn't offer any of these benefits.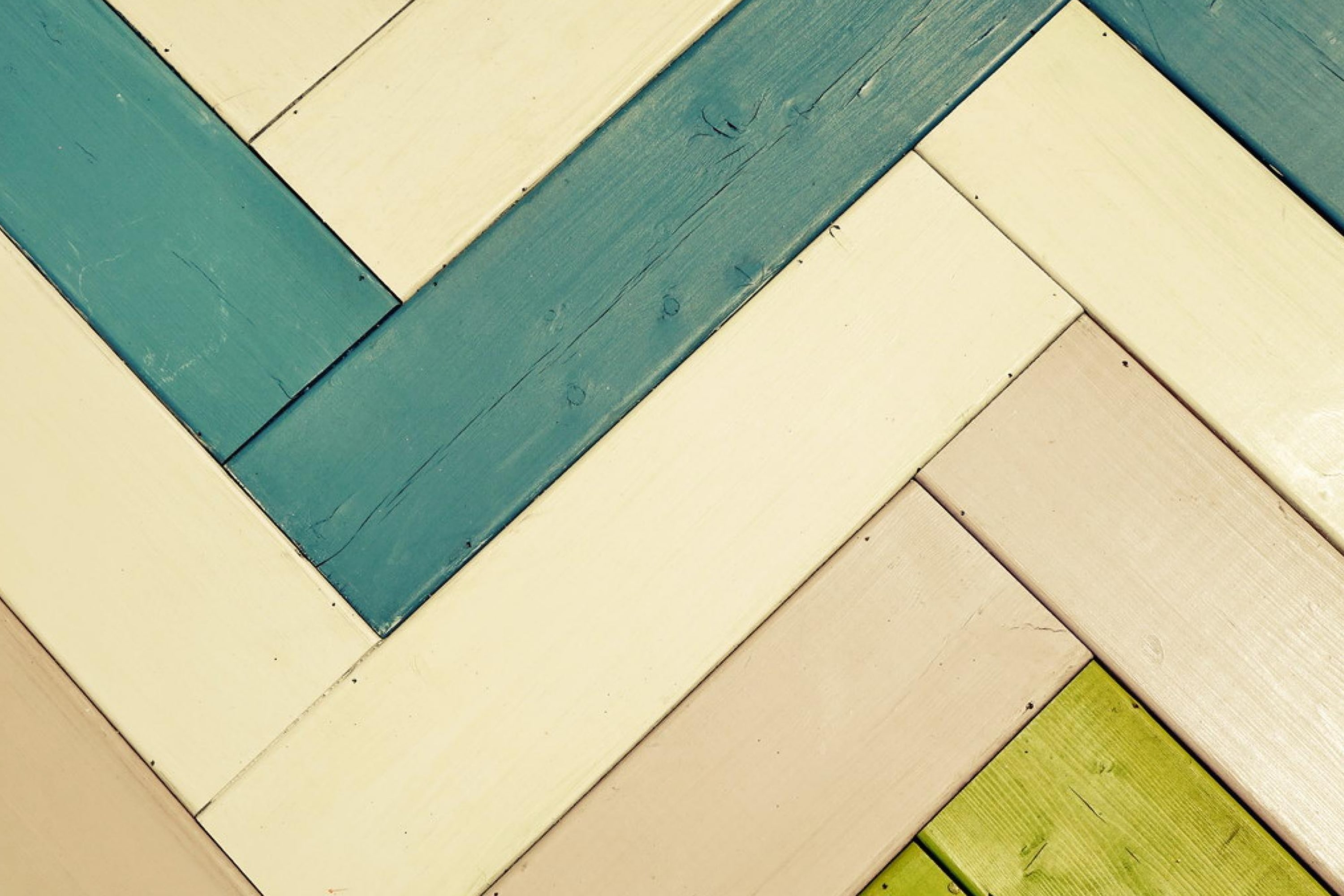 What About the Finish?
As you already know, satin paint has a glossier finish than flat paint. The gentle sheen of satin paint looks velvety or pearl-like. But even though it is noticeable, it is still far subtler than you find with semi-gloss or gloss.
Flat paint is the least glossy finish, on the other hand. It has practically no sheen. While that means no light bounces off of the surface, the amount is so low that it typically isn't noticeable. But even with such sheen differences, both satin and flat paint can look quite smooth on the surface.
What Coverage They Offer?
Typically, flat paint offers better coverage than satin. Flat paint has less binder, this is why there's more pigment that imbues more color on the wall in a single coat. This feature potentially reduces the need for subsequent coats to achieve a proper coverage look. But since satin paint has more binders, it may result in coverage issues.
Maintenance
When it comes to maintenance, satin and flat paint have both benefits and drawbacks. Satin paint is incredibly easy to clean which makes it a favorite of many homeowners! Usually, some soap and water and a soft sponge or rag can remove dirt quickly. Plus, washing the paint typically won't cause any harm to it unless you are scrubbing hard.
With flat paint, cleaning is a trickier thing. When you try to clean off dirt, you may take the paint off with it accidentally if you rub a bit harder than needed. Depending on how thick the paint is, cleaning could reveal the old paint or material underneath as well, creating a noticeable spot.
Where to Use These Paints?
When it comes to paints, you can typically use any paint in any room or on any surface. However, flat and satin paints are better suited to specific uses, and you should keep that in mind.
Flat paint is typically a good option for ceilings since most of us don't want our ceilings to shine like diamonds!
Additionally, flat paint can be a reasonable choice in areas with lower traffic. Master bedrooms, guest bedrooms, formal dining rooms, and home offices are all suitable places for using flat paint.
Satin paint is usually best for high-traffic areas like kid's rooms and hallways
It is also preferred for rooms that can benefit from moisture resistance. Kitchens and bathrooms are the best examples
Satin paint is also suitable for trims and moldings
With these tips, you will now be able to tell in advance what rooms of your home each of these paints should be used in.
So now you are aware of all the basic information regarding the use and specifics of satin and flat paint. You know what makes them different, what rooms and areas they are best to be used in, and what nuances they have in terms of maintenance and application.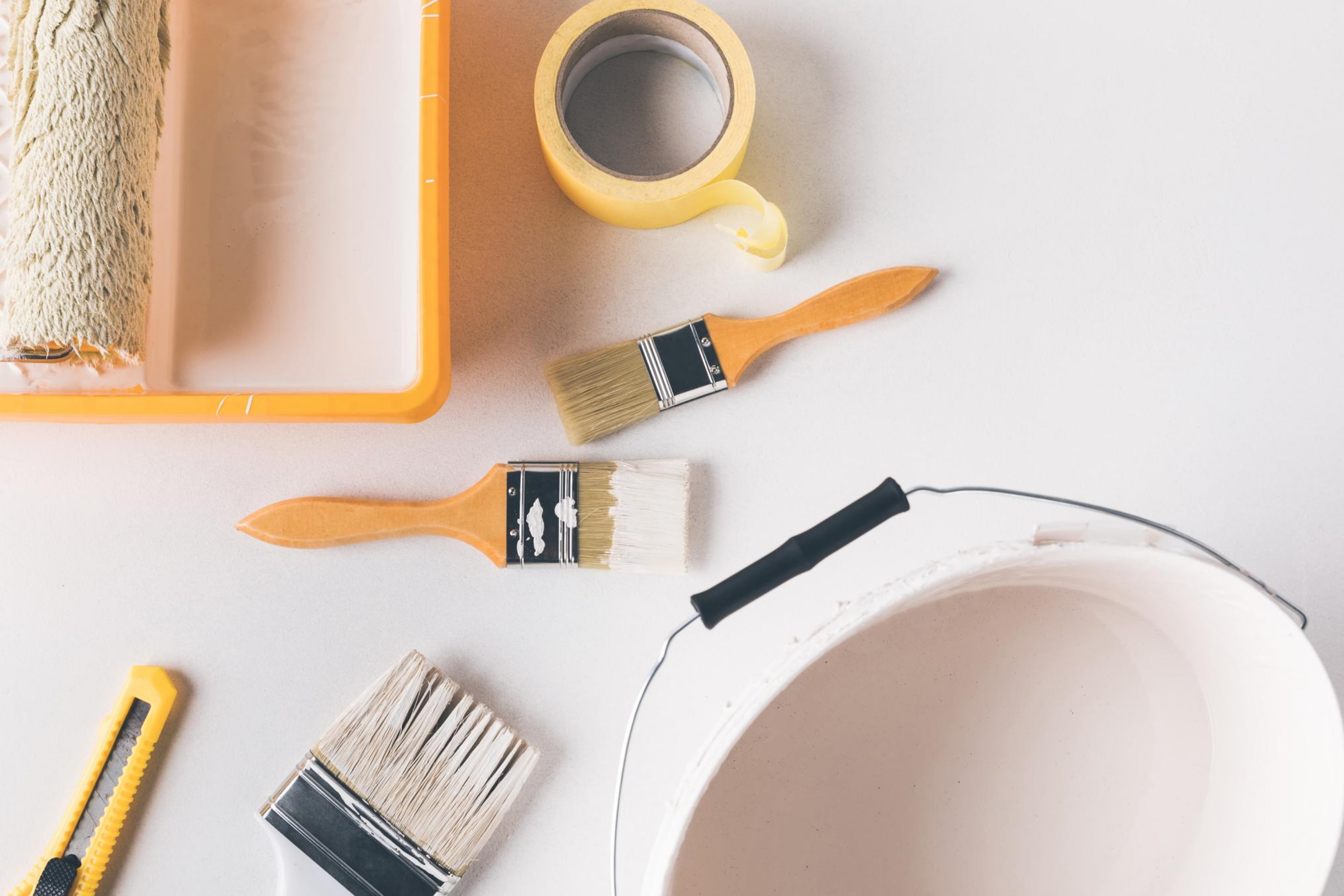 Frequently Asked Questions
⭐Is flat or satin paint best for walls?
Satin paint is most often used for windows, doors, trim, or ceilings, but it can also be used as wall paint. But flat paint is the best option.
⭐Is flat vs satin paint best as an interior paint?
It depends on the area you'll use it in. But flat paint is usually best for interior walls whilst satin paint is more suitable for trims, moldings, etc.
⭐When shall I use flat paint on my walls?
Flat paints are ideal for walls that have flaws or blemishes. Even larger imperfections, such as extensive scuffs and nail pops can get covered.