How to reach the areas you need to paint if you have no ladder at hand? We figured this out for you!
Refreshing your home's interiors is always fascinating and exciting! We think about what paint color will be used, in what rooms we will apply them, and how to match different shades to make each space look harmonious and look like an ensemble.
However, once we start applying paint, most homeowners face the same issue: how to reach the highest spots in their homes if they have no ladder?
High walls, stairs, and ceilings can be quite tough for home painters indeed!
This is why we decided to explain to you how to reach high places without a ladder if you are thinking of doing some interior renovations in your home but you are not sure how to apply paint to the highest areas of your rooms.
In this article, we will provide you with all the necessary information on painting high walls and other hard-to-reach places indoors.
We will describe the entire paint application process step by step so that you could imagine exactly what you should do and what sequence of actions is correct.
In addition, you will learn what tools are best to be used for this purpose, as well as a few handy suggestions on what other methods can become handy when you need to reach an area that is pretty high and you have no ladder at hand.
Related: Why Paint Change Color When Wet?
How to Paint Hard to Reach And High Places If You Have No Ladder?
Whenever you are up to any home renovation project that involves wall painting or applying paint onto other high surfaces (for example, ceilings), you might feel unsure whether you will manage to reach those or not. Especially if you suddenly find out that you have no ladder at your disposal!
Fortunately, we can provide you with a few rather simple and handy suggestions and tips on how to paint high exterior walls in your home without using a ladder.
Now some of you may think that you will need tons of different and complicated tools to do that, but relax and breathe out!
We have prepared the simplest and the quickest ways you can take in order to paint even the most hard-to-reach areas in your home!
But before we proceed to the detailed and step-by-step explanation, grab the list of tools you will need in order to reach high places in your house or apartment.
Without them, undergoing this painting procedure will turn into quite a challenging quest!
Drop cloths (a lot of drop cloths!)
Extender pole (a screw-on model that can be adjusted is the best option for you)
Regular painter's tape
Paint brush (better to be angled with a threaded handle)
Roller
Paint
A tray or a small container
Now that you are fully equipped, it is time to prepare the area for the upcoming painting process. If you think that you can just get all the tools ready and rush painting all the walls around you, you are wrong. The very first thing you need to do (after you prep all the necessary tools, of course), is to get the area ready.
There must be no stuff around that can prevent you from reaching the areas you need to paint. But let us explain everything in detail for you!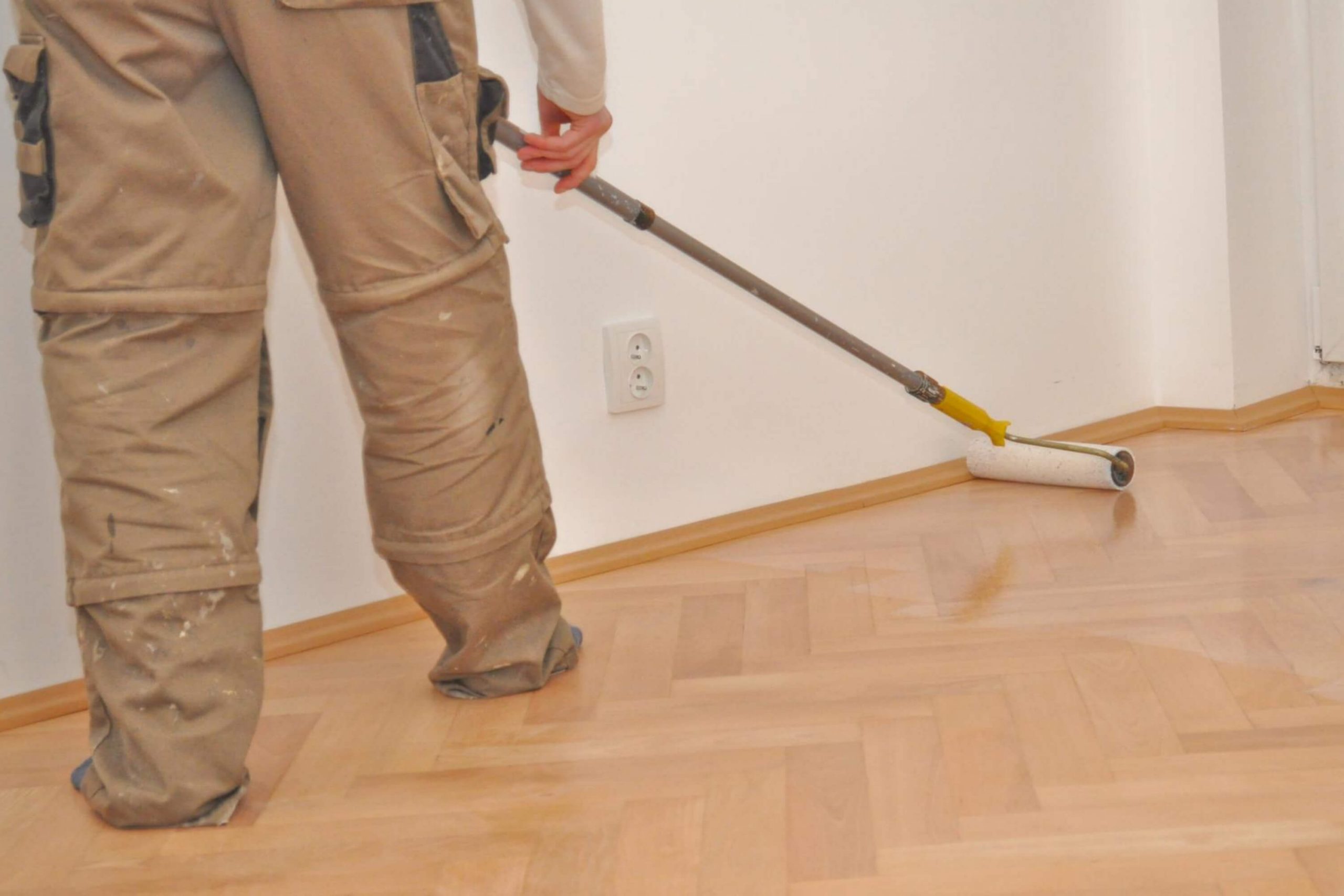 Get Ready First
Before you go on to paint your ceilings or high walls on the stairs, make sure you get rid of all the stuff that may be messed up by the paint first.
We mean such stuff as plants, furnishings, etc. You also want to protect the floor, stair railings, light fixtures, and other immovable objects in the area that is going to be painted from accidental paint drips and splatters.
This is why make sure that you cover them with drop cloths as necessary (that's why we said you would need A LOT of those!).
Finally, tape the spots that you are not planning to give a facelift such as baseboards.
How to Paint Tall Walls without ladder Paint Pad Review
Assemble Your Painting Gear
This is the next step in your painting "odyssey". Of course, you have no ladder or even a scaffold to set up here.
So what shall you do then since you still need to do a basic setup?
Take the cut-in brush and attach it to your paint brush extender.
Depending on the dimensions of the painting extension pole you bought, it should extend high enough so that you could be able to comfortably reach even above the stairs in case you need that!
Note that a cut-in brush will produce great-looking results if you will be repainting spots that are extremely tight such as along trim and baseboards, the ceiling line, corners, and more.
Your last step here is pouring the paint into a tray.
And now that you have prepared everything and you are ready to start, check out the two most commonly used methods of painting the high areas, such as ceilings or high walls, in your home without using a ladder.
Each is very simple and even if this is going to be your very first experience of painting high areas, we are sure that you will manage to undergo it successfully anyway!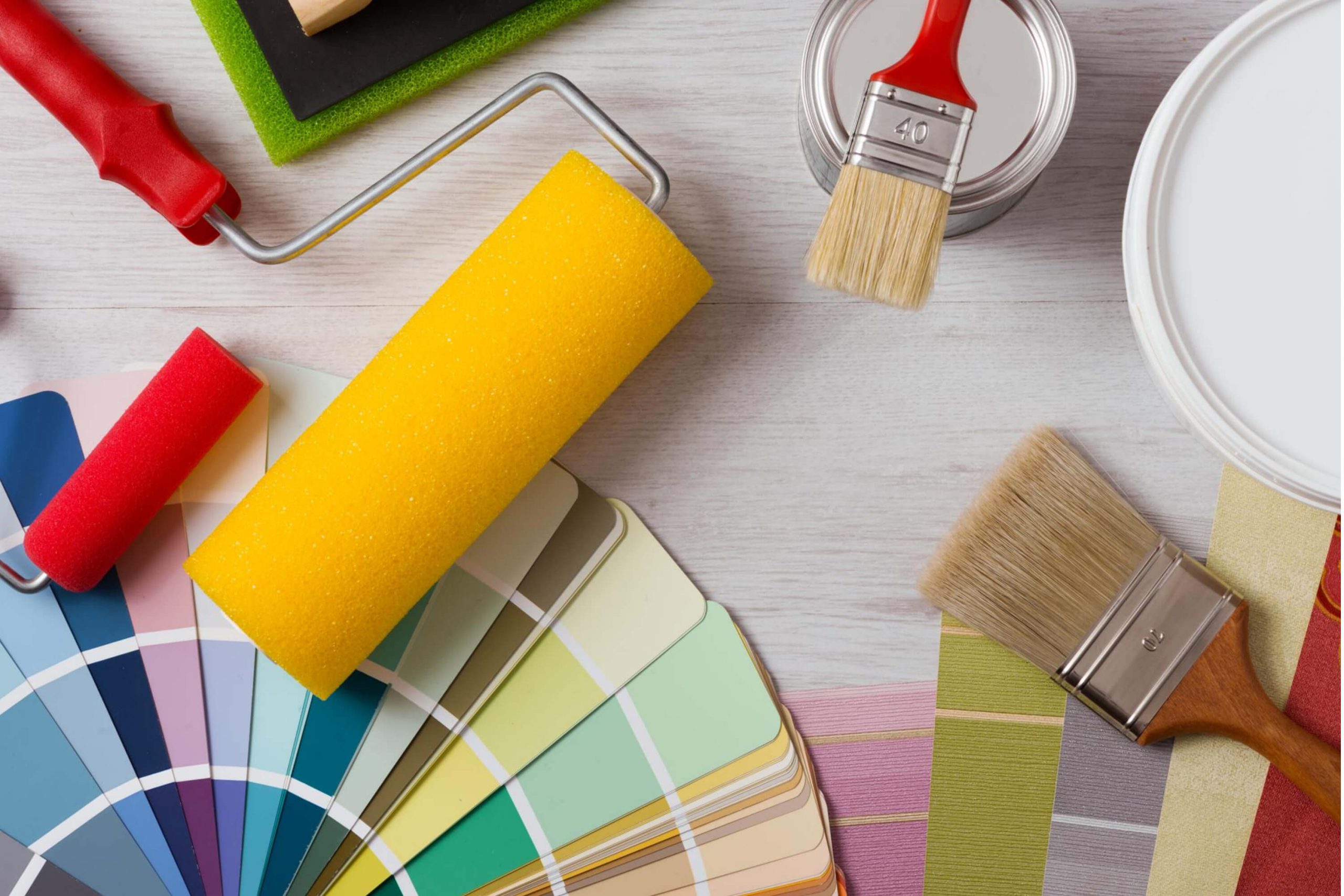 Use a Paint Edger
This is one of the most common methods you can use if you need to know how to paint high ceilings without ladders. Paint edger for high ceilings is one of the simplest tools you can use, but at the same time, it gives excellent results. In fact, we would say that a paint edger is your must-have tool if you know that you will have to paint any high or hard to reach area.
So to paint the high locations and avoid the smearing paint, as well as taping everything around which is very annoying and also takes a lot of time, do the following.
Get something to extend it. For example, a typical tall paint brush extender, a garage broom handle or even a kitchen broom handle should work! No need to remind you that you will still need most of the tools we had listed above (apart from the tape, of course).
Now, connect the edger to the extender pole. Once you are done with this task, pour the required amount of paint into the tray.
Now the sequence of actions is very simple. you insert the edger's pad into your paint ( but don't overload it with paint since it seriously messes the edges if flooded with paint!), then you cut in around the edges of the surface you are painting, windows/doors, above the baseboards, below trims, and around woodwork with the edger.
If through, proceed to pick the paint roller and roll paint the remaining part of the wall or ceiling.
And this is it! The job is done!
Related:How Long Does Spray Paint Last?
Try Using an Extender Pole
When working with the extender pole, the actions that need to be taken are more or less the same. But still, let's check everything out once again just to be sure that you haven't missed anything out.
Get the Area Ready
So first of all, clear everything up around the area that is going to be painted.
Remove all the furniture that can be removed, cover all the objects and surfaces that can be accidentally splashed with the paint while you are working. You don't need extra work cleaning all those things later, right?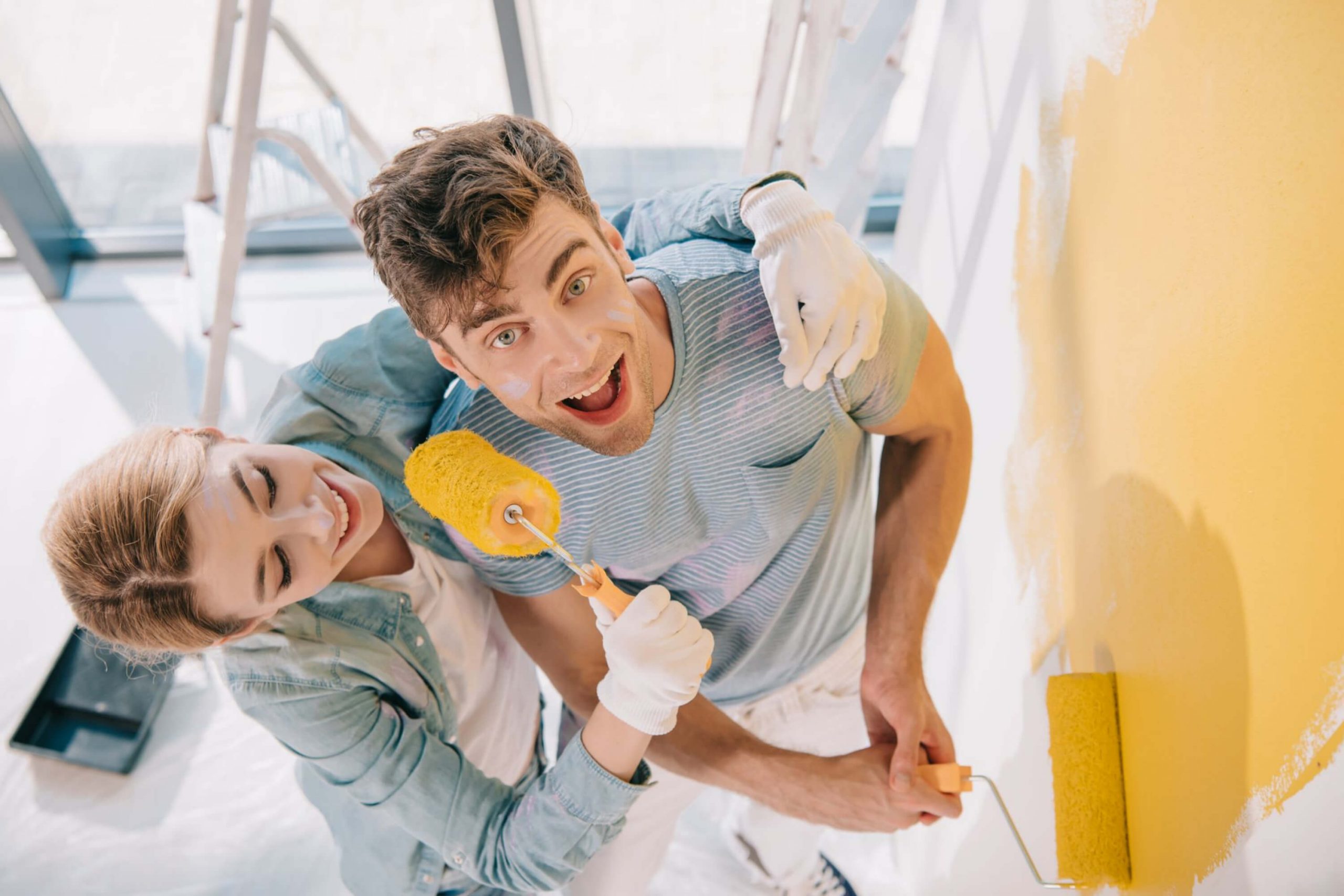 Taping the Baseboards
When the previous step is done, proceed to the next one. Tape the baseboards. Take the painter's tape you have prepared earlier and start taping the edges of your baseboards.
Make sure you do it as neat as possible since you do want to get a clean look! You can tape till the points where you can easily go without a ladder.
Also, we are recommending painter's tape because it pulls up quickly, and leaves no sticky residue behind.
Get the Pole Ready to Work!
Now you can get the extender pole and your angle brush to work! Attach the screw-on extender pole to your angled cut-in brush.
This will help you work along the ceiling edge of the wall no matter how far it is. A screw-on extender pole is one of the most versatile tools for this purpose since it has a one-touch button control.
It means that it will make painting high places super convenient for you.
In addition, you also need to make sure that the brush you are using has a threaded handle that connects to the extender. You can easily find all these supplies at any local hardware store, along with a few tips from the supplier!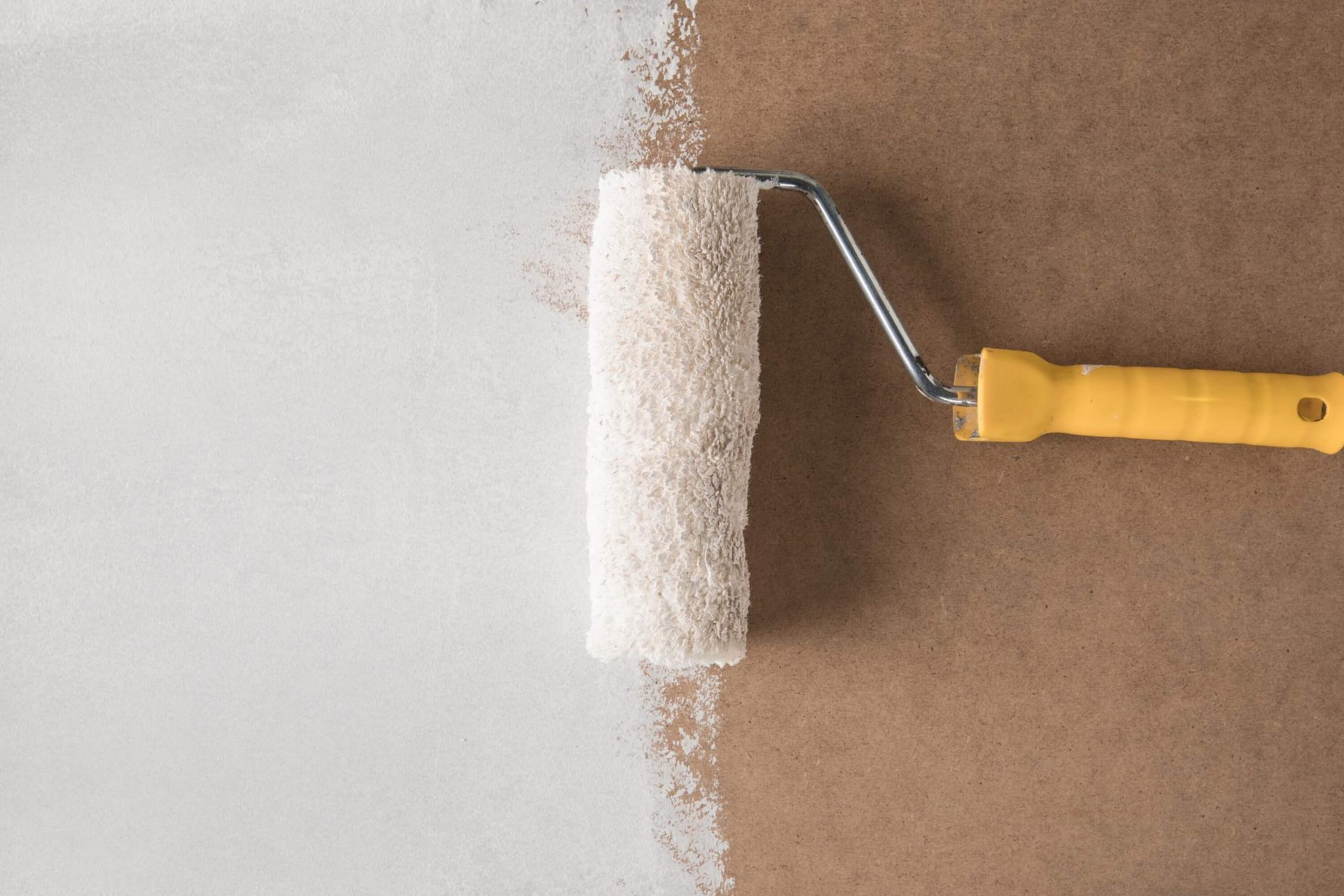 Apply the Paint
Paint application is the next step. Pour the paint into the tray or container and start painting the ceiling and wall with the brush.
Here you need to keep in mind that you are only painting the borders at this point! Also, please consider doing this process as slowly and carefully as you can in order to avoid mishaps! And here is an important tip for you: if you have chosen two different colors for the ceiling and wall, make sure they don't intervene with each other! Otherwise, you will not be happy with the results.
After you are done with the corners, attach your roller with the extender pole.
Now, you need to paint the rest of the wall while blending it with the brush-painted area. Additionally, make sure to move the rollers from top to down.
Now you just need to take a regular paintbrush, attach it to the extender pole, and start blending both the paints together. At this stage of the painting process, make sure that no obvious lines are visible. This final step will help you achieve a neat, clean, and even coat of paint.
And once you are done with that, remove the painter's tape quickly and let the freshly applied paint dry.
Like that, as you can see, there is nothing difficult about painting high locations in your home, no matter whether it is a ceiling or a high wall.
Of course, completing this mission will require some elbow grease, but if you do everything right, it will surely be worth your effort!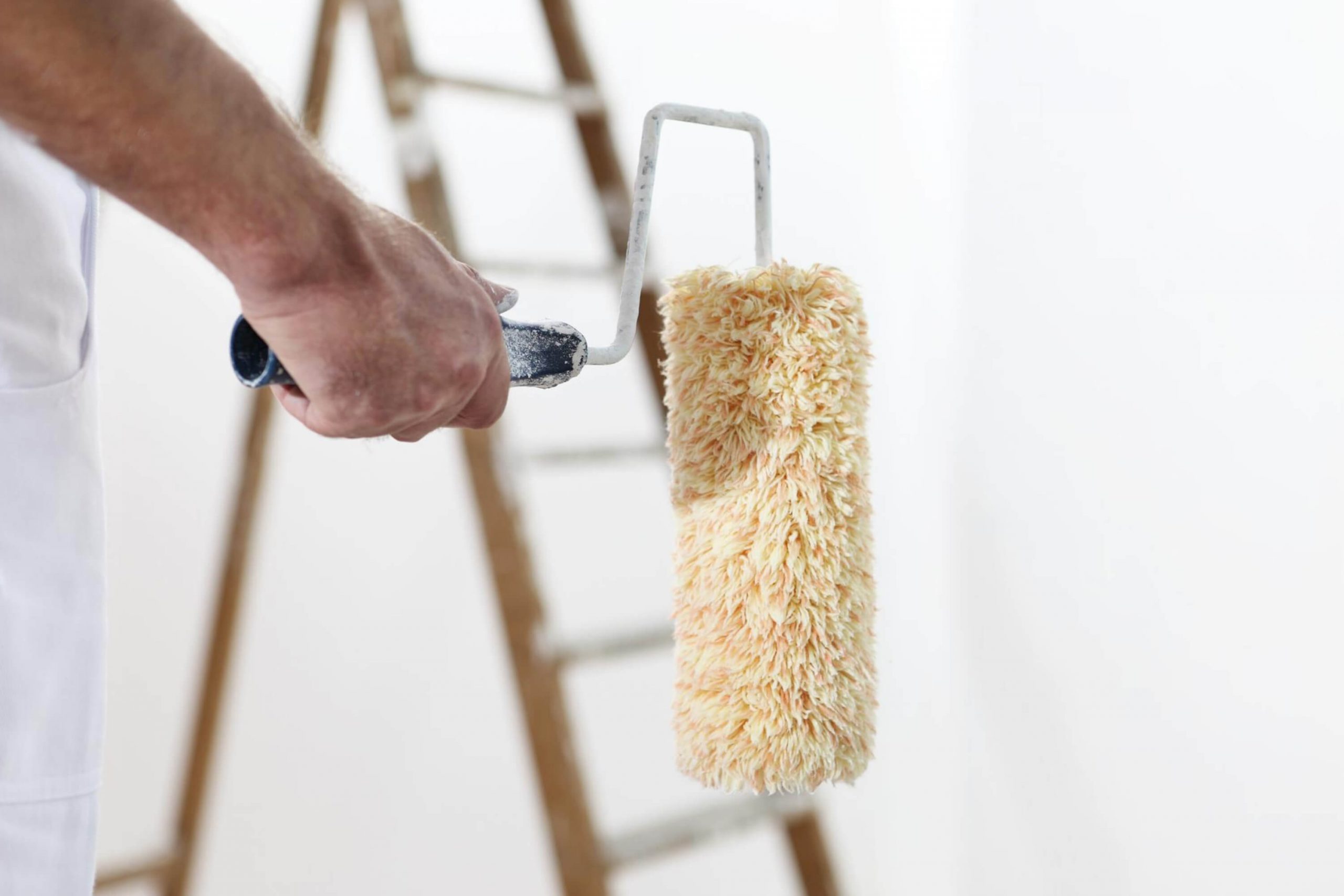 Are There Any Other Tools That I Can Use?
All right, some of you might say after reading all that we wrote above, we have an extender pole and a paint edger. But is this all? What if I can't use those for any reason?
Well, of course, these two tools are most commonly and frequently used. But if you really have no possibility to make use of each of them, don't get upset!
Here are a few other tips and suggestions for you regarding the painting tools that can be used instead of an extender pole or a paint edger.
Purdue power lock extension and 18-inch rollers can become a great substitute!
This equipment spreads the stripe of paint twice the normal width without the use of a ladder.
As an option, you can try to make use of a texture terminator.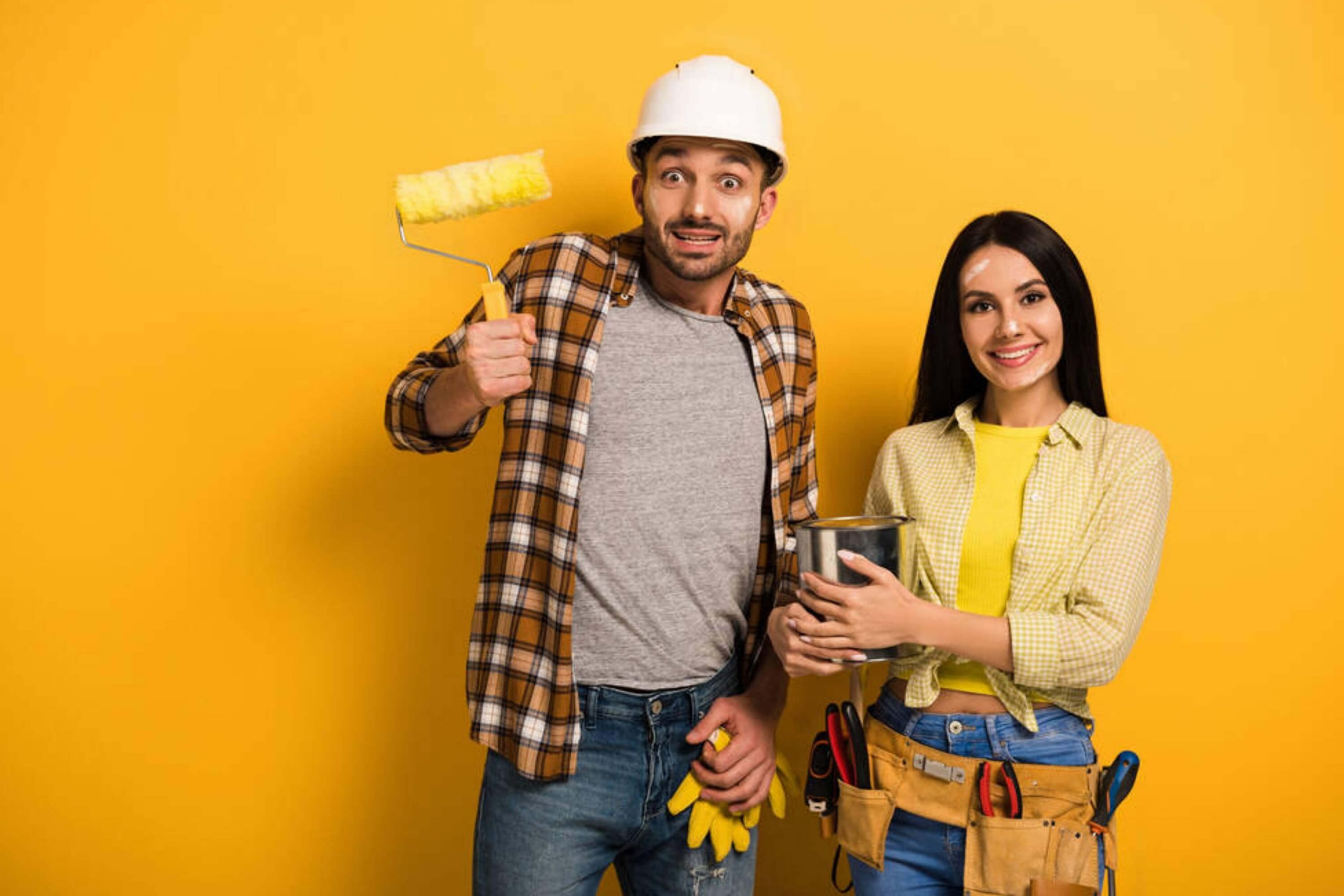 This tool will help you to solve the problem of scraping popcorn ceilings which is both painful and untidy and makes all the homeowners suffer.
This equipment possesses a replaceable metal blade which makes scraping much easier! In addition, it also has a built-in container to catch the falling fragments.
Finally, there is an adjustable length handle that is designed in a way that it accommodates a range of ceiling heights.
Try using scaffolds instead. Scaffolds are important to use when working at a height for continuous periods. They give a strong stand from which to work and allow the painter to have the tools and paint supplies at the working level for ease of use.
They can be more burdensome and are not a practical application in comparison to the ladder therefore they are to be used only for specific projects.
Like this, you will be able to choose from a few additional tools if you have no possibility to make use of an extender pole or of a paint edger.
So, this is all that we wanted to tell you regarding the painting of high locations in your home.
We know that these are the hardest to reach areas when it comes to painting, and in addition, they are rather hard to paint because often, you literally have to paint right over your head (for instance, when applying paint to the ceiling)!
And that is very uncomfortable and requires quite an effort and a lot of patience to have the job done well.
But with the help of the tools that we described to you, you will be able to undergo even this type of painting project relatively easily and quickly.
Frequently Asked Questions
⭐What is the best ladder for painting high walls?
Try Flip-N-Lite platform ladder or Louisville Ladder (an extension ladder).
⭐How soon will the freshly painted ceiling dry?
In 2 hours approximately, depending on the paint type.
⭐Do I need a special paint brush for the ceiling?
Typically, you'll need a roller.