Air dry modeling clay is one of the most popular materials on the market these days along with various paints, crayons, and other similar stuff.
This type of modeling clay is so much praised and loved by the users because it is very simple to work with!
You don't need to use a kiln or even your oven to make the final item harden and dry. Just leave it to air dry, and that's it!
However, since this sort of modeling clay mostly comes uncolored, people want to decorate it themselves using paints. And this is when questions begin to appear. What paint is it better to use on air dry clay?
Is it ok painting on air dry clay if it is still wet? And this is not the complete list!
So today we are going to tell you more about painting air dry modeling clay. You will find out how to paint this type of clay if it is still wet, and if it has already dried.
Also, we will explain how to add color to the clay directly while it is still wet so that you could mold your creative projects already colored.
And of course, you will find out the best paint to use on air dry molding clay.
Related: How to Paint Polymer Clay?
Ways Of Painting On Air Dry Clay
How to color air dry clay? This is probably the most common and frequently asked question that people ask, especially if they have never worked with this sort of clay before.
Since air dry molding clay typically comes uncolored, if you want the item you are going to make to be colorful, you will have to paint it.
But this is the very moment that everyone stumbles upon! How to apply paint correctly? What paint is it best to use on this type of clay? Can I paint my clay object if it is still wet?
How to seal the ornament so that it won't fade or wash off later?
Well, let's start from the very beginning, in particular, from applying paint onto the clay item.
If you don't know how to do it correctly, don't rush! With the paint being applied in a wrong way, you will only mess up with your creative project most likely.
See, if you paint your clay item incorrectly, it may fade, wash off, or even not get attached to the clay surface properly!
So we recommend you check out the three most common and best working ways of painting air dry clay that can be used.
With their help, you will be able to paint your object properly and be sure that the layer of paint will last long and the colors will remain the same vivid and bright as on the day of application.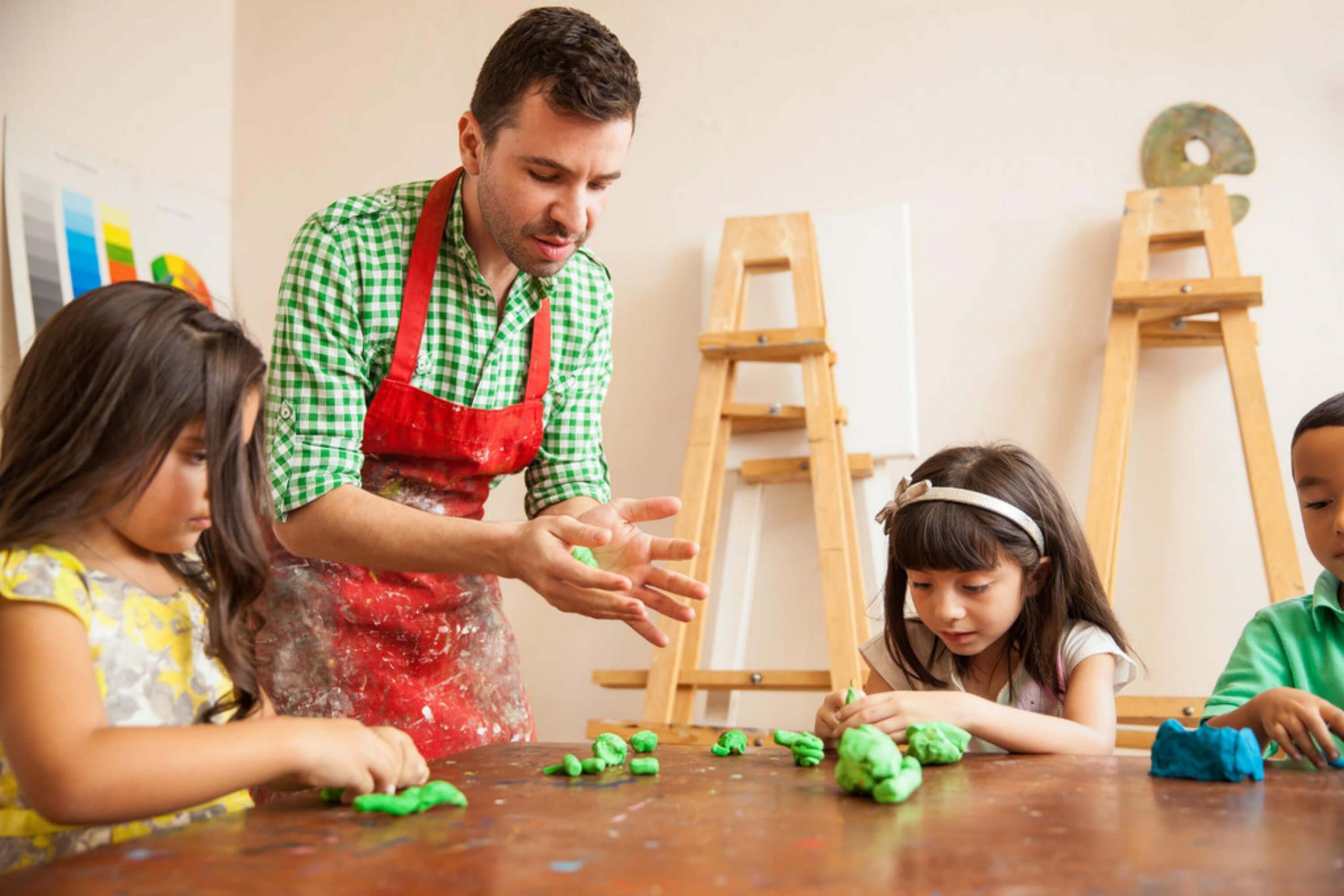 How to Paint Clay If It Is Not Molded Yet?
It is possible to paint your modeling clay even before you start doing anything with it, meaning even before you start molding.
It is a good option if, for example, you are going to mold figurines with your children and you want the clay to be already colored before you start working with it so that your kids work with the colorful material already.
But don't worry, this is a very simple thing to do. Coloring wet clay before molding includes several simple steps.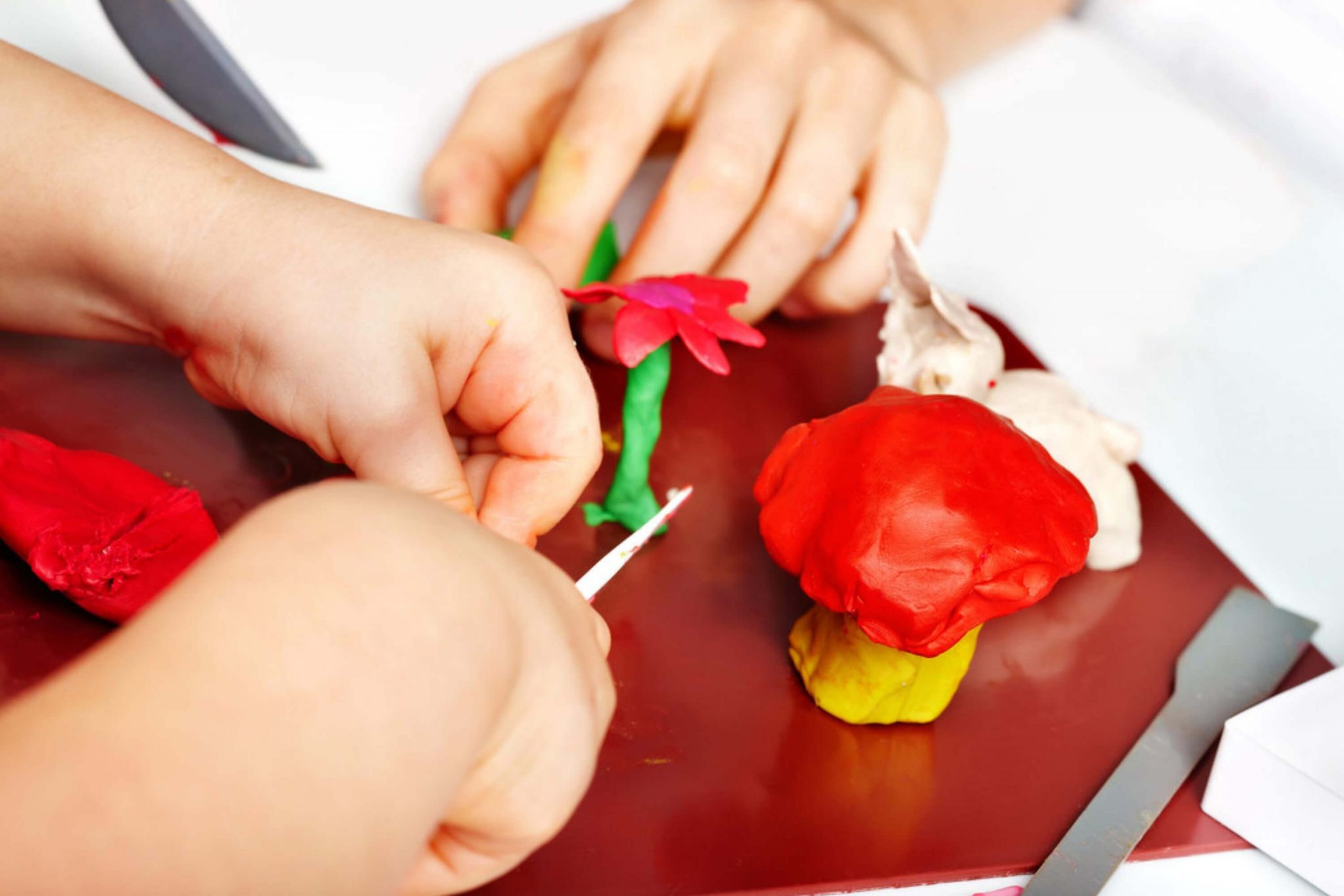 Pick Your Clay
Start with picking the right type of clay. White air-dry clay will usually give you the best results. Also, you need to check that the clay you will be using is not colored.
See, even off-white clay will affect the final color of the item!
So even if you are using white clay, always make sure to test a small piece first. It will help you to determine how the color will work and to get the hue you need.
Pick the Colorant That Suits You
If you want your clay project to be a single color, dyeing it with pigment before it dries will get you the results you are looking for. There are many options for pre-coloring air dry clay, so feel free to experiment.
For example, you can choose between acrylic paints, tempera, or poster paints if you need to get a solid and bright color. Oil paint can also be an option but it is harder to clean.
For getting a deep and vivid color, we suggest you stick to artists' quality acrylic or oil paint.
To get the results similar to tempera, you can opt for the food coloring, and pastel paints will give your item a very subtle and delicate look.
Get Your Work Surface Ready
Working with clay is very messy. So there is no need to remind you of the basic protective measures. Always make sure that your hands, as well as your work surface are clean and dry to avoid staining the clay.
We suggest you work on disposable or washable surfaces only, for example, you can use a sheet of wax paper spread over a counter or a clean plastic cutting board.
Also, wear plastic or rubber gloves, especially if you are working with oil paint or food coloring.
Knead the Clay
Before you add the colorant, your clay must be kneaded thoroughly.
See, pressing and kneading the clay with your fingers will help to soften it so it can absorb the color more quickly and evenly.
Usually, this stage does not take more than five minutes, so we would recommend you not skip it.
Add a Small Drop Of Paint
After the clay is kneaded, you can add a drop of colorant and knead the clay again to distribute the pigment evenly.
This process may take up to five minutes, so don't be worried if colors don't change right away!
Keep On Adding Color
It's not allowed to add all the paint to your clay at once since the pigment will not distribute properly which means your clay might look patchy.
To avoid that, add one drop of paint at a time, and keep on kneading your clay after each colorant incorporation.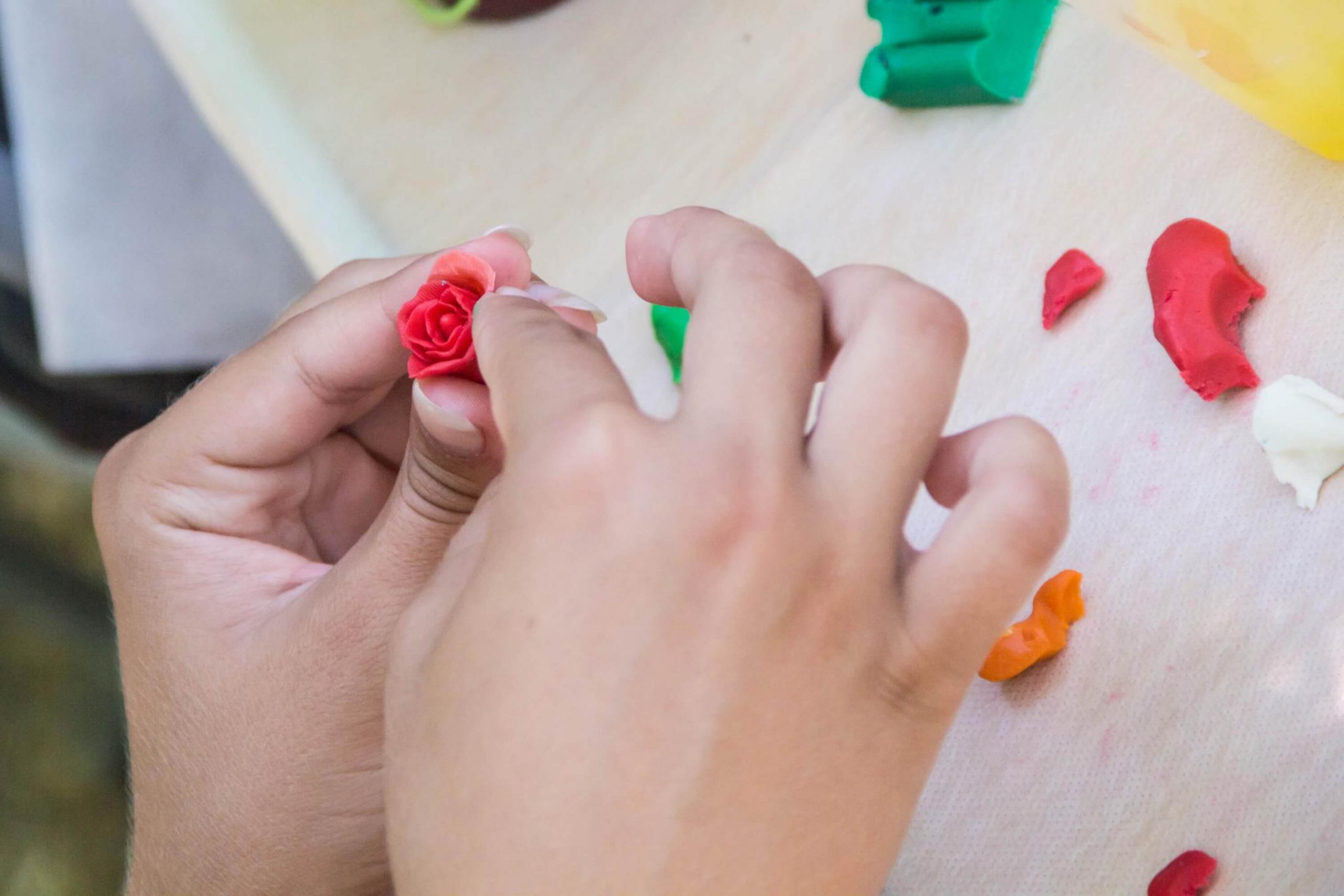 Sculpt And Dry
This is the final step. Sculpt the item you want and leave your project to dry according to the instructions given on the clay package.
Painting Clay Sculptures When They Are Dry
Another option that can be used is to add paint to the clay when it has already dried. In this case, you need to sculpt your item first and dry it as usual.
You must be sure that your model is absolutely dry and solid! Only in this case you can keep on and apply the colorant.
AIR DRY CLAY – Can You Paint with Watercolor?
Get Some Markers First
Acrylic paint markers are best for drawing on clay, but you can also opt for the regular kids' markers, permanent markers, or even try out watercolor markers.
You decide what you prefer more. However, we would suggest you avoid using oil markers since they can take a very long time to dry and will smudge easily.
After you prep your painting tools, plan the design that will be applied onto your clay item.
You can make a sketch on paper just to have it in front of you as a sample.
Wash Your Hands
Before you start, wash and dry your hands. It will help you to not transfer any grease or dust onto your clay item or smudge the paint.
Draw Your Design
Place your clay item so that it won't move and draw the design you want on it using the tools that you prefer.
Draw with one color at a time to prevent transfers, and draw lighter colors first.
Let It Dry
After you are done with applying one color, let your project dry.
Then, if you use multiple colors, keep on drawing with another color.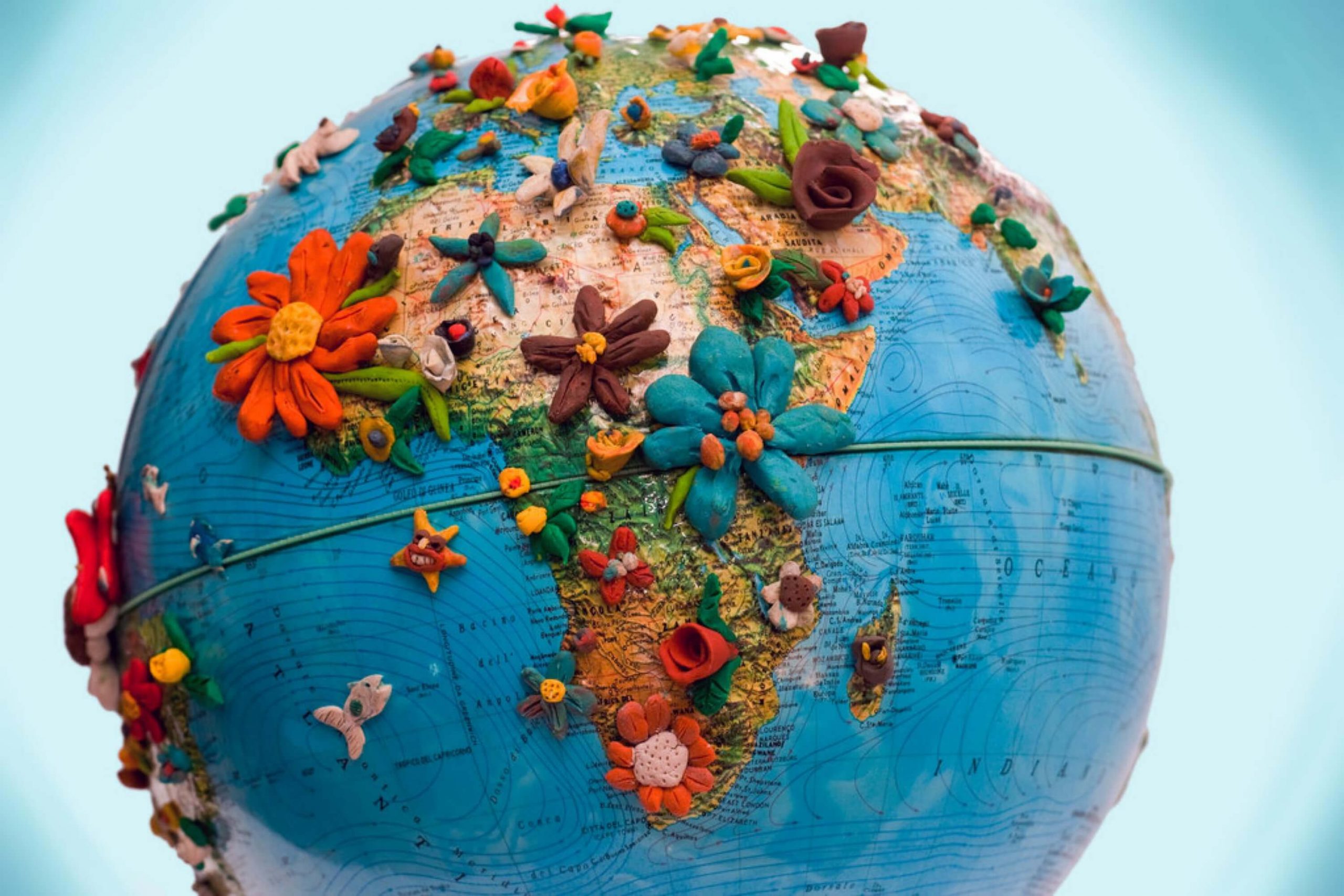 Seal the Design
To prevent your project from fading or smearing, sealing is mandatory.
It's best to check the clay packaging for a recommended sealant.
However, most sealants are spray-on, but you can also use paintable alternatives, or even clear nail polish!
Painting Modeling Clay That Has Already Dried
Finally, you can apply paint onto your clay item. To do it, sculpt your object and let it dry completely first.
This is a must since paint won't attach to the wet or damp clay!
Choose the Paint
You can opt for either acrylics or tempera since these types of colorants are best for being applied on air dry clay, but you can also make use of poster paint or even nail polish if you want.
Create the Design
Make a sketch of the desired design to be able to use it as a sample, and pick the brushes that will be used for applying both paint and the sealant.
Apply the Paint
Apply one color at a time to avoid them mixing, and work accurately so that you don't smudge the design.
Also, make sure you place the clay item firmly so that it won't slide or fall down.
Add Sealant
After you are done with the paint application, wait until the design is fully dry and cover it with the sealant.
Like this, you can paint your clay object no matter whether it is dry or still wet.
Since air dry clay dries rather fast, in any case, you will not be waiting for too long.
Best Paint For Air Dry Clay
Those who have just started working with air dry clay often wonder what types of paint would be the best to use on this material.
To be short, the best paints for air dry clay are water-based ones, for example, acrylics or tempera.
However, you need to note that water-based paint has to be sealed after it dries.
If you don't seal it the paint can chip off, peel off, or even wash off. That is the only downside to using acrylics on air-dry clay.
If you decide to use enamels, latex, or spray paints instead, remember that they don't have to be sealed afterward.
However, it is generally recommended using acrylic paints or other water-based paints on air dry clay.
They are easy to work with, besides, they are quite cheap and you can get them at almost any crafts or art store.
*BEST* DIY AIR DRY CLAY HACKS, TIPS, TRICKS, and TECHNIQUES | How To Ring Dish Tutorial
How to Seal Acrylic Paint On Clay?
Sealing your clay object that is painted with acrylics is a must since it ensures that the design will survive way longer without fading.
There are plenty of different methods you can use in order to seal air-dry clay.
The easiest option is to use a sealer specially designed for varnish or acrylics. But if you need a more robust seal, you should better make use of a liquid epoxy.
All of these sealers will make the clay water-resistant and protect the colorant if the clay is painted.
So, this is how you can paint your air dry clay creating project depending on whether the material is dry or wet, and also, you are now aware of how to seal it to protect the design.
With all that in mind, your clay items will definitely live longer and please you with vivid and bright colors!
Frequently Asked Questions
⭐What paint to use on wet clay?
You'd better use glaze for applying onto wet clay. But it won't work on air dry clay, note that please!
⭐Where is it possible to get waterproof sealant?
You can buy waterproof sealants in any craft store where they sell paints and other artistic stuff.
⭐Can I add clay to an already painted object?
Even though technically you can do that, it's not recommended.