Polymer clay is a great thing for various creative activities! And if you think that it is only suitable for little children, you are wrong. Adult crafters adore this material due to its functionality and flexibility, as well as versatility in use.
You can mold it as you wish and create all sorts of stuff from beads for necklaces to even toys and figurines!
However, amateur crafters often face the same issue when working with polymer clay: how to paint it correctly?
Since this material mostly has to be baked before the item made of it can be used, you would also like to know whether paint must be applied before or after the baking process.
In this article, you will get the answers to these and other questions! We will tell you how to paint items made of polymer clay if you want to use acrylic paint or watercolor paint, and what tips to use in order to do it successfully.
Also, you will learn what paints are considered the best for this purpose, as well as when it is best to apply the paint – before or after the polymer clay item is baked.
Finally, we will explain how to seal polymer clay correctly and what issues you might face when painting items made of it.
How to Paint Polymer Clay?
In general, there are two ways that can be taken when coloring polymer clay items. The first one is that you can purchase clay that has already been colored. It is even possible to mix different colored clays for another shade you need to get!
Your other option is to color clay yourself. For that purpose, acrylic paint in polymer clay is a pretty good option. But since this paint is water-based, it is important to allow the clay to dry sufficiently, which may take you about three days. Only after it is fully dry, can it be baked.
Also, you need to note that it depends on the type of paint that you use as to how the colors will end up when baked.
For example, water and alcohol paints may come out lighter or less radiant. If getting an exact color is very important for you, this nuance must be considered!
Except for acrylic paints, colored mica powder is also a good choice since it gives you a good range of color options. You would typically use it prior to baking the clay. You can also try out powdered makeup like a blusher for getting a similar effect.
In general, painting clay is very versatile!
You can add coloring inks, or wax crayon shaved using a craft knife, use metallic foil, glitter, or various art pens in your work! Just let your imagination and creativity run wild!
Below you will find a table of the different coloring agents that you can use to color polymer clay to see and compare how they will work.

| | Baking Method | Affordability | Application |
| --- | --- | --- | --- |
| Mica Powder | bake the clay normally | a bit pricey | apply the powder on the outside of the raw clay or mix into it before baking |
| Acrylic paint | allow the clay to dry for at least 2-3 full days before baking | easy on the pocket, but artistic options might be expensive | use it either before or after baking |
| Alcohol-based inks | allow the alcohol to evaporate for 3-4 hours before baking | quite expensive | inks can be applied both before or after baking |
| Oil paints | paint the clay and bake it again for a short time to set the color | quite expensive | use for painting clay that's cured or mixed into polymer before baking |
What to Do to Paint Your Polymer Clay Successfully?
As a rule of thumb, the best polymer clay paint you can use for your creative projects is acrylic paint. The explanation for this choice is pretty simple: this type of paint is water-soluble and easy to use. Higher quality artists' acrylic does the best job, of course, and offers a better quality finish, but quite a high price often makes crafters look for cheaper alternatives.
Related: Can You Use Acrylic Paint On Fabric?
Fortunately, average quality crafting acrylics can also be used with satisfying results!
As for the clay painting process, we would recommend you avoid using such products as nail varnish as a coloring agent or medium of paint for polymer clay! See, it corrodes and melts the clay which will cause it to become sticky.
This is why it is also recommended to test your paint method on a small amount of clay before you start painting the whole item as some polymer brands are not suitable for painting.
Once you have applied your polymer clay paint to your project, a sealant can also be used. If your clay is already colored, then a sealer is not required as the clay already has proper durability. Why would you need to use a seal?
Well, it will provide extra shine to the clay and it is recommended if you have included extra materials or painted the polymer.
Sealant options typically include waxes, epoxy, sealer for acrylic paint and different varnishes.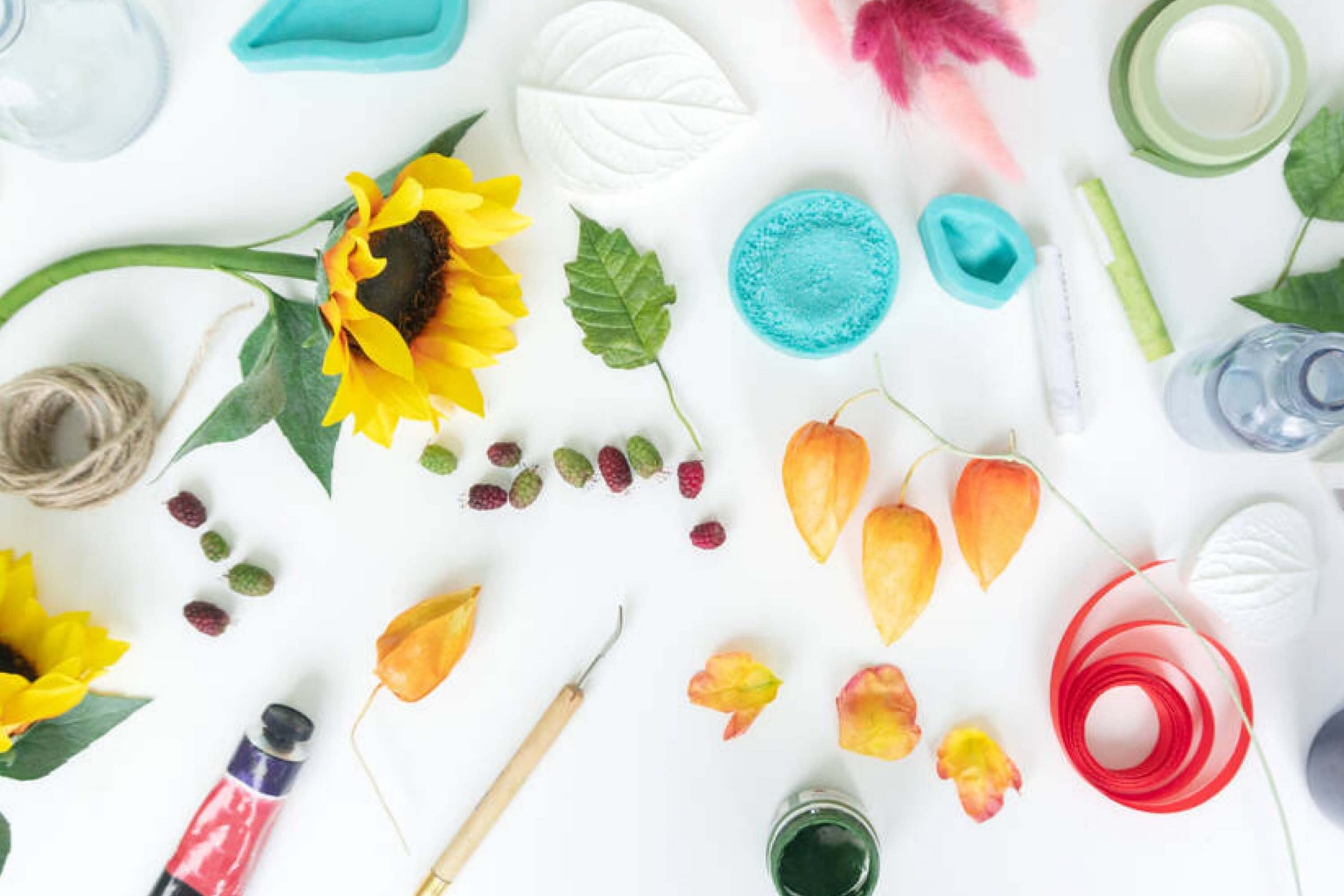 When to Paint Polymer Clay?
One of the most frequently asked questions regarding polymer clay is when it should be painted, before or after it is baked. In fact, you can use either method, however, it is more popular to paint the clay items once they are baked.
The reason for this is that there is often residual moisture in the paint, this can cause bubbling or imperfections in the baked polymer.
Before Baking Paint Application
Painting the item before baking is perfectly fine since during the baking process, the clay does not change size or shape in any way. In fact, the paint and clay may even form better compatibility before baking!
However, if you are still hesitant, the best thing is to do a small test. This will give you an idea of how it will turn out. Anyway, when heated, certain paints may also change their color a bit, becoming lighter or paler.
This is another reason to do a test to ensure that you do not end up with an odd color on your item.
Painting unbaked clay is simple. First you need to mold your piece, then proceed with painting the desired effects and then bake the item. Make sure that you set the correct oven temperature so that the clay does not burn!
Painting Raw Polymer Clay before Baking
After Baking Paint Application
Once your clay has been baked in an oven, you can still add some finishing touches to your item. The process is pretty easy if you have a little knowledge of suitable products.
First of all, form your desired piece from the polymer clay.
Make sure that the oven is preheated to a temperature of 32 degrees Fahrenheit.
Double-check the baking time recommendations on the clay package since they may differ depending on the brand.
Bake your polymer clay project.
Take it out from the oven and allow the clay to cool before touching the item or working with it further. If the clay is hot when you work with it, any paint will not stick to the surface!
With a paintbrush, coat the clay with two thin layers of glaze and dry for at least one hour between each layer. Dry further for three hours to ensure that the glaze is completely dry and set.
Carefully sand the clay surface using medium grit sandpaper, this will ensure that the paint adheres properly.
Wipe the clay gently to get rid of any dust particles left by the sanding process.
Apply the first layer of acrylic paint on polymer clay.
Paint in thin coats, this will ensure that you do not leave brush marks.
As with the glaze, a two-hour drying time is required between layers and before you handle the clay.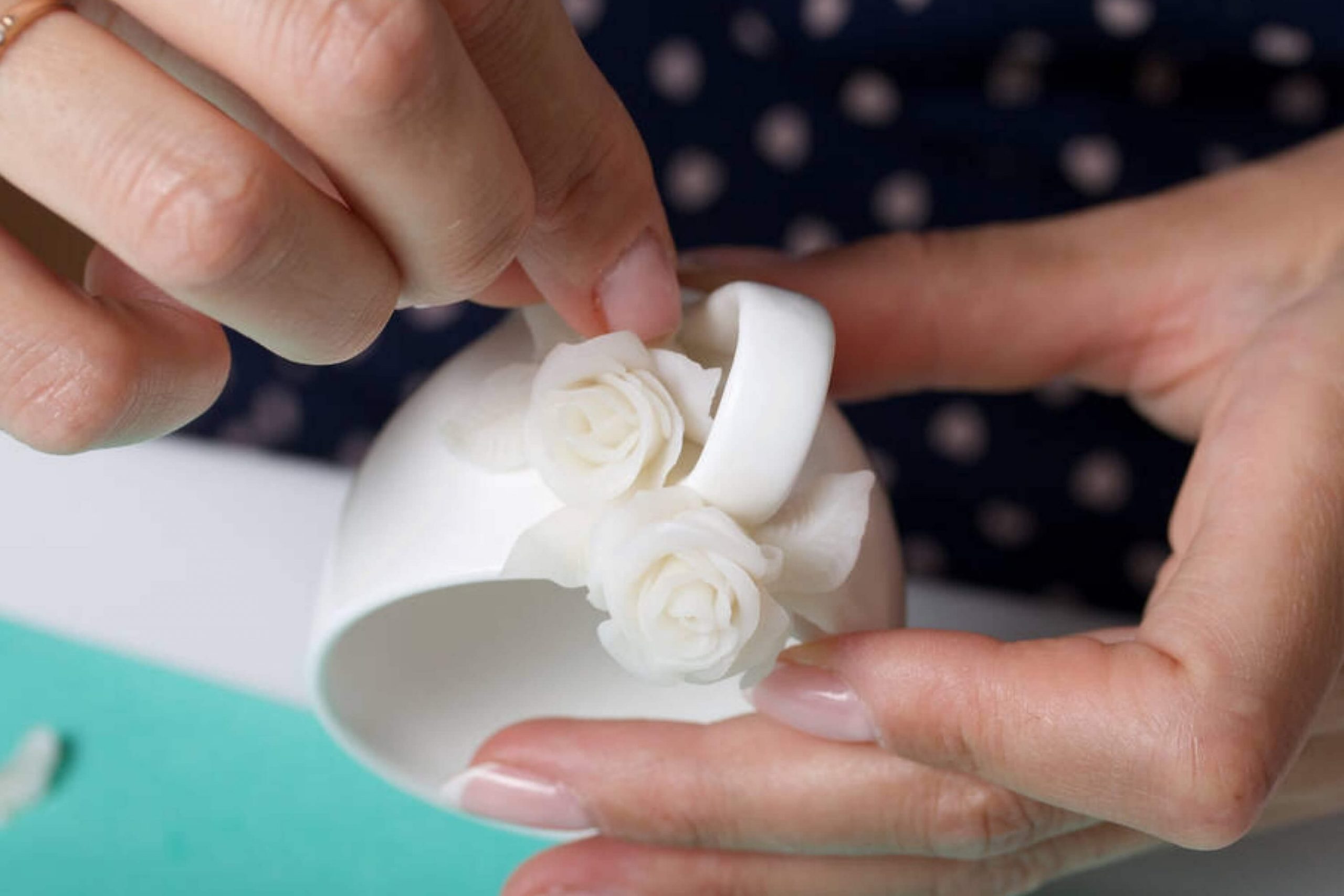 How to Seal Polymer Clay?
Sealing is not mandatory when working with polymer clay, so you can just sand your item thoroughly and delicately after baking it to remove any imperfections. However, if you do want to add extra gloss, sealing might be the option you want to consider!
The sealing glaze is very suitable since it can be used with a variety of different paints such as oils, inks, and water-based acrylics.
Should you choose not to make use of a glaze, simply use the sanding method as mentioned above, just without using a glaze.
There is another issue you could face when making a polymer clay project. Once the clay is baked and cooled, you may notice that the paint is not able to adhere to the surface properly. This can happen if a thin layer of oil is creating a barrier between the polymer and the paint.
Luckily, you can easily solve this issue with a little alcohol for rubbing used on a cloth. Simply wipe the surface delicately and this will remove any oily residue!
You can begin painting right after the alcohol has evaporated even without any glazing or use of the sandpaper.
HOW TO PAINT ON POLYMER CLAY – ACRYLIC PAINT ON FIMO CLAY
Best Paint to Use On Polymer Clay
Finding the most suitable polymer clay paint that also has a proper quality is often a tricky task considering all the varieties of polymer and paint on the market. In general, water-based acrylics are commonly used since they are inexpensive, non-toxic, available, and easy to apply.
However, for the best results, we would suggest you look for mid-range to fairly viscose paint for the good adherence qualities of thicker paint.
For the Beginners
If you are at the very start of your crafter's path, try out DecoArt Acrylic Paint to use it on your polymer clay masterpieces! It is more of craft paint which means that you will not have to pay a fortune for it. This paint offers a smooth and even finish with a variety of colors that will suit any requirements and needs.
These acrylics are effective on numerous different surfaces as well, such as metal, timber, wax candles, clay, and others.
For Experienced Artists
In case you are skilled already, Golden high viscosity acrylic paint is your choice. It is available in individual tubes in a wide variety of colors.
This paint has a smooth and even texture which allows even coverage (usually one coat is more than enough). The pigment level is high, and in addition, these paints dry quickly allowing a simple application technique.
What Issues You Might Face When Painting Polymer Clay?
Like any other material, polymer clay is not perfect. It means that even if you are experienced enough, you still might face certain complications during the crafting process.
With all the techniques and products available for painting clay today, a few tricky obstacles can still come up.
You may just need to try different methods and experiment as you go in order to find the best option for your specific idea. In the meantime, below you can find a few common obstacles that other crafters have faced with themselves.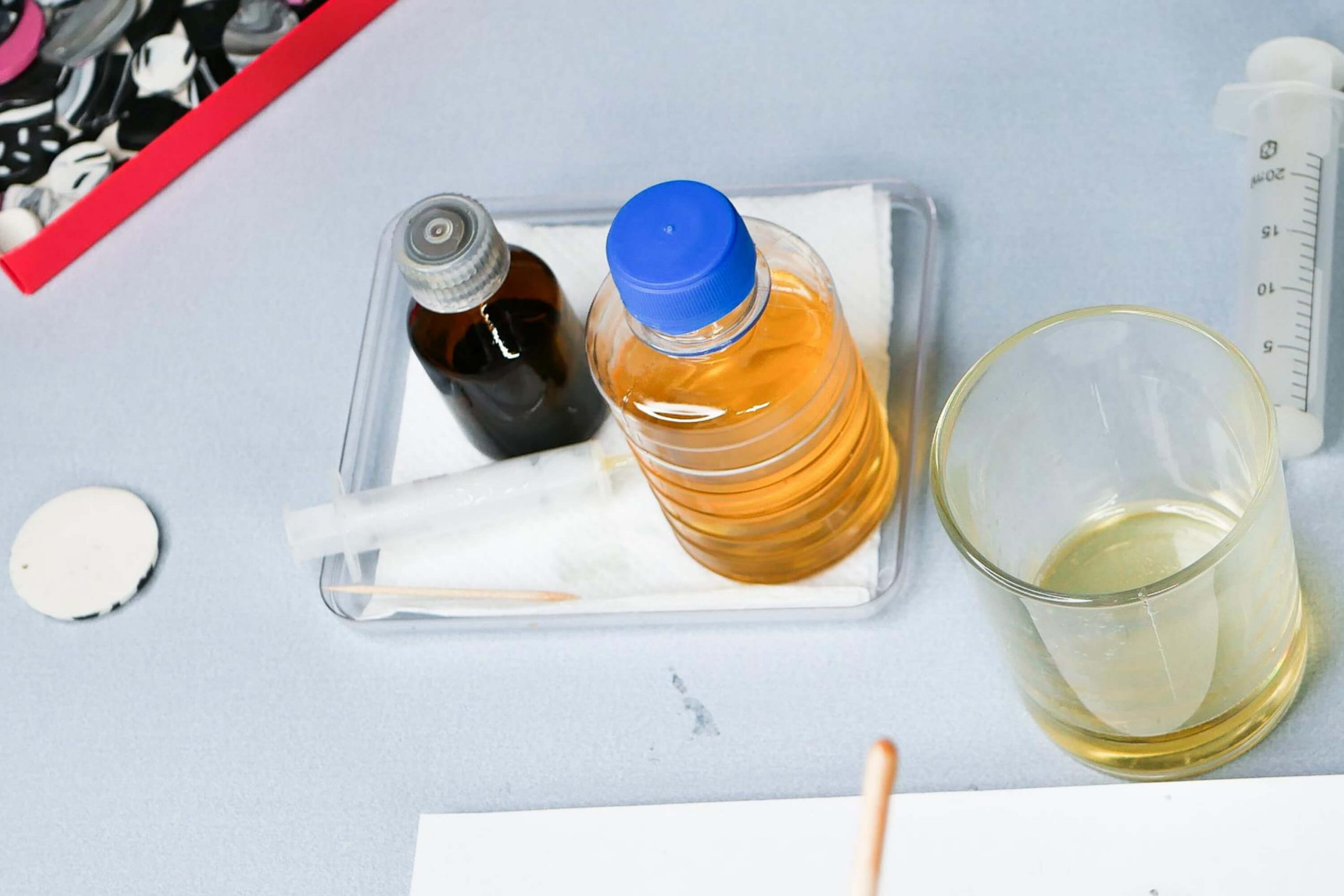 Fading Hue
You need to keep in mind that a medium that includes dye as a stain will not be lightfast! Thus the color will fade over time.
The color in paint is far more durable and lasts longer. But you need to consider that it will also begin to fade, of course, particularly if it is constantly exposed to sun.
Sticky Paint
Many types of paints are designed for use on paper or paper variations, such as canvas for example. Therefore, if you use them on different surfaces, a few issues may occur.
Polymer clays are made from plasticized vinyl which makes it a completely different material.
The plastic in the clay may have a reaction with acrylics which renders them soft and sticky!
You also need to be aware of what clay and paint varieties are compatible. Should you notice your paint is sticky, you can remove it with crafting alcohol.
Cracks, Bubbles, And Peeling
Polymer clay is non-absorbent, which means that paint can not be immersed in this material as it would be with paper or canvas.
The paint dries to the surface of the polymer and over time, it may crack and peel. To improve the cohesion, you can gently sand the clay in order to create a slightly rough surface.
Color Coverage
Paints have different viscosities and the coverage ability will differ on your project's surface. Depending on whether the paint is thick or thin, you may require a single coat or a few coats until the desired effect is achieved.
For ideal surface coverage, you should use products with a good quality and proportion of pigment. The simple rule of thumb here is that the higher the level of pigment the more you will pay. Artist-level acrylics for example will be more expensive than crafters' acrylics.
The latter ones can be used as well, but they will require several coats to achieve the desired color coverage.
Like that, you are now aware of all the basics about polymer clay painting. We told you what paints are mostly used for this purpose and what brands would be the best if you are a beginner or an experienced crafter. Also, you know what issues might show up during the painting process and when it is best to paint your polymer clay project to make it look awesome!
Frequently Asked Questions
⭐Is it possible to paint polymer clay with wax crayons?
⭐Will painted polymer clay fade with time?
Yes, especially if exposed to the sun.
⭐Can I spray paint polymer clay?
Yes, if the item is big enough.