If your sink is too old, you might have thought of painting it to refresh its appearance a bit. However, since sinks are often made of different materials like porcelain, metal, and others, people often don't know whether those materials can be painted. And even if they can, there is still a question of how to paint a sink in your kitchen.
Today we will try to investigate this issue. Read this article to learn whether a kitchen sink can be painted and how different sink materials may react to paint. Also, we will share a few handy tips and life hacks that you can use when painting any sink that can accept paint.
Those tips will allow you to achieve a smooth and durable coating. Finally, we will explain how you can remove paint from your sink. It might also be handy, especially if the sink in your kitchen got stained with paint by accident!
How to Paint an Old Kitchen Sink?
You might want to decide to paint your kitchen sink for different reasons. It can be old and its initial color has already faded, making it quite unsightly. Or you might want to paint it because you are tired of how it looks but you don't want (or don't have extra money) to replace it. No matter why, before you start painting your kitchen sink, you should figure out what type of surface your sink is made of.
HOW TO REPAIR AND REGLAZE A KITCHEN SINK USING DIY KRYLON TUB AND TILE KIT
See, every surface material is unique and comes with its specific features. Porcelain, enamel, and other materials your sink might be made of may require a specific approach for painting them.
The good news is that in general, painting a kitchen sink is not difficult at all.
Depending on the sink's size, you can complete the task within two hours. Below, you can find more information on different sink materials and their compatibility with paint.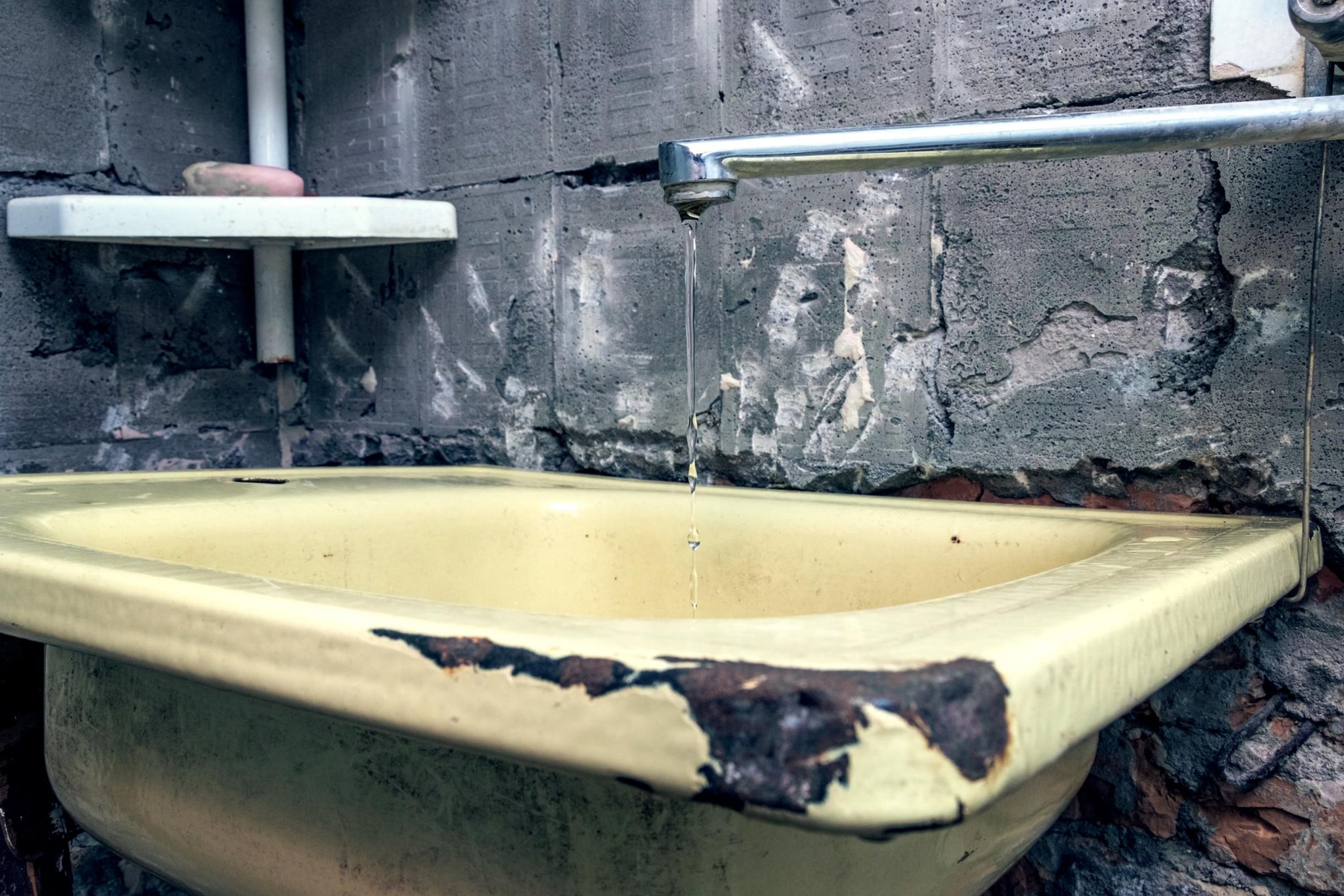 Can a Porcelain Kitchen Sink Be Painted?
If you have a porcelain kitchen sink and you wonder whether you can paint it, the answer is yes, painting porcelain sinks is possible. Moreover, homeowners find this process quite enjoyable!
Painted porcelain sinks become a lovely addition to the kitchen interior, turning your cooking place into a unique and creatively designed space. Besides, you can paint your kitchen sink with one of the various attractive colors available.
The best way to paint your porcelain sink successfully is to buy a special porcelain painting kit. This kit contains premixed epoxy solutions that can address any crack or chip on your sink.
But anyway, before painting the sink, you should clean it thoroughly with water and a sponge to remove any dirt, dust, and dish soap residue, as well as grease.
Otherwise, the paint will not be able to adhere properly! After the sink is washed, rub the surface with a clean towel to soak the rest of the moisture and apply the porcelain paint in thin and even coats using a small paintbrush.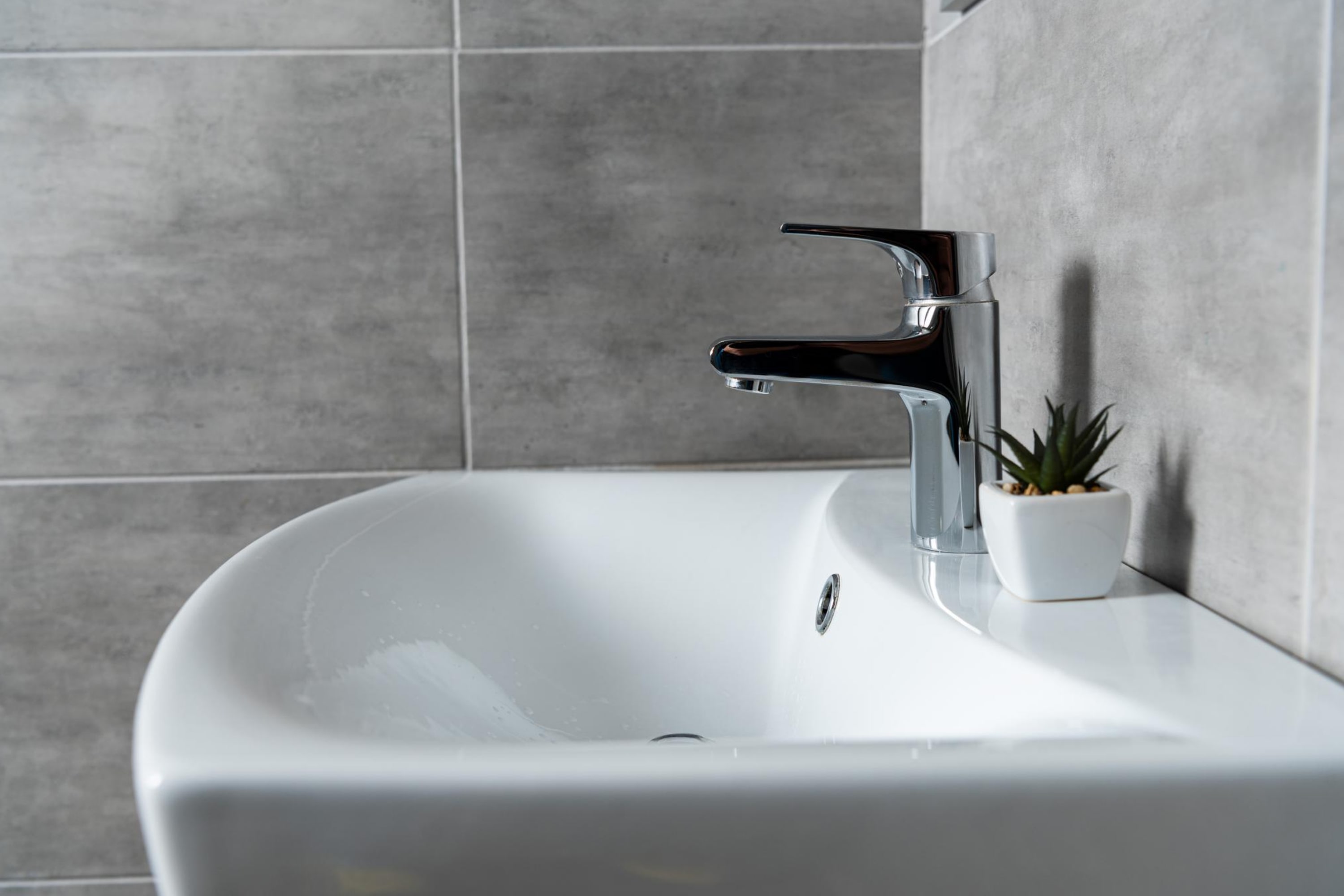 Can I Paint My Aluminum Kitchen Sink?
Yes again, the aluminum sink is also paintable if you need to renew its overall appearance and make it shiny and attractive again. The aluminum surface is good for painting because it tolerates different colors of paint. As a result, it makes it easy for you to make the sink look unique while remaining the same functionality.
Just like with porcelain sinks, you can paint your aluminum one with almost any color you want! There are plenty of aluminum paints in the market so you can choose the one that will adhere to the surface of the sink properly and make it look better.
Speaking of paint application methods, you can basically use a brush. But as an option, using a paint sprayer can also be a good idea, especially if you want to keep your paint smooth.
And again, just like with painting porcelain sinks, you must wash the aluminum surface of your sink well before paint will be applied to it. Wash it with water and a sponge, let it dry, and then either paint the sink with a brush or spray it.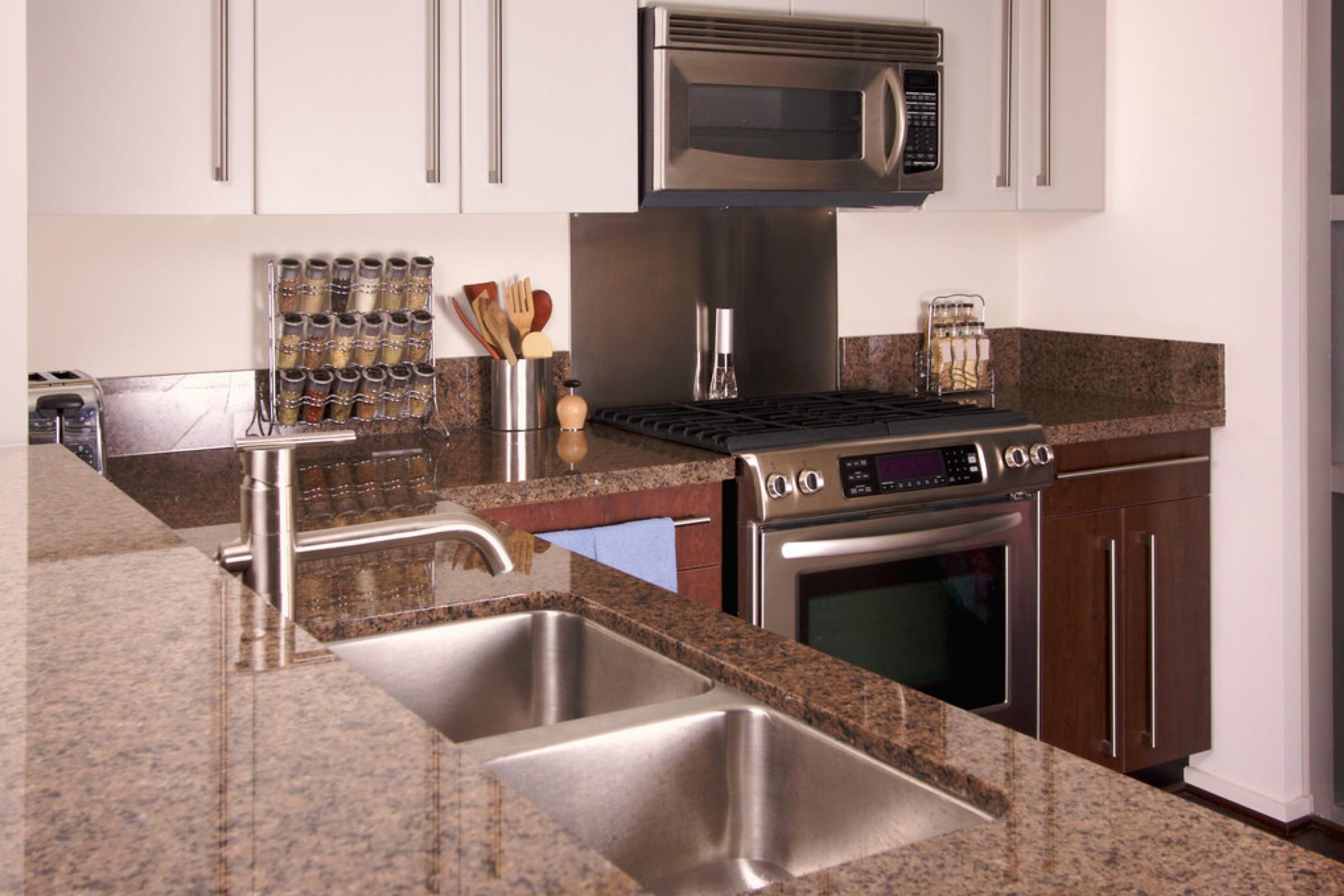 Can You Paint an Earthenware Kitchen Sink?
In general, you can paint an earthenware kitchen sink, but you will have to use the right type of paint. Also, before painting this type of sink, choose the correct painting method carefully and make sure you will be using the right painting tools.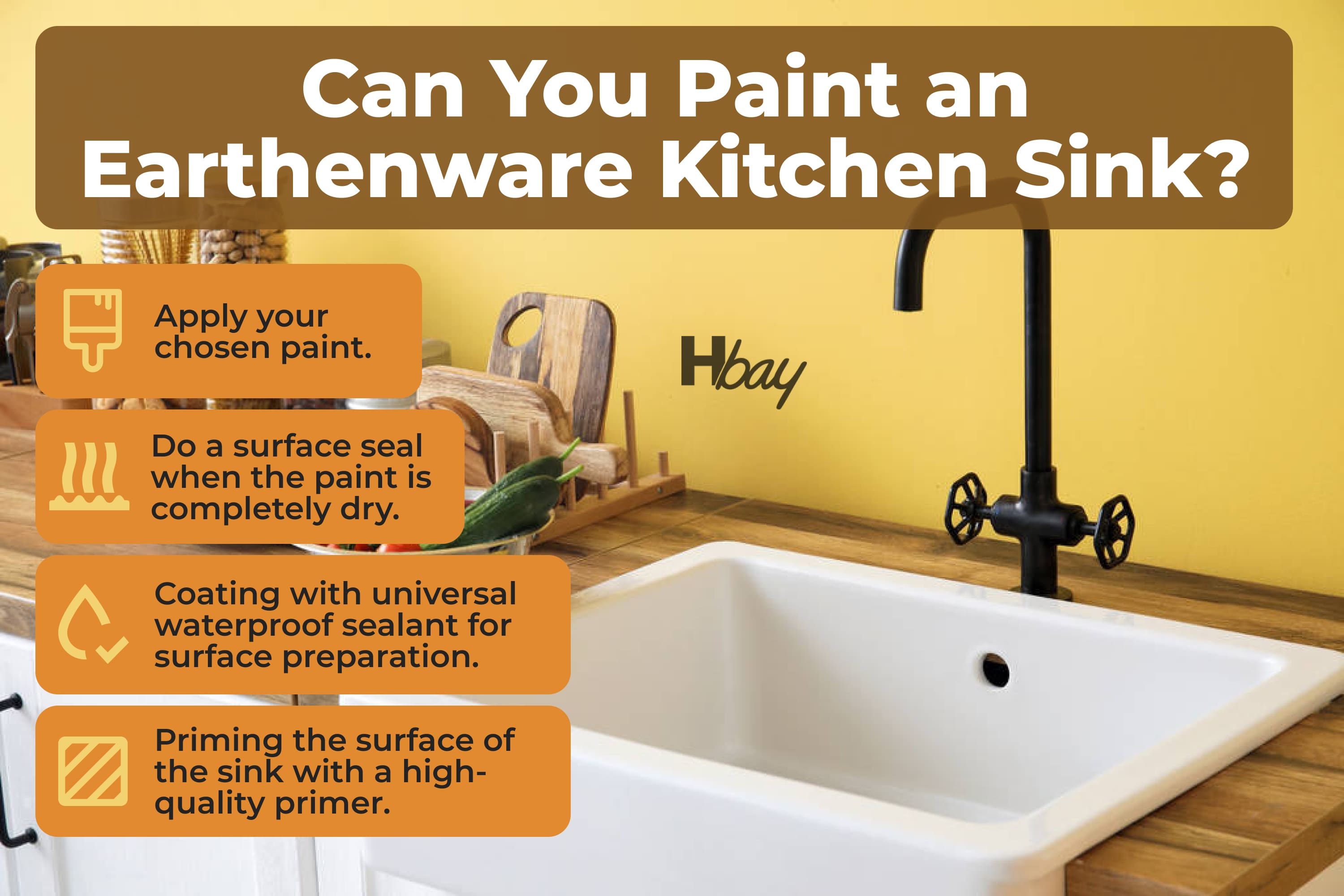 The first step will be to use the all-purpose waterproof sealer to prepare the surface
The second step is to prime the surface of the sink with a good-quality priming agent
Then apply the paint of your choice
And the final step is to glaze and seal the surface when the paint is dry completely
Also, you should note that, when painting an earthenware kitchen sink, you should use the right paint to decorate its surface. The paint selection will depend on the number of coats you want to apply. This is the only distinction between painting this and other types of sinks.
Now you know what sink materials can accept paint and what nuances you may face on the way to the perfect paint coating.
If you use all the life hacks we have shared and follow the recommendations, you will be able to apply an even and smooth coat of paint over your kitchen sink, making it look much better and serve you much longer.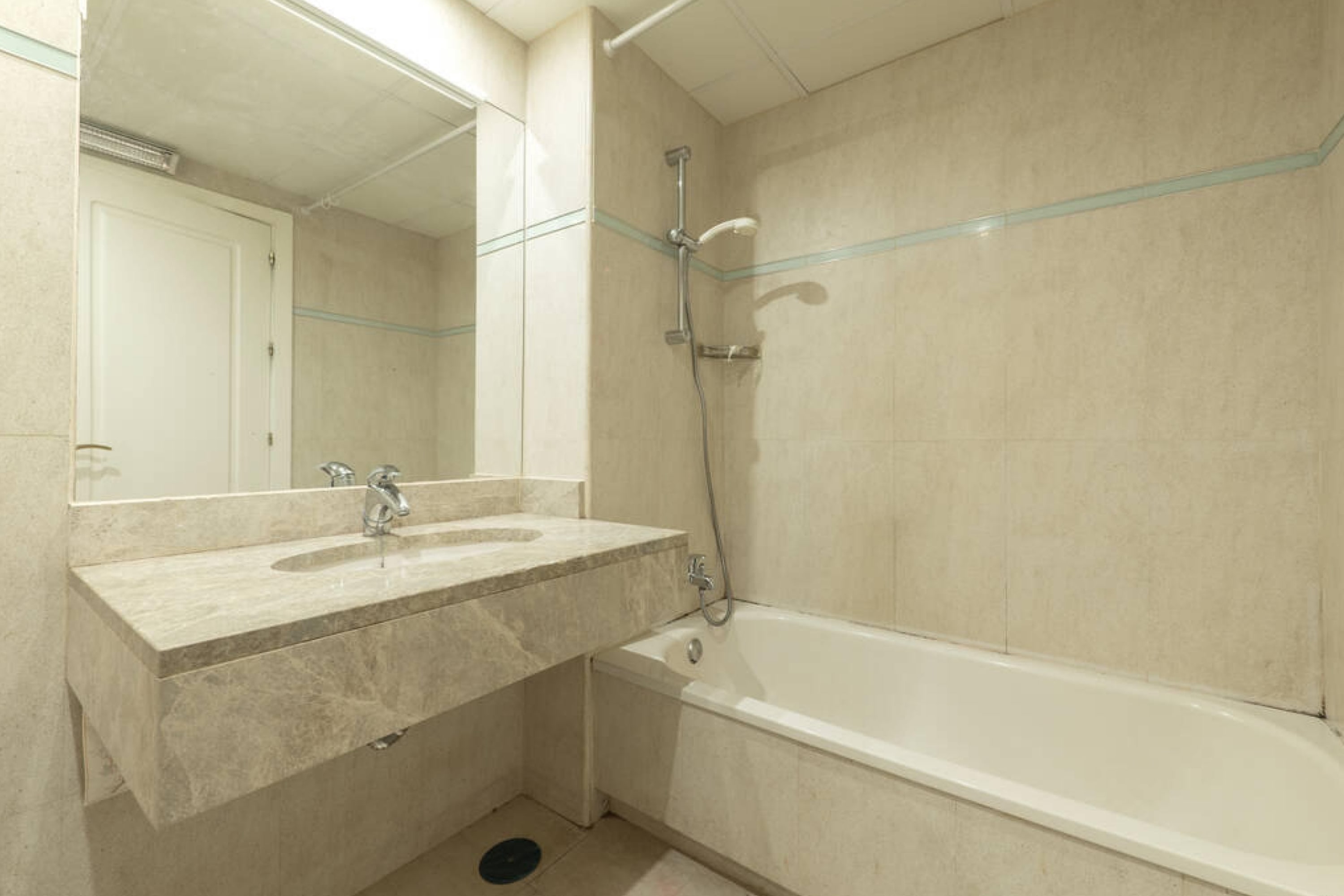 A Few Handy Tips For Painting Your Kitchen Sink Safely
As you already know, depending on the material your kitchen sink is made of, you might want to use slightly different paint application methods. However, no matter what material your sink is made of, there are certain common precautions that should be followed if you want to achieve smooth and long-lasting coverage and avoid any damage to the sink.
Always Prepare the Sink For the Paint Application
In order to make sure the paint will adhere smoothly and evenly to the surface of the sink, you need to prepare the sink properly. Always wash the surface of the sink with soapy water and a clean sponge thoroughly! If there are dry particles of food stuck to its surface or any stubborn stains, you can use the brush to eliminate this debris.
Also, make sure you rinse the sink thoroughly with water to remove soapy debris. finish with a clean and dry towel to wipe the interior of the sink and eliminate all the moisture and water drops.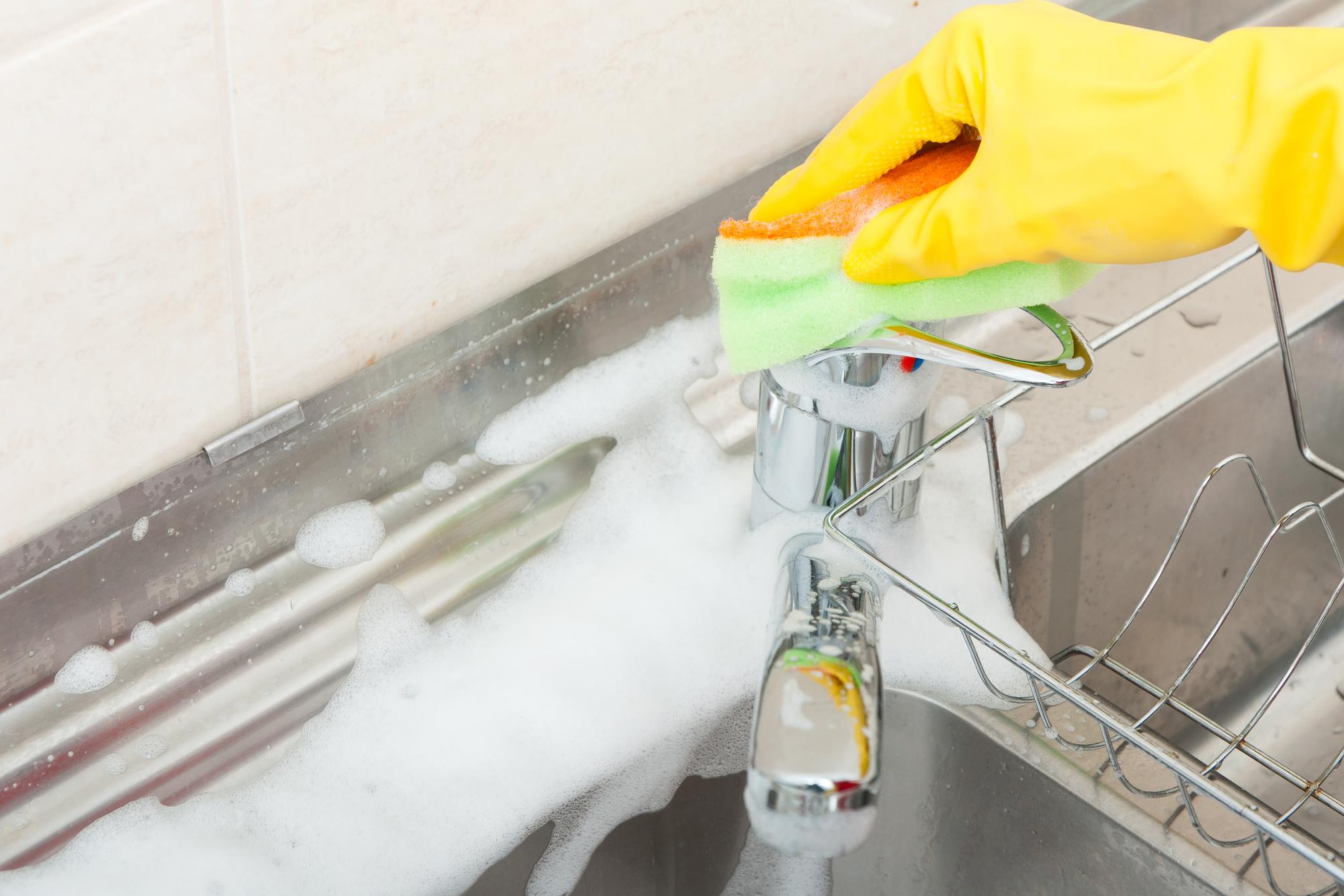 Fix Any Damaged Areas Prior to Painting It
If your sink has any cracks or minor chips, you should fix them prior to paint application to create a smooth surface. If the sink has large cracks, then you should consult a professional to fix the issue.
But if your fiberglass or porcelain sink has small cracks, you can easily fill them with a special compound. Then, allow this compound to cure and sand the surface of your sink down to achieve a smooth surface. Remember to remove the dust particles with a damp cloth when you are finished! It will make it simpler for the paint to adhere.
When you complete the repair process, you should not forget about checking the sink for grime, grease, or dust. If there is anything like that on its surface, the sink will not bond smoothly, and the paint will not adhere properly. As a result, you will end up with poor performance and a short lifespan of the paint coating.
Tips That Will Help You While Painting
When it comes to the paint application, most people think it's going to be the simplest part but in fact, this stage is the same tricky as others! You should know how to apply paint correctly to end up with a smooth and durable coating. The following tips will help you out with that:
Before applying the paint, read the instructions on how to use it right
Open the windows and also turn on the exhaust fans to provide proper ventilation in your kitchen while painting
Ensure that you wear safety gloves
If you are using a bonding primer; make sure it dries before you start applying paint to the sink's surface
Add the second coat of paint to enhance its performance and increase its lifespan
You should avoid using the sink for dishwashing and other tasks until the paint is fully dry
Make sure that you use the right paint for the surface material of your sink
If you are renewing the sink with a different color, make sure that it fits the kitchen decor
Use a rust converter before you paint to ensure the rust won't return
Avoid applying the paint too thickly
Some surfaces should not be scuffed with sandpaper as it may leave deep scratches that you won't be able to hide with paint
Check the local regulations before using organic solvent paints. The correct standard is such compounds should be non-volatile organic compounds compliant!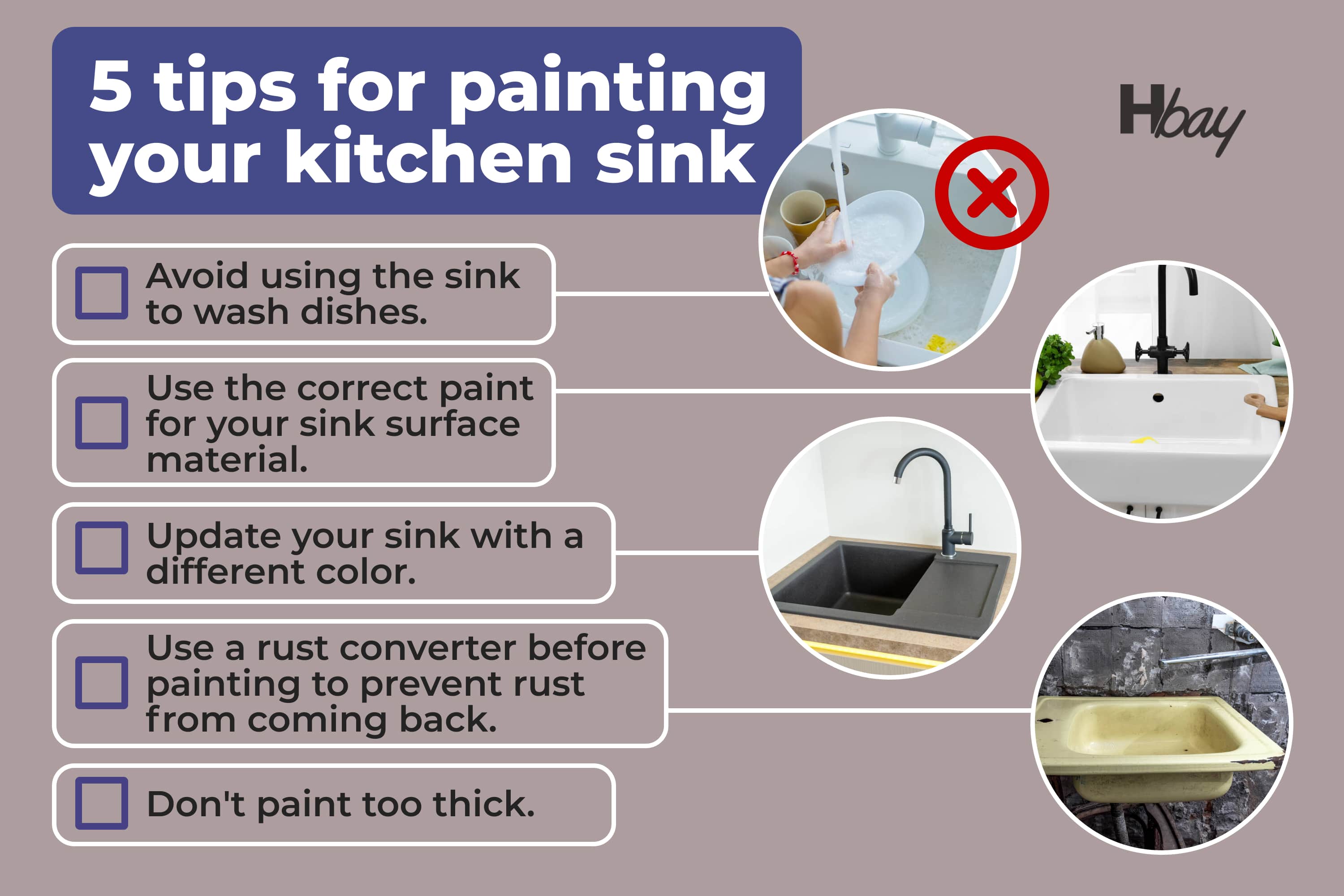 Now you have a bunch of useful tips and life hacks that will help you paint your sink in a safe manner to ensure a long-lasting paint coating and a safe paint application for yourself.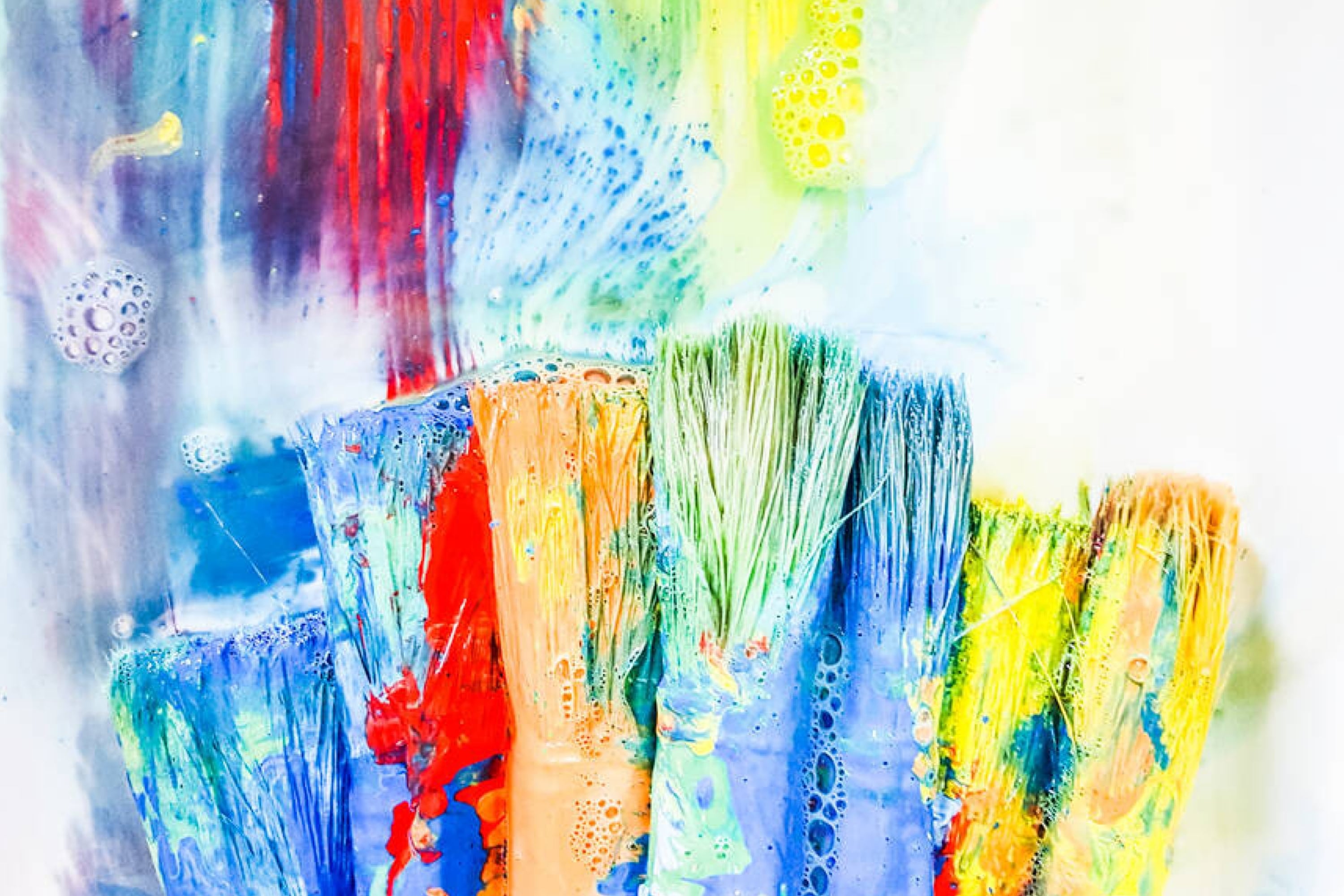 How to Get Paint Out Of a Kitchen Sink?
Now you know how to paint your kitchen sink depending on the material it is made of and also, you are now aware of certain handy tips that can help you succeed in this task.
But what if you painted your sink unintentionally? For instance, what if you stained it with paint while painting another surface in your kitchen, e.g. the wall?
3 EASY WAYS TO RESTORE A STAINLESS STEEL KITCHEN SINK | DIY RESTORATION IDEAS
In this case, you might need to know how to safely and quickly remove that unwanted paint. And below, you can find a few handy recommendations on how to do it if you have a porcelain sink or a stainless steel sink.
How Do You Remove Paint From a Stainless Steel Sink?
If you have a stainless steel sink, it should be treated with care since this material can easily be damaged by the wrong cleaning methods or products!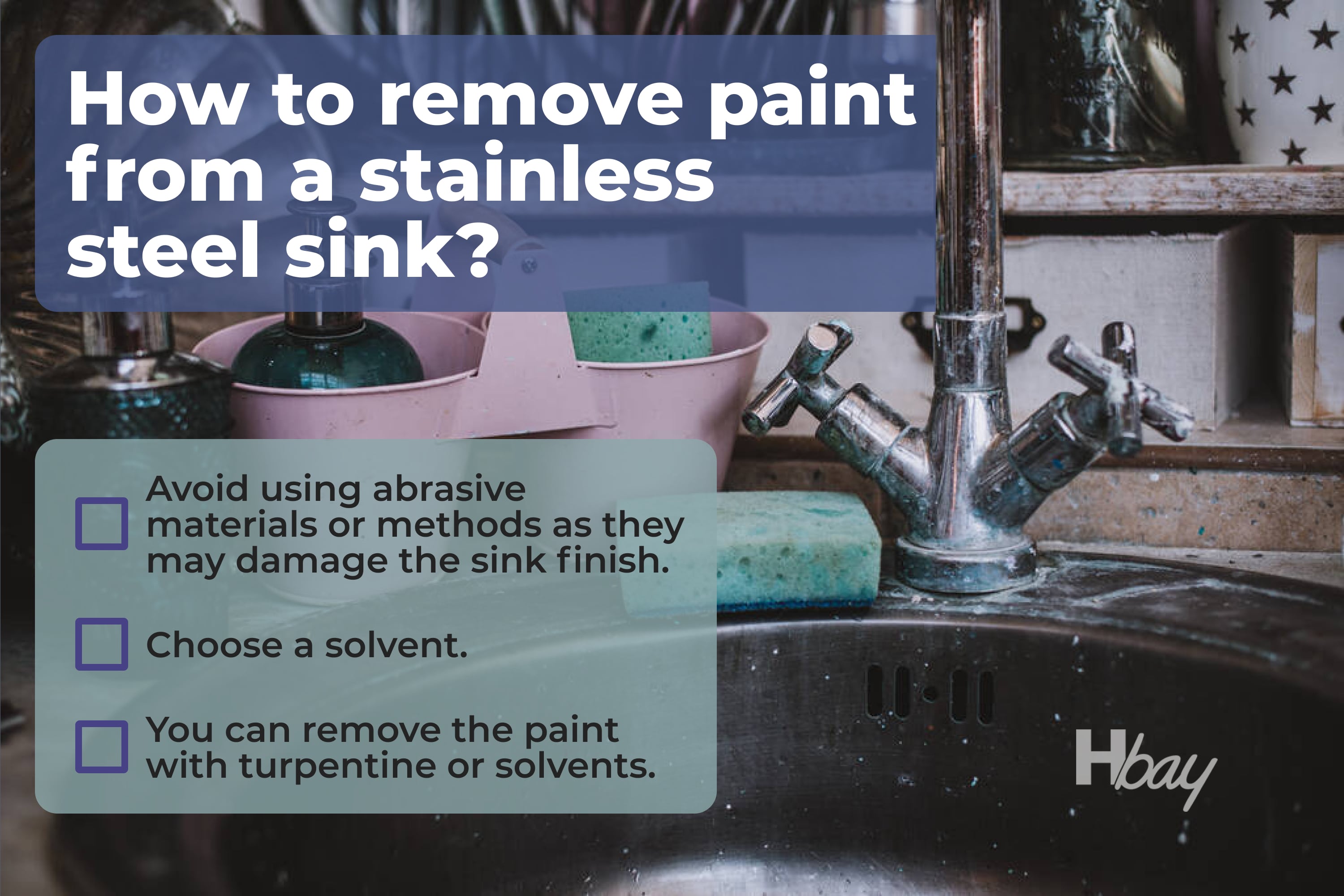 Avoid using abrasive materials or techniques as they can harm the finish of the sink
Instead, opt for a solvent, but test it prior to applying it to the sink!
You can remove paint with turpentine or pain thinners according to the instructions on the bottle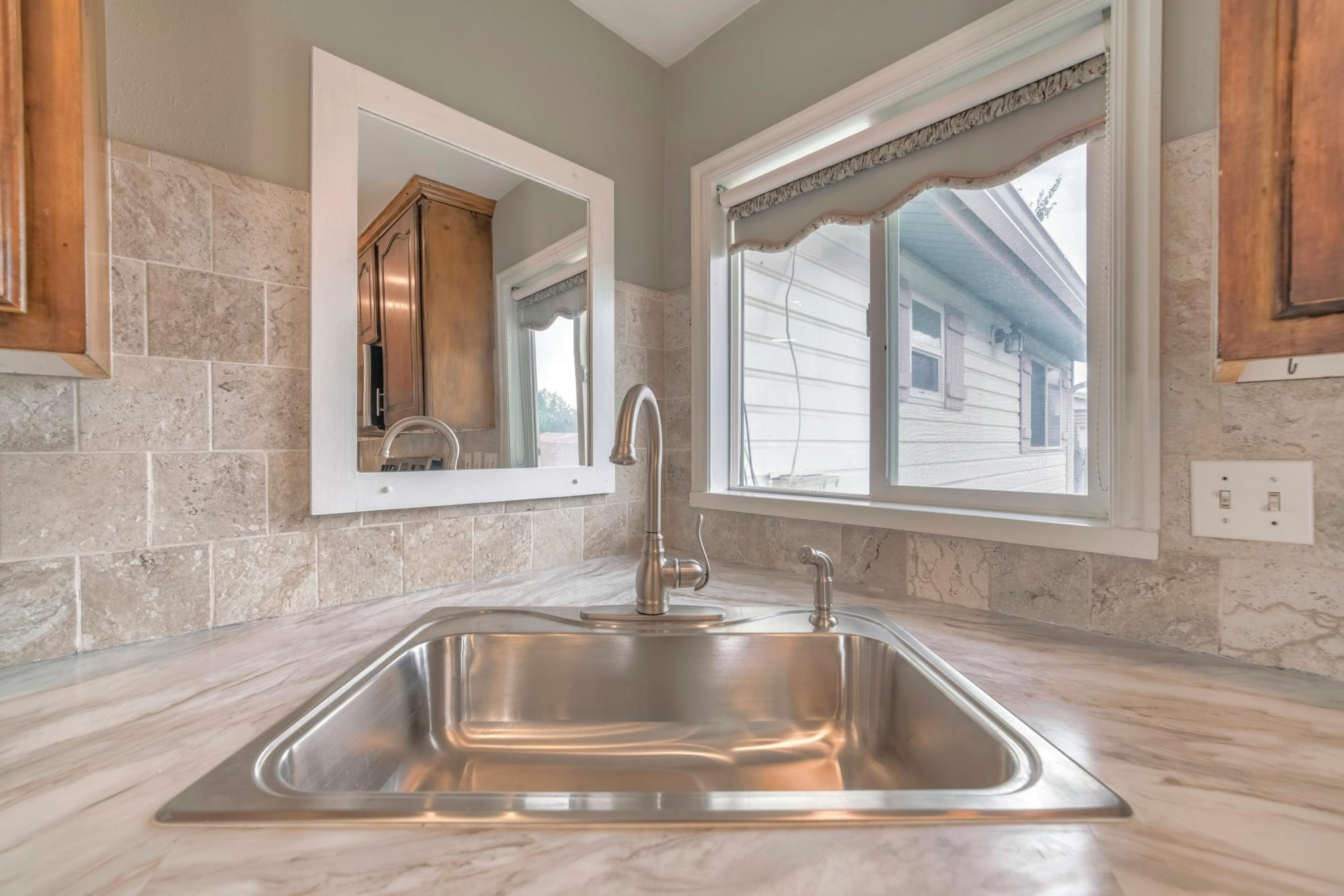 How Do You Remove Paint From a Porcelain Sink?
If you accidentally stained your porcelain sink with paint, this is what you should do. You will need some denatured alcohol and a clean sponge or a cotton cloth.
Soak the sponge or a cotton cloth with denatured alcohol
Rub it over the paint rigorously
Keep rubbing until you see the stain starts to fade
Proceed with rubbing in the same direction for a while until the paint is completely gone
Now you know way more about painting kitchen sinks! You learned that sinks can be painted and also, we told you what kitchen sink materials will be able to accept paint properly. Moreover, you have learned several useful life hacks regarding the painting procedure.
With their help, you will be able to avoid the most common mistakes and end up with a smoothly painted sink that will serve you for quite a long time!
Frequently Asked Questions
⭐What can I apply paint to the sink with?
You can apply the paint with the brush. If you are spraying the paint, ensure that you follow the procedure as provided in the instructions.
⭐How often do I have to repaint my sink?
It depends on how often the sink is used and how old it is right now. But anyway, annual repainting is surely not needed!
⭐Is it safe to paint the sink?
Yes, it's safe if you're wearing gloves and a face mask while painting to not inhale the paint fumes.