Paintball is getting a more and more popular sport all over the globe and continues to grow every year. People enjoy this extreme way of having fun since it gives them an opportunity to spend time together with friends or family in an active way.
And since this hobby grows more and more popular, you will most likely be excited to get out there and start paintballing!
But to do that, several things should be taken into consideration, and it's not only about the rules of the game. You should also learn how to clean a paintball gun correctly.
Like this, you will ensure the best possible results when you are on the field, plus, using a clean gun is much safer!
This is why we suggest you read on for an easy, informative guide on how to clean a paintball gun. It will help you to enjoy the game and be sure that there will be no accidents that might come with improperly cleaned or malfunctioning equipment.
How Do You Clean a Paintball Gun?
Since a paintball gun is a potentially harmful thing that can hurt you if it is treated wrong, before you proceed with cleaning it, make sure that you do the following:
Have your area set up
Have your paintball gun de-gassed
All batteries should be removed
Now you are ready to begin cleaning! Note that the cleaning process will be done in several small steps, so you should not expect to spend like ten minutes on that. So make sure you stay concentrated on the cleaning procedure and organized as you go to keep everything as simple as possible.
Also, there is one thing that is important to note: all paintball guns are different! Respectively, yours might require a somewhat different cleaning approach. This is why we recommend you consult your manufacturer's model to see the specifics of how to clean your paintball marker.
It will help you to avoid any accidents and injuries. Below, you can find a list of general tips and areas of focus, but the exact details and cleaning guide will depend on your exact paintball marker.
How to clean paintballs – BKI Dirty Paint Trick from Dynasty
How to Clean a Paintball Gun Barrel?
One of the first (and easiest) steps is to clean your paintball gun barrel. For this, you may want to keep a second squeegee nearby in case there is too much for one to clean. This will prevent you from having to stop and go rinse your squeegee in the middle of the process.
If your barrel is removable (most are simply unscrewed and removed), then cleaning will be much easier.
Simply unscrew the barrel and run your squeegee or paintball barrel swab through the interior, pulling it through. You will want to take several passes and use some sort of cleaner, but even water works well for this purpose!
One of the most important steps is to make sure that you let the barrel dry thoroughly when you are done cleaning it. At this point, it is a good idea to dry it yourself instead of blow-drying it or letting it air dry.
See, if you let it air dry or even use a blow dryer, you may get water drops deeper into it!
However, leaving the water in the tube can lead to rust and corrosion, which means that you will have to purchase a replacement barrel or marker much sooner than you expected.
It is also important to note that gunk will build up in the barrel of your paintball marker, especially if you use the gun frequently enough.
This is why make sure you clean it out thoroughly. Removing the debris and gunk will increase accuracy as well as lengthen the life of your barrel.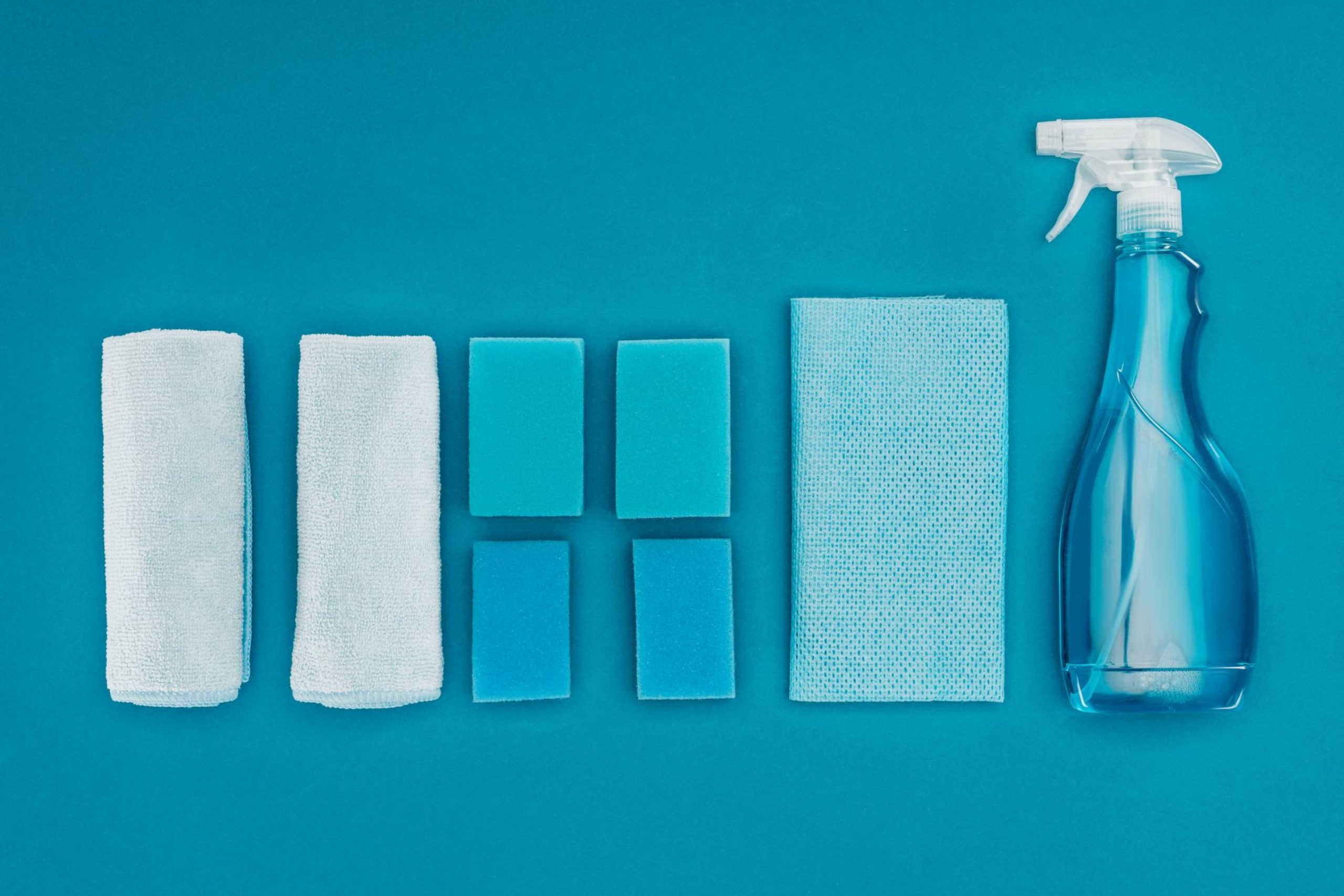 Cleaning the Body of a Paintball Marker
For this particular step, you might want to have the tools needed to clean small areas. One important detail is to make sure whatever tool you are using isn't being forced into the nooks and crannies that you will be scouring of grime.
This is why you might find it useful to opt for a good old toothbrush you laid out earlier or your barrel swab.
At this point, note an important thing: if you use cotton swabs (or any sort of towel), make sure you aren't leaving small fibers behind!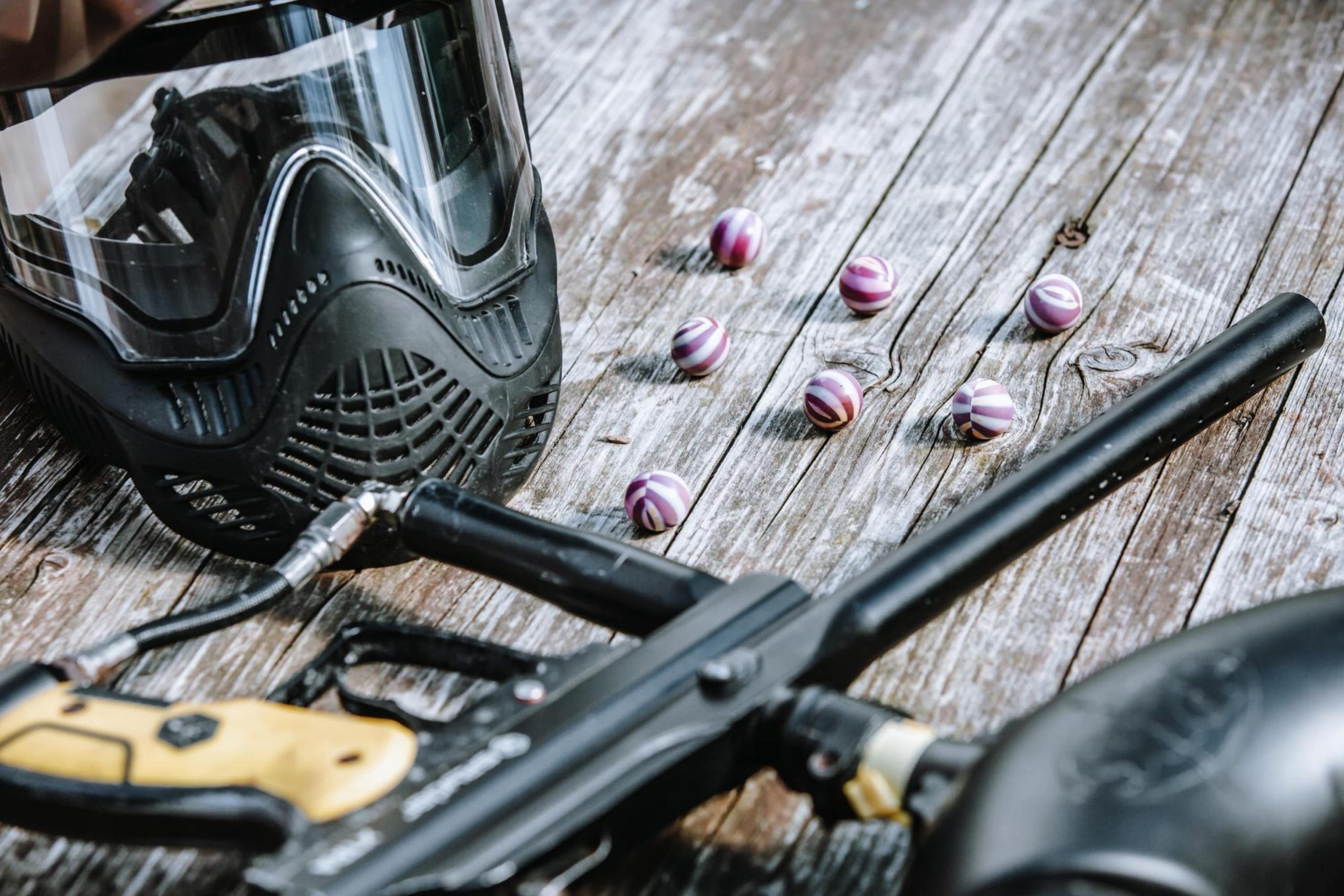 Hopper and Magazine Maintenance
Barrels will usually be cleaned similarly across all guns. However, we can't say the same about the paintball hopper, or loader.
Now, some of you may wonder what a loader is. Well, for those of you who aren't familiar with the term, the hopper is the large, usually oblong oval-shaped reservoir that feeds paintballs into the marker.
The hopper, thank God, usually won't get too dirty unless you have had some sort of malfunction that caused a ball to rupture inside.
Still, you will want to do a decent part of maintenance all the same. Make sure the reservoir is cleaned well, and move to the mechanical part.
Disassemble the hopper with a screwdriver
Carefully pull apart the magazine
Clean the grooves with a microfiber cloth
Make sure the string of the spooler isn't worn down or malfunctioning
Once done, piece the magazine back together and reassemble
Bolt, Hammer, and Grip
The bolt and hammer will need to be removed and cleaned with a wet cloth. This is also the right time to get working on your grip frame since it usually receives a great amount of paint spatter.
For cleaning it, make use of a regular toothbrush and a cup of warm water to scour away the paint that you might find there. Still, be thorough and ensure you're letting the piece dry properly.
And one more useful tip for you: do not disassemble the grip frame.
This area houses many tiny parts that are extremely difficult to put back together. Let a professional handle the cleaning if you need to open this part, as the high volume of extremely small parts can quickly overwhelm even veteran paintballers, let alone a paintball beginner.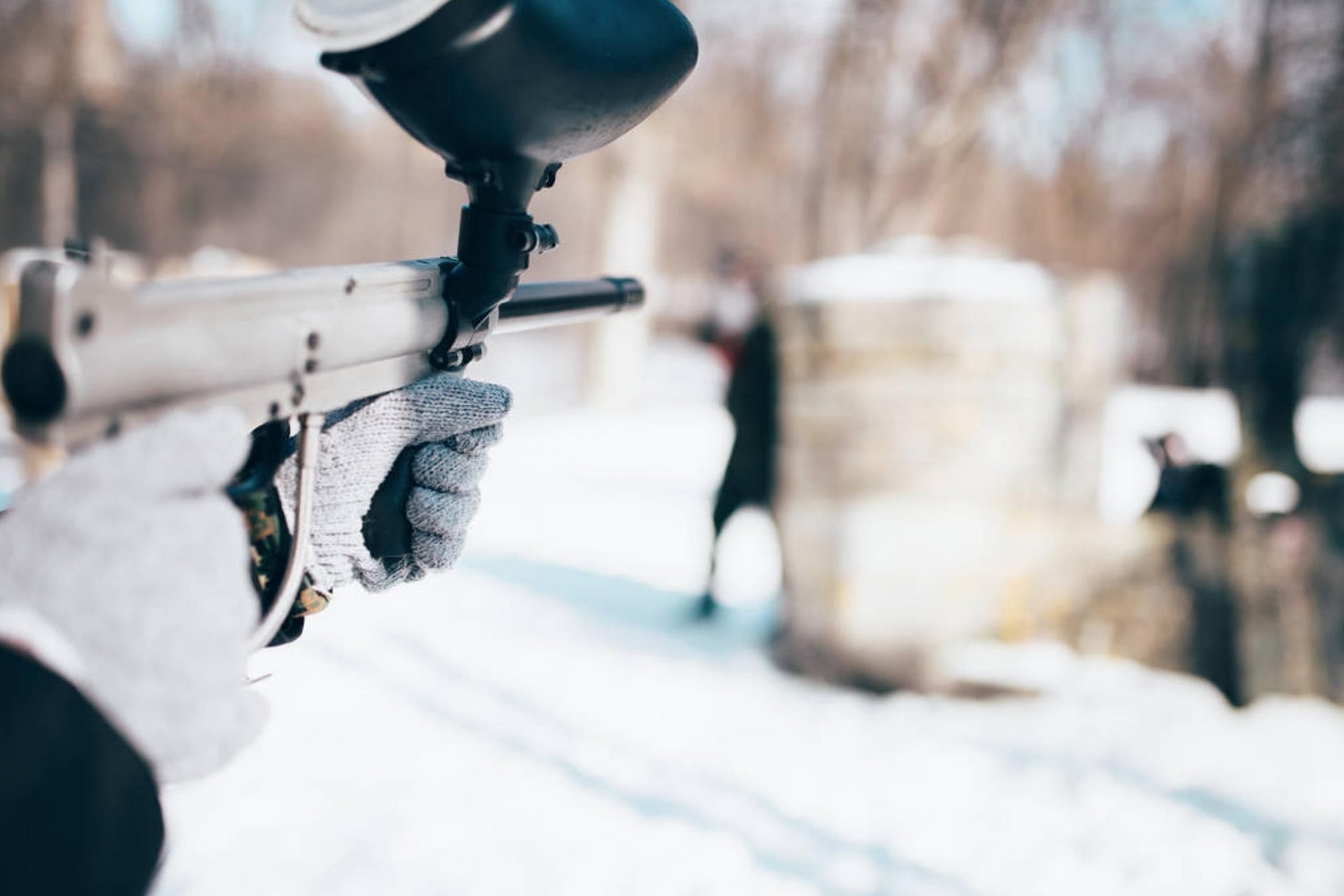 Time to Clean, Sterilize and Lubricate
If you have followed this cleaning guide step by step according to the instructions given above, now you are nearly done cleaning your paintball marker! At this part of the cleaning routine, it should be sanitized and lubricated.
Sterilization is an important step to take since it allows to keep unwanted substances from growing on your gun. In addition, for proper cleaning, you will want to ensure that you lubricate all the smaller pieces of your weapon.
It is vital that you make sure you don't go overboard with the lubricant during this step though! Not only is this messy and wasteful, but much of the oil and grease can end up in parts of the gun they shouldn't be in.
How to Clean Your Paintball Equipment- Cleaning Options for Pods & Barrels
It is strongly suggested that you use the lubricant recommended by the manufacturer that made your marker. They typically have a type of lubricant they prefer, so make sure you follow their recommendations.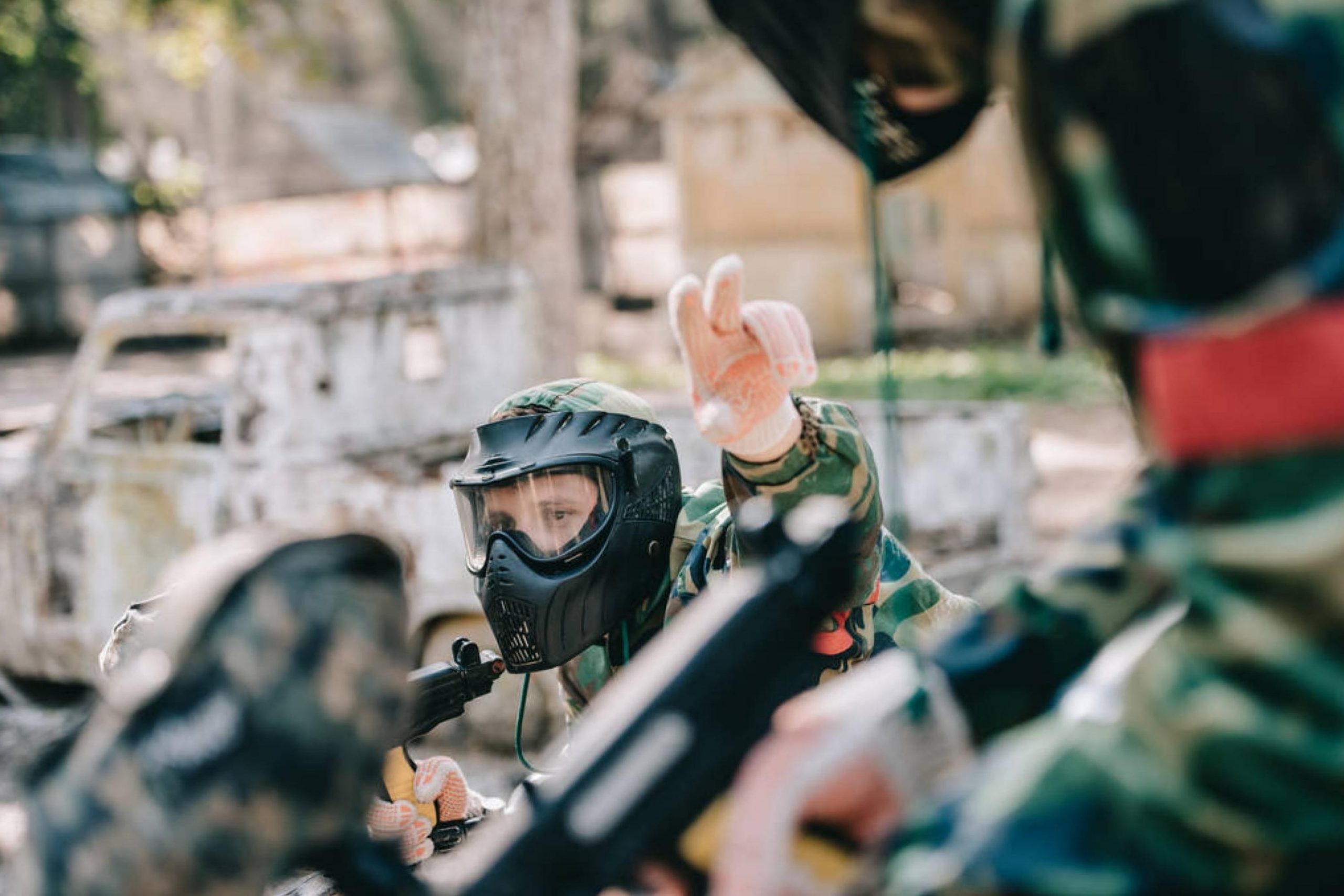 Gas Back Up
At the start of this process, you de-gassed your gun. Now is an excellent time to go ahead and gas it back up. Ensure that you're using the proper filling technique and paying attention to the gauge on your marker's tank. CO2 can be especially tricky, as you need to make sure that the gas isn't entering as liquid form.
Point the barrel upwards and away from anyone or anything and take your time. After you are done, you can pull the gun back together.
As you can see, cleaning your paintball gun is not a process that can be finished in a couple of minutes.
Nevertheless, we strongly recommend you go through each step of the cleaning procedure without skipping any of them! Like this, you will be sure that the weapon is properly cleaned and presents no danger to the player.
So it is better to spend a bit more time on a thorough cleaning now than wasting more on fixing a malfunctioning paintball gun afterward.
What Do You Need For Cleaning a Paintball Gun?
Since a paintball gun cleaning procedure is quite complicated and requires many small steps, people tend to believe that it also requires some special tools or cleaning products. However, cleaning a paintball gun is much easier than you may think!
The first things that you might want to get is a paintball gun cleaning kit. This stuff is easy to get in most sporting stores and will usually include a squeegee and swab
You will also want to keep some paintball gun oil at hand so that it can be used when needed. Note that some brands refer to it as "paintball grease", so don't worry if you can't find the exact term!
A general toolkit is also a good thing to have with you since you will need a variety of small screwdrivers for doing some disassembly with a thorough cleaning.
Bring a small bristled brush such as a toothbrush for scrubbing as well
Also, if you are going to clean your paintball gun for the first time in your life, you may find it useful to bring your phone or a camera with you. It will help you take before and after pictures that will be helpful for reassembly.
Otherwise, chances are high that you can be confused when cleaning your paintball gun for the first few times.
Now you know some general rules regarding a paintball gun cleaning. Since this procedure is generally the same for the majority of guns, you can use these recommendations to be able to imagine the whole cleaning scheme.
However, we would still recommend you double-check with your paintball gun's manufacturer for any specifics of the cleaning routine! Some manufacturers may require the use of certain cleaning products, for example, whilst others may insist on using a specific cleaning method.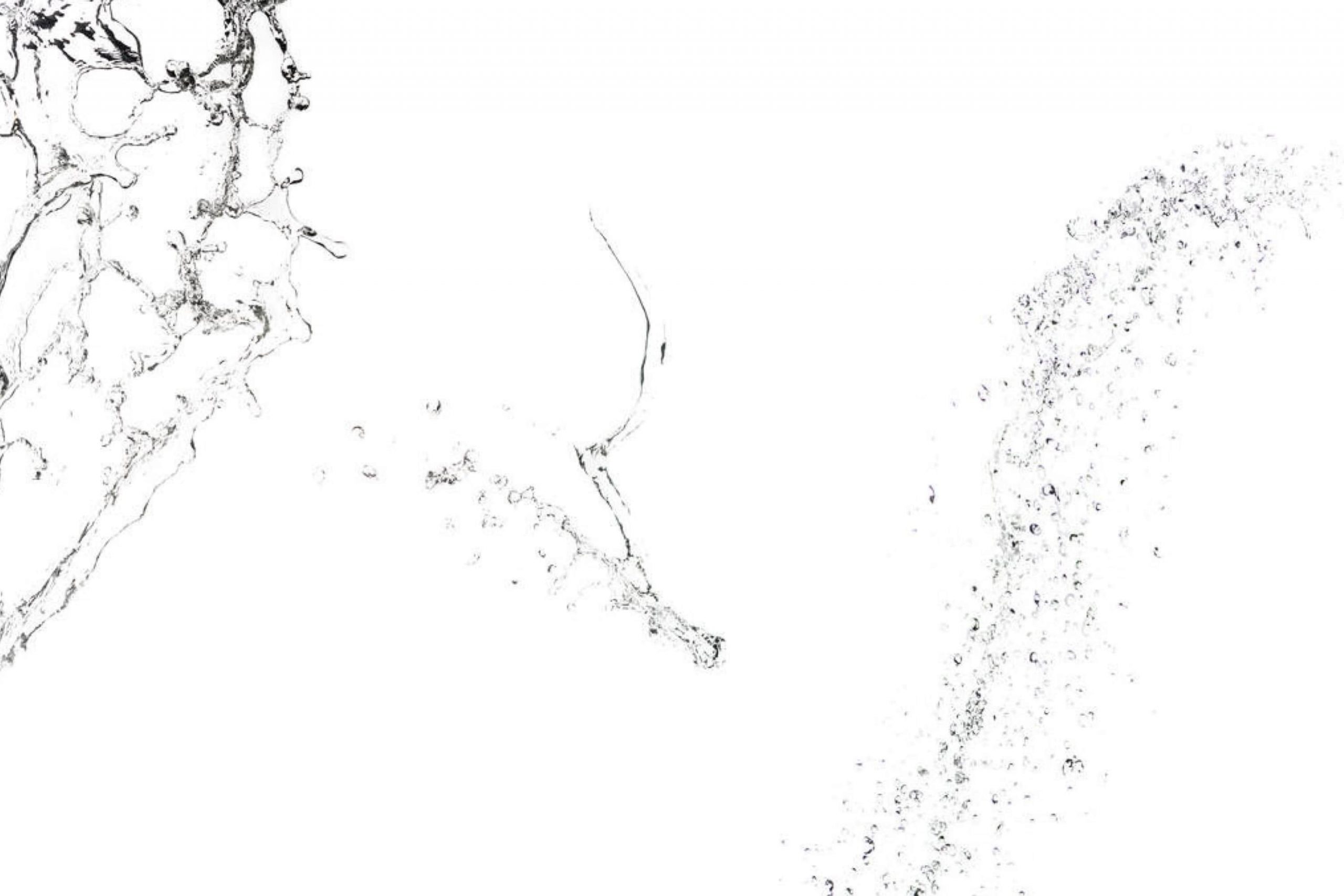 Frequently Asked Questions
⭐Is it possible to clean a paintball gun yourself?
Yes, it's possible even if you've never done this before. Just make sure you follow the instructions precisely.
⭐Do painball guns come with some sort of cleaning manual?
Typically, the manufacturer has specific recommendations for their gun models. You can check them out at their website or in a store.
⭐Is a painball gun considered a weapon?
No, if you mean whether you need a lisence for using it. However, it can still be dangerous, especially if malfunctioning!