Maintaining your car means not only keeping it in a good technical state. Of course, the engine must work properly, and all the systems in a vehicle must operate according to the standard. Your car is supposed to function effectively and be well maintained from tires to the smallest screw in its insides!
However, you should also pay attention to the exterior of your car! The paintwork and aesthetics of your motor should always be kept in great shape.
By the way, many car owners believe that your automobile is a reflection of you and your personality. That is why you don't want to drive around in a beat-up car with chipped paint and rust showing through.
And one of the parts of your car that requires proper maintenance throughout its whole lifespan is the rims. For those who are not much aware of the car's anatomy, rims are the outer edges of the car wheels which hold the tires.
And since wheels undergo the most active use, over time, the rims can become worn and their colors can fade, having a negative impact on your car's overall appearance.
So naturally, every car owner tries to repaint his or her car rims regularly. It helps to not only enhance your vehicle but also to increase the motor's value! However, one of the most frequent questions that car owners tend to ask when it comes to rims repainting is the next one: how much does it cost to paint your car rims?
In this article that we have prepared for you, you will learn how much it costs to paint the rims of your car, and also, you will find out how much the price differs depending on where the rims are going to be painted.
You will compare how much it costs if being done by yourself, and also how much money you will have to pay for your rims being professionally painted. And of course, we have prepared a few more handy tips and life hacks for you on this subject!
How Much Does It Cost to Paint Car Rims?
If you want to know the car rims painting cost, you should first take a few factors into consideration. That's because all of them will influence the final price you have to pay for the rims being repainted. There are a range of variables to take into account when looking to paint rims.
One factor that can greatly affect your wheel's rims is brake dust.
See, over time, the brakes of your car will form a coating of dust. That coating tends to mark the rims leaving them looking dull and dirty. And of course, if you have driven off-road once in a while in your car, this could also leave the rims dirty and make them become worn over time too!
So, to enhance your rims, there are two main options; paint the surface area or purchase new rims.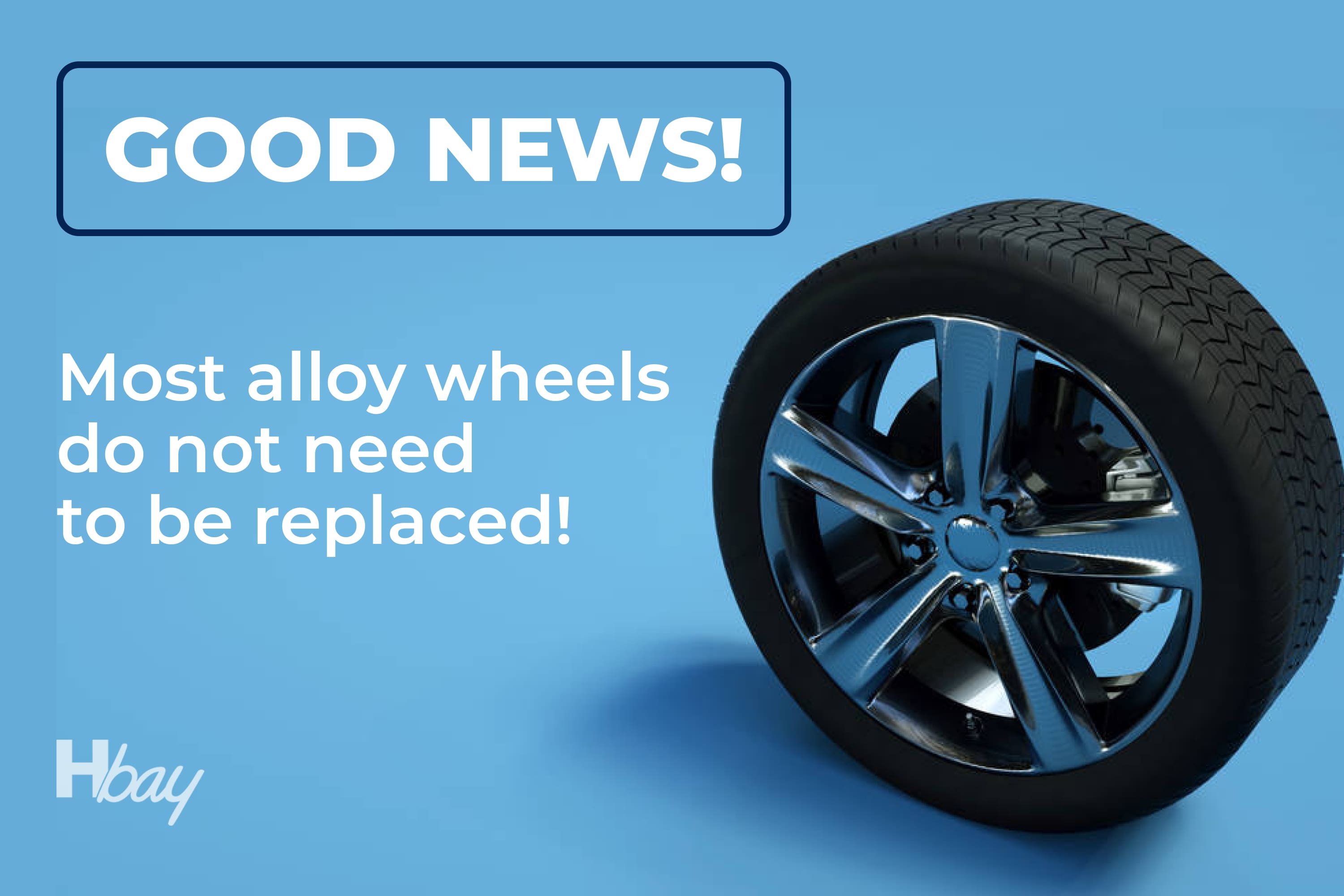 The good news is that most alloy wheels don't need to be replaced! This is a good piece of news for your bank account as those rims can be quite expensive.
Even cheaper models can be rescued with some paintwork and regular maintenance.
So, another and way cheaper option is to simply repaint the rims. But to do this, you need to decide which way you are going to take.
See, you can either paint your car rims yourself (which is technically cheaper), or you can hire professionals to do this for you (which is a pricier option, of course). And below we will explain what makes these two alternative options distinct.
How Much Does It Cost to Get Rims Painted If You Do It Yourself?
So if you are up to a DIY rims-painting project and you feel confident enough to do it without any help, you still need to calculate the approximate price you will have to pay.
First of all, you need to think about the supplies that will be used for painting.
Before you begin the paint job yourself, you will need either a primer coat, basecoat, and clear coat. Other options include plasti dip or rhino liner spray.
The cost of these DIY supplies depends on various factors such as the types and quality of the paints or primers you will be using. The price is also dependent on the number of spray cans you will need.
For example, if you end up using five or six cans of spray paint (with index cards between the rims and wheels to avoid spraying the tires), you may be able to paint the rims in no time, at a little cost.
As for the approximate price of such a DIY rims painting project, it will naturally be cheaper than the same procedure done by a professional.
We would say you should expect the average cost to pay for a DIY rim paint job to be around $30 to $100.
However, this depends on the quality and quantity of the materials you are using.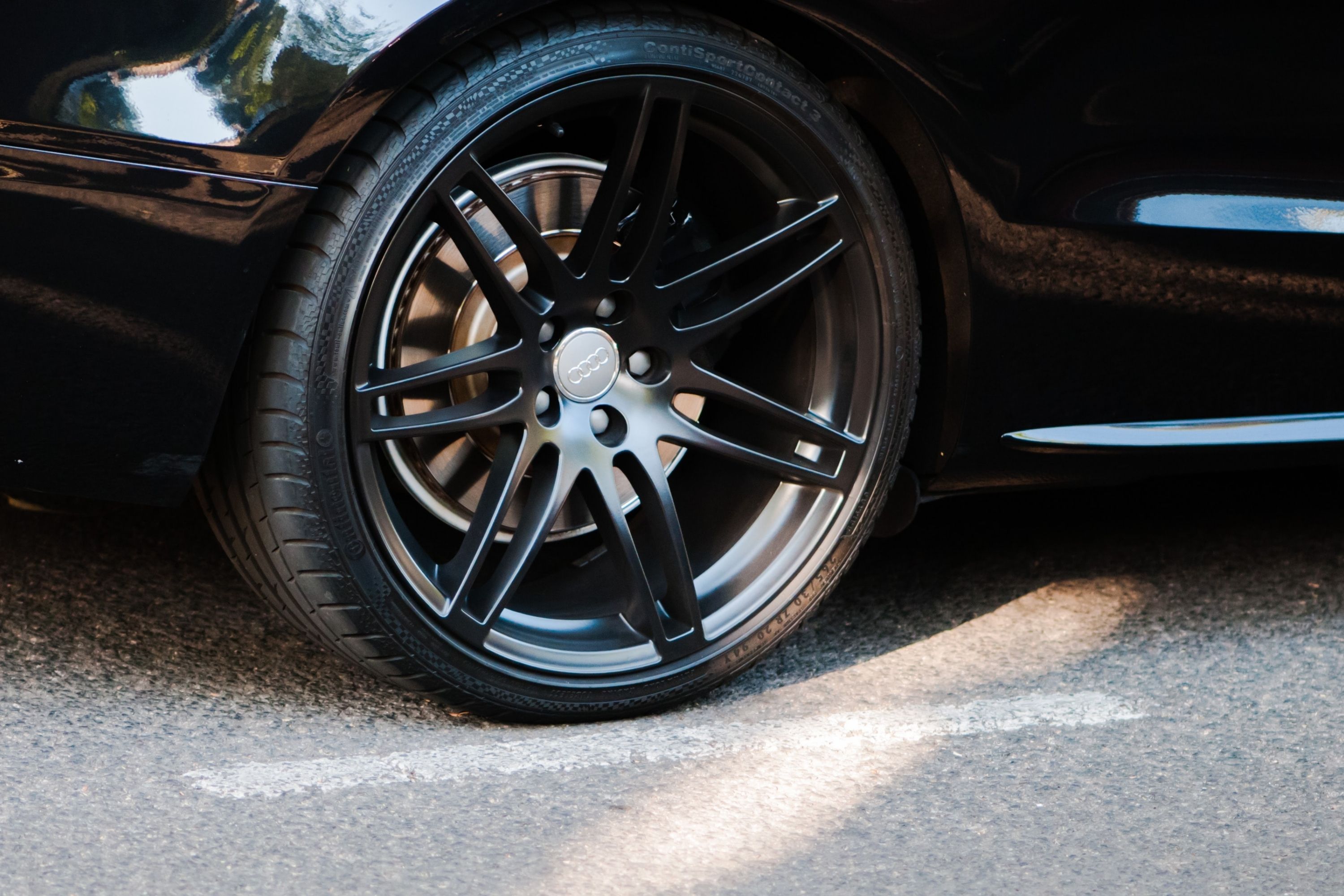 Related: How Long Does Deck Paint Take to Dry?
What Is the Price to Paint Your Rims Professionally?
Those of you who are not sure whether or not they will be able to complete the rim painting task successfully and with a proper quality of the final job can opt for another alternative method. Simply get your car rims painted professionally!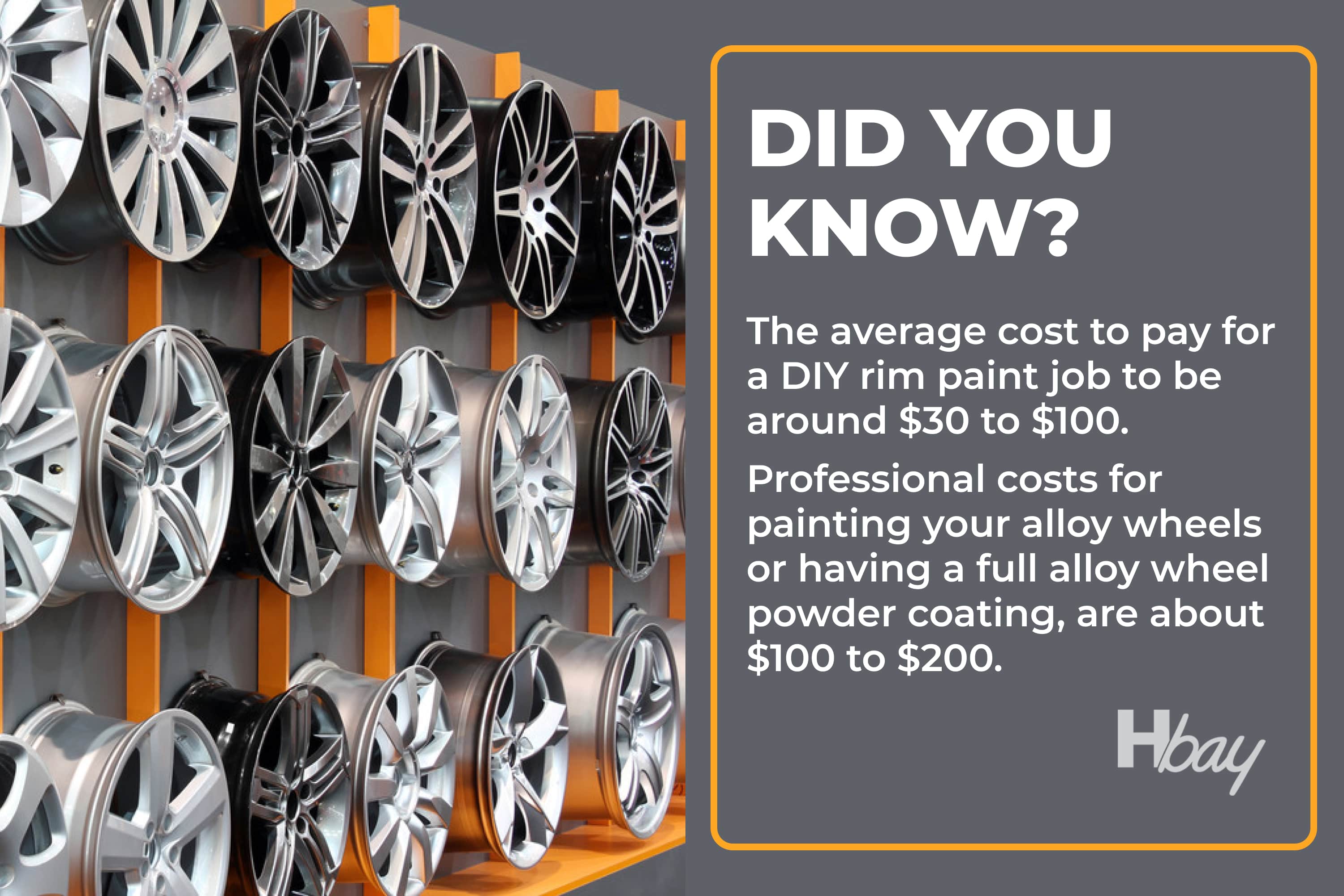 Professionals have all the equipment needed for this job in their disposal, and usually, they will do everything faster in comparison to a DIY rim painting which may take you around four hours! On the other hand, such work will cost more.
Professional costs for painting your alloy wheels or having a full alloy wheel powder coating, are about $100 to $200.
It is very recommended that you get estimates from multiple professional painters to ensure you get the fairest and best price for a top-quality paint job.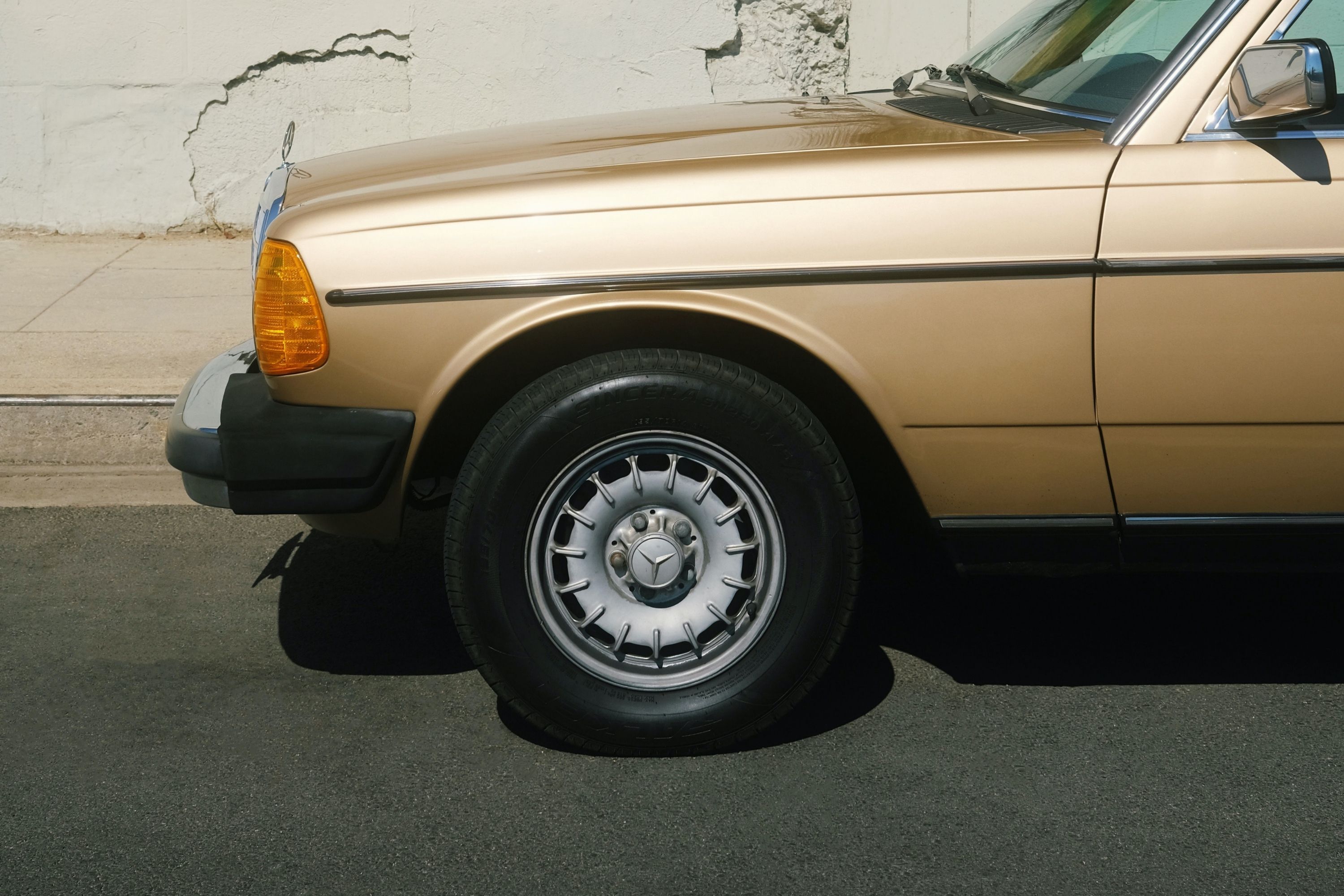 If you hire a professional company, the price can range from $130 and more per wheel. There is also the option to have your wheels repaired or painted with some car dealerships from where you bought your car. And even though this is generally included in the warranty or through insurance, this will usually include additional costs, depending on the extent of the damage.
Also, when painting rims professionally, you should take the average total cost of labor into consideration. When painting the rims yourself, you usually have to finish the task in four hours.
But when you hire professionals, the job will be done sooner, after a couple of hours.
This normally depends on whether they need to repair the wheels too as this can take somewhat longer. Nevertheless, the estimated average cost of a professional completing a full set is around 500 dollars to 1000 dollars compared to DIY costs of around 100 bucks to 200 bucks.
Like this, you are now aware of the average price that car owners pay for having their rims professionally painted, or for doing the whole job themselves.
But now, we would like to provide you with more detailed information on the subject so that you could better understand how to calculate the final price for the car rims painting work.
How Much Does Powder Coating Rims Cost? 2020 Charger Daytona Hellcat!
Related: How Long Does Deck Paint Take to Dry?
How Much Does It Cost to Paint Your Car Rims Per Square Foot?
This is quite a cheap method of getting a great and professional paint job on your wheels – by painting per square foot. Like this, your wheels will look great and usually, this kind of painting work has longer-lasting results.
And as any rims painting, painting per square foot can be done either on your own, or with the help of professionals. Of course, the prices will vary depending on who is doing the whole job.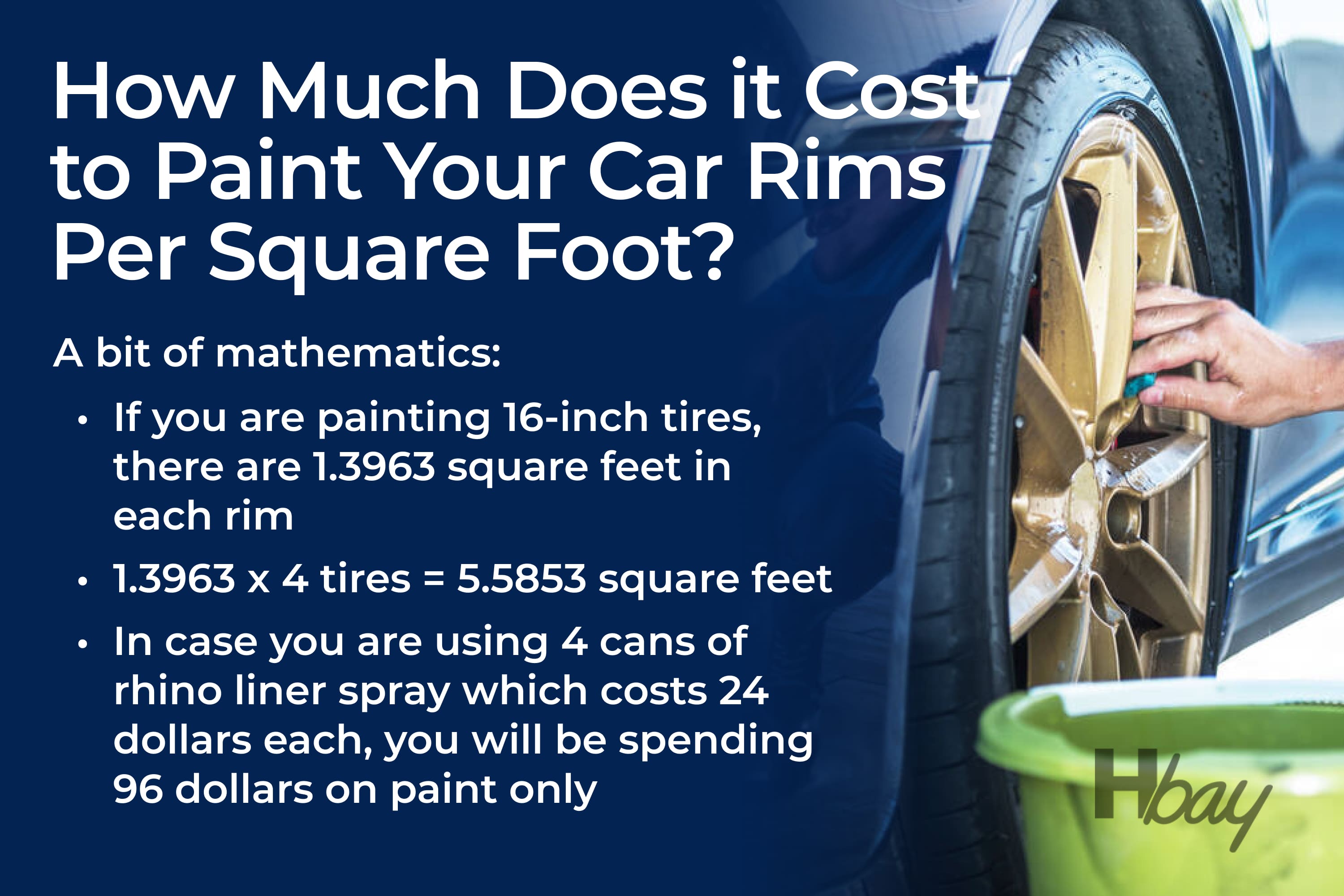 Here is how to figure out the average cost if you decide to paint the rims per square foot yourself (a bit of mathematics for you!):
If you are painting 16-inch tires, there are 1.3963 square feet in each rim
1.3963 x 4 tires = 5.5853 square feet
In case you are using four cans of rhino liner spray which costs 24 dollars each, you will be spending 96 dollars on paint only
$96 / 5.5852 square feet = $17.18 per square foot
In case you decide to get your rims painted professionally, you will have to make some other calculations. Save this scheme if you find painting your car rims a way too tricky task for yourself.
If each wheel costs 140 dollars each, you would be paying 560 dollars
560 dollars/5.5852 = 100.26 dollars per square foot
So just as we have already told you above, painting car rims yourself is significantly cheaper even though it will take you more time and effort (and, well, some skill and knowledge about the process).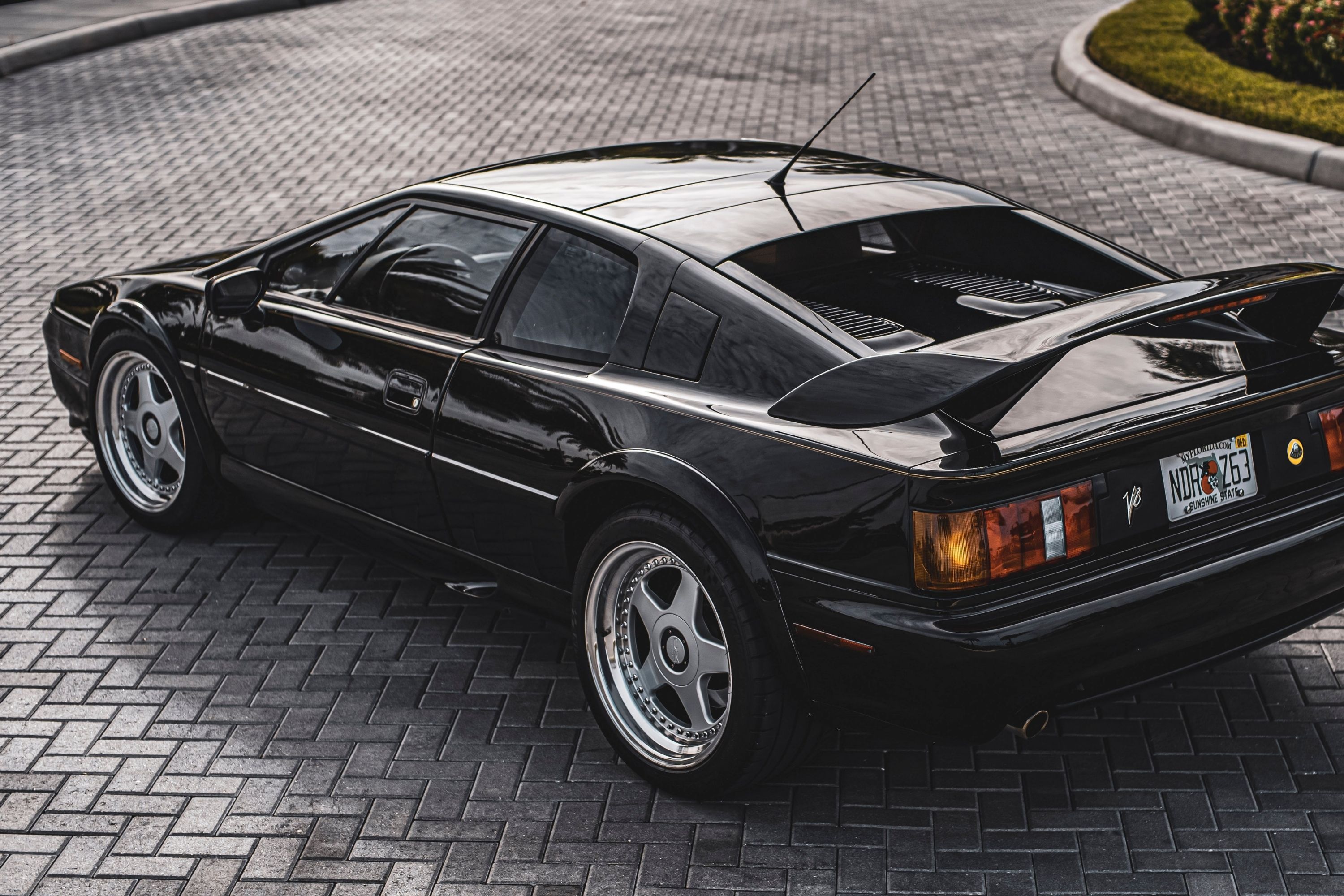 How to Save Money When Painting Rims?
Well, basically, the easiest way to bring down the cost of a rim painting job is to do it yourself! Of course, you might think it is too difficult, especially if you have never done anything like that by yourself, but in fact, with a few easy tips in your pocket, you will successfully undergo this "challenge"!
As we have already mentioned above, painting your car rims yourself is much cheaper than if this is done by professionals.
And since there are plenty of tutorials on YouTube and on the Internet, finding a proper guide will not be a problem for you.
By the way, you can easily buy all the supplies and have them shipped to your home in a little time so you can get sparkling new rims in no time!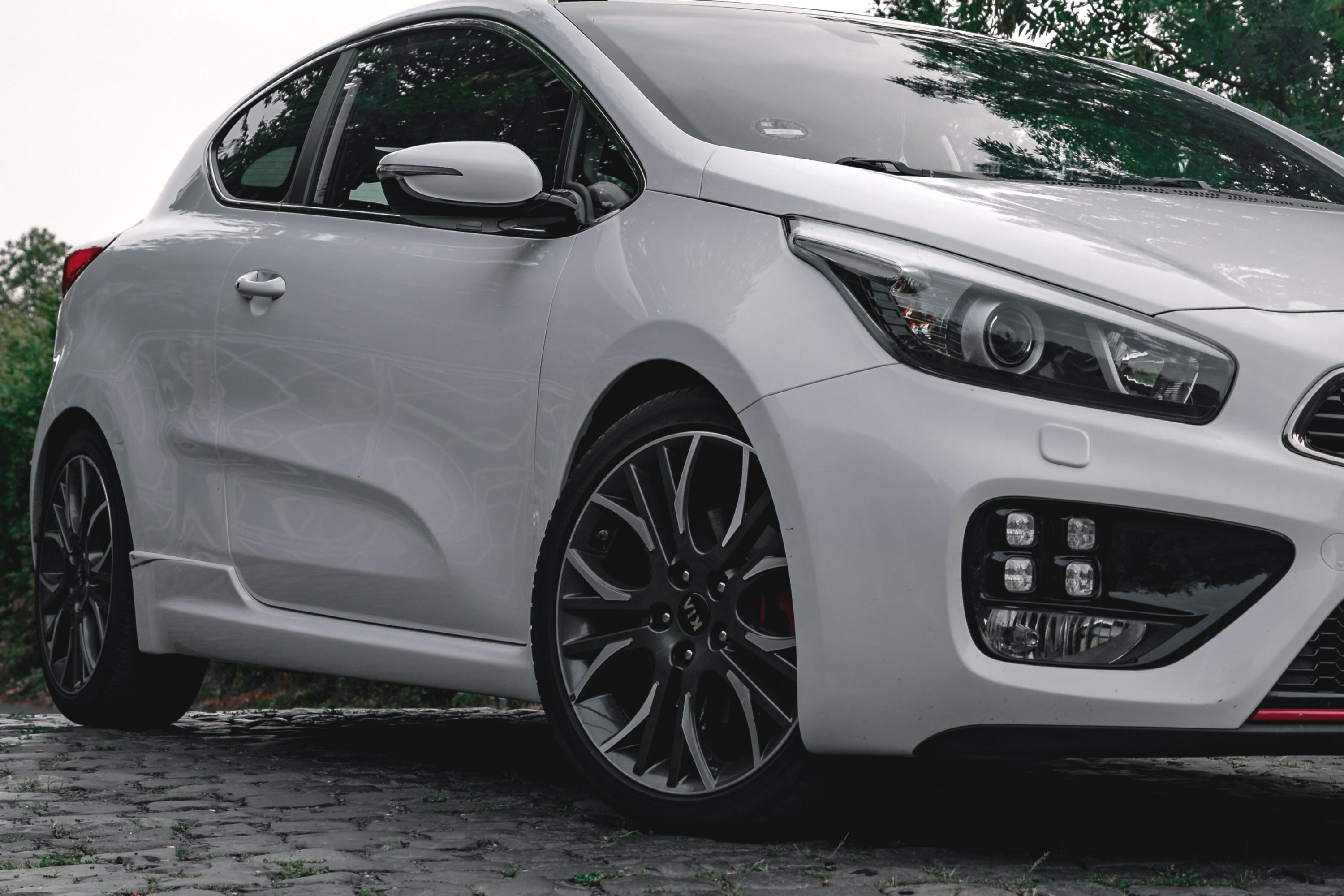 The type and the color of the paint that you use can determine the number of coats you will need to apply. Once the paint has dried, you should be able to judge whether the wheel needs another coat or not.
As for the painting procedure itself, it is pretty simple to complete. Just make sure you follow all the steps precisely one by one:
Power wash the rims. You may need to demount the tire but this isn't usually necessary.
Brush off dirt and debris. You may also need to sand it off if it is stubborn.
With chrome wheels, you can use a spinning wire brush attached to a drill to prepare them for being painted. For alloy wheels, use a plastic-bristled brush scrubber or 80-grit to 220-grit sandpaper for older wheels to get the surface smooth.
Using tape, paper, index cards, or playing cards, cover up the tire to avoid overspray.
Apply the paint by beginning to fill the cracks that are usually harder to reach before covering the rest of the exposed areas.
This is it! Now you are done! And your car now has shining and brand new rims!
So, ladies and gentlemen, you are now informed about the total average prices of car rims repainting jobs.
We told you what prices you should expect when doing the whole job by yourself, and how different the cost will be in case you decide to hire professional rim painters.
And since you are now aware of how to calculate the average price for a square feet of painting job, you should have no problems with figuring out which automobile service will be the most beneficial for your wallet!
Finally, since we have shared a detailed instruction with you on how to paint your car rims yourself step by step, you can even do it with no help now!
Frequently Asked Questions
⭐ Does it matter what kind of paint I use to paint my rims?
Yes, since different paints cost differently.
⭐ What do I pay for when I hire professionals to paint my rims?
You pay for their labor and paint.
⭐ How long does paint on rims last?
It can last nearly forever.