If you realize that something in your home needs refreshment, the most common solution would be to repaint this thing. Be it a wall, a piece of furniture or window frames, to make the surface look like new, we mostly opt for a fresh coat of paint.
However, when it comes to paint application process, many homeowners ask themselves whether they can paint over water-based stain.
So today this is exactly what we are going to discuss. You will learn whether it is possible to apply paint over the coat of previously applied water-based stain and what nuances exist regarding this subject.
Can You Paint Directly Over Water Based Stain?
The good news is that you can certainly paint over stain! All you need to do is to choose the method that suits the type of stain on the surface best of all, as well as the kind of paint you want to use.
It is recommended that you use latex primer and paint when painting over a water-based stain. Usually, paint adheres well over water-based stain, so after preparing the surface, apply a water-based latex primer with a brush or a roller.
How to Avoid The Top 7 Mistakes Made When Using Water-based Stains | General Finishes
In order to reach the best results, you can ask your paint store to tint the primer a similar color to your top coat. Like that, you will have no color disbalance. You will simply need to apply two coats of latex paint over the primer for complete coverage. And remember: you should always wait before the first coat is completely dry (which is typically overnight) before applying a second coat!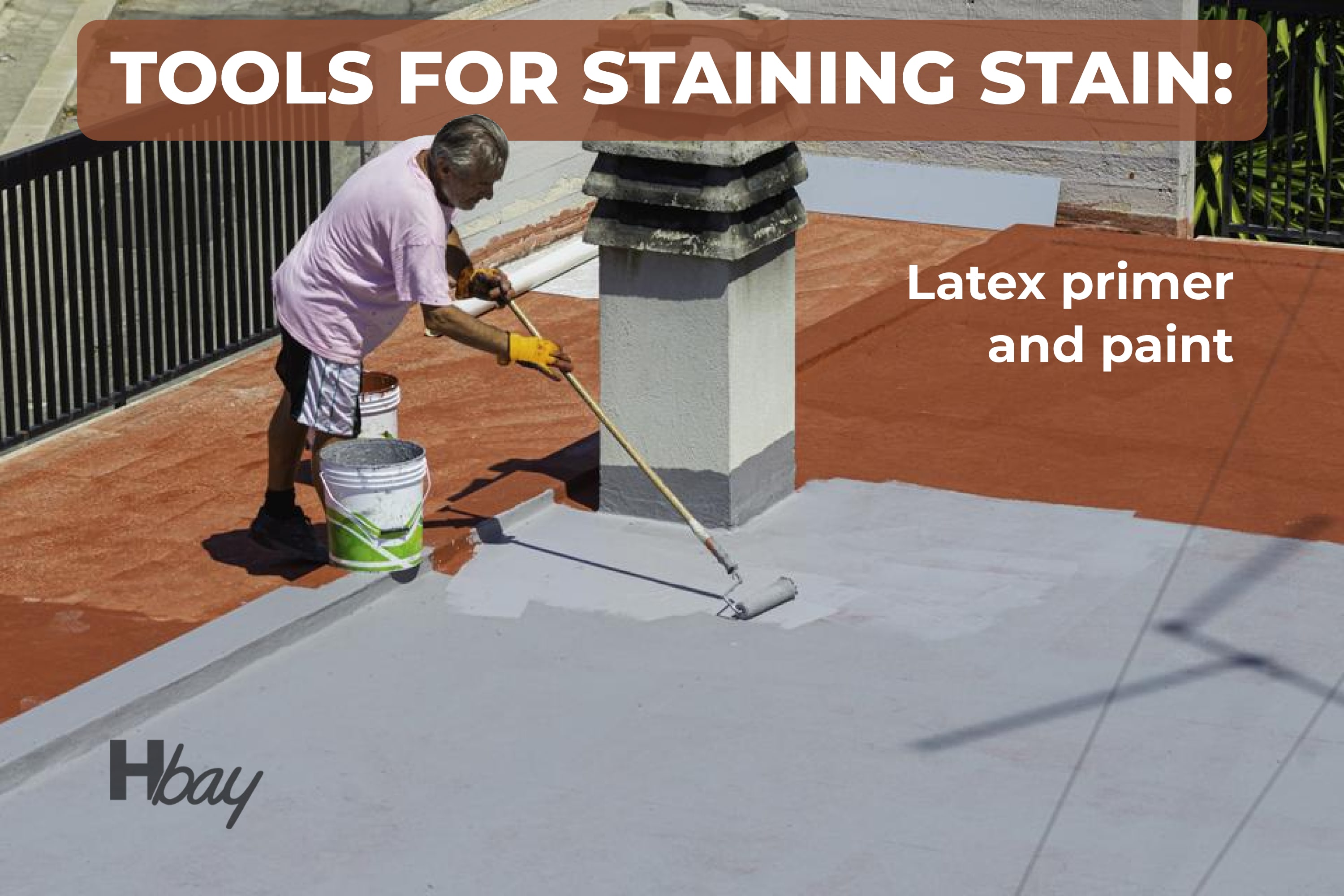 However, you should also keep in mind that proper preparation is a key to success! This is why we are going to introduce you to a few important prep tips and life hacks rthat will allow you to paint a stained surface correctly and get the desired effect.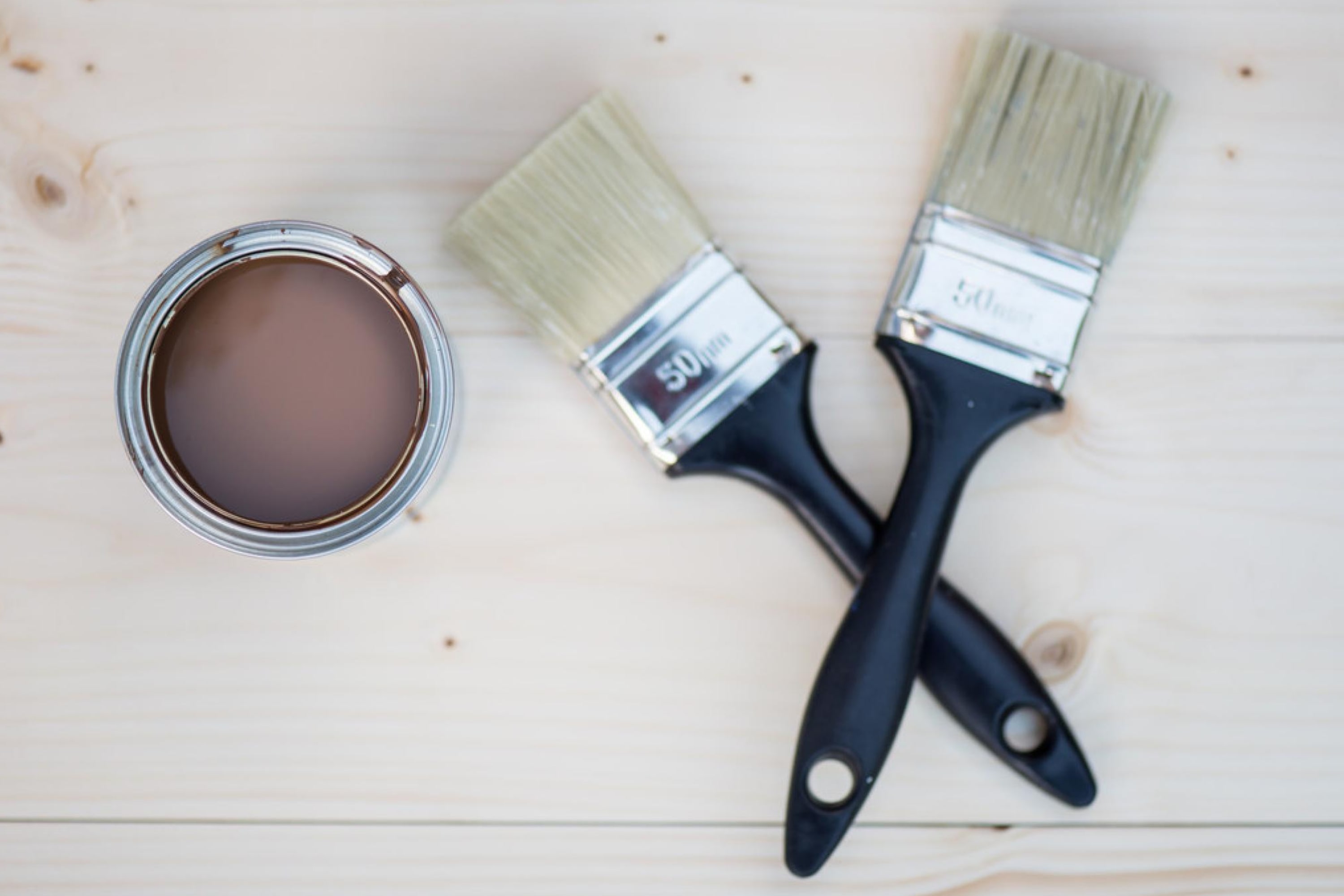 Get the Surface Ready Before You Paint Over Stain
Since most often we need to repaint a wooden surface, before you start any preparations, determine the type of wood stain that you are dealing with. The stain will typically be either oil- or water-based.
You can do it by lightly sprinkling water on a small piece of the wood surface. Then, you need to take a look at how water behaves. If the water beads up after about a minute, the stain you have is oil-based since oil repels water.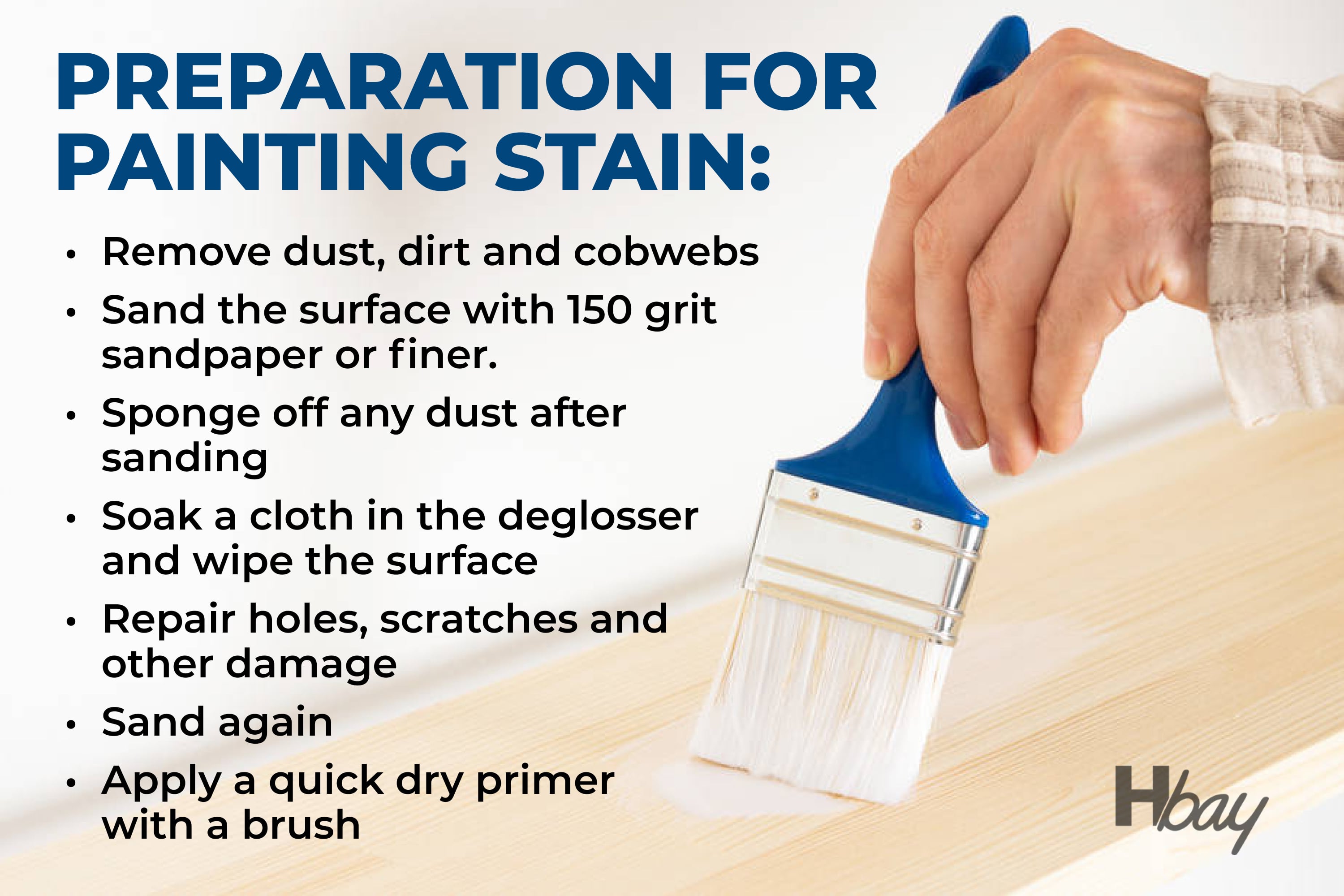 Then, follow these general preparatory steps for painting over stain:
Remove any dust, dirt, and cobwebs by cleaning the stained surface with soapy water
To make the stain duller, lightly sand the surface with 150-grit or finer sandpaper. Move it in the direction of the grain to avoid crosshatching in the final result
Sponge away any dust that might be left after your sanding process
Dip a rag into deglosser and wipe down the surface. See, deglosser contains heavy solvents that strip the finish off wood surfaces faster than manual sanding
Repair any holes, scratches, or other damage on the surface with wood filler
Sand again to smooth the surface and clean with a damp rag
Brush on a quick-dry primer to ensure that paint adheres fully to the prepared surface
Wait for an hour, and you are ready to paint!
Since this process requires the use of a deglosser, you should be awar eof an important precautionary measure! See, chemical deglossers contain volatile compounds that can be harmful to lungs and skin.
This is why you should always wear a safety mask and gloves and work in a well-ventilated space! Also, it is important that you allow the surface to dry for at least 10 minutes.
Special Prep Steps When Painting Over Oil-Based Wood Stains
Can you paint over oil-based stain? Yes, you can. But if you are going to apply paint over an oil-based stain, you will need a bit different instruction. It is possible to cover oil-based finish with either latex paint or oil-based paint, but additional surface preparation is anyway needed.
First, you need to put on safety goggles and gloves
Then, turn on a fan to circulate the air in your work area
Next, dissolve a quarter-cup of trisodium phosphate (TSP) in one gallon of warm water
Dip a soft sponge into the mixture, wring out, and wipe down the surface.
Repeat the cleaning process until all the dirt and grime is gone and let the surface air dry
Sand all rough areas and wipe clean with a damp rag
Apply a bonding primer which is a water-based formula designed to adhere to glossy and other hard-to-paint surfaces following product directions carefully
Finally, apply two coats of paint. If you are working with an indoor project, use interior paint. For outdoor projects, choose an "interior/exterior" formula, which will resist rot and extreme weather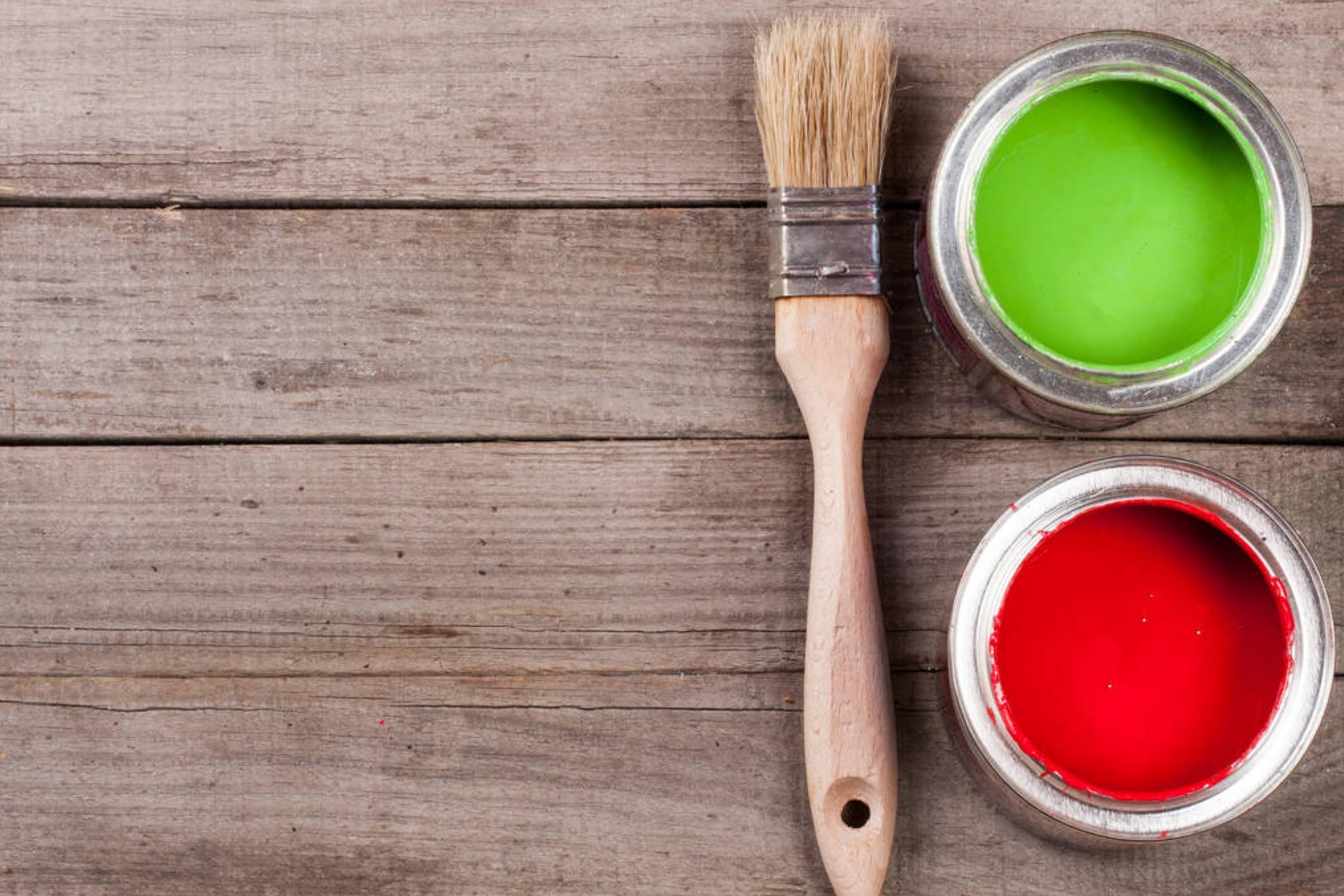 Tips For Working With a Matte Finish
If you are working with a matte finish, you will need to use chalk paint and a polyurethane top coat. Chalk paint is a water-based formula which means that it will stick to almost any surface. This feature makes it perfect for updating antiques. See, this paint creates a matte finish that can easily be distressed for a "shabby chic" feel. But before you start applying the paint you have, you need to get ready:
First of all, make a patch-test by applying the chalk paint on an spot that can't be seen and let it dry fro eight hours. If you see that the paint adheres without bleed-through, feel free to apply paint without priming. But if you notice stany reaks, it's better to prime with a bonding, stain-blocking primer.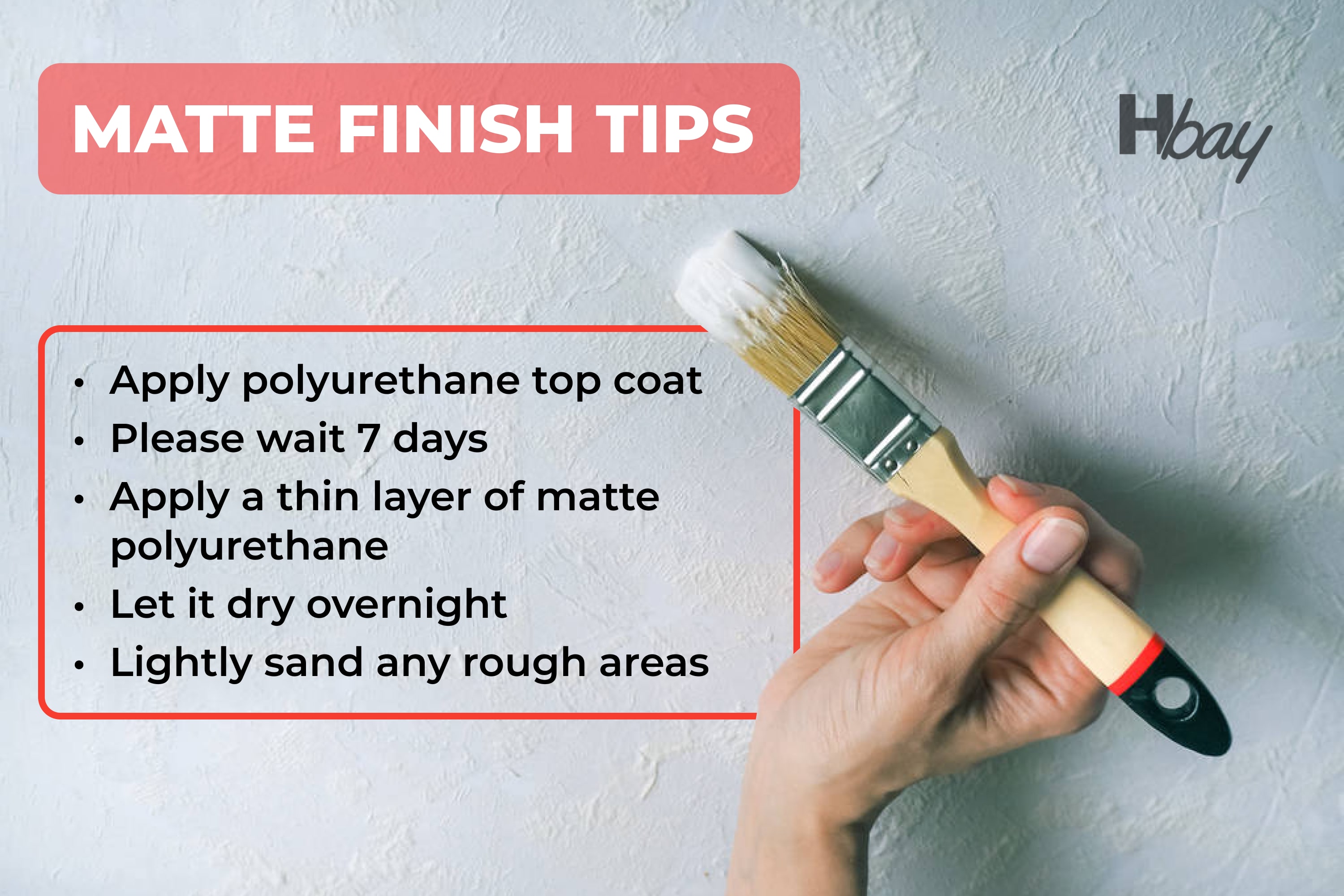 Also, it is essential to follow the basic preparatory routine of clean, sand, prime, and paint steps. Also, since you will most likely want to use two coats of paint on your object, you should wait overnight for the first coat of chalk paint to dry apply a second coat.
Here is one more life hack for you: chalky surface can scratch more easily! This is why remember to protect your paint job with a polyurethane top coat.
Apply the polyurethane top coat
Wait for seven days for the painted surface to fully cure
Apply a thin coat of matte polyurethane
Allow it to dry overnight
Lightly sand any rough areas with a 220-grit sandpaper
You can repeat the final step if necessary. For that purpose, apply a second thin polyurethane top coat and sand any rough areas the next day.
Like that, now you know that you can paint over a water-based stain. But also, you learned how to get ready for the paint application process and what distinctions the preparation procedure has depending on the type of finish you are working with. All this will help you to avoid common mistake and end up with an even and quality coverage.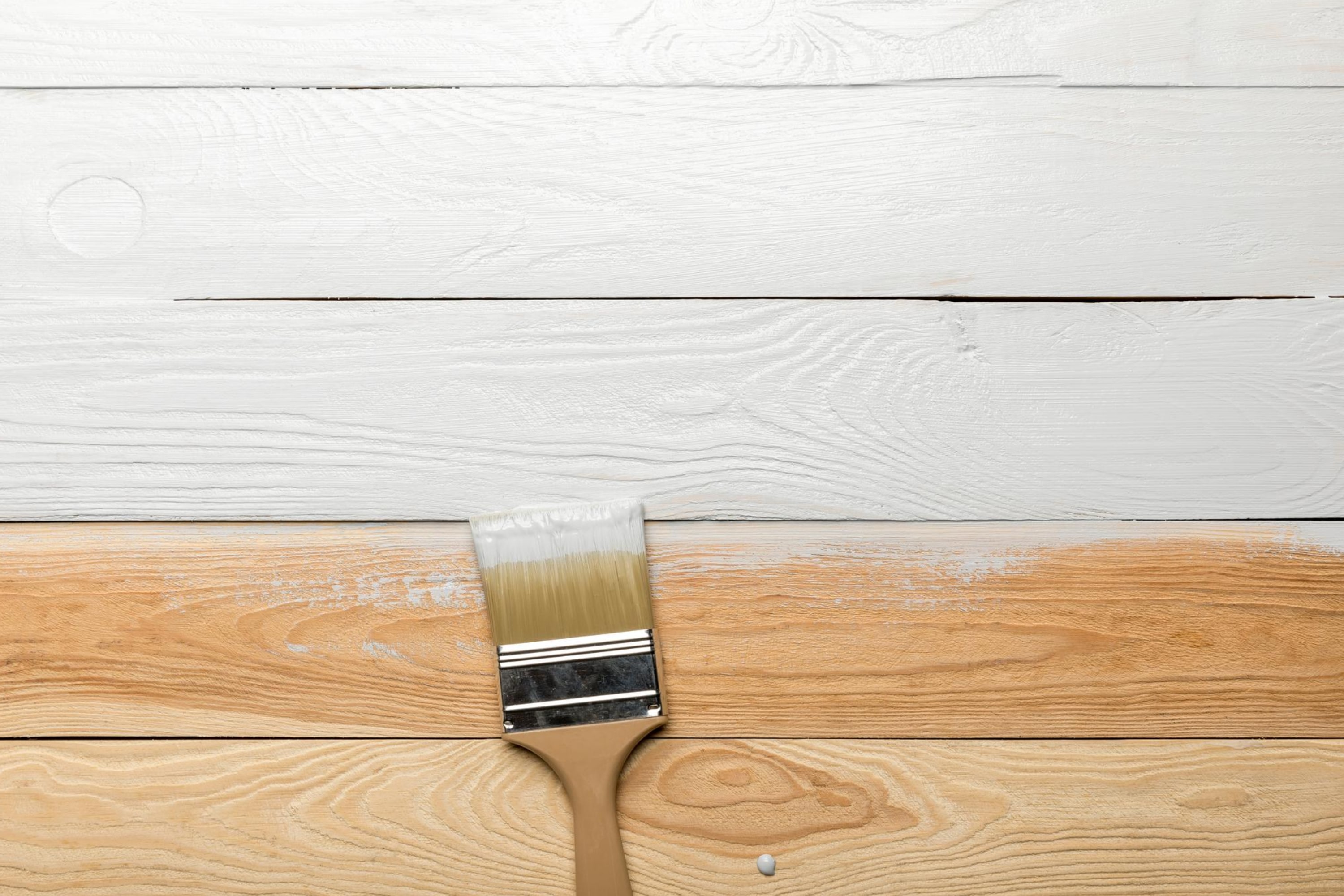 Why Would I Need to Paint Over Stain?
Staining is the best way to bring out and highlight the natural beauty of wood, but sometimes you might need to paint over it. Sometimes you might want to stain your wooden object because you have decided to change the design of one of your rooms but don't want to throw away your beloved dining room table. Or, perhaps, you want to update a bedroom but can't afford to buy brand new furniture! In this case, painting is the simplest and the most affordable option. As well as the quickest.
But you might want to paint stained wood on the exterior of your home as well! And there are plenty of reasons to do that. Sometimes you might want to refresh the look of your wooden deck that has gotten old and worn, or perhaps it is time to freshen up the fence.
No matter the reason, you need to know how to paint a stained surface correctly if you want to get the desired effect and a good-looking surface. Below, we will explain how to do it in both cases, when you are painting indoors and outdoors.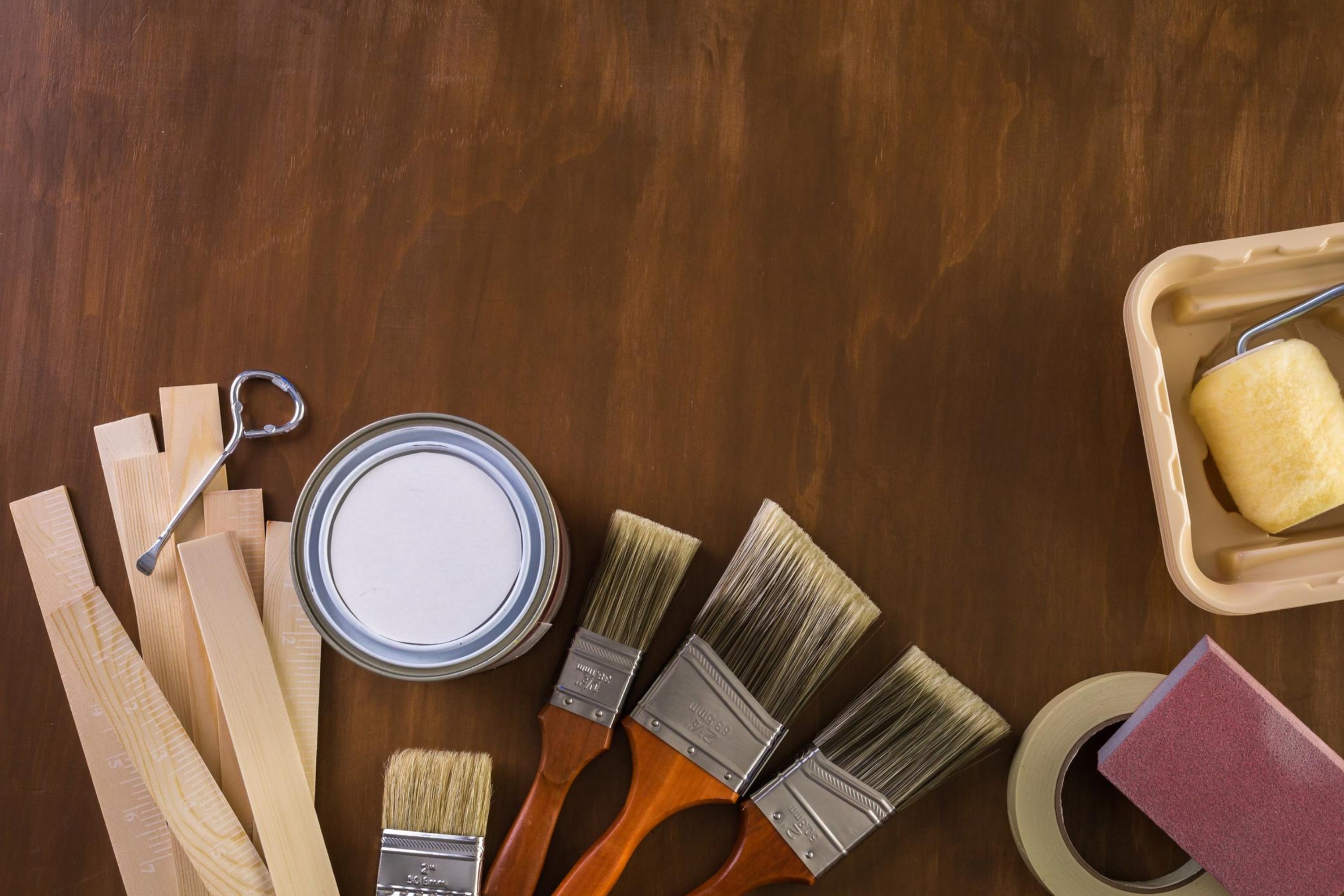 Interior Stain
You have plenty of options to choose from when it comes to painting furniture. Painting over matte stained object is a relatively simple task that requires some easy prep work that involves light sanding and a coat of primer.
Quite often, your furniture has a glossy finish. That means it has been coated with polyurethane or varnish. In this case, your furniture piece would either have to be stripped using noxious chemicals and a metal scraper, or it would have to be sanded completely off.
The first option is quite a messy and laborious process. As for the second one, it is equally messy and difficult. Luckily, with the invention of liquid sandpaper, removing glossy topcoats can take mere minutes!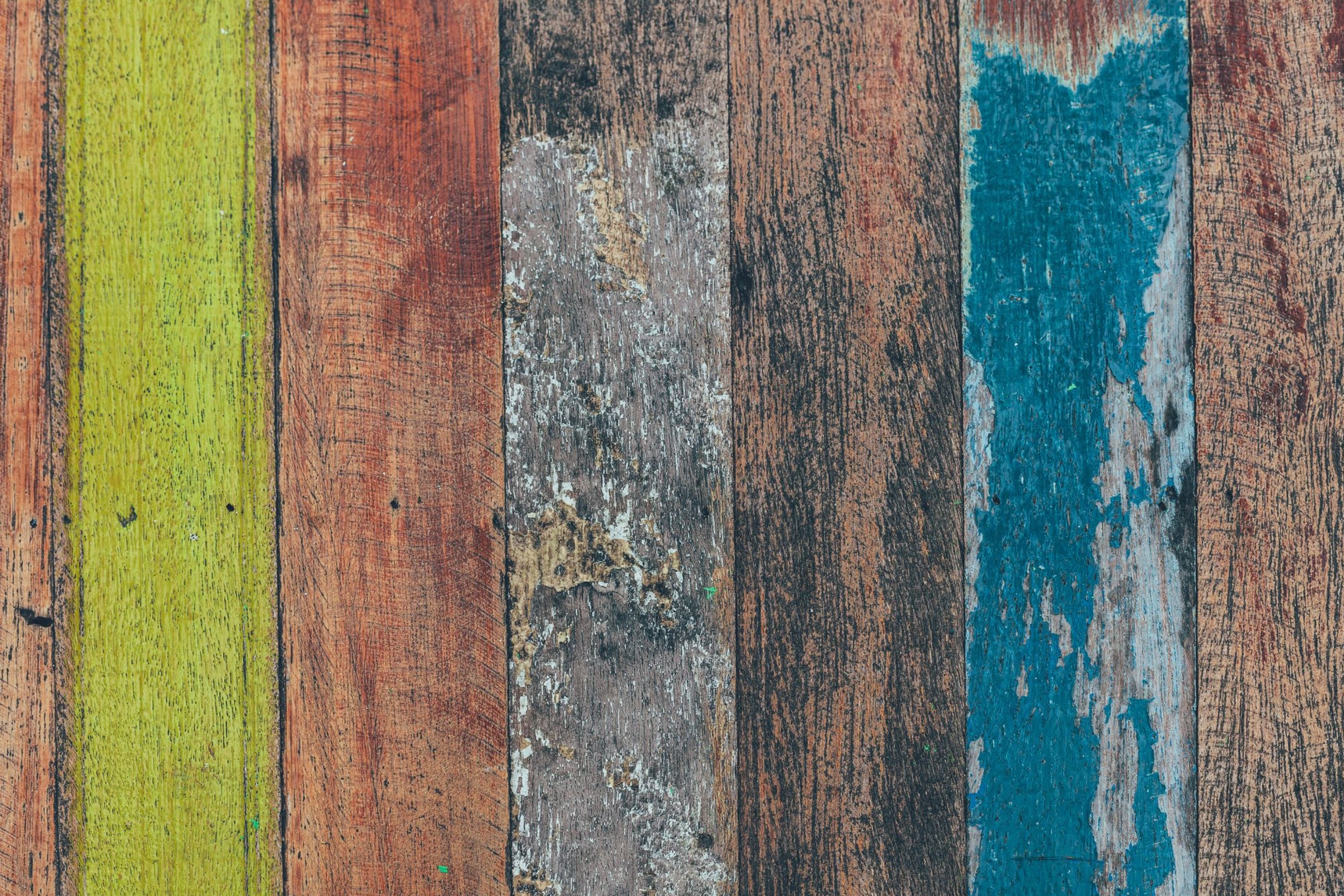 Exterior Stain
Exterior staining projects include staining such objects as decks, fences, siding, and trim. Painting over stained exterior wood can be a relatively simple process as exterior surfaces usually don't have glossy polyurethane coatings that make the painting process more difficult and time-consuming.
Why paint a deck or siding, you may wonder? Well, first of all, it will help you to achieve a different – better – look. But in addition, painting is an excellent way to protect weathered wood! Stains and sealers penetrate the wood, providing protection against moisture and the sun. Paint also creates a barrier that protects the wood from moisture and harmful UV rays.
If you need to paint a stained fence, siding, trim or decking, you will typically have to clean them, lightly sand, and then paint with quality exterior paint. There is typically no need for primer or special chemical treatments unless the stain is oil-based.
Now you know what could make you want to paint your stained wooden item be it a piece of furniture of an outdoor object like your deck or trim. And since you are aware of the general instructions regarding the painting process, be sure you will do it right.
What Type of Paint to Use Over Stained Wood?
Quite often, when homeowners decide to paint their stained wooden objects or surfaces, they realize a very embarrassing thing: they have no idea of what kind of paint to apply over stained wood!
In this case, it is always good to remember that water and oil don't mix. As such, if you are going to paint over a water-based stain, it is best to use a water-based primer. It will better adhere to the stained surface, pthus reventing peeling or cracking.
How to paint over stained / varnish wood without sanding
Should you plan on painting over an oil-based stain or a surface that has been coated with a topcoat such as polyurethane, the process is going to be a bit more complicated. Because oil-based stain will resist paint, you will need to clean the surface with trisodium phosphate, commonly known as TSP.
Since TSP is a very powerful degreaser, it will easily break up the oils on the surface of the oil-based stain. As a result, you will have a surface that paint can adhere to. After this treatment, you can use a water-based latex primer followed by latex paint.
Well, this is it! Now you know that it's possible to apply paint over a water-based stain and also, you are aware of some useful life hacks regarding the preparation process. In particular, you know how to get the surface ready fo the paint application and what to pay attention to when choosing the paint.
Frequently Asked Questions
⭐How long does it take for paint to dry on wood?
It depends on the paint type. Oil-based paint dries to the touch in 6–8 hours and is ready to recoat in 24 hours. Latex paint dries to the touch in about 1 hour, and you can safely recoat in 4 hours.
⭐What paint is best for wooden furniture used outdoors?
You can use lacquer-based and oil-based enamel paints for outdoor use, but acrylic-based enamel paints won't last long when exposed to the elements.
⭐What paint dries fast on wood?
Pittsburgh Paints & Stains' FastDry paint bonds to the most difficult surfaces, including wood, being the ideal choice for both indoor and outdoor projects. FastDry is a fast drying paint that dries to the touch in about 15 minutes, and can be recoated in 2 hours.