Acrylic paint is widely used for almost all possible kinds of painting projects from artistic ones to home renovation tasks. It is highly praised by homeowners for its versatility and ability to work on different surfaces and materials. But here is the question: does acrylic paint work on metal?
Today we will try to answer it for you. Read this article to find out whether or not acrylic paint can be used on metal. We will see how this paint might work on such a tricky surface material and what you should expect to get in the end if you decide to try and paint a metal object with acrylics.
Also, you will learn about what metal objects acrylic paint can work and how to prep the surface for the paint application. Finally, we will provide you with a detailed guide where we will describe how to paint a metal surface with this kind of paint.
Can Acrylic Paint Be Used On Metal?
The good news is that painting on metal with acrylic paint is possible. However, it does require some preparation first to get decent results. Nevertheless, with proper preparations, you can easily do a variety of painting projects should you decide to use acrylic paint on metal surfaces.
Acrylic Paint on Metal? Priming, Clear Coat and Sanding Help!
Here are just a few examples of projects you can do with acrylic painting on metal:
Desks
Cabinets
Tables and shelves
Outdoor furniture
Doors including garage doors
Fences and railings
Bed posts
Chairs
Door knockers
Other types of handles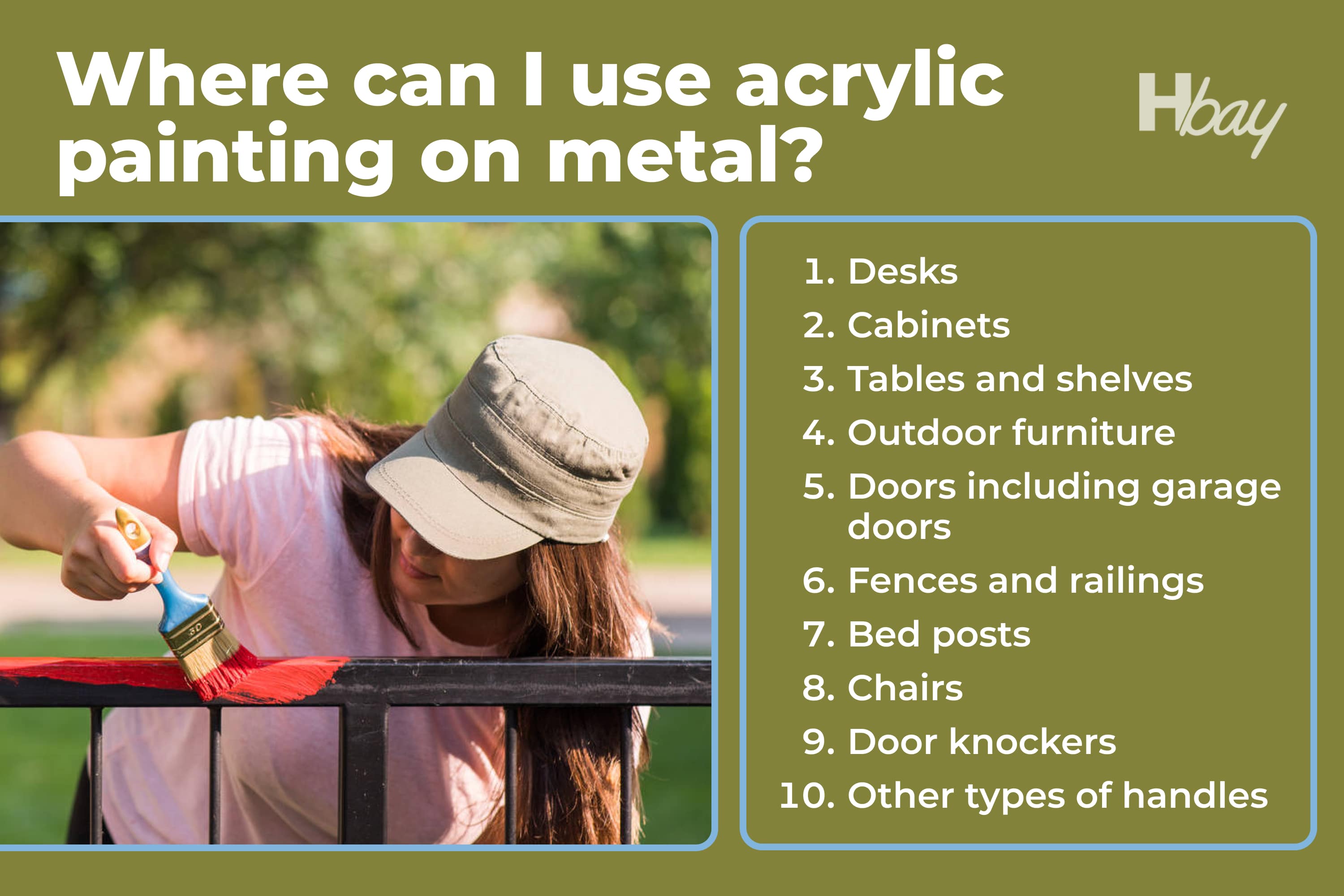 But although this kind of paint can be used for this many purposes, it is essential that you prepare the surface for its application thoroughly. The cleaner the surface is and the better it is ready, the easier it will accept the paint. As a result, your paint job will last much longer, retaining its initial look and color.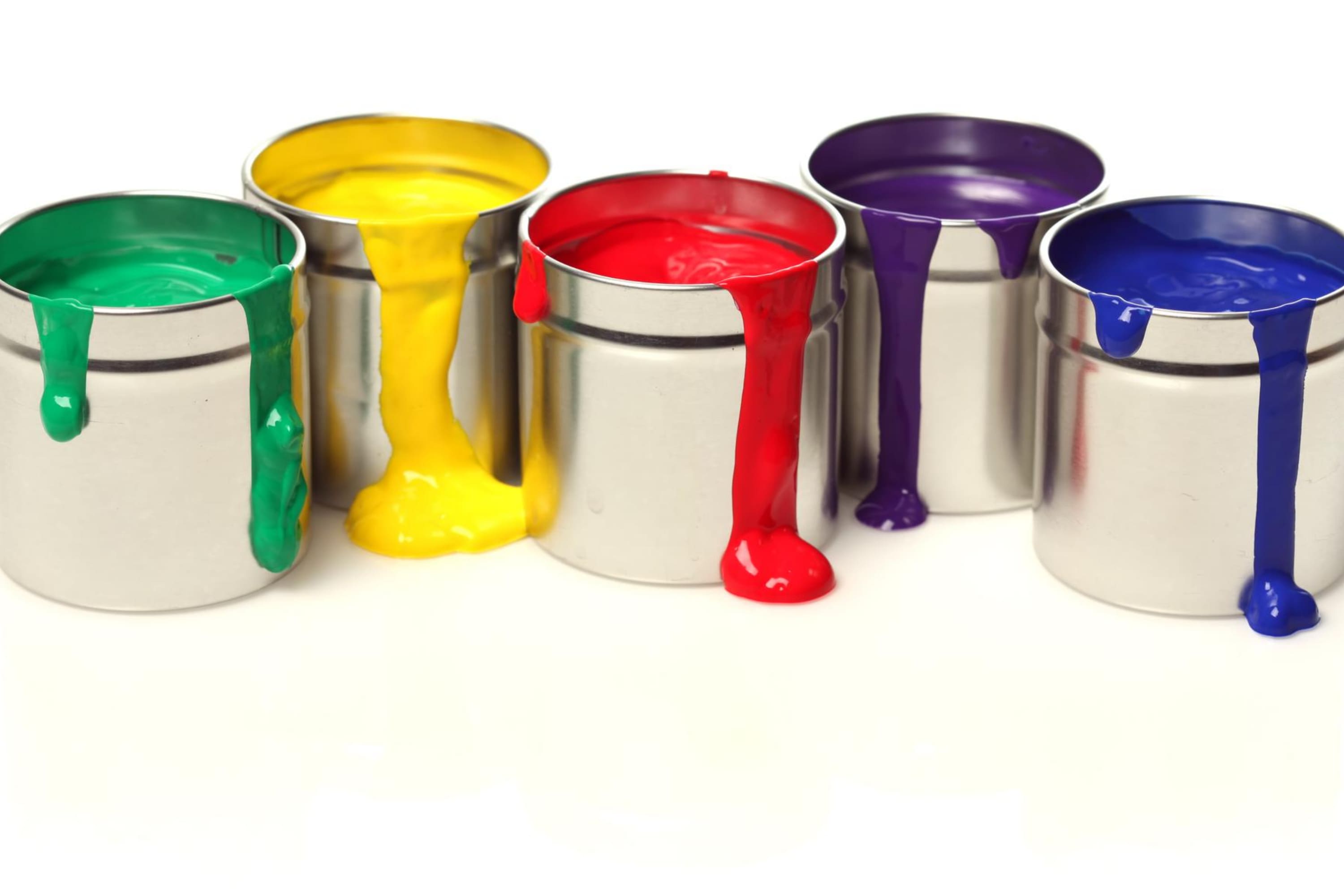 How to Paint On Metal With Acrylic?
So, you decided on using acrylic paint on metal for your home painting project. Maybe you need to repaint a piece of old garden furniture, or you want to refresh your fence, or maybe your bed posts need some touch up.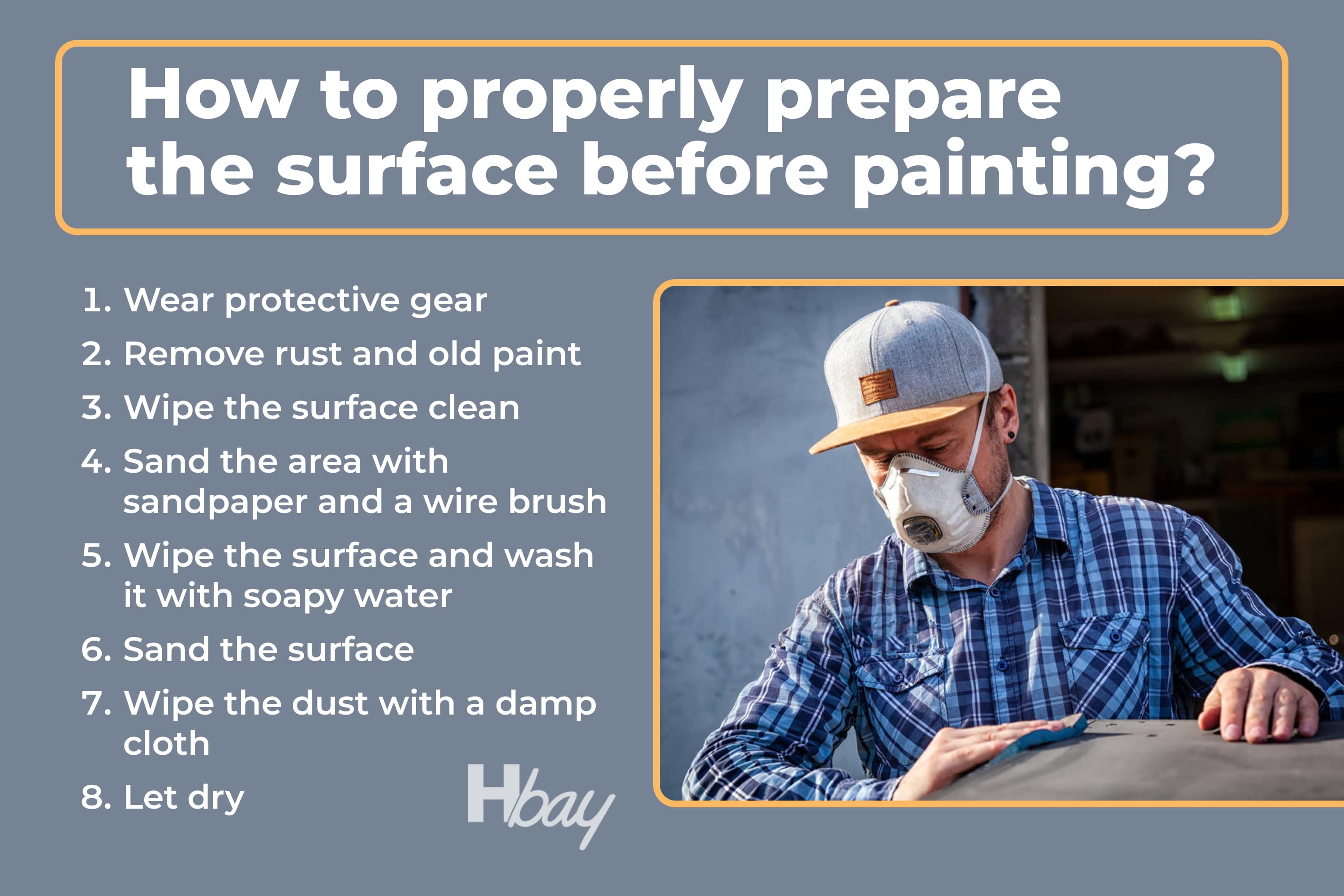 Either way, before you grab a brush and start applying acrylic paint on your metal surface, you should learn how to prep that surface first. And of course, you need to be aware of the proper paint application procedure. So read on to find out.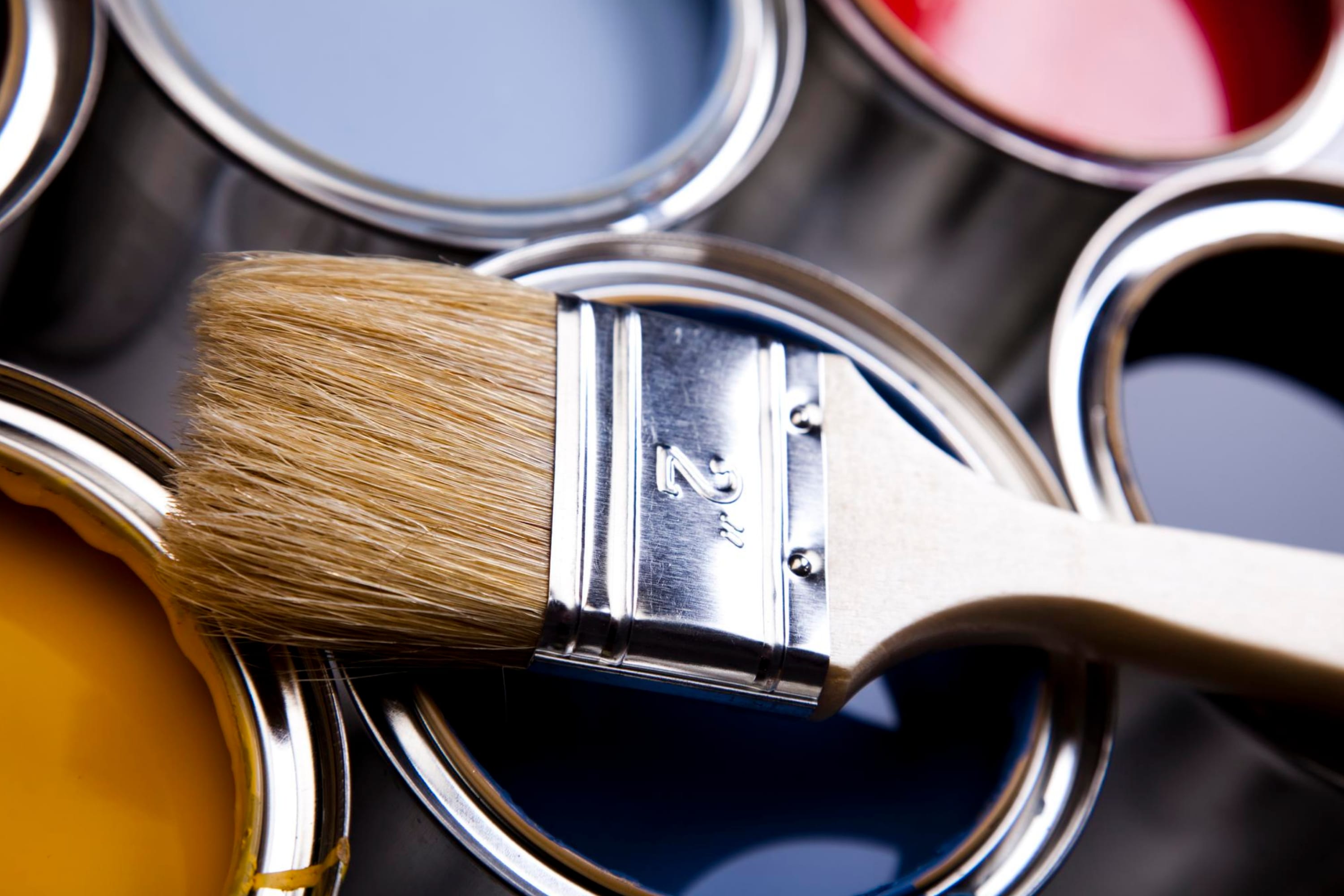 Start With Preparing Your Surface
This is the very first thing that should be done. The metal surface you want to paint needs to be prepared before you start actually painting. This step is essential and must not be skipped no matter what kind of surface it is about. It must be clean and grease-free to be able to accept the paint and make it last.
First, remove any fixtures you do not want to paint. You can also apply some masking tape to these fixtures, as well as to any other areas or edges you do not wish to cover with paint. Once this is done, do the following:
Put on some protective gear like gloves and a respirator (or at least a face mask)
Strip off any rust and old paint if there is any on the surface
Wipe the surface clean
Then, take some fine-grit sandpaper and a wire brush and work on the area
Wipe clean the surface again and wash it with some soapy water to remove sanding dust
Sand the surface again in order to get the surface smooth
Wipe the dust off with a dampened cloth and allow to dry
After your surface is properly prepared for being painted, you can proceed with priming it. After the primer application, painting can be done.
Start Applying a Primer
People often ask whether they need to use a primer for acrylic paint on metal. The answer is yes, you do need a primer for your paint job to last longer. For this step, you will need to choose a primer that can be used on acrylic paints and is also suitable for metal surfaces.
Take the primer and apply two coats
Wait for the first coat to dry before you apply the second one
Why would you need to use two coats of primer instead of one?
Two coats will work best of all because metals are often affected by the way they oxidate. With the double layer of primer, your metal item will be better protected from corrosion and exposure over time. Also, by applying the primer, you allow the paint to adhere to the metal surface better, providing a stronger grip.
Apply the Paint to the Surface
After your metal is cleaned and primed, make sure it is also fully dry. Afterward, you can start applying the paint. For painting indoor items, opt for regular acrylic paint. But for the outdoor items, you should buy exterior paint.
Also, double-check what type of paint you will be using. If you use acrylic paint that comes in liquid form, feel free to use a paintbrush to apply it. But should you opt for spray paint from a can, you need to check the bottle's directions! Spray acrylic paints often require a sealant after painting.
When you apply the paint, use at least two even coats and allow the first coat to fully dry before you start applying the second one. Note that spray paint may take up to seven thin coats! This is why we recommend you always double-check the dry time for the specific paint you are using!
If there are any areas on your metal surface or object that you don't want to paint over, use painter's tape to mark them off. Also, if you are going to use multiple colors, you might want to tape out the sections and wait for the first color to dry before you start moving on.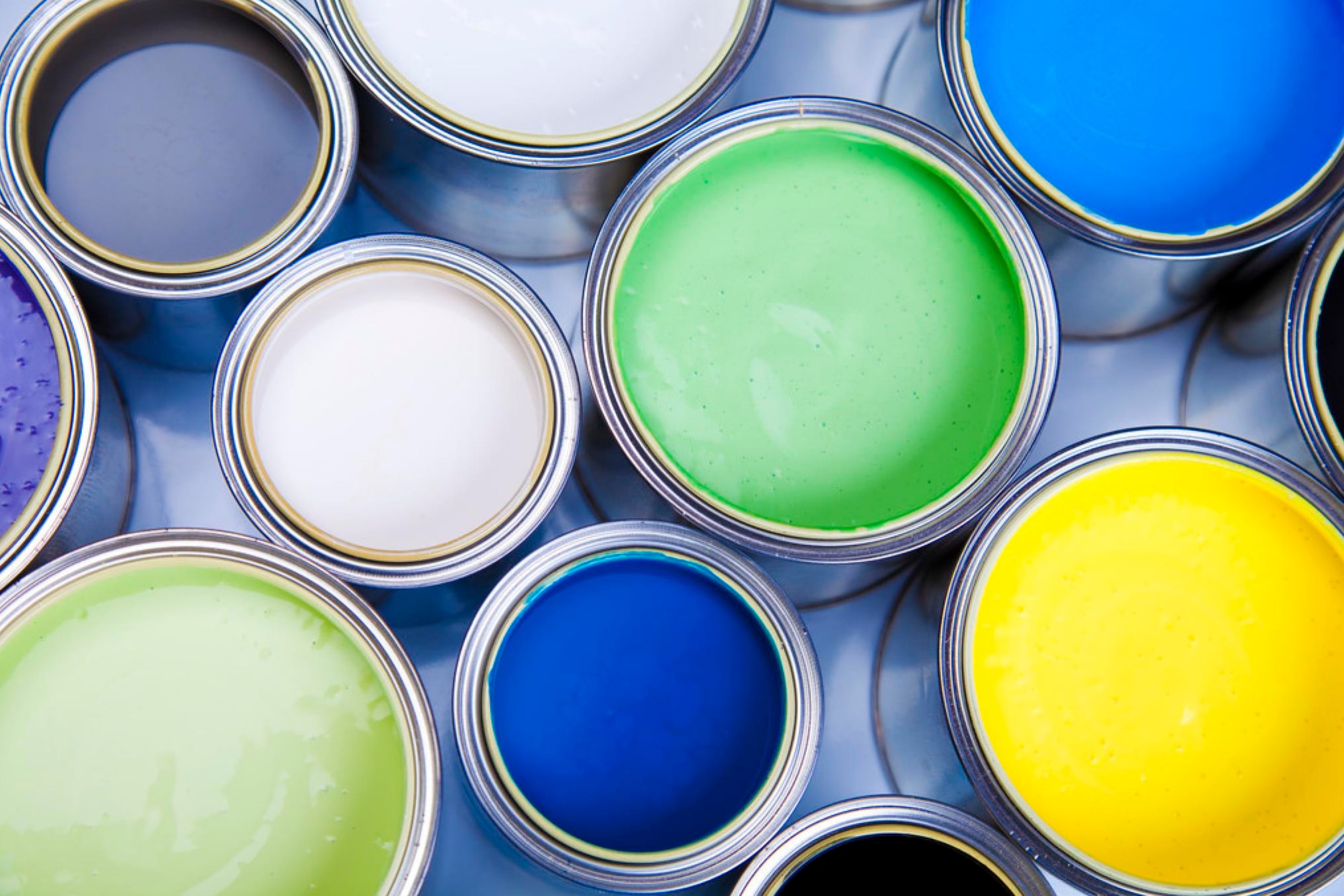 Seal the Paint If Needed
We shall say at once that sealing acrylic paint on metal is not always necessary or mandatory. It depends on where you will be using your metal item. If it is a traditional metal object or one of those that is constantly exposed to the elements, it will require a primer.
However, note that exterior paints, as well as some spray acrylic paints, already contain a sealer, so you don't have to seal them again. Nevertheless, whether your metal surface requires a sealer or not, you can always use it to add a glossy finish to your object.
Now you know how to paint a metal object with acrylic paint and what to pay attention to when you do this. We also explained whether sealing or priming metals is mandatory, and in what cases you might not want to skip this step.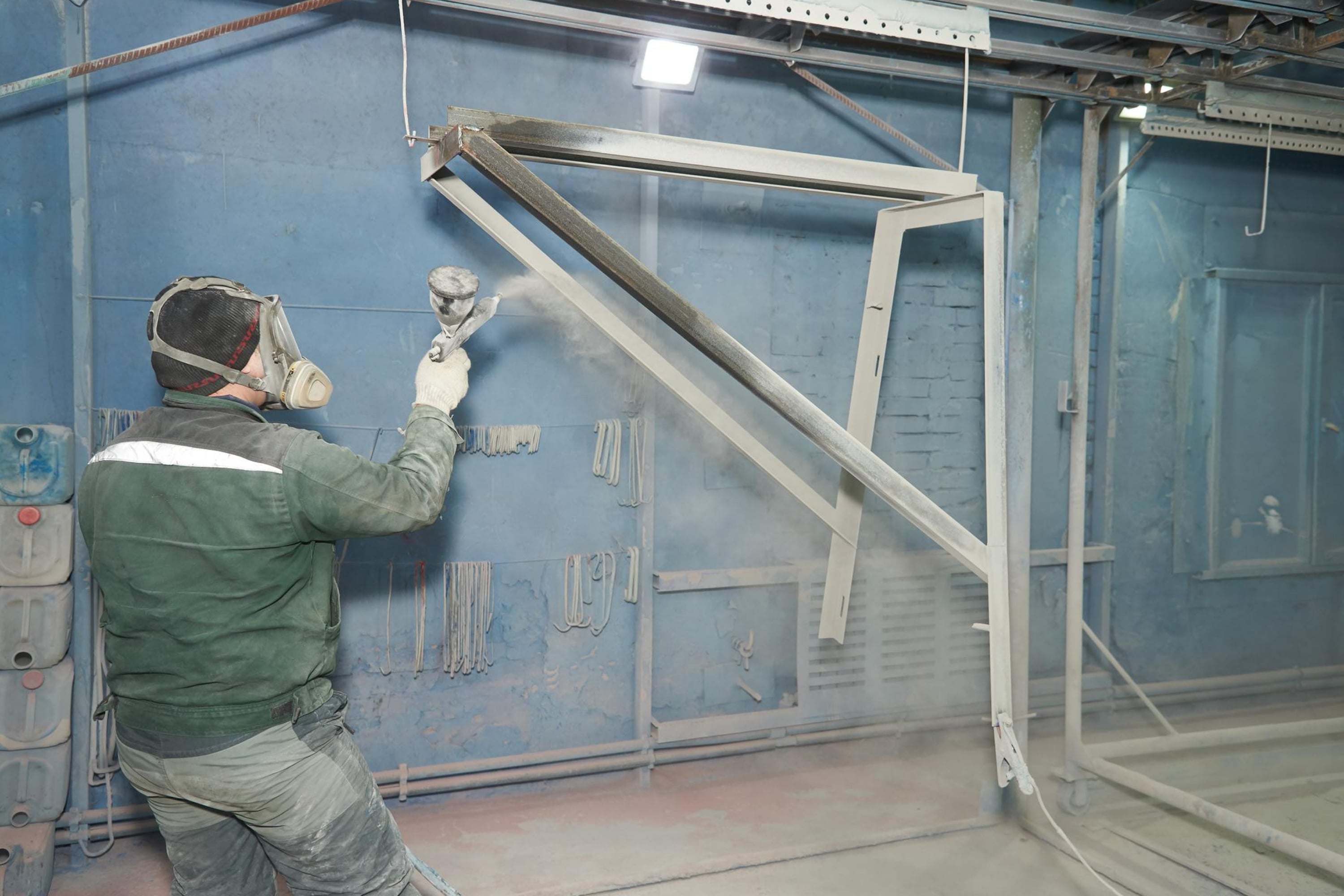 Can I Use Acrylic Paint on Metal Without a Primer?
Unlike oil paints that can be typically applied directly to a metal surface, acrylic paints, on the contrary, require you to prime the metal first. The reason is simple: it's all about moisture and rust, the worst enemies of metals.
https://youtu.be/udvCBM2diTk
Primer will not only protect the surface from them but also allow the paint to stick to the slick metal surface much better. As a result, the fresh coat of paint will not peel earlier than you need or expect it.
There is another reason why you should prime your metal surfaces first. Acrylic paint is porous. Also, it can sometimes have some water-resistant features, but in general, this type of paint is not waterproof. Besides, there is still water in the paint. It all means that your metal surface must first be primed, otherwise, you will put it at a high risk of rusting over time.
However, there are also exceptions to this rule. For example, some metals like stainless steel don't need a primer. The material is already created being able to prevent oxidation and rust.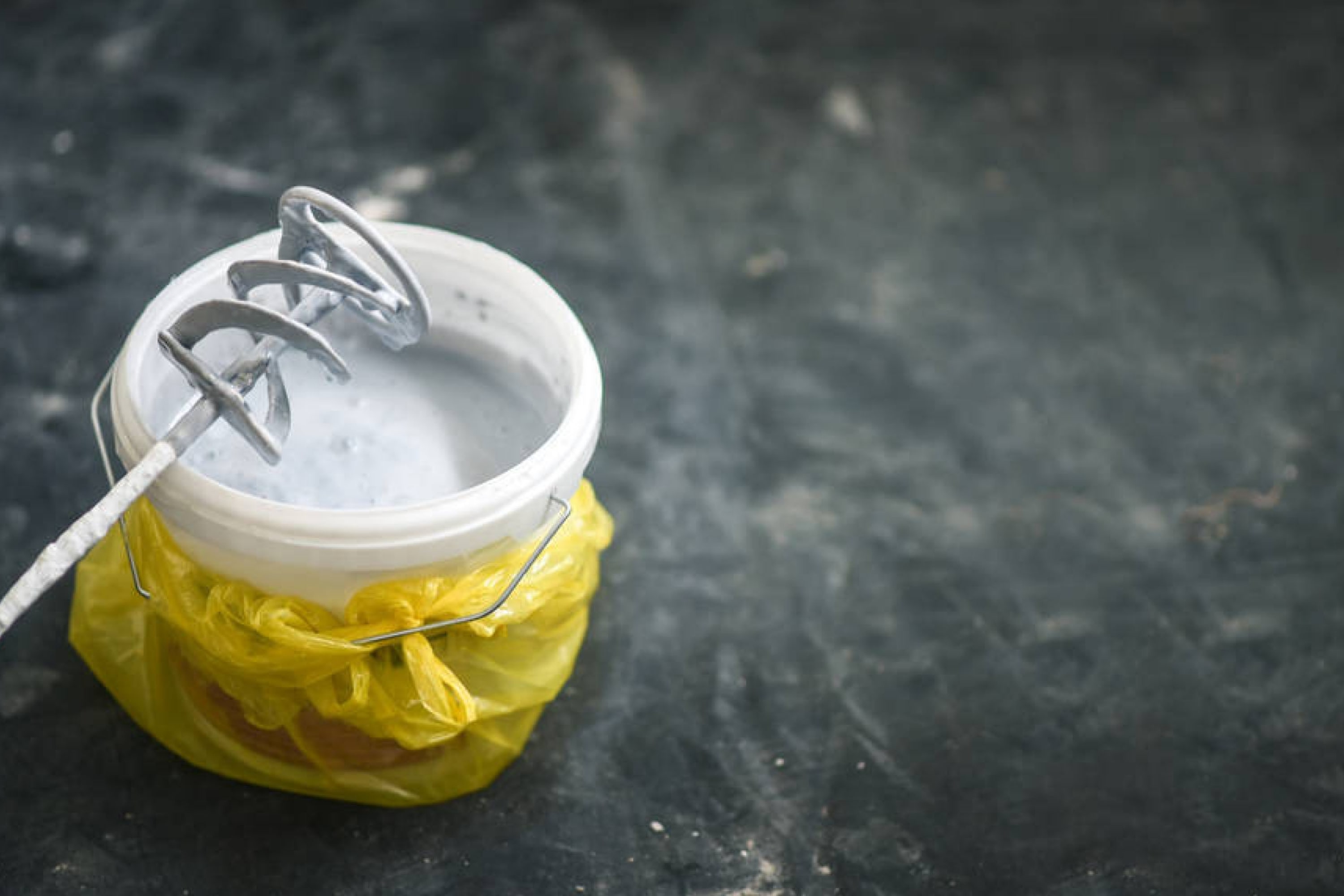 How to Make Your Painted Metal Last Longer?
When homeowners finally finish their paint job over metal, they start wondering how they can make the freshly painted surface last longer and keep the paint from peeling or chipping due to weather and other external exposure.
For this purpose, you can try to use a simple yet very effective solution that is quite easy to prepare yourself:
Mix ⅓ cup of powdered laundry detergent, 1 quart of bleach (5% solution), and 3 quarts of water
Dip a soft brush or a clean rag in this cleaning mixture and apply it to the affected areas
Lightly scrub the surface to remove any stubborn dirt/dust. If there are signs of milder or mold, scrub them away too
Rinse the surface well with plain water
Well, now you know that acrylic paint can be used on metal surfaces. You also found out what metals might not need any additional sealing or protection. We also explained how to paint a metal object with this kind of paint starting from the preparation process and ending with the paint application and sealing.
With all this in mind, you are now aware of a proper metal-painting project with the use of acrylic paints. And you also know what steps to take to make your work last longer.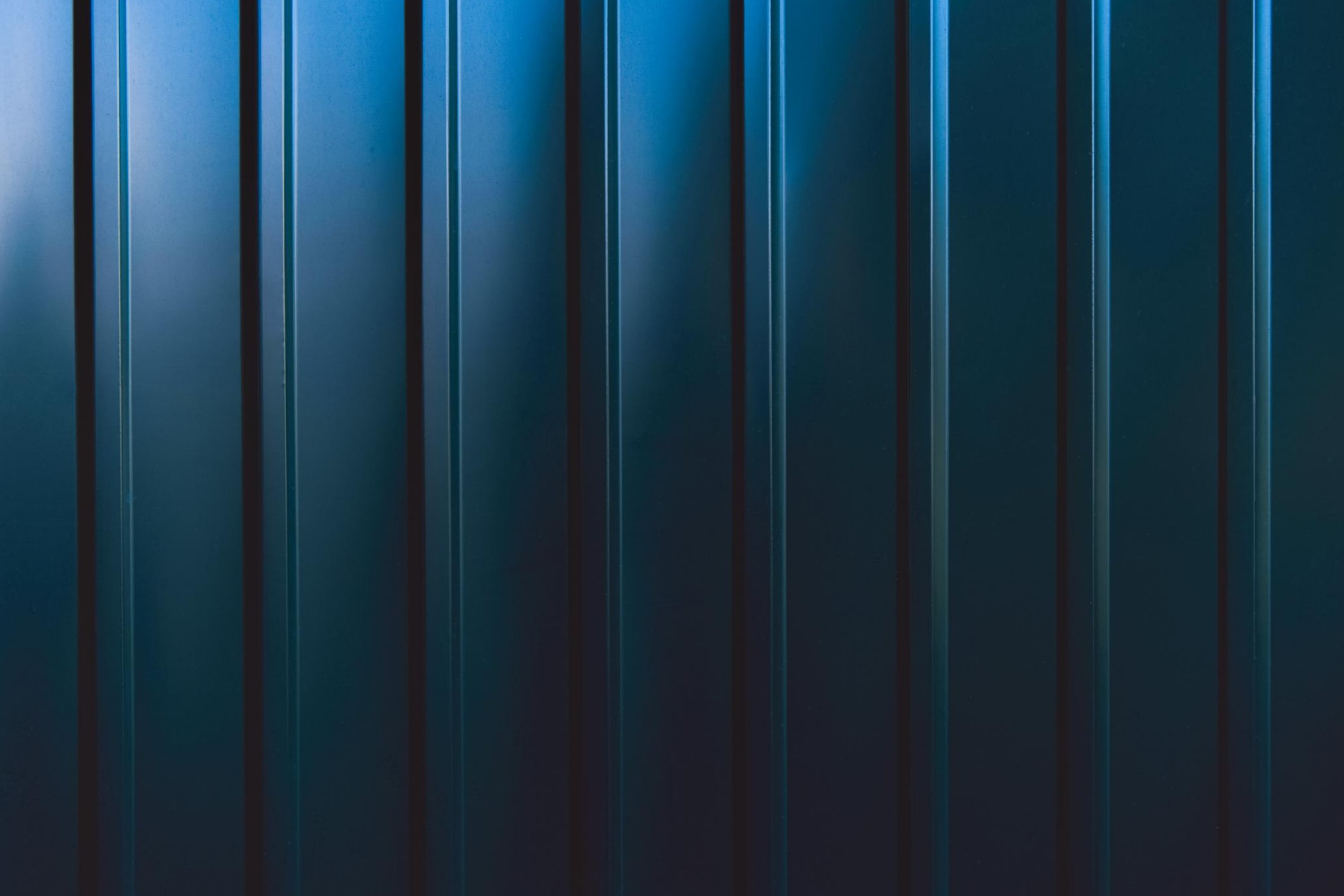 Frequently Asked Questions
⭐Is acrylic paint water-resistant if used on metal?
Acrylic paint is durable, but it is recommended to apply a coat of varnish or sealant to ensure the protection of your item. Otherwise, the paint won't get water-resisting abilities.
⭐How long does acrylic paint last on metal?
If maintained properly, your painted acrylic surface will keep its coating for 5 years for sure.
⭐Is sealing acrylic paint on metal necessary?
No, it's not. It depends on the type of metal you have. Stainless steel doesn't need any extra protection, for example.