Boots made of leather look cool and stylish, that is not a surprise. However, to keep your leather footwear in the same decent state, you need to maintain it properly. And of course, if you are going to wear your leather boots in winter, the question of how to protect leather boots during the snowy season will become your greatest concern.
This is why we picked the most useful, well-working, and approved ways of protection so that your leather boots will not fall apart in snow! Take them into consideration and may your footwear serve you longer!
How to Winterize Leather Boots
Shortly speaking, there are two ways you can prepare your leather boots for winter, and they can be used for both boots made completely of pure leather, and for the footwear that has mixed origin meaning that the boots are made of suede and leather.
Each of these approaches has been tested multiple times by the active users of leather footwear who utilize their boots in winter time as well. And thus these people know perfectly how important it is to make such footwear water-resistant to protect it from snow, rain, and any other sort of moisture!
Dubbin Or Waxing Your Boots
Now let's see in detail how each of these products must be applied to bring the most effect.
The first one is waxing (also known as dubbin). To get your leather boots ready for winter using wax, you will have to clean the footwear first. Otherwise, if applied onto the dirty and dusty pair of boots, wax will only make things worse than they already are!
Clean your leather boots with an ordinary damp cloth to release them of any dirt and debris. If all that stuff remains on your boots, it will prevent the wax from connecting with certain areas on a boot. It will result in higher susceptibility to water all around the boot.
When the boots are clean, apply a bit of dubbin onto a clean cloth and delicately spread it all over the boot's surface. It is important that you run this waxed cloth over each boot several times moving it back and forth! Like this, you will be absolutely sure that the wax has covered all the areas on your footwear, and not a single spot will be prone to damping.
Do you think you are done now? Nope, it is not the end yet! Now you need to wait for half an hour to up to an hour until the dubbin dries. It is also essential that you keep your freshly waxed leather boots in a cool and dry place while they are going through the waterproofing procedure! Otherwise, leather will wrinkle and can even crack if disposed to heat.
Finally, end up examining your boots. If you notice any excessive wax on their surface, remove it with a dry cloth. And now your leather boots are ready to meet the winter!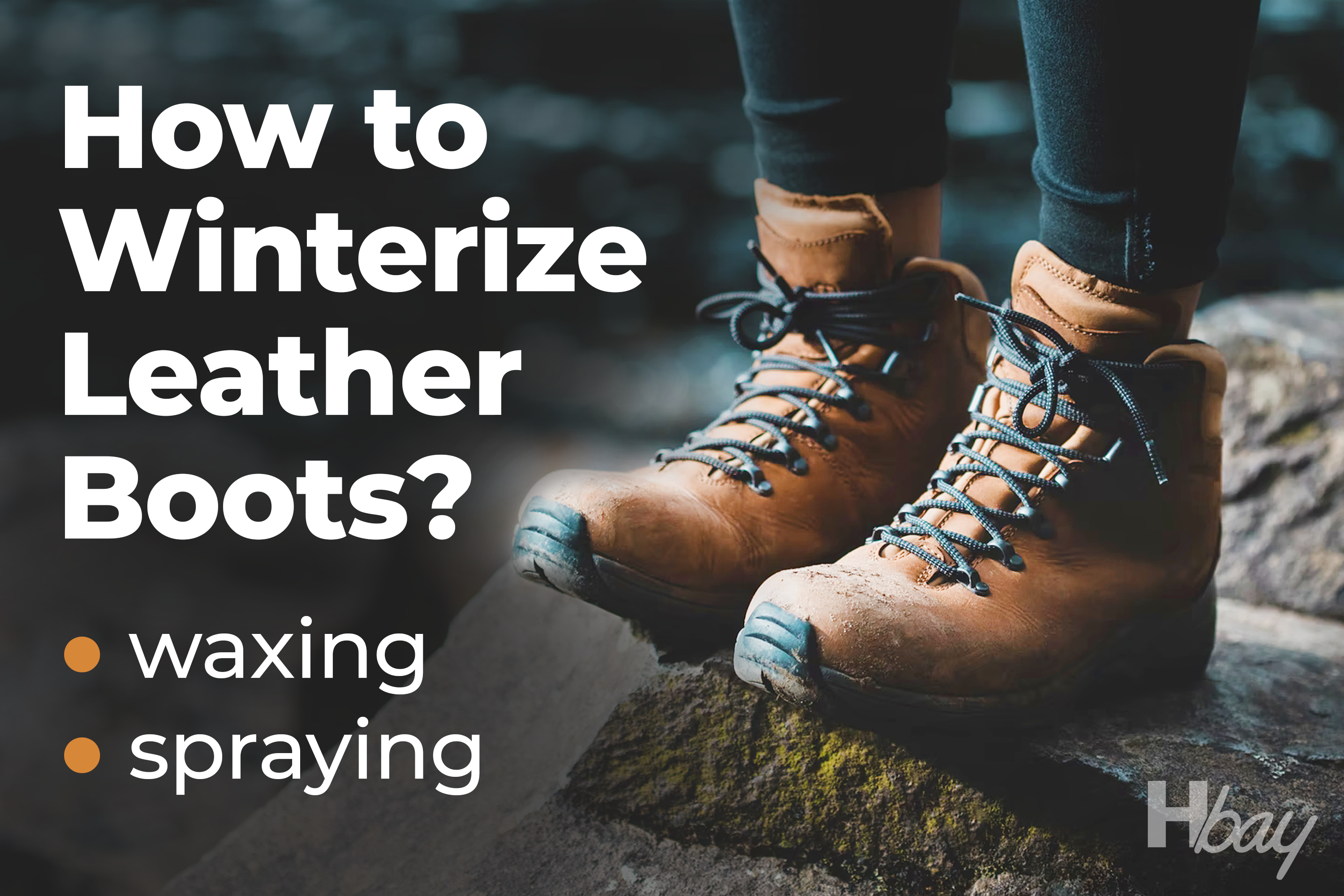 Spray Them As An Alternative!
Have no time for smearing your footwear with dubbin and then waiting even more until it cures? Well, then spraying is your option for sure! Moreover, if your boots are not made of pure leather, and instead they contain both leather and suede, wax can damage such a surface! In terms of this, spraying becomes the only possible option for you regarding how to make leather boots snow-resistant and snow-proof.
So how does the best way to protect leather boots work? Start with the same step you would take when winterizing entirely leather footwear. To be precise, clean your boots. You can do this the same way as we have just described above for the dubbin process.
Once the footwear is released from grime and debris, proceed to the second stage which is spray application. Here you simply need to act according to the instructions on the spray package. But in general, just keep it 5 centimeters away from your boots and pulverize the product all over them. Go over each boot several times to ensure you have coated each and every inch of it!
Now let your boots dry in a cool place with no temperature fluctuations or extreme heat. Since different footwear will need a distinct amount of time for drying after being sprayed, we suggest you check yours every half an hour.
With these winterizing methods, you can now get your boots ready for winter no matter what they are made of, pure leather or leather and suede mix.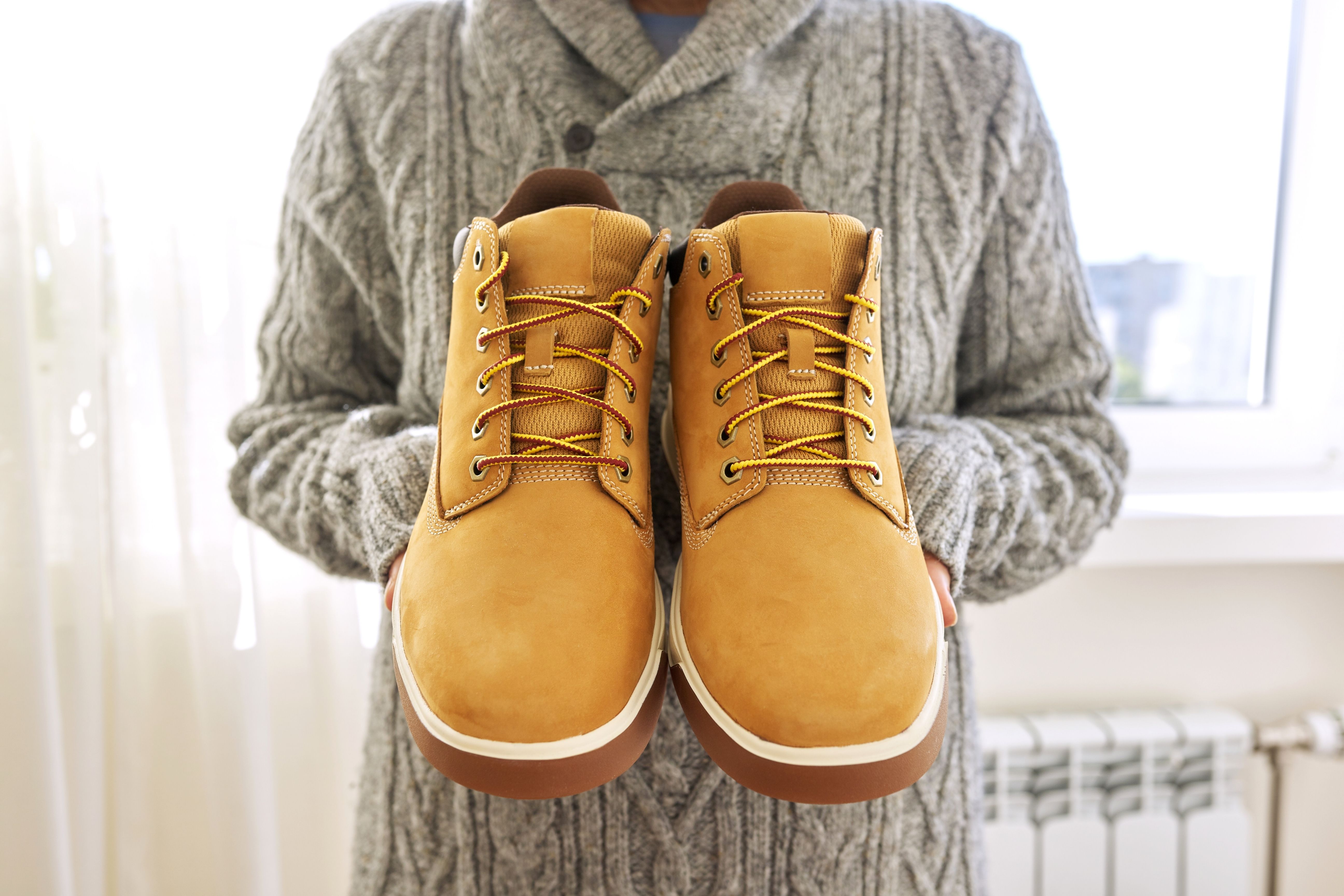 How to Protect Your Leather Boots From Salt
Since snow and rain often leave those ugly white watery marks (especially on leather!), it is important to be able to prevent them from appearing at all on your leather footwear if you intend to wear it in winter.
Fortunately, protecting leather boots from this trouble is not a big deal!
Use either a special water and dirt-repellent spray or a lotion for this purpose.
After you get caught in the rain or snowfall, wipe your boots with a paper towel or a soft cloth and treat them with water and vinegar solution.
As for the sprays and lotions, it is all clear. These products were designed to cast off dirt and water and keep your leather footwear safe and dry. Pre-treat your boots with sucha product each time before going outside, and you will most likely forget about the issue of white salty marks forever.
But in case you have no spray at hand and you need to treat your boots right now badly, opt for ordinary vinegar mixed with water! Mix one big spoonful of acetum and one full cup of water. Then dip a clean soft cloth into this solution, wring it out so that it is not dripping wet, and delicately blot the salt stains and marks on your leather boots. Of course, you must remember to wipe the dirt and debris off them first using a paper towel!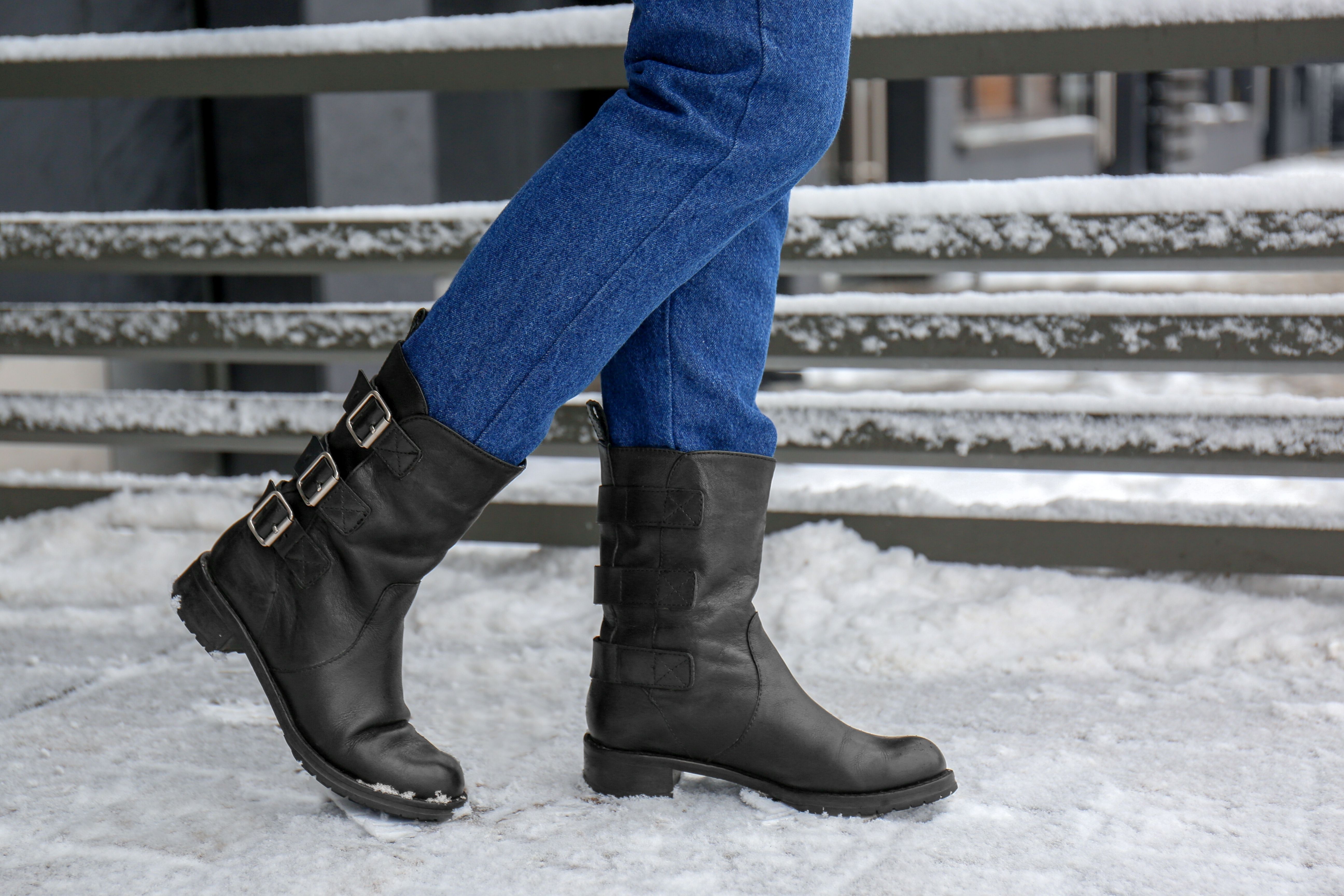 What to Put On Leather Boots to Protect Them. The Best Recommended Products
Fortunately, we don't live in the Middle Ages when they had no helpful and easy to use boot protecting products! Nowadays, almost every shoe store will offer you a wide range of products designed for all possible purposes.
It is totally up to you which of them to use since different boots will require slightly different methods of protection. But if you are wondering what remedies can be safely and effectively applied to any leather pair of footwear, we would recommend you the following options:
a mixture of white vinegar and water
wax for leather boots
waterproof spray
They require somewhat distinct methods of application and drying time, but these ones will keep your leather boots safe from water, snow, dirt, and even white salty marks!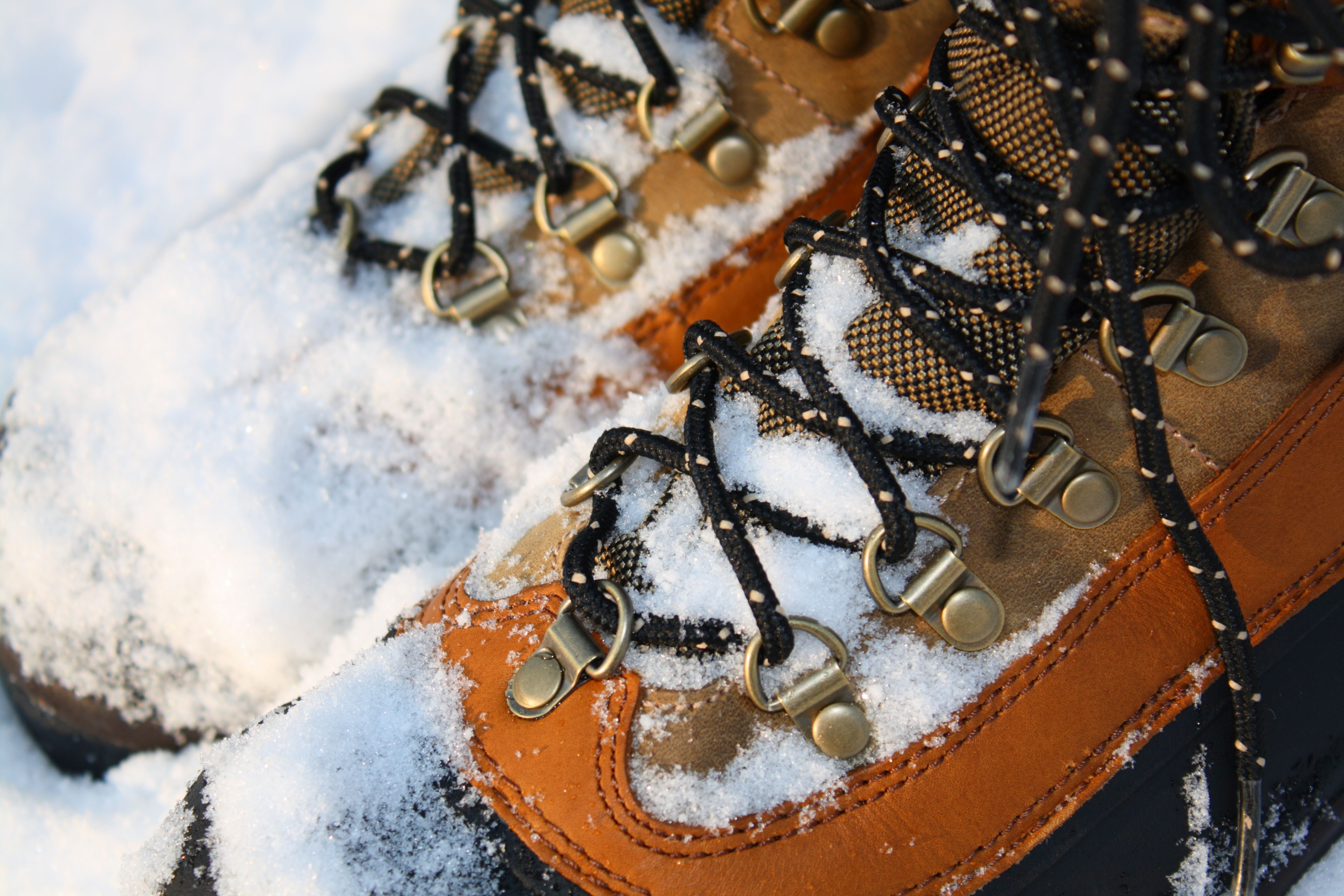 How to Care For Leather Boots
Leather boots look cool and durable, but this material requires if not delicate then rather individual approach when it comes to maintaining it.
We all know that leather tends to wrinkle if being placed too close to fire or heat sources. Also, it gets easily ruined if we leave leather footwear wet or – even worse! – soaked with water or melted snow without drying it properly.
This is why it is so important to be aware of how to take care of leather footwear correctly to both make it serve you longer and not destroy it completely by improper maintenance.
But if you always thought that taking care of leather is super complicated, we are here to assure you that it is not rocket science at all! In fact, to keep your leather boots always shiny and good-looking as if they are new, you will need to memorize and keep in mind only a few easy suggestions.
When you come back home, wipe your leather boots with paper towels or a clean dry cloth to remove dirt and grime. It will prevent the material from getting dried up, clogged, or cracked.
Always moisturize and condition your leather footwear after cleaning! If you skip this step, leather will become way more predisposed to clogging thus the lifespan of your boots will shorten dramatically.
Never keep leather footwear near the sources of heat or near the open fire (for instance, a fireplace). Such "neighbors" will cause the leather to dry out and wrinkle if not crack!When drying leather boots, place old dry newspapers into each of them so that the footwear is able to retain its shape.
Using these simple tips, you will be able to extend the life of your favorite leather boots and keep them in a decent condition much longer.
So now you know how to take care of leather boots and what to do if they got suddenly wet. We shared the most handy tips regarding leather maintenance with you, so now we are sure your leather footwear is far beyond any threat!
Frequently Asked Questions
⭐Are leather boots good for snow?
Not quite, but you can wear them in winter.
⭐What is the best product for waterproofing leather boots?
Waterproofing spray for leather boots is the most optimal product.
⭐How to shine leather boots?