Timberlands are not just among the most popular and best-selling boot brands around the world. They are extremely versatile at the same time! You can wear them with your daily clothes, use them for hiking, and of course, everyone knows Timberlands as a perfect footwear for any work activities!
But what if it's time to give your timbs a proper clean?
If you often make use of them outdoors, you probably already noticed those water stains on timberlands, as well as the traces of mud and significant dusty layer.
Fortunately, to clean timberlands, you don't need to be a professional shoe cleaner! Besides, we can suggest you a couple of handy ideas on what products to use to make your boots get back to life as soon as possible.
How to Get Stains Out Of Timberland Boots Using Vinegar
Generally speaking, cleaning timbs with vinegar takes the very same actions as any other type of cleaning.
you brush the dust off
you apply the acetum cleaning liquid
you dry your boots
you wear them
But before we reveal the secret recipe, let us explain why such an unusual method was chosen.
All right, first of all, to clean suede boots with vinegar may seem to be crazy for most of you, but it is actually working! In fact, using a vinegar solution is the best and optimal remedy for cleaning timberlands.
Why is that? Well, simply because acetum is an all-natural cleaning agent which means that it will never cause any damage to that precious suede.
And definitely, it will not ruin it, what can't be said about the chemical boot cleaners. In addition, acetum is cheap and we can easily get it anytime at the nearest shop. And finally, this natural cleaning stuff is very fast-acting which is one more beneficial feature of it since it means you will not have to wait for hours until your boots become clean again.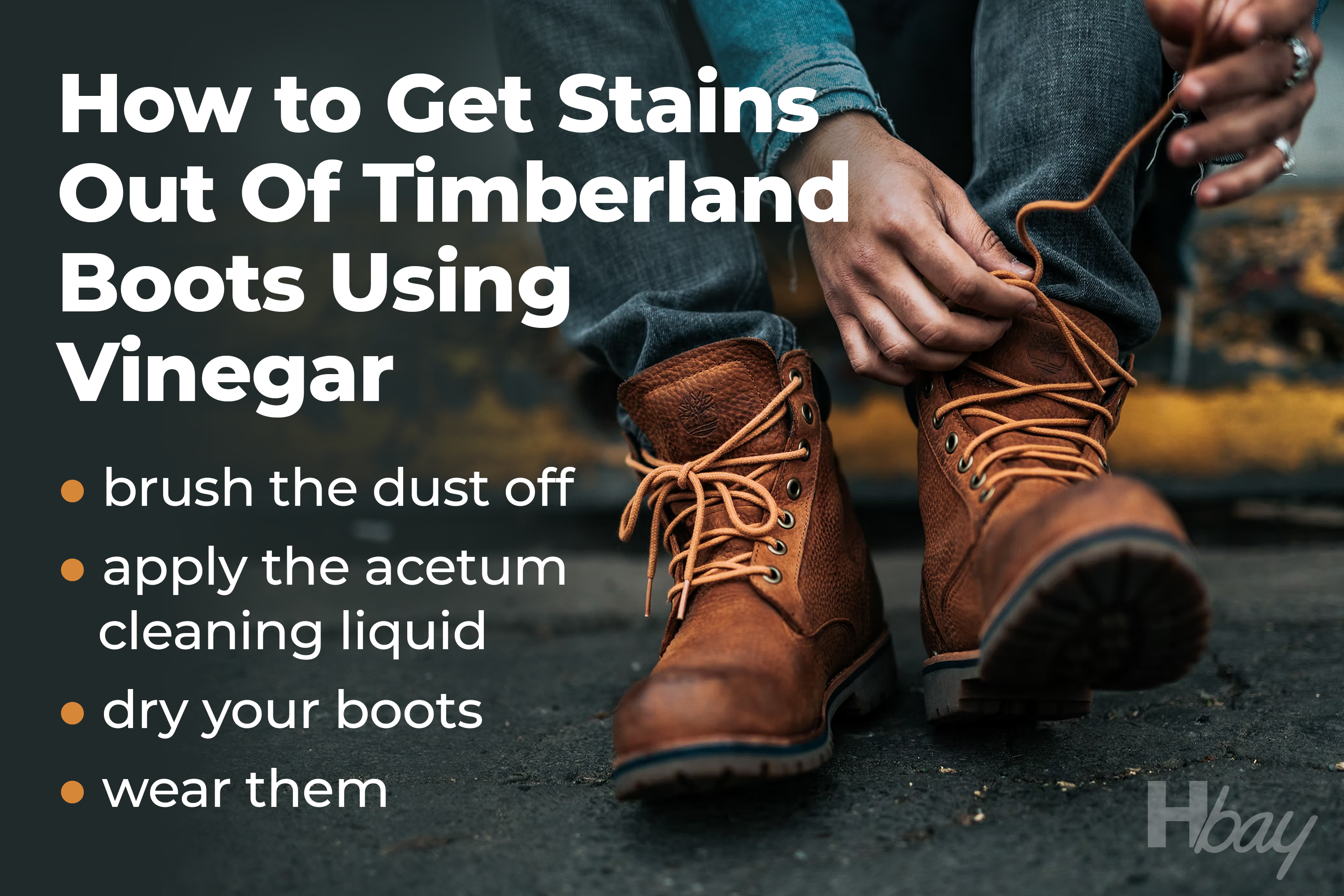 Clean Your Timberland Boots With Vinegar. Step By Step Instruction
So now we finally reached the description of the cleaning process itself. Well, what shall we begin with?
First of all, get all the things you will need ready. That means, the vinegar, a cup of water, a brush, a cloth made of soft cotton, and another brush with the soft bristles this time.
Now take your pair of murky timbs, and let's get started! Begin with brushing off all the dust and dried mud from the surface of the boots (that's if you make use of them for any outdoor works). If needed, wipe away the dirt and debris from the shoe using a towel. The bottom of each boot must also be properly cleaned.
Also, do not forget about the shoelaces. Remove them, wash in warm soapy water, and hang to dry after a good rinse.
Now it is time to prepare a vinegar-based solution. You need to mix one cup of water with one big spoonful of acetum and stir the solution thoroughly. Then take a cotton cloth you have prepared before and apply this acetum-based remedy to your suede boots.
For achieving better results, leave the mixture to work on the boots for a few minutes, and then rub the footwear delicately to delete the stains. Once all the stains are taken care of, air-dry your timbs until they are ready to be worn.
If you have no acetum available right now, you can opt for an alternative method. Rub the stains off the boots using bread, and then apply talcum powder onto the stained areas. Let it soak for around four hours. It will give you some spare time to fetch vinegar since later, when the talcum finishes working, you will still need to make use of the acetum mixture to finish your cleaning task.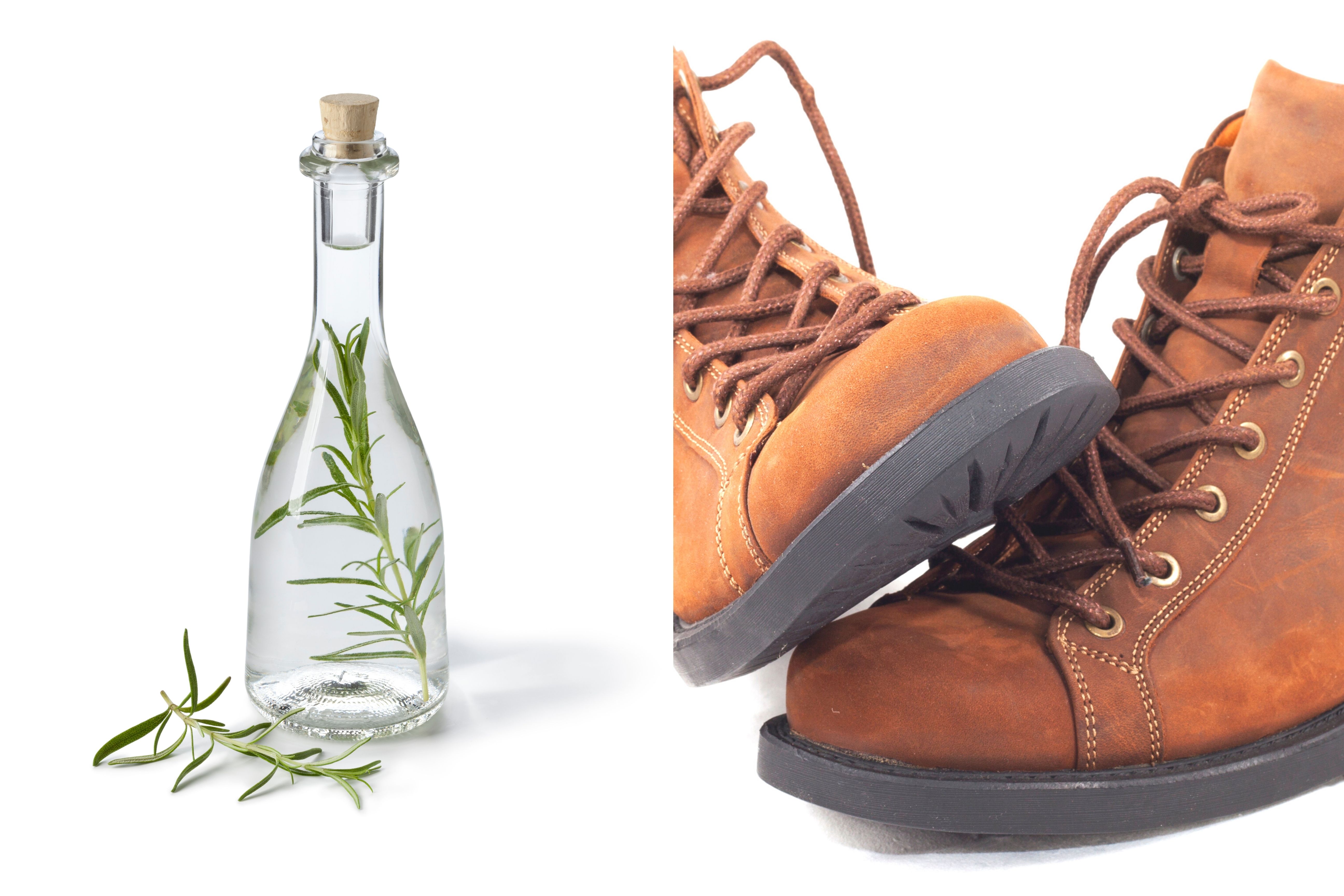 Why to Use Vinegar?
You might be wondering why somebody would decide to apply this strong smelling liquid right onto such an expensive suede footwear. Well, that is a reasonable question, and we have a couple of answers for you. So why to opt for acetum to clean suede boots like Timberlands?
Vinegar is harmless. Since it is natural, it can be used as a cleaner on all types of materials of all colors.
It is cheap and easy to get. A perfect cleaning product for those who are on a budget or need to clean their boots often and don't want to spend a fortune on that.
It is easy to apply. No special rules of appliance or tricky instructions.
It works fast. Cleaning boots with vinegar will take you the maximum of ten minutes.
How to Clean Timberland Boots With Household Items
If you don't feel like using chemicals to clean timberland boots, it is always possible to opt for household products that are always available or at least, they are always easy to get quickly. And they are way cheaper!
Already wondering how you can save your budget and clean your Timberlands effectively, fast, and cheap? Well, grab our approved life hacks then.
How to Clean Timberland Boots With Baking Soda
To clean your boots with this multipurpose powder, you will need baking soda, vinegar, water, an old toothbrush and an old piece of cloth.
The process in general is pretty much the same as the one we already described above. You start with brushing the dust and dirt off your boots. Then, prepare a tank with baking soda, dip the toothbrush into it, and work on your boots with circular moves. Do it delicately until you see that the boots returned their initial color and state. Once you are satisfied with the result of your work, rinse your timbs with water.
In case you are afraid that white watery or salty marks will be left, you have vinegar at hand. Simply pour some on a cloth and wipe the white areas until clean again.
But why would we use such a product as baking soda? Yes, of course, it is cheap and effective. But the major reason is that sodium bicarbonate has mild alkali and thus, as a cleaning product, it is able to dissolve dirt and grease easily. However, the effectiveness of your soda cleaning remedy will be strongly dependent on the amount of water you use!

How to Clean Timberlands With Eraser
Cleaning timbs with an eraser?! You must be totally nuts! But no, we are not. In fact, this is one of the approved ways of making these suede boots clean again. And what is even more surprising is that this method works!
To perform such a cleaning, you will need a special suede eraser, a suede or nubuck brush, suede cleaner and a cleaning cloth. To begin with, brush the dust off using a suede brush. Like this, you will lift the dirt up and make it easier to get rid of it later.
Now work with an eraser on each boot gently to remove the spots of residue. Once you are done with "erasing" your boots, damp the cloth you prepared with a spoonful of boot cleaner (you can add some boot conditioner, too), and rub your boots in circular motions. Done! Now your timbs only need to air dry and then you can brush them one last time to restore the boots' shape.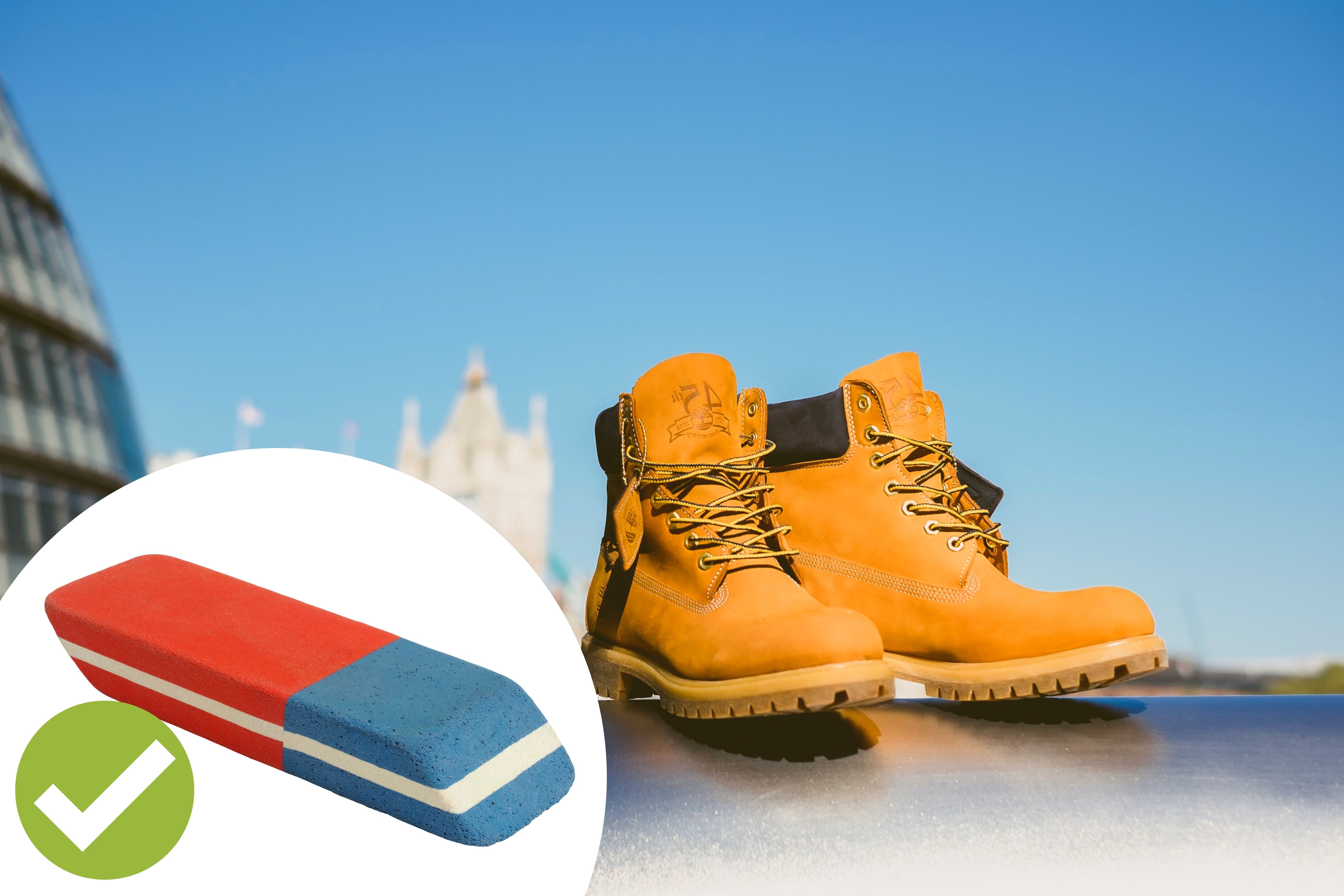 How to Clean Timberland Boots With Soap And Water
One of the most thrilling questions asked by the owners of timbs is whether it is allowed to make use of soapy water for cleaning them. Won't that ruin the footwear that is far from cheap?
Luckily, soapy water will not kill your precious suede boots. On the contrary, it will free them from dirt. To clean the timbs like this, you will need dish soap and water, a toothbrush, and a towel.
Simply apply the soapy mixture onto the boots with a soft cloth accurately trying not to rub too vigorously. Then, if you need to clean stains, apply the brush. To finish, wipe your timbs with a dry towel or cloth and let them air dry.
Now you know what to clean timberland boots with. Also, we shared the most frequently used and the most effective ways of cleaning these rather expensive boots that everyone appreciates so much!
Timbs are really handy to have. You can walk in them, you can go hiking in them, or simply wear them in town with your daily outfits. They are warm, convenient, and stylish. And now you learned how they can be cleaned without spending tons of money on pricey cleaning remedies and products.
Of course, nobody forbids you to buy the boot cleaning stuff from the same brand, but being aware of how else you can make them clean again with the household products can one day become very useful!
Wear your timbs with pleasure, maintain them well, and your boots will serve you much longer.
Frequently Asked Questions
⭐How to clean timberlands without a kit?
Use vinegar, baking soda, or soapy water.
⭐How to dry clean timberland boots?
Air drying is the best way to do that.
⭐Can you clean timberlands with soap and water?
Yes, it's one of the common cleaning methods.
⭐Do timberlands get water stains?
Yes, they do. But those can easily be removed with a boot eraser.