Acrylic paint is one of the most popular types of paint that is used for decoration and DIY projects by both children and adults. However, if you want not only to paint with it but also decorate some pottery, for example, you will sooner or later face a common issue: can acrylic paint be baked or somehow else sealed on mugs?
In this article, we will try to give you answers. You will learn why you should seal acrylic paint on mugs and what it gives to your dishware.
Also, we will tell you whether it is possible to seal acrylic paint on coffee mugs and plates at all. Finally, you will learn how exactly it can be sealed on these items correctly to serve you as long as possible.
Is It Possible to Bake Acrylic Paint On Ceramic Mugs?
First of all, we will answer this question to make it clear once and for all. Yes, you can bake acrylic paint on ceramic mugs and plates, as well as on other items. As for the method of baking, there are two main options:
You can fire the paint in a kiln
You can use a regular oven
To be honest, an oven is much faster and simpler than a kiln: it doesn't take hours to bake ceramic as a kiln does.
However, you must take precautions if you plan to eat and drink out of your newly painted dishware! The paint you use on your mugs must be oven-safe and non-toxic! Also, don't use an oven for cooking food after baking paint inside.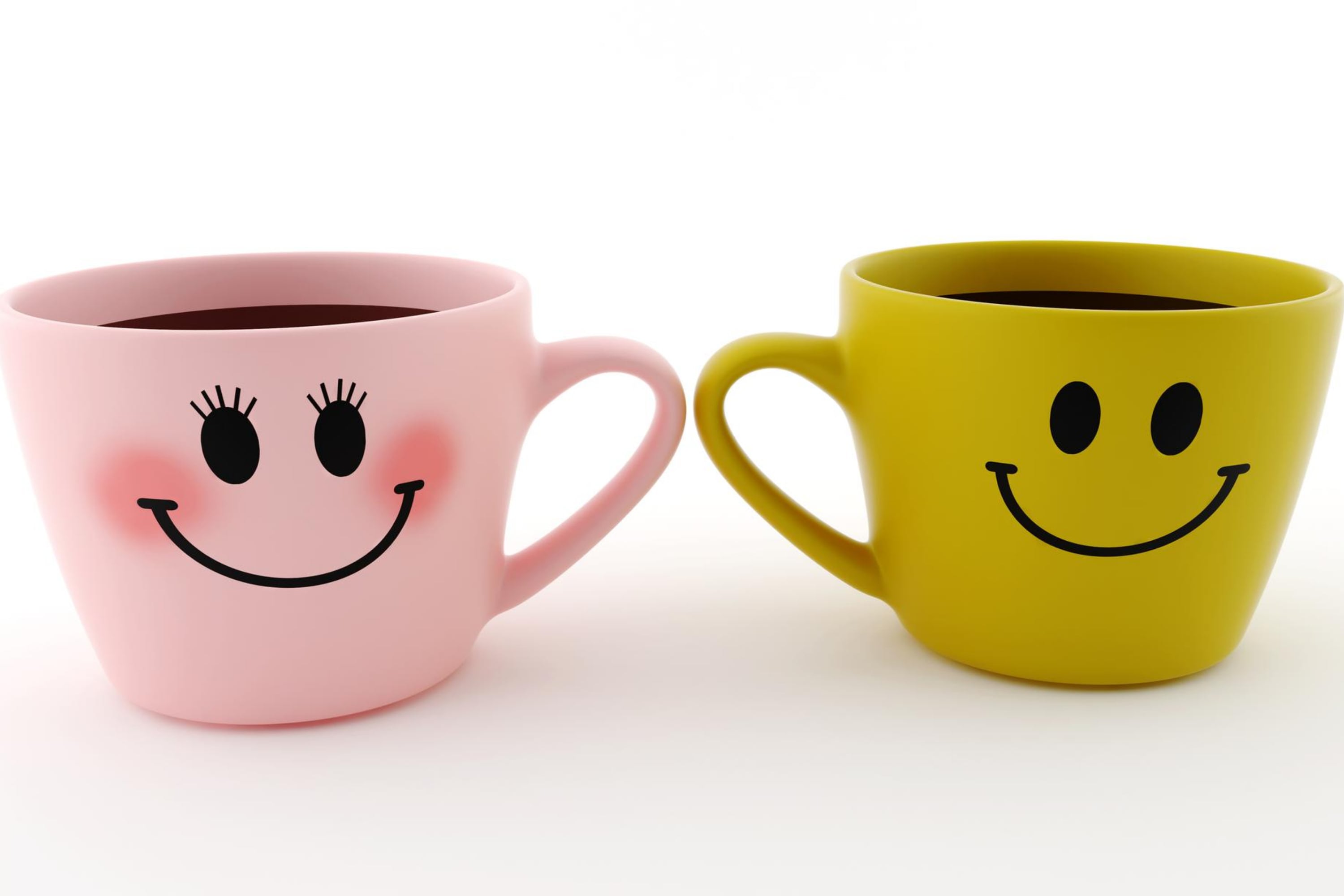 How to Seal Acrylic Paint On Ceramic Mugs?
If you want to use acrylic paint on ceramic mugs or other items for decorative purposes, and you are going to use those mugs afterward, you definitely wonder whether your dishware can be sealed somehow.
And there is indeed a useful and trusted method you can opt for! To seal acrylic paint to a ceramic surface, you need to heat-cure the paint. That means instead of letting paint simply air dry, you need to bake the painted piece by placing it into the oven or kiln!
Then you will be able to seal the paint with a water-based polyurethane varnish, clear acrylic coat, or mod podge.
DIY PAINTED MUGS | Easy Customized Gifts
A kiln is typically considered the best option to make food-safe dishware since it is designed for this kind of work.
However, you can also use a traditional oven to complete your project safely. Just make sure you the oven will not be in use for cooking or warming food or drinks after you finish your paint baking!
The protective sealant you will apply can vary, but it must be food-safe unless the items you make will be used for decorative purposes only! And since there are many options available that come either in spray form or require a paintbrush for application, you can choose the product depending on the complexity of the ceramic item you have.
General Words About Sealing Acrylic Paint on a Coffee Mug
To be able to seal acrylic paint on a mug, you need to learn how to bake a painted mug first of all. If you have never done this before, it may seem complicated to you, but in fact, it is very easy!
Cure the acrylic paint in your oven (or in a kiln if you have it)
Allow the mug to cool
Use a clear sealant on the painted area to provide longevity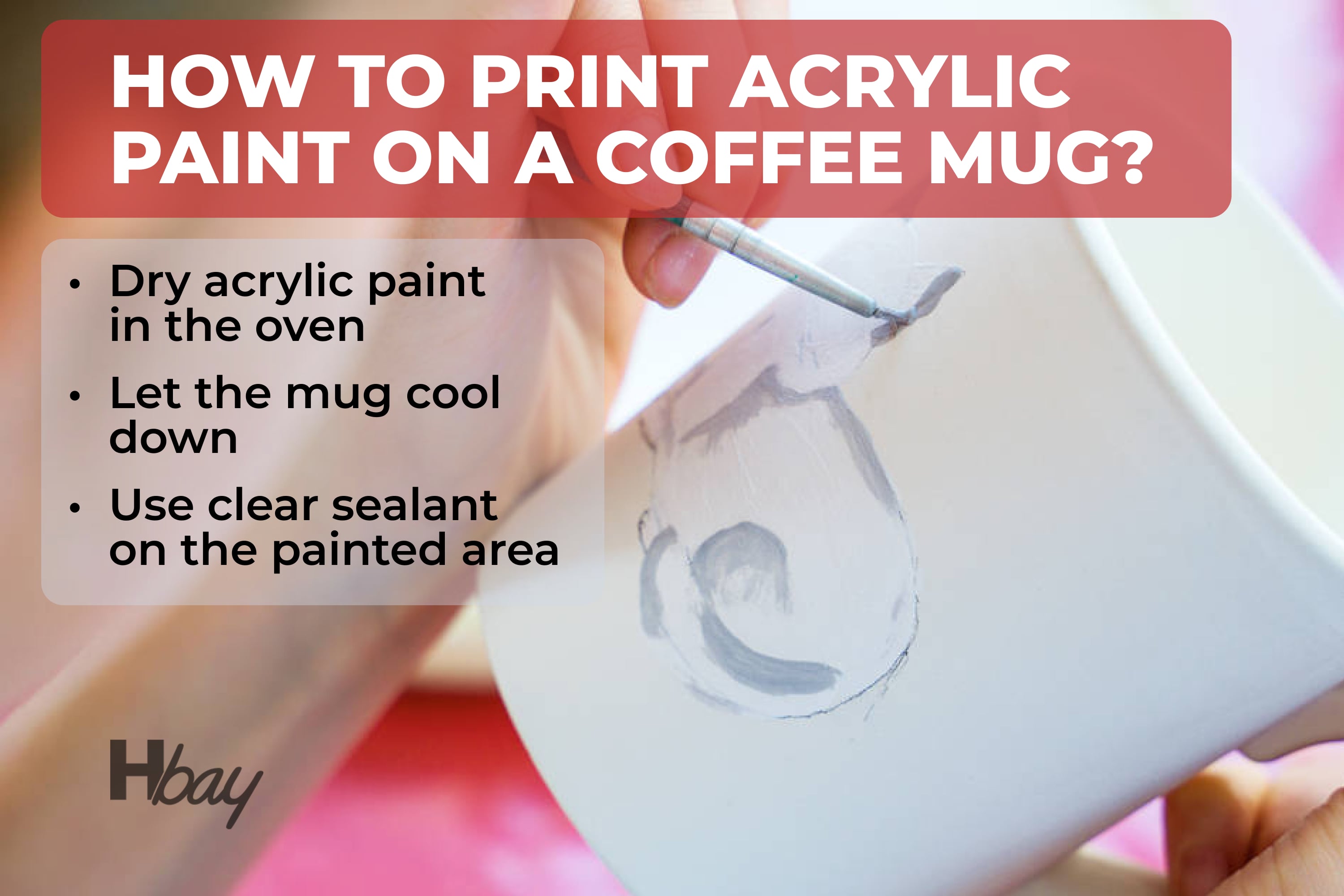 In detail, to apply the sealant correctly, you need to start with preparing the workspace. First of all, lay down several old newspapers to cover and protect your workspace.
Then, using painter's tape, cover any area you don't want to seal. Once this is done, you can place the mug upside down on the newspapers and apply the paint on a sealant. Make sure you apply it in thin and even layers until the mug is fully coated!
There is another precautionary measure you should keep in mind: when you apply the sealant, avoid getting the sealing coat on the inside of the mug or around the top inch of the mug! These are the areas where a person's lips would touch the surface.
Finally, when everything is done, you can leave the sealant to dry. Note that some acrylics or spray varnishes may only take 15 minutes to fully dry, while other sealants take much longer! So make sure you have enough time to let your item dry properly.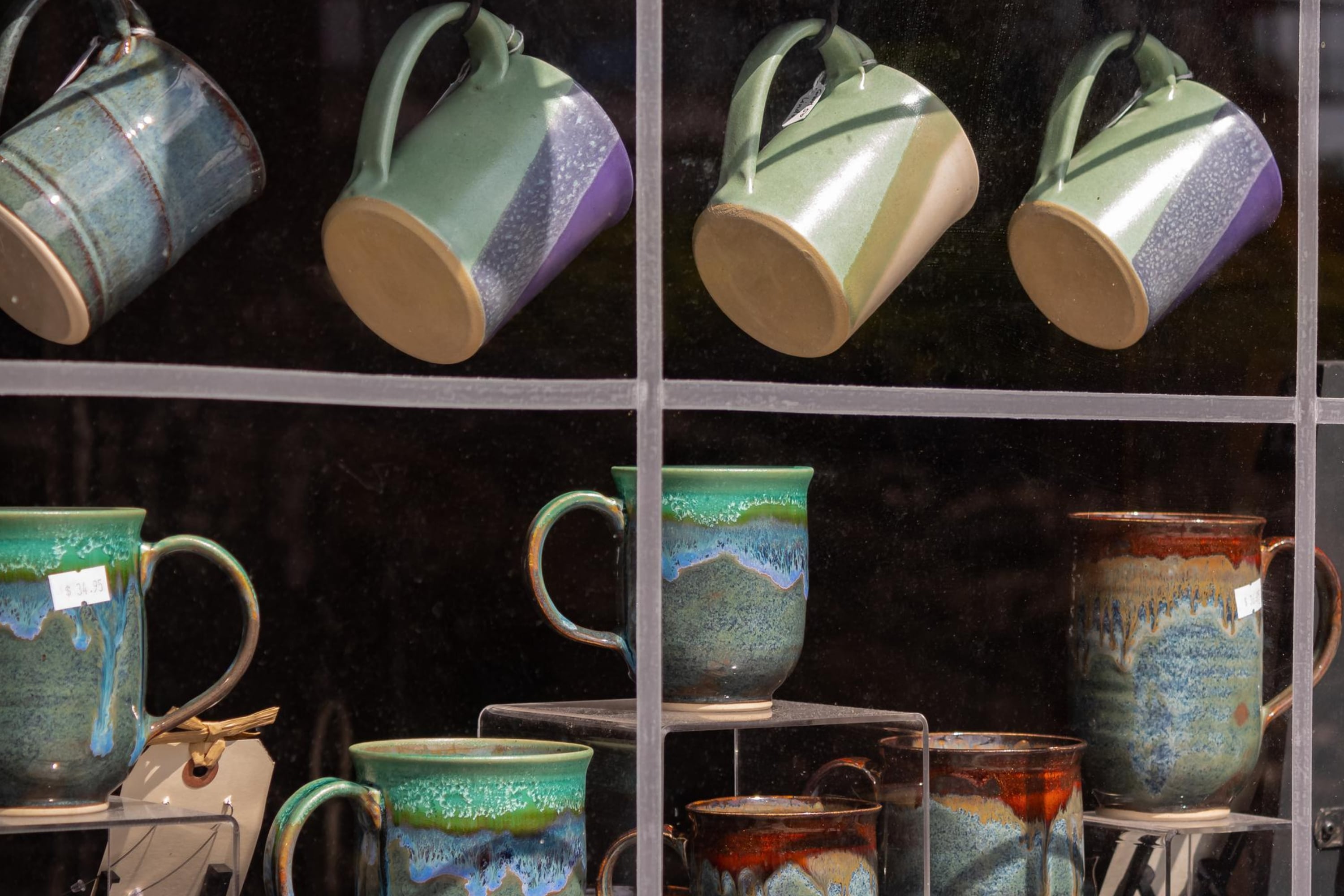 How to Bake Acrylic Paint on Ceramic If You Using the Oven?
If you want to bake acrylic paint onto ceramic using your oven, follow the steps we describe below. The oven-baking method is recommended if you want to eat or drink from the dishware or wash it in the dishwasher later.
Allow the Coat Of Paint to Dry
Start with painting the ceramic surface with non-toxic acrylic paint. Feel free to use spray paint or apply it manually with a brush – it's up to you! You might want to use a brush if you want to have some fine designs on your mug.
When this is done, leave the first coat to dry completely before applying the second coat. It is best if you allow the paint to dry for no less than an hour before baking the mug! But in general, for better results, drying the painted item for 24 hours before placing it in the oven is recommended.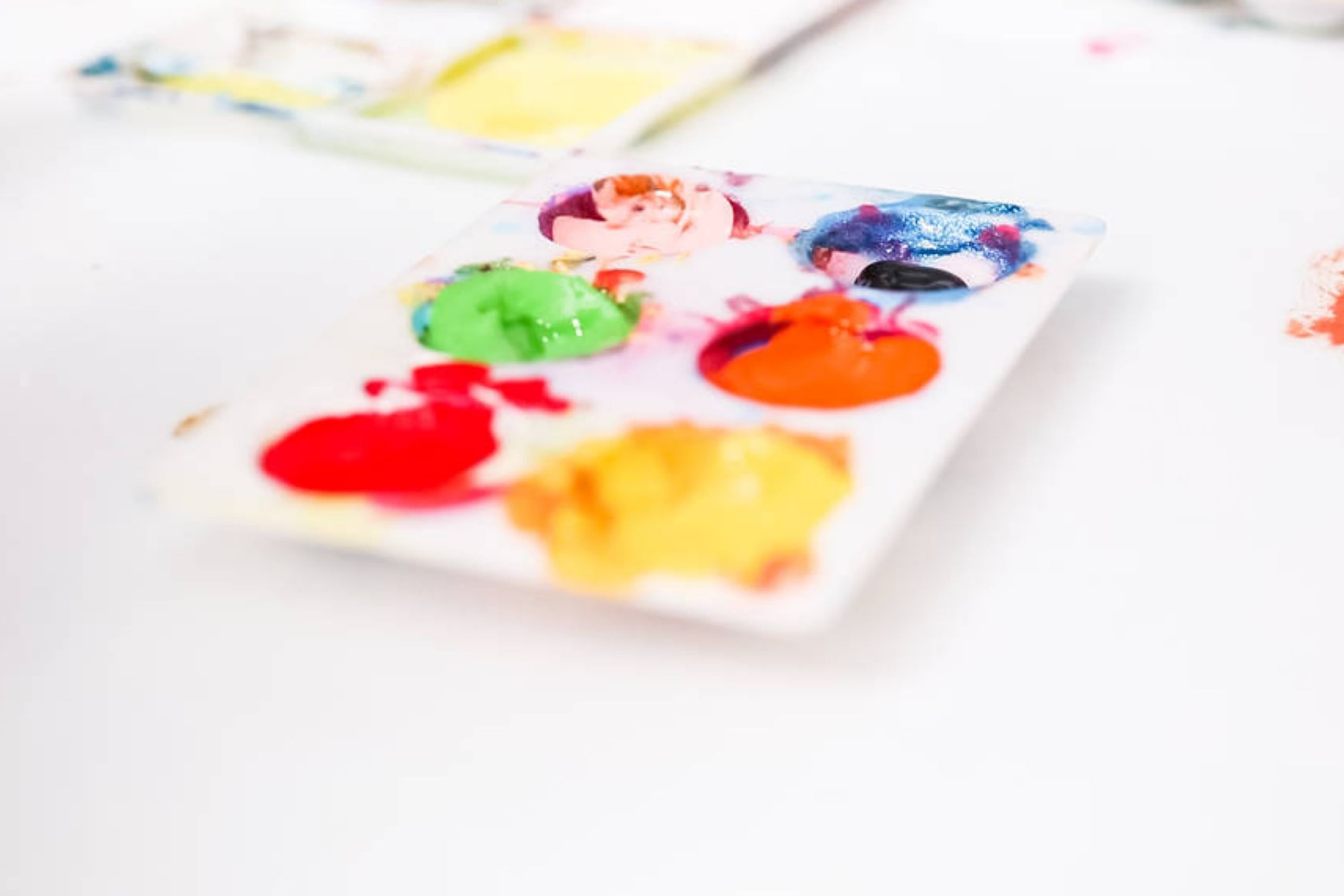 Preheat the Oven
If you paint on ceramic, note that this material needs to heat gradually, or it may crack. Because of this, in order to avoid breakage and other damage, never place the painted ceramic item in a hot oven! Instead, set your painted ceramic mug or plate in a cool oven, and then preheat it to 350 degrees Fahrenheit.
Now the Ceramic Can Be Baked
When the preheat time goes off, set an alarm to go off in 30 minutes. You want to bake a painted plate for around 30 to 35 minutes. A small mug may take less time.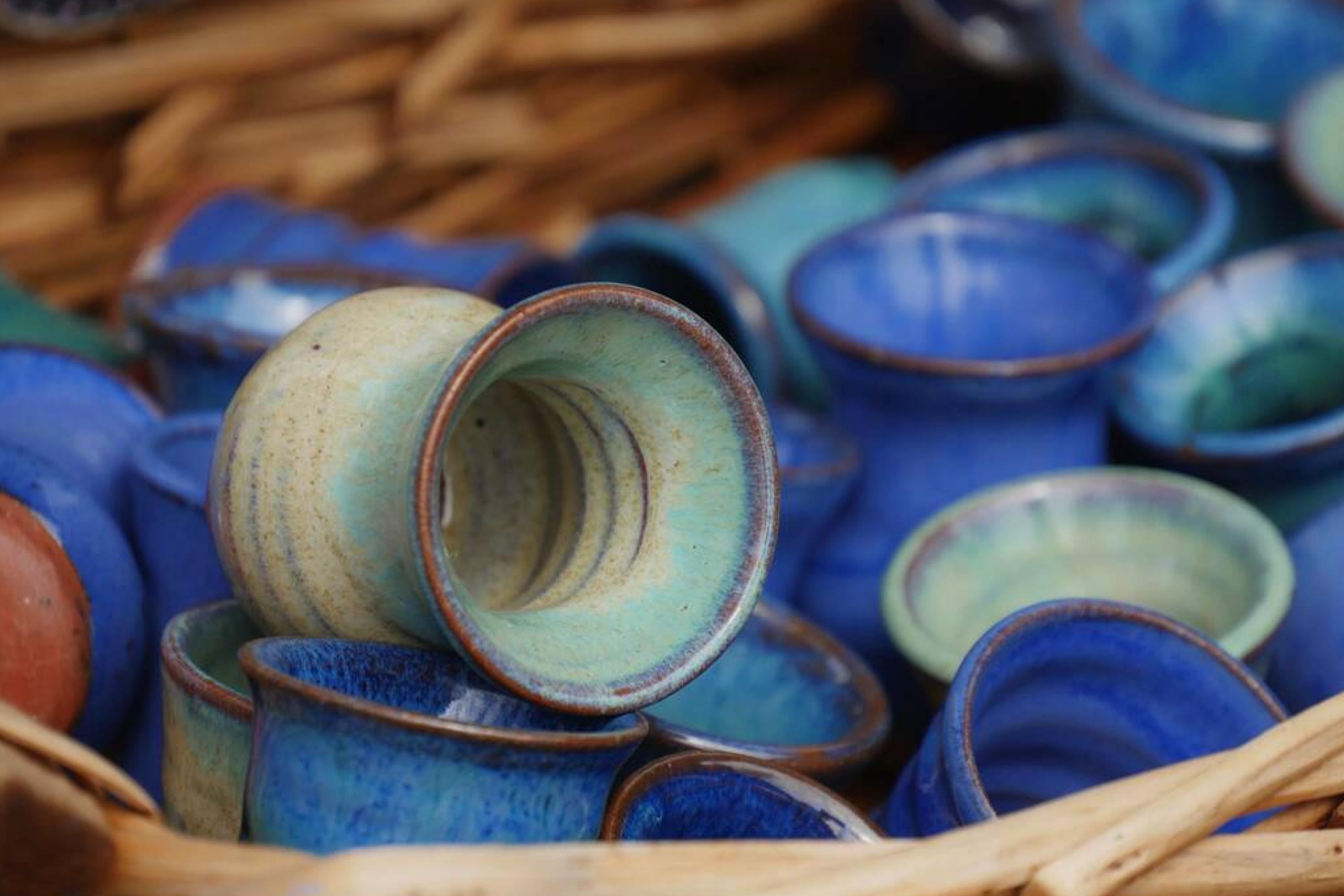 Allow Your Mug to Cool
After half an hour, turn off the oven. Now you have to leave the ceramic mug or plate to cool for at least an hour or two before you touch it. The surface takes a while to cure and cool.
Like this, you know that acrylic paint can be used on ceramic items like mugs and plates for decorative purposes, but before you start using them, you need to bake the paint to make it durable. In addition, you are now aware of a few handy tips regarding baking ceramics in the oven correctly.
How Safe Is It to Bake Acrylic Paint in the Oven?
This question is one of the biggest concerns for beginning DIYers. But don't panic, baking acrylic paint is entirely safe if you use the oven as long as you don't eat out of it later! That means you should only use an oven that's intended for ceramic projects.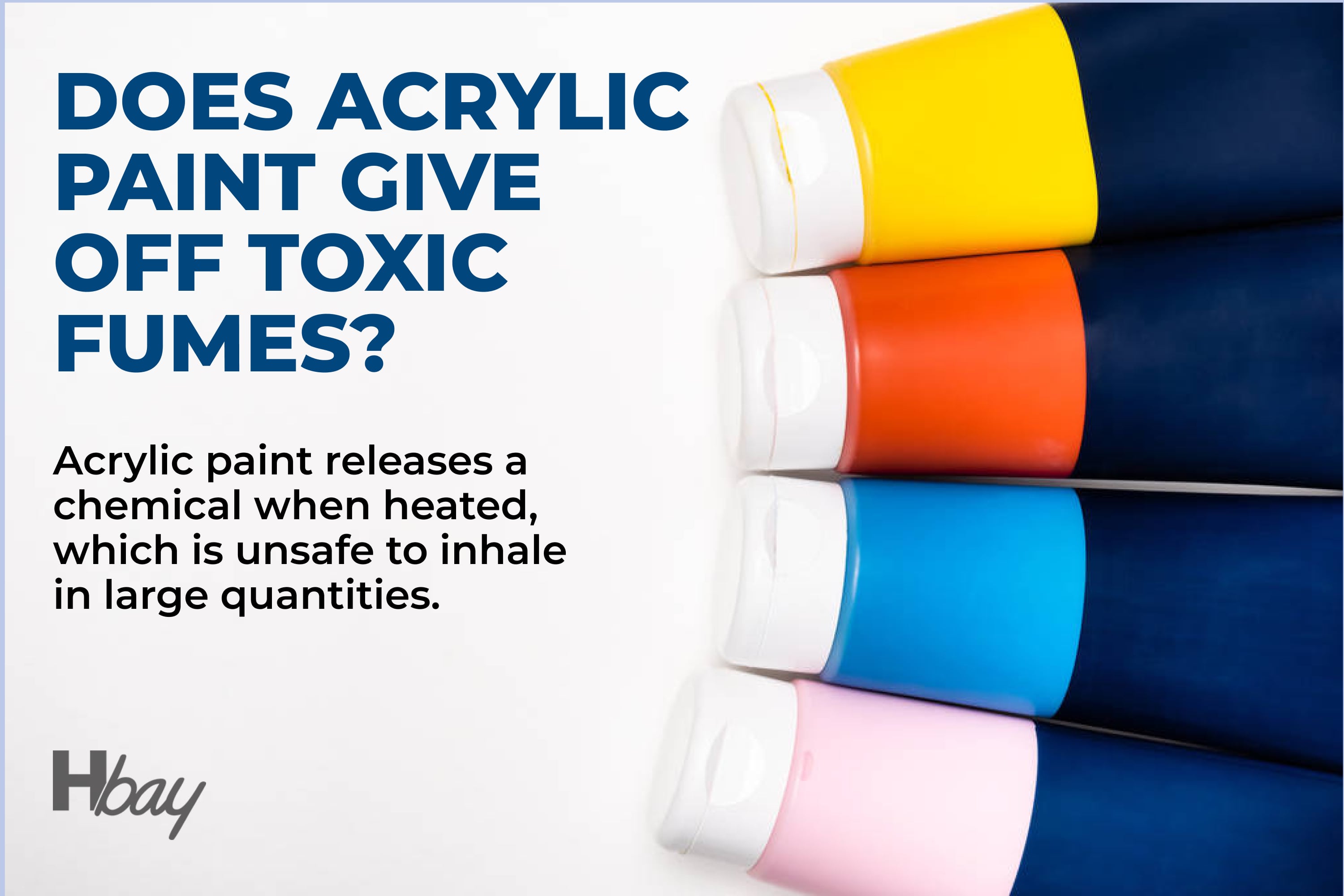 That's because toxic fumes may emit from the oven afterward. What toxic fumes, you may ask? See, acrylic paint releases a chemical as it heats that is not safe to breathe in large amounts.
This is why grab a handy trick from the experienced DIYers: allow the paint to nearly dry before heating it over 90 degrees F! It will ensure you avoid exposure to dangerous fumes. In other words, the paint is not toxic if you have enough ventilation and avoid exposure later.
And of course, there is no need to remind you that you should only use oven-safe, non-toxic acrylic paint on your mugs or whatever you are painting. So make sure you check the ceramic labels to see if it's safe in the oven. And also check the paint to see if it's non-toxic and safe to cure in the oven.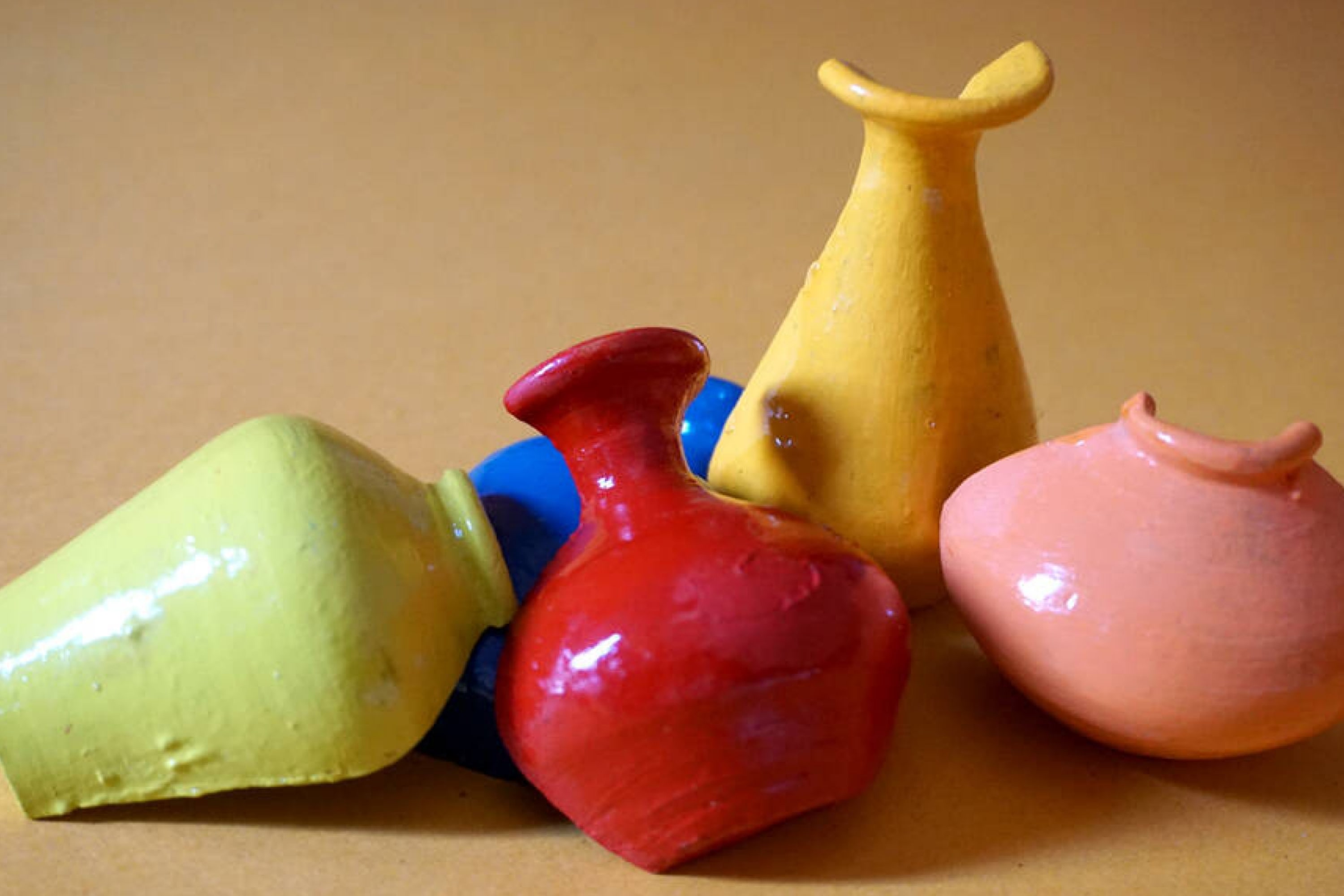 What Is the Best Acrylic Paint For Ceramic Mugs And Other Dishware?
If you are looking for proper acrylic paint to use it on ceramic, you may find it rather difficult to figure out what brand is best, especially if you have no experience in that. To help you out, we want to introduce you to two brands of acrylic paint for ceramics that will give you the optimal effect!
How to paint a mug with acrylic paint pens. How to cure acrylic paint on ceramic.
Arteza Acrylic Paint Set
If you don't know what paint to use on ceramics, try this one! Arteza is considered to be one of the best paints for ceramics on the market! Its colors are highly durable, and the set comes with all possible shades!
You will get 60 colors with rich pigments. The set even has metallic shades, and the paint comes in tubes that are kept in the included storage box. Another benefit of Arteza paint is that it is highly affordable, providing artist-quality colors.
So in general, this brand is ideal for kids, as well as for well-experienced artists. Plus, the paints are ACMI-certified and safe.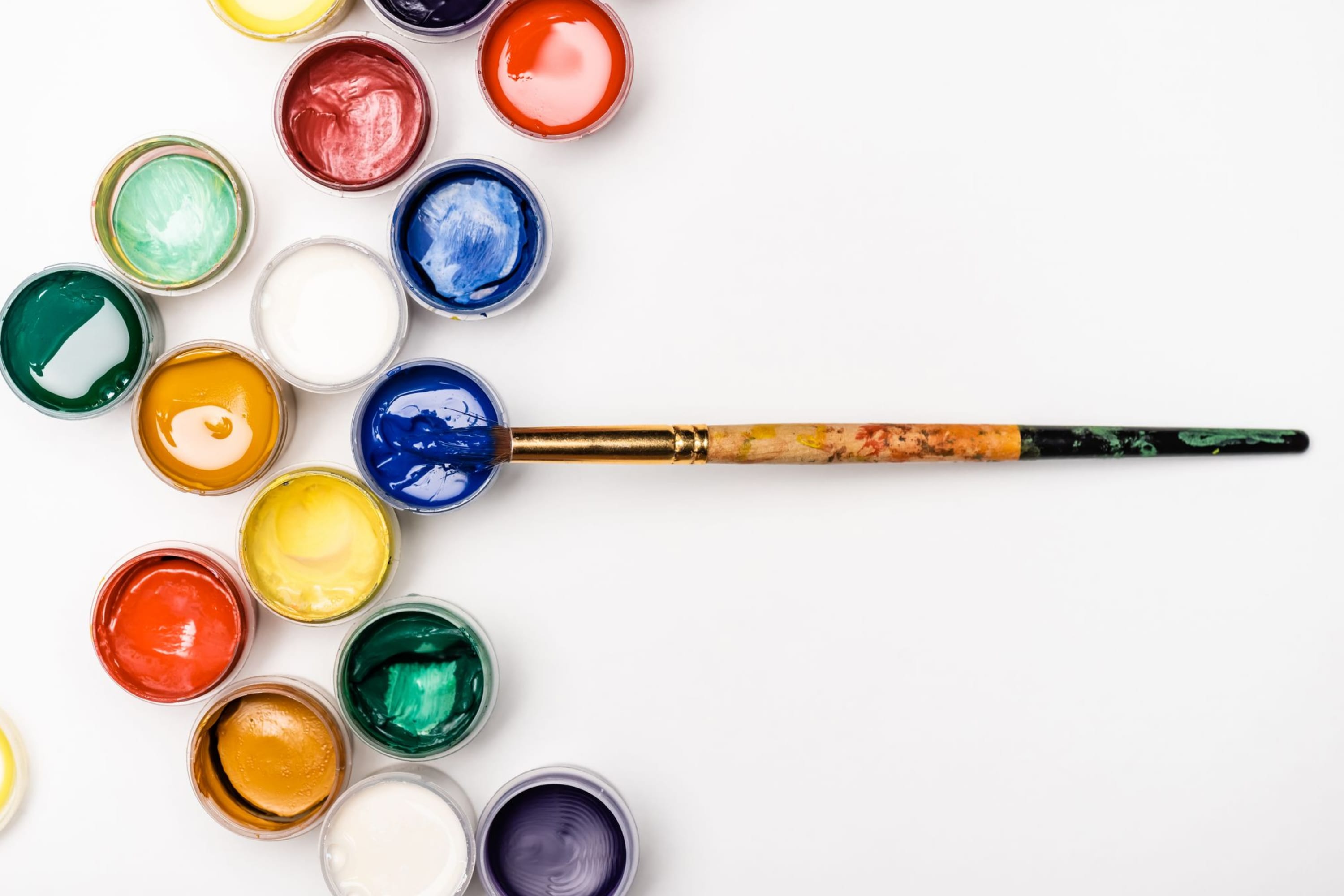 Artistrо Paint Pens
These acrylic paint pens allow you to draw creative designs and are fun to use for decorating different surfaces:
rock
stone
ceramic
glass
canvas
wood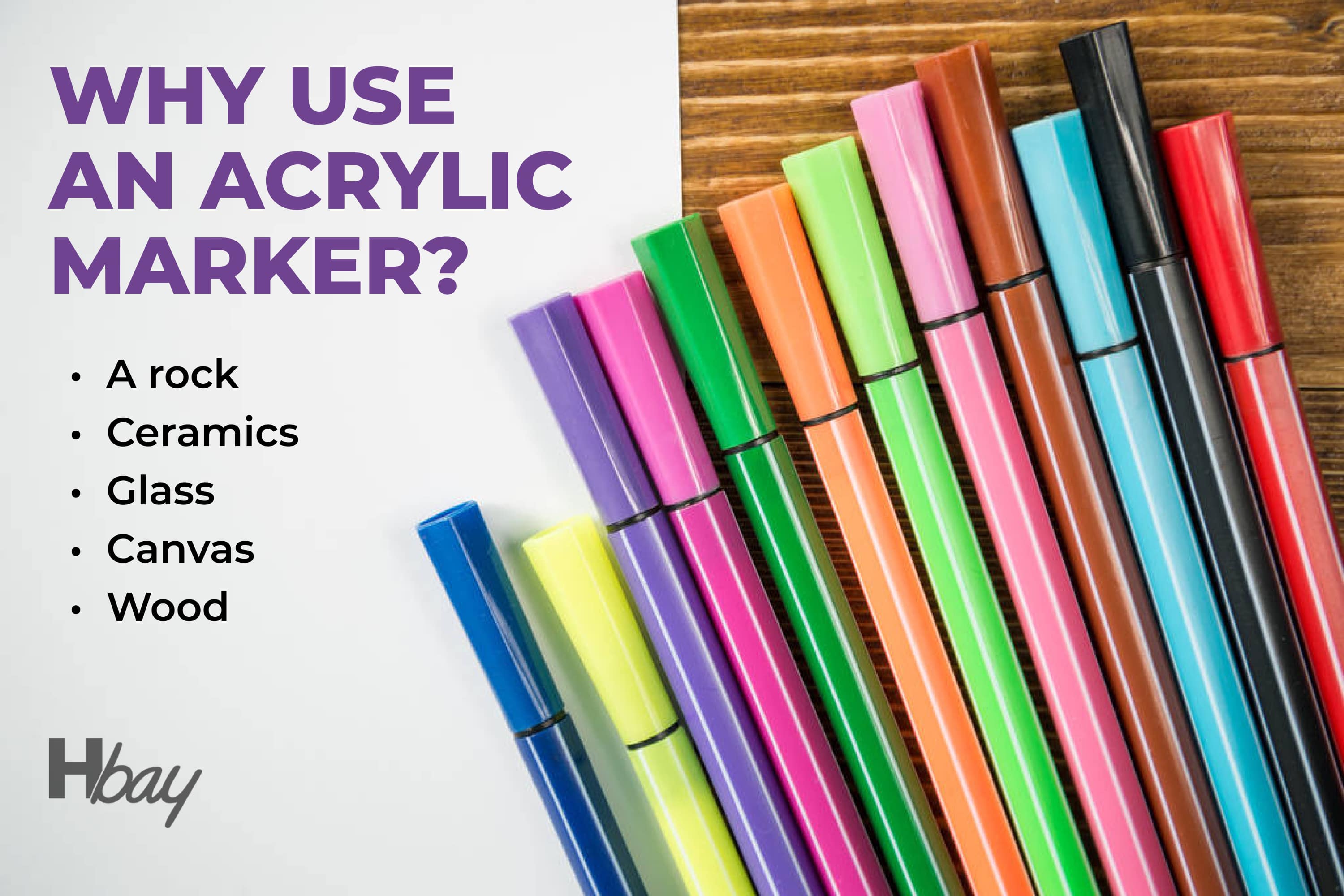 The extra-fine tip of this pen allows you to have plenty of versatility if you want to draw more details on your work of art. And since this set comes with 12 premium-quality paint pens, you will have enough colors to work with.
Plus, the paint pens are entirely safe. The ink is water-based, and durable, and it dries fast. They also meet ASTM safety standards. However, note that you will have to keep this paint from coming into direct contact with food! This is why this acrylic paint should not be used on coffee mugs.
Well, now you are fully aware of everything that you might find useful regarding the use of acrylic paint on ceramic items. Now you know that it's possible to decorate ceramic mugs with this kind of paint. Also, you know how to prep the surface for the paint application and how to bake the design later to make it last longer, still remaining safe for you.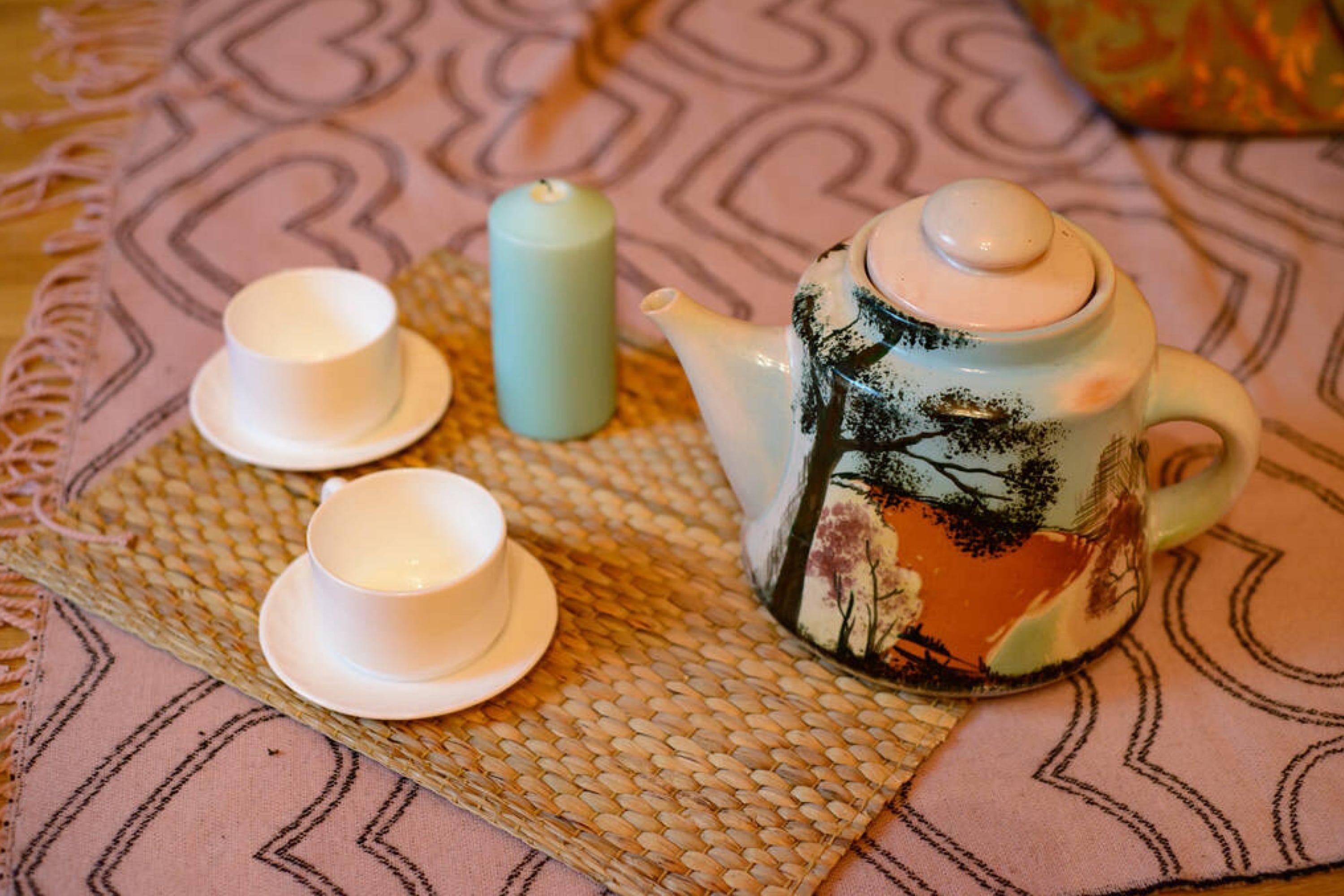 Frequently Asked Questions
⭐Will acrylic paint work on ceramic?
Acrylic paint is made for canvas, but you can use it on ceramic. Acrylic works on any absorbent, rough surface. This is why painting mugs with acrylic paint is also an option
⭐Is acrylic paint toxic?
It depends on how to use it. If used on paper, it's not toxic, But if you bake it, the paint can emit harmful chemicals indeed.
⭐Can I eat or drink from the dishware that's painted with acrylic?
You can eat and drink from such dishware if you decorated it with the acrylic paint that's food-safe.