Even the most high-quality and comfortable shoes lose their and require a complete update over some time. And you obviously want them to serve you as long as possible.
Even small scratches can ruin everything and leave you without shoes at all, so we offer you an easy and budget-friendly solution.
Have you wondered how to paint leather shoes with acrylic paint? Check out our guide and tips for making your favorite shoes last long and look brand new.
How to Paint Leather Shoes?
If you think that dyeing or painting leather shoes at home is impossible, we have some great news for you.
The process is quite simple and you will be delighted with the results that you can get.
There are a lot of options that you can use to restore and paint your shoes, but let us go ahead a little bit.
Acrylic paint is the best choice for painting leather shoes.
Why? You will learn about the benefits later.
Now, let's get to the process.
The Internet bursts with advertisements, where you can learn about shoe painting services, but, firstly, their services are not cheap, and secondly, it's more interesting to do it yourself, right?
That's why you came to this site.
So, to start, let's see what the process of painting consists of:
Step 1: Shoe preparation. Wash and degrease them with acetone.
Step 2: Paint with acrylic paint
Step 3: Cover with a protective glossy or matte acrylic varnish.
Before you grab your fancy shoes pair, make sure that you have:
Acetone to remove old protective coatings;
Acrylic paint;
Napkins or paper towel;
Paper tape;
Brushes of various sizes (if you want to decorate your shoes with an original pattern or customize them);
Acrylic protective agent or varnish.
Are you ready to proceed? Okay, let's do this!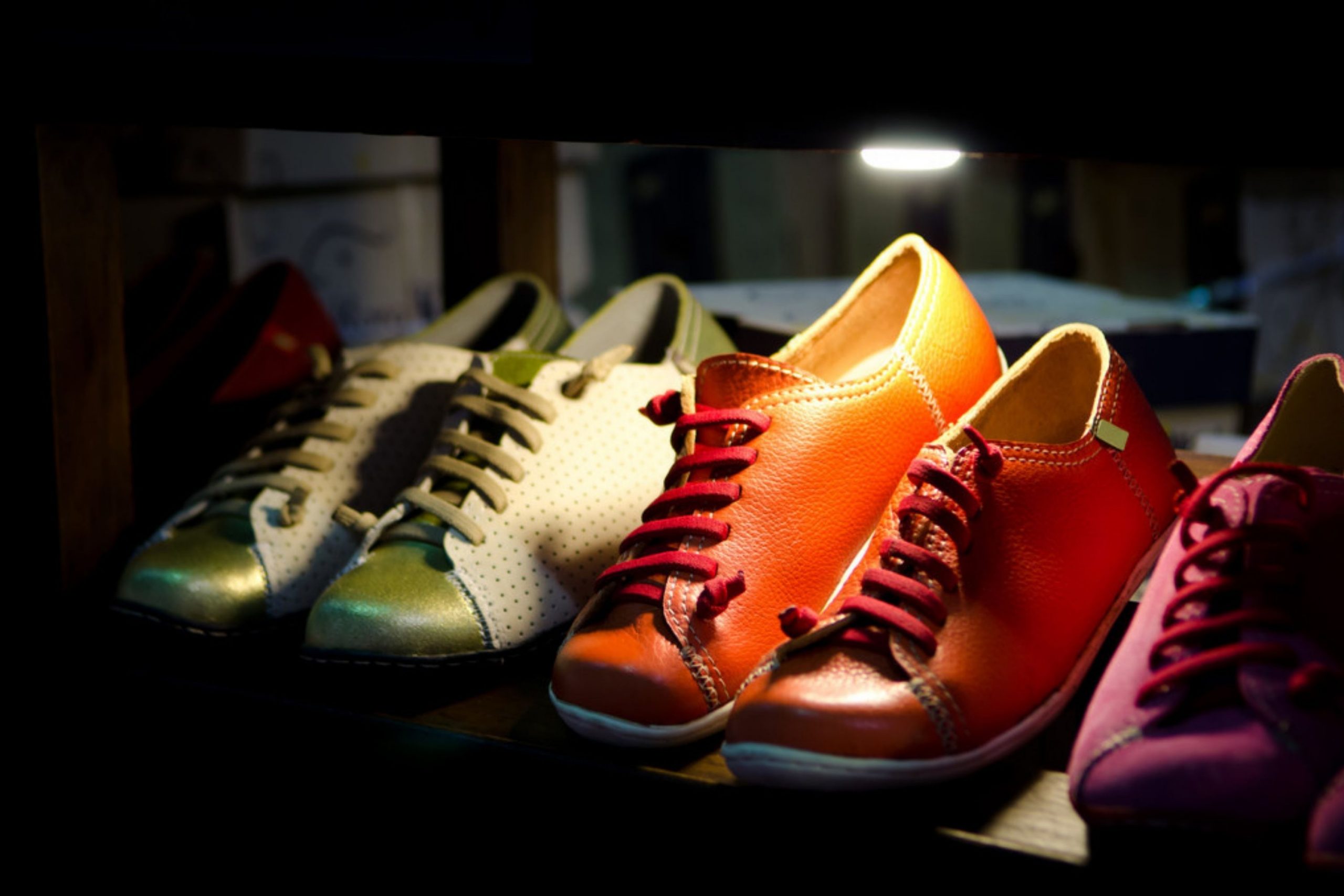 How to Use Acrylic Paint on Leather Shoes
Following the steps we've talked about, you should first clean your shoes. You can wash your shoes with water to remove street dirt, or just wipe with a wet cloth.
After that, use acetone to degrease and finish the cleaning process. Apply acetone until the tissue is clean. This step is extremely important for better adhesion of the paint to the leather.
If there are any scuffs or scratches, it is better to fix those areas with fine-grained sandpaper.
To cope with deep cracks and cuts, you should resort to liquid skin, applying it with a small brush.
After preliminary preparation before the main process, shoes should be allowed to dry at room temperature. Using a hairdryer or another method is not allowed.
After that, you can take the second step and cover the areas where you don't want to use the paint. It can be toes or heels, or any other variant. Remember to use a good adhesive tape, so you won't damage the shoes with glue traces.
Now, we move on to the most important, yet the easiest step.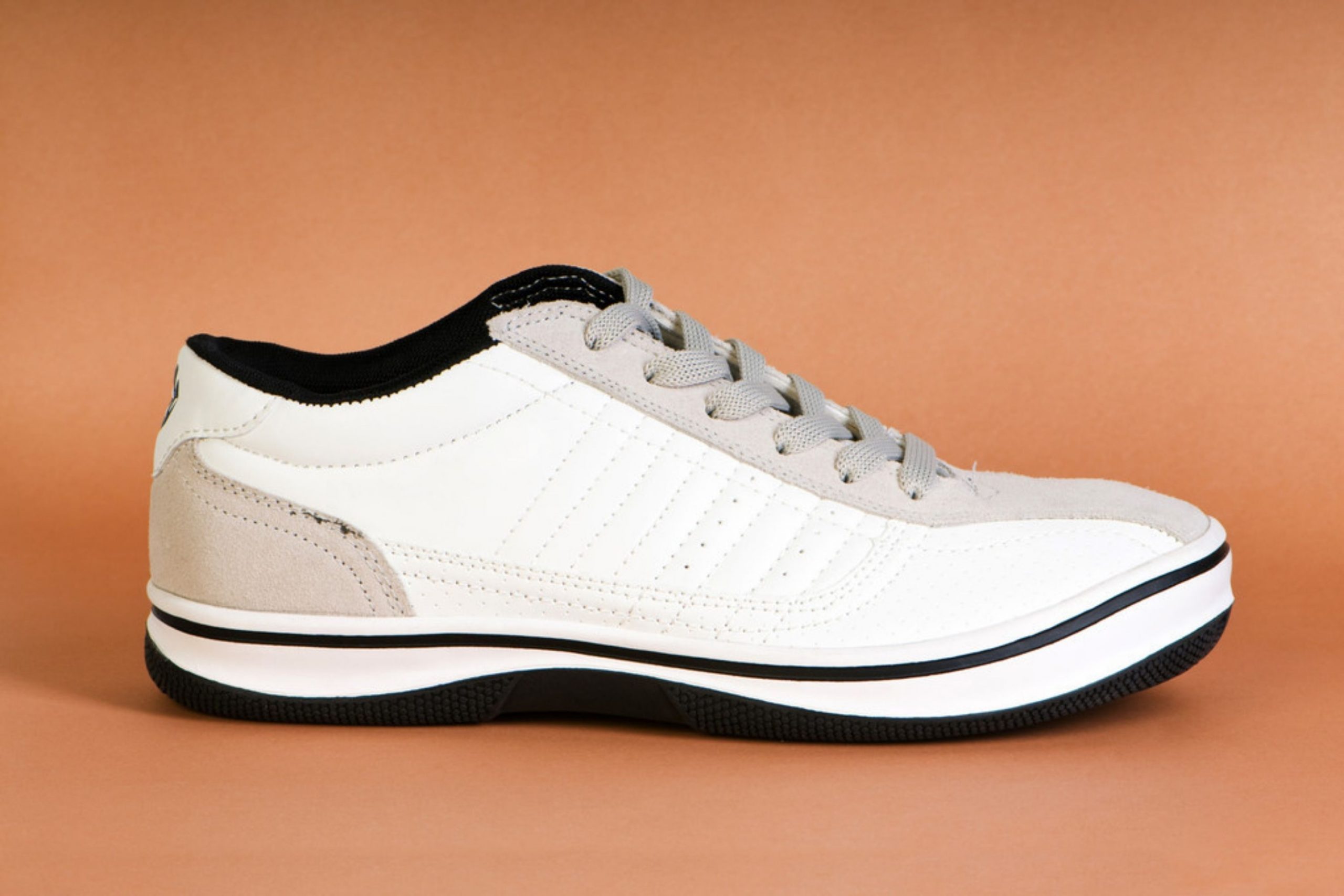 Applying paint to shoes is not difficult. Acrylic paint is opaque and easy to work with.
When applying light tones of paint on dark leather, you can use several layers.
Other colors can be covered in 2-3 coats. Allow the paint to dry for at least 20 minutes between coats. As with other paints, several thin layers are much better than one thick one.
After applying the last layer, carefully remove the tape. Don't wait for the paint to dry completely, it should be slightly runny to get a smoother edge.
If you remove the tape from the dried paint, it can break off and thereby spoil the whole work, you will have to start over.
But how to seal acrylic paint on shoes? The acrylic paint itself is semi-gloss. In order to get more shine, you should cover the product with an acrylic gloss varnish at the end of the painting.
When you're done, let the shoes dry overnight. The task of the fixer is to make the paint durable, the shade brighter and more saturated.
Finally, the shoes after painting will dry out in 24-48 hours. Before putting on updated shoes, check the strength of staining. To do this, just run your hand over the product.
If there are no traces left, the shoes can be used.
7 MISTAKES Every Beginner Customizer Makes!
How to Seal Acrylic Paint on Canvas Shoes
Customized sneakers, trainers, or slip-ons are a must-have today. And since canvas is a typical fabric to make these types of shoes, we should definitely teach you how to seal acrylic paint on fabric shoes.
The process is not very different from applying the paint on leather shoes, but in this case, you can use your imagination.
Customizing sneakers is fun and you can make your old Adidas look like a brand new exclusive pair.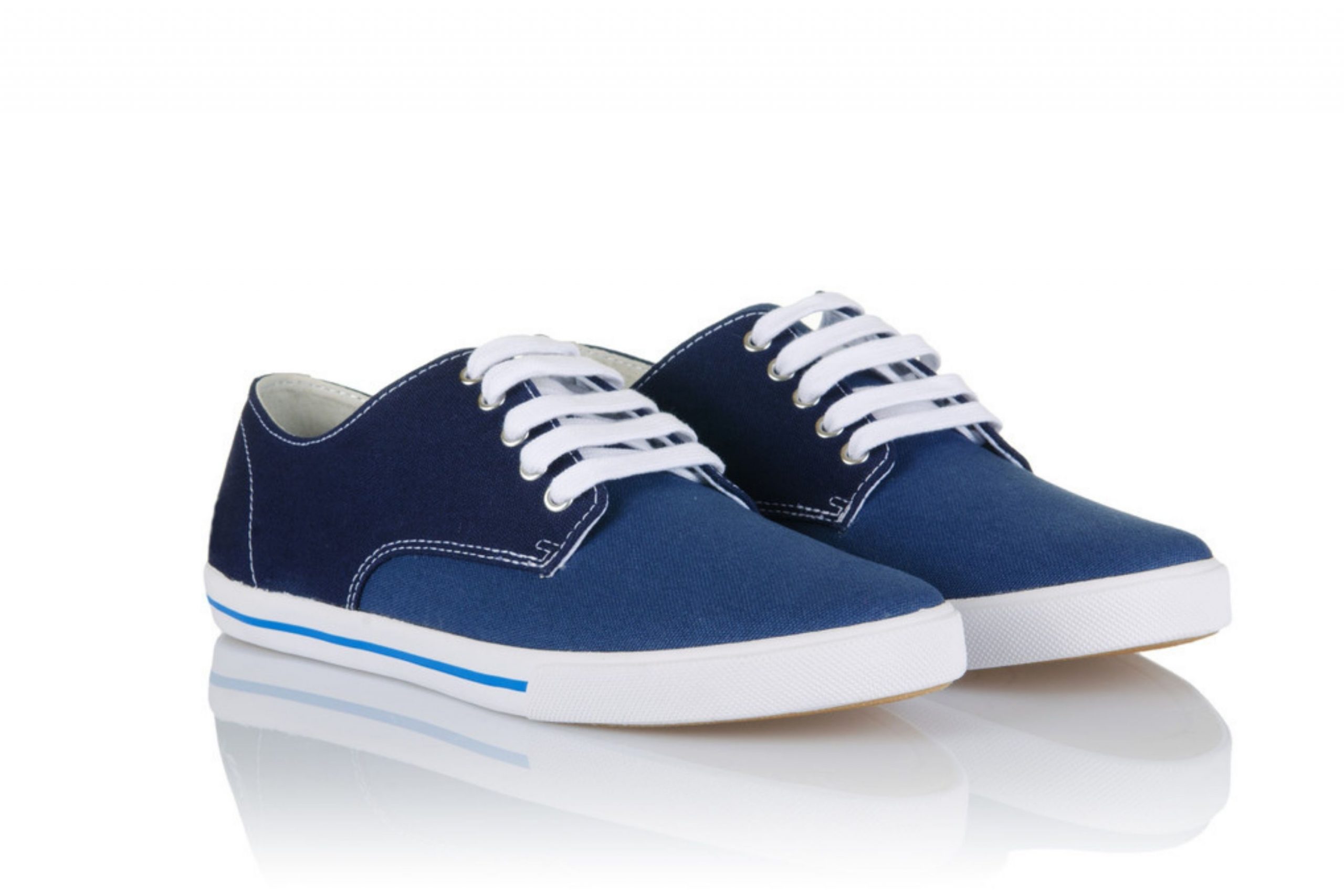 So, let's recollect what should we have to paint canvas shoes with acrylic paint:
A sponge or a toothbrush;
Adhesive tape;
Non-reusable gloves;
Napkins or cloth;
Brushes.
There you go! Apply acrylic paint gently on the shoes surface and let it dry.
If you want to dye shoes quick and easy, you can simply make a paint solution, following the instructions on the paint package, and dip your sneakers into it.
Leave the sneakers overnight to dry and enjoy your customized pair of shoes.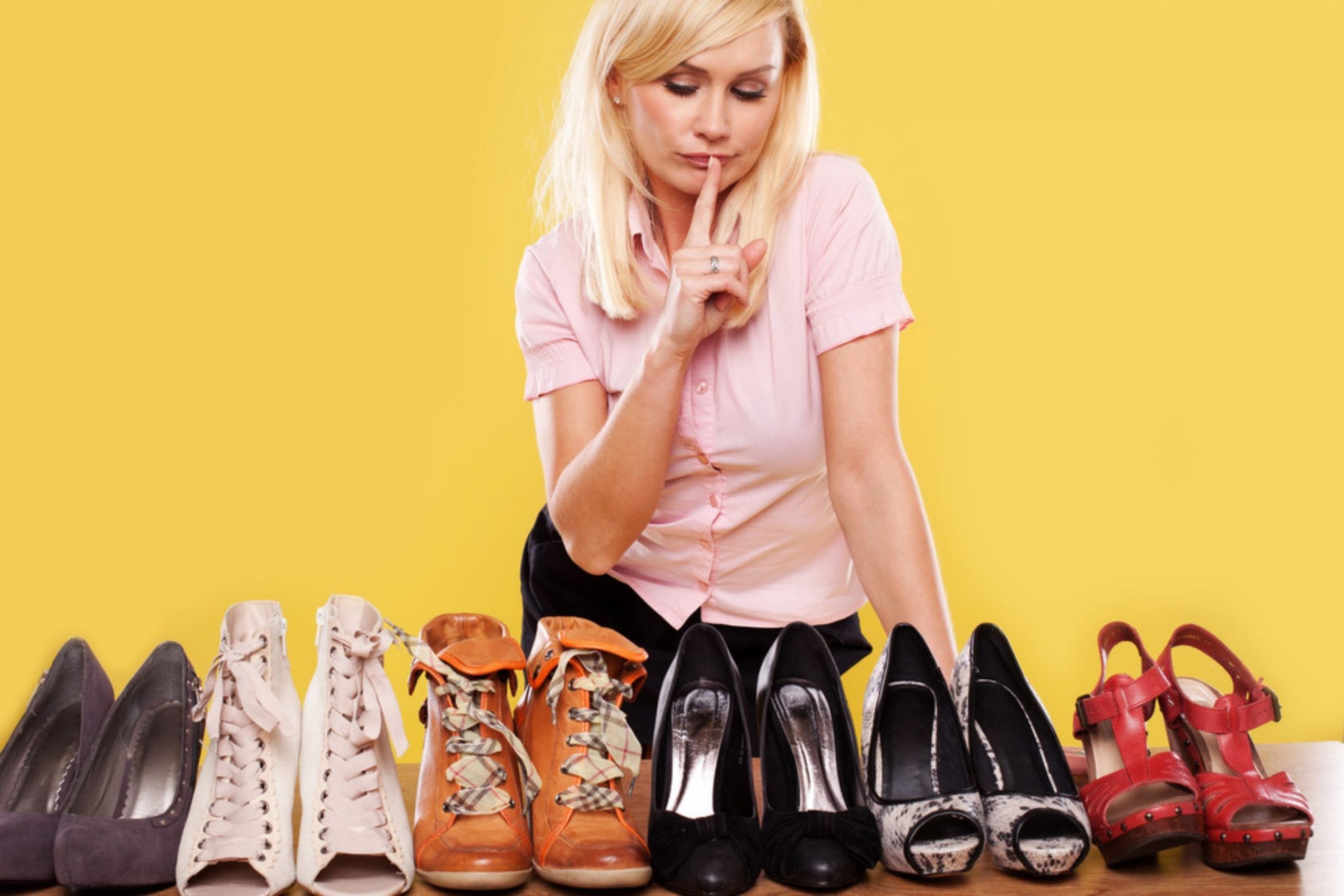 Related: Can You Use Acrylic Paint On Fabric?
Tips for Proper Shoes Painting
We believe that you have already learned much about how to seal painted leather shoes or how to seal acrylic paint on canvas shoes, but it is always better to know a bit more.
Before applying a new layer of acrylic paint on your old shoes, you should clean the surface of the old coating; for this purpose, it is worth purchasing a paint pickling compound.
Remove the old paint with a decapsulating compound using a cloth, and then dry the shoes in a well-ventilated place for 2-3 hours.
Remember to always carefully study the packaging of the purchased paint and strictly follow the manufacturer's instructions. It is better to first test the paint on a small area and only then proceed to full coloring.
Apply the paint in gentle circular motions without pressing too hard on the sponge. After applying the first layer, let it dry properly before applying the second.
After all layers of dye have been applied, leave the shoes for a day to completely dry the paint.
After the paint has fully set, lubricate the shoes with a colorless cream, and then polish with a soft brush. Can you now see how easy it is to seal acrylic paint on shoes?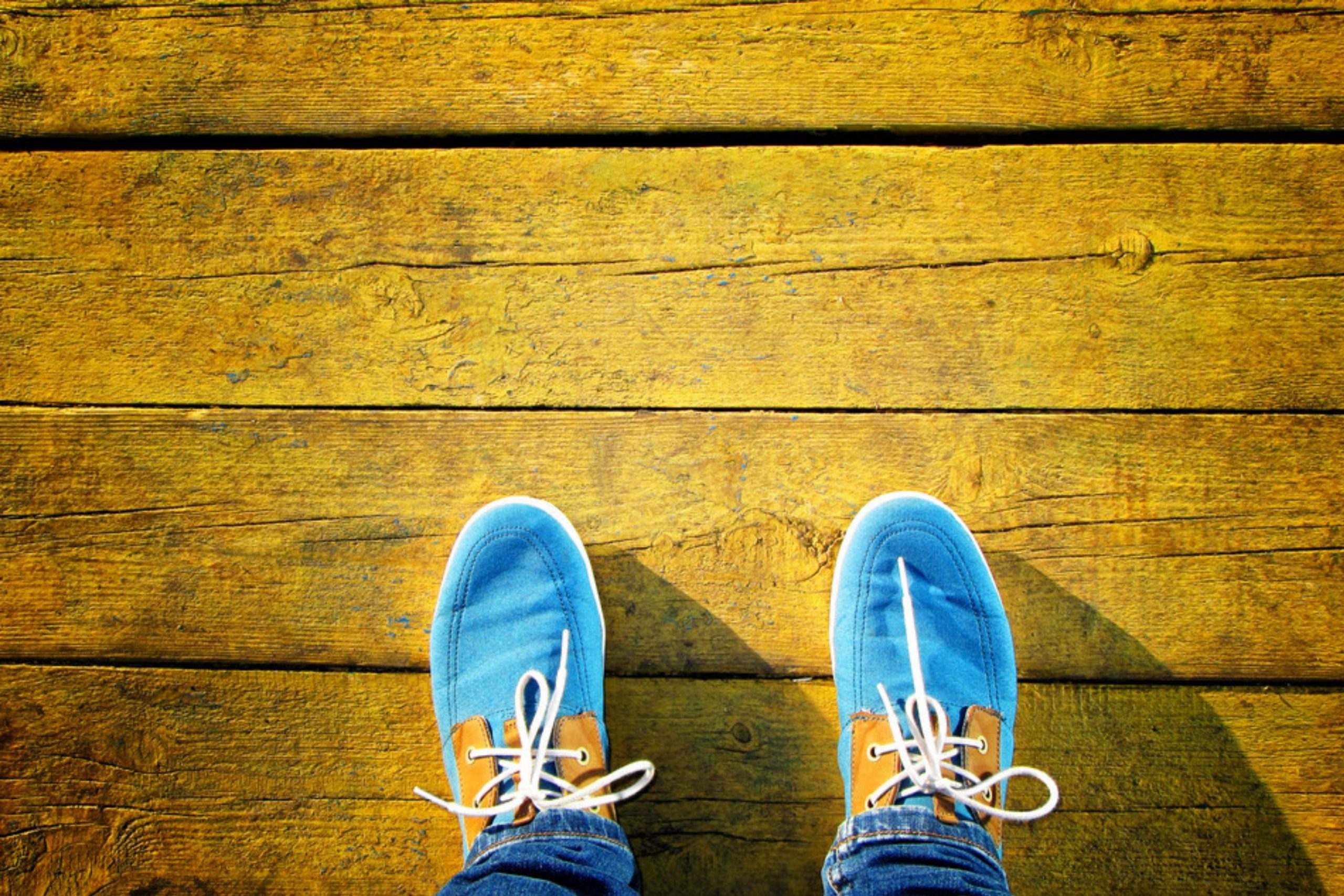 Related: How to Fix Lumpy Acrylic Paint?
Recommendations for painting different types of shoes
To be honest, preparation is the most important step when painting shoes.
Products made of leather, nubuck, rubber, suede, and textile fabrics are prepared for painting in different ways.
Leather shoes must be carefully prepared for this kind of procedure.
Clean the shoes from dirt and dust to avoid bad adhesion and provide good sticking to the surface of the products. Use wet cloth, acetone or any other special shoe treatment to remove any kind of dirt.
If there are scuffs and scratches on the surface, they must be covered with a special compound, wait for it to dry completely, and only then proceed to the next step. This is necessary because the paint will not cover such flaws, it can only fill them in slightly.
To understand whether acrylic paint can be applied to the surface, put a paper towel to the shoes, and if there are no traces of moisture left on it, proceed to work.
It usually takes 24 hours for leather shoes to dry completely, and if you have worn them in the rain the day before, it takes two days.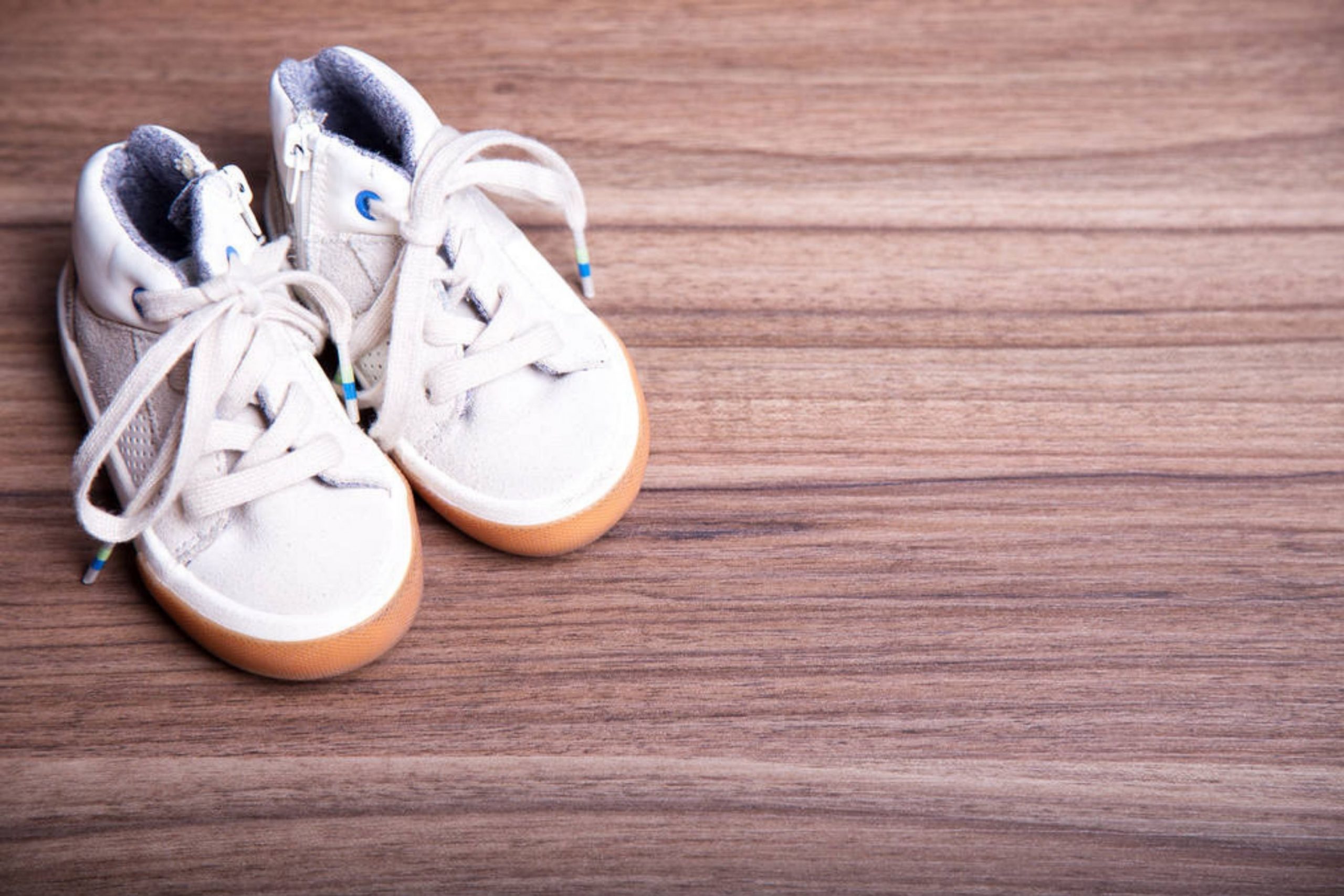 Also, never dry leather shoes near a fireplace or on any other type of heater.
With prolonged exposure to high temperatures, leather shoes will be damaged.
The preparatory process for nubuck and suede fabrics consists of the following steps:
Remove dust and dirt from the surface of the shoes with a special brush.
Carefully remove the remnants of the cream and silicone containing treatments.
After that, the surface of the products should be cleaned with a special tool that is included in the staining kit.
In case of heavy dirt, wash the shoes with a sponge moistened with ammonia. Let them dry completely so you can proceed to the painting part.
Fabric shoes cleaning routine is probably the easiest, because you can wash them with your hands or use a washing machine, let them dry and then proceed to dyeing.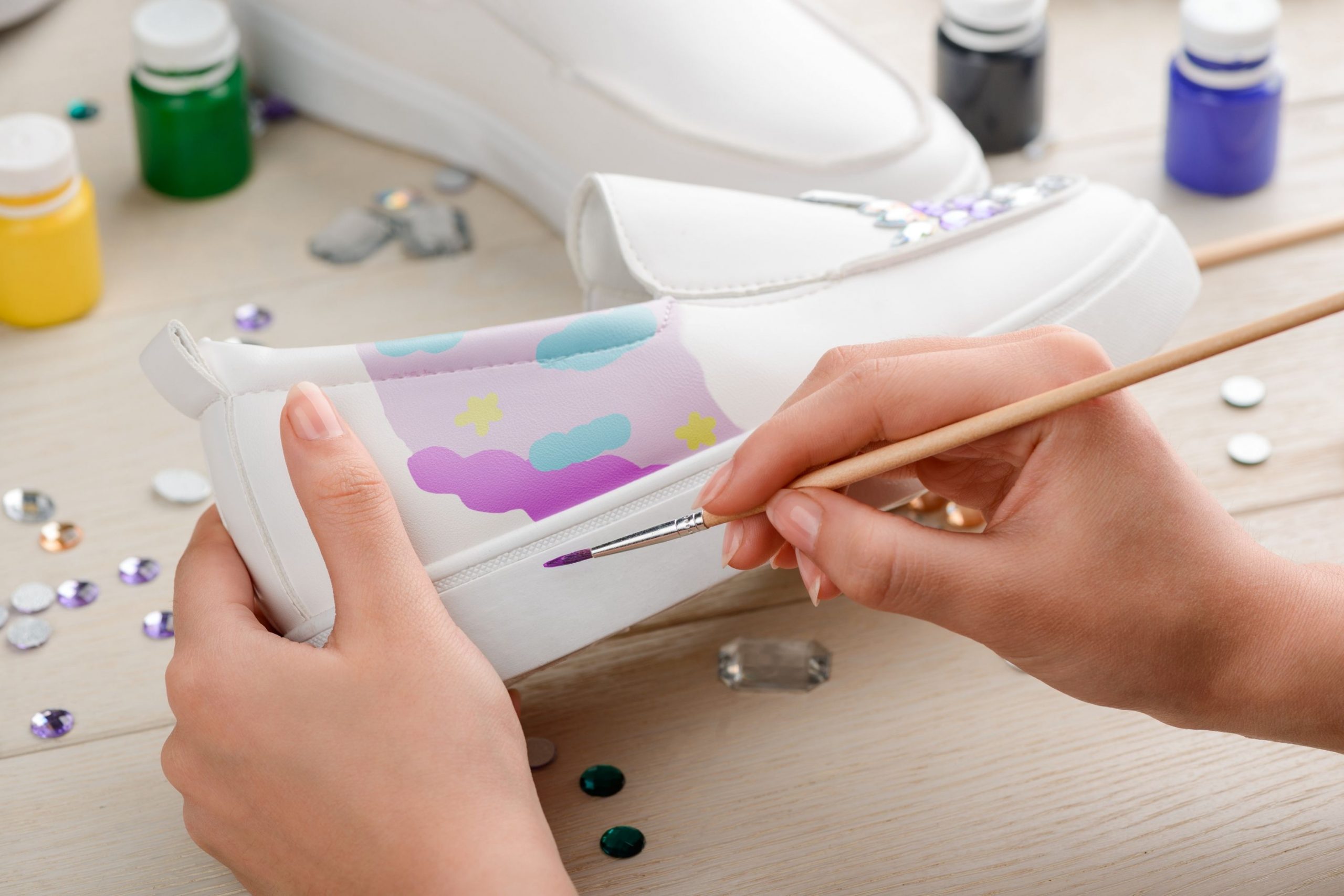 Benefits of acrylic paint
Among the huge selection of finishing materials, acrylic paints are in great demand.
Their popularity is due to their extreme durability, the ability to use on different surfaces and ease of application.
Acrylic paints are quite versatile, as they are used for exterior and interior finishing work, painting and dyeing.
They are quite popular among buyers because they have a number of advantages.
Leather things look expensive, serve their owners for a long time, but over time they become covered with cracks and fade.
Using acrylic paint on leather, which can be purchased at any retail store, can help restore the shoes to their impeccable appearance.
The main feature of acrylic paint is its quick drying process.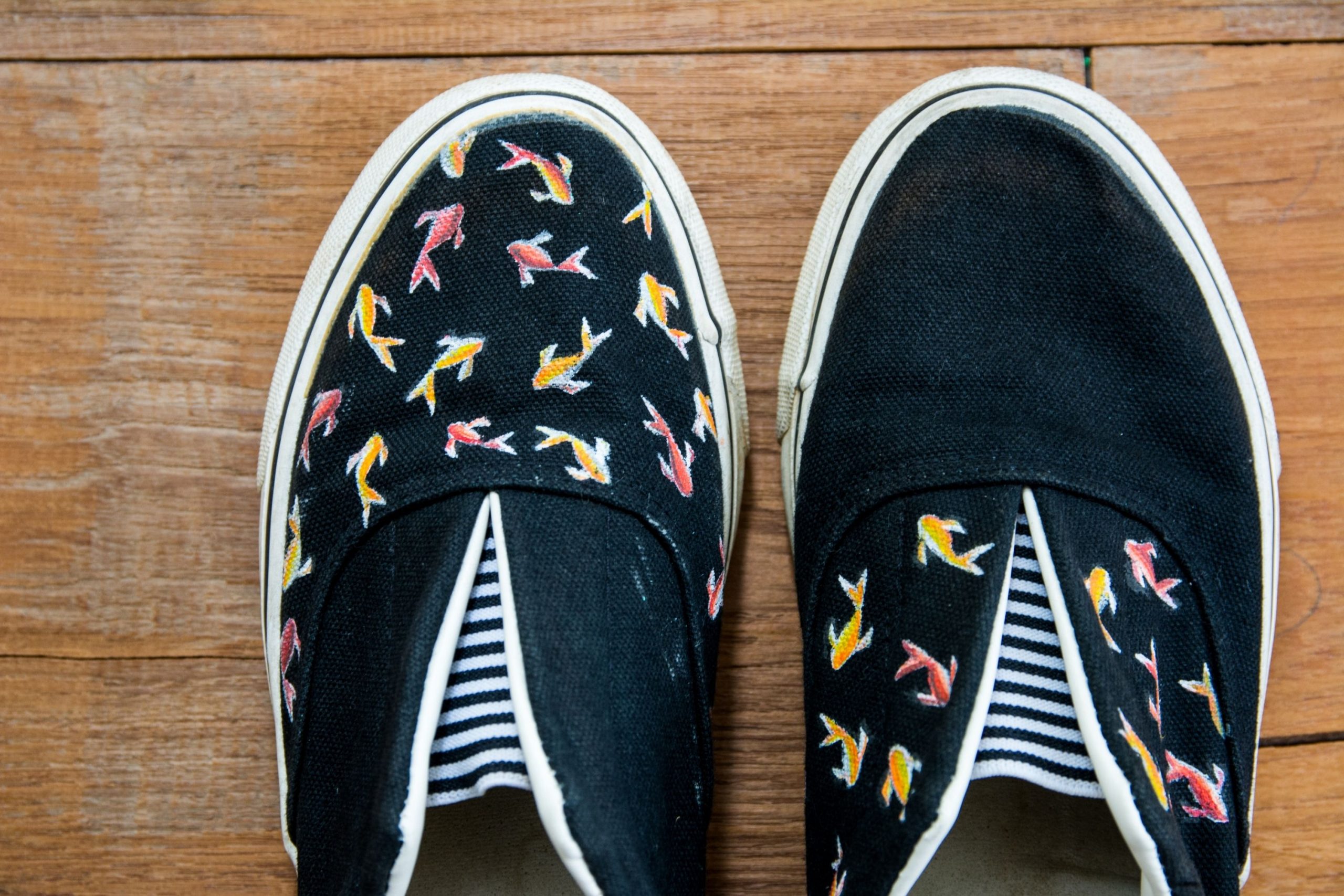 This is emphasized in any leather painting workshop when working with acrylic.
Therefore, when working with acrylic paints, it is necessary to think over in advance the entire process of work in stages.
Most specialists who paint leather with acrylics recommend applying thin layers to prevent cracking.
However, if you don't like the way a freshly put layer looks, you can immediately remove it with a wet cloth.
Acrylic paint is best sealed. There are different types of coatings for acrylic paints. Usually, manufacturers specify which product is the best to use on the instructions to the packaging.
The finishing coat can be matte or glossy, and it will prevent the paint from cracking.
Another great point is the wide variety of colors and shades.
Many manufacturers offer wide selections of colors to choose from. Most bright colors can also have different features, for example neon that glows in the dark, or silvery finish.
The paint is elastic and therefore well distributed over the surface.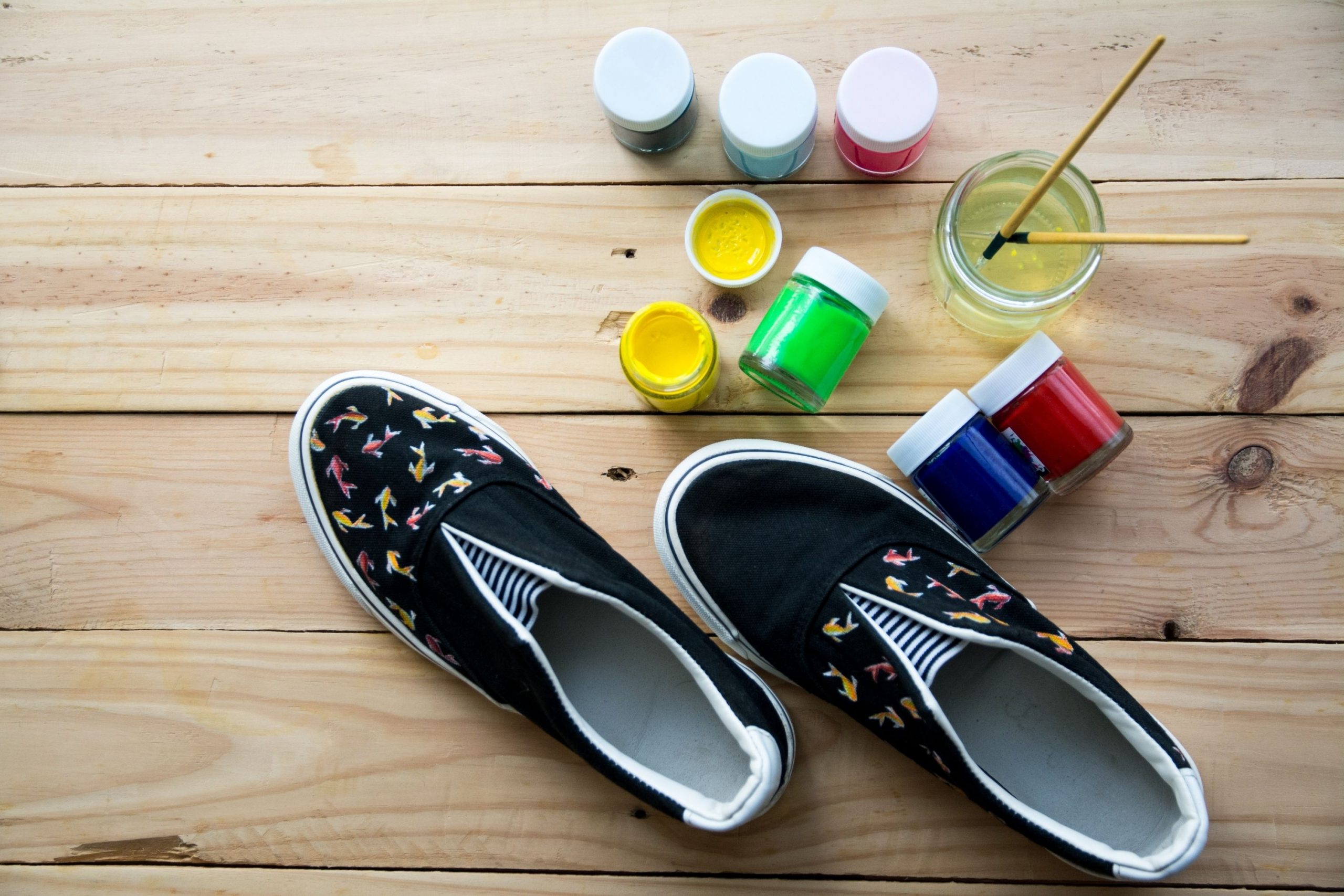 This once again confirms the simplicity of painting different surfaces using acrylic paint. It doesn't erase over the years due to a special protective film.
The acrylic coating is easy to care for.
It can be washed and cleaned, and will retain its original appearance for more than 10 years.
Some manufacturers even claim a longer service life in the characteristics of such paints and varnishes.
The best acrylic paints undergo special tests and certification, so when buying, you should definitely ask the seller for relevant documents.
Frequently Asked Questions
⭐ Will acrylic paint stick to leather?
Yes, acrylic paint is very adhesive to leather if it has a perfectly fine surface.
⭐ What is the best paint for leather?
There are many options to choose from, but acrylic paint is all-time favorite.
⭐ How to seal painted shoes?
Just apply special coating after the shoes are dry.